Public Transport in Zambia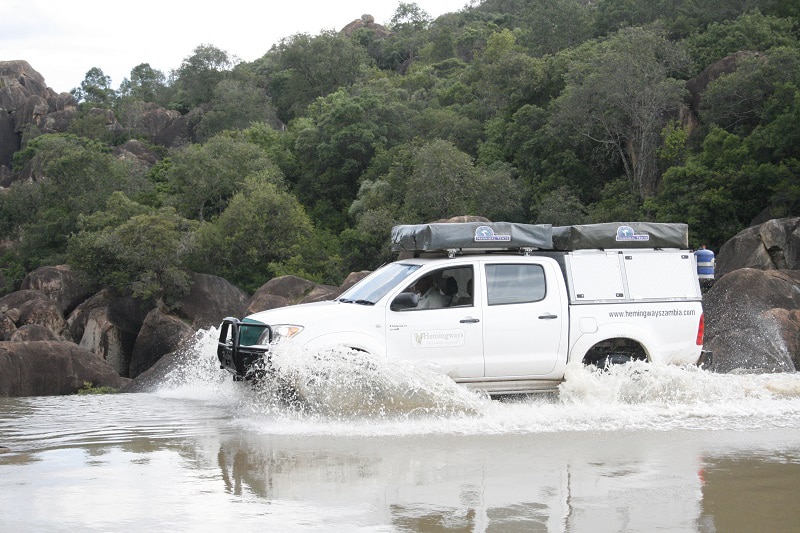 Zambian self-drive adventures may become tricky during the rainy season
Broadly speaking, there are three options for travelling in and around Zambia: by fly-in safari direct to your lodge, by road on a 4×4 self-drive or transfer, or rather less efficiently, by public transport.
While it can be fun, and is definitely the most affordable option, public transport in Zambia is unreliable and slow, and you'll certainly miss out on valuable safari time. Road and air transfers are far quicker and more efficient, and most of Zambia's main camps and lodges offer one or both when conditions allow. Camps in extremely remote areas may only be accessible by air and others that offer a choice during the dry season (May to November) usually get completely cut off by the summer rains. If these stay open at all, it's for fly-in safaris only, although you'll often find good deals and even free flights during this less popular period (December to April).
Flights are obviously the most expensive transfer option, but they're also the quickest and by far the most comfortable. Zambia's dirt roads are rough even when they're dry and road transfers to the major parks from Livingston and Lusaka can take many hours.
Self-driving in Zambia can be daunting for first-timers. Even along its major arteries, road conditions range from immaculate to appalling, often with little warning. Off-road driving can be some of the most challenging in Southern Africa and in summer the rains make most roads impassable, regardless of your vehicle or 4×4 skills. From June to November, however, and with a little patience, experience and some local knowledge, driving in Zambia needn't be as daunting as it first seems. Exploring Zambia in a 4×4 is one of Africa's great experiences and there's nothing quite like the sense of achievement of arriving at a lodge or tented camp after a long, challenging day. If you do plan to self-drive keep these points in mind:
Don't drive after dark at all. Zambia's roads are shared by livestock, people, bicycles and vehicles, the latter with a seemingly wanton disregard for headlights

The general speed limit is 100km/h in open areas and 50km/h in towns. Keep a sharp eye out for these signs. Police tend to set up camp just behind them

Look out for speed humps. Almost all major towns have a set on their outskirts. They may look small but they are nasty and will damage your vehicle if taken at speed

Keep an eye out for branches in the road. They signal that a vehicle has broken down ahead and you should slow down