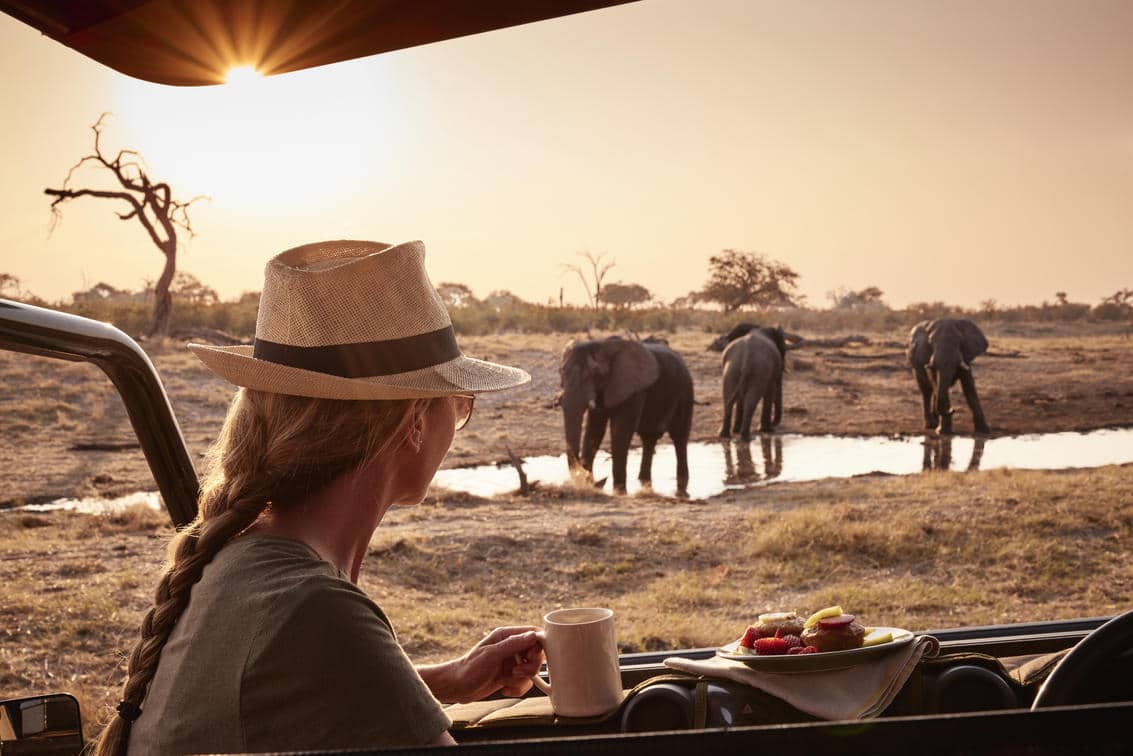 View Photos
Get to Know Botswana
The landlocked country of Botswana is one of Africa's most popular destinations for safari. The political stability and continuing GDP growth in the country has meant that more and more resources are being used to boost tourism in the region.
This is not only great news for Botswana's economy, but for those looking to experience an authentic Botswana safari that is both affordable and sustainable.
Botswana is home to intriguing landscapes, geographical wonders and luxury accommodation. An abundance of wildlife, birds, premium national parks and reserves all work together to make this a prime safari destination.
During a typical Botswana vacation, you will usually get to experience a beautiful Okavango Delta safari as well.  is the world's largest and each year swells with water, transforming grasslands and plains into snaking waterways and marshes. Elephants, hippos and Nile crocodiles call this home, as well as game and an astonishing number of birds.
A Central Kalahari desert safari is another point of great interest, due to its history as the home of one of the world's oldest people; the San bushmen. The desert also has its own uniquely adapted wildlife and landscapes.
Travel with Peace of Mind
Plan your safari with confidence. Refundable deposits and flexible rebooking terms standard on your African safari.
Refundable
Rebookable
Flexible
Authentic
When is the best month to travel to Botswana?
---
Why travel with us?
Recent reviews from travellers who planned and booked their Africa trips with Discover Africa Safaris
Safari/bucket showers are common in mobile or tented camps where there is no permanent plumbing. They are an effective yet environmentally friendly way to shower where water is at a premium and provide plenty of hot water to wash comfortably.
Generally, there is an en-suite private shower stall within your tent with a "rainfall" style shower head at which you can control the water flow. Outside the tent, there is a large waterproof bag or bucket which is filled with about 10 to 15 litres (5 US gallons) of hot water before being raised with a pully/rope system to either connect to the shower pipe or fill a cistern.
The water is delivered at the ideal temperature so it is best to use it as soon as it arrives. Staff typically fill the showers at a pre-arranged time of day, or you simply need to give them a few minutes notice so they can get it ready.
If you're travelling to Botswana, you will need vaccinations for hepatitis A, typhoid fever, polio as well as medications for travellers diarrhea.
Malaria prophylaxis is recommended when you're travelling to the northern part of Botswana. Other immunizations may be necessary depending upon the circumstances of the trip and the medical history of the traveller.
Insect repellents are recommended, in conjunction with other measures to prevent mosquito bites.
All travellers should visit either a travel clinic or their personal physician four to eight weeks before departure. Malaria - Prophylaxis with Lariam (mefloquine), Malarone (atovaquone/proguanil) or doxycycline is recommended for the northern part of the country.
Botswana official currency is the Botswana Pula (BWP).  Other countries using the same Botswana currency include Zimbabwe.
Botswana Banks accepts the following foreign currencies: US Dollars, Pounds Sterling, Euro and South African Rands in cash.
Credit and debit cards, including International Visa and MasterCard, are accepted at most lodges. However, Express and Diners Club are not accepted by the banks of Botswana or by the camps.
Africa is a great continent to go horse riding and the fact that many destinations in Africa that you may want to visit may not have functioning roads, so horse riding could be one of your only options to achieve seeing all there is to see.
Show More FAQs
---
Our Recommended Activities in Botswana
---
See Botswana in Your Comfort
---
Holiday Styles and Options in Botswana
---
Who is Travelling to Botswana with you?
---
© Copyright Discover Africa Group