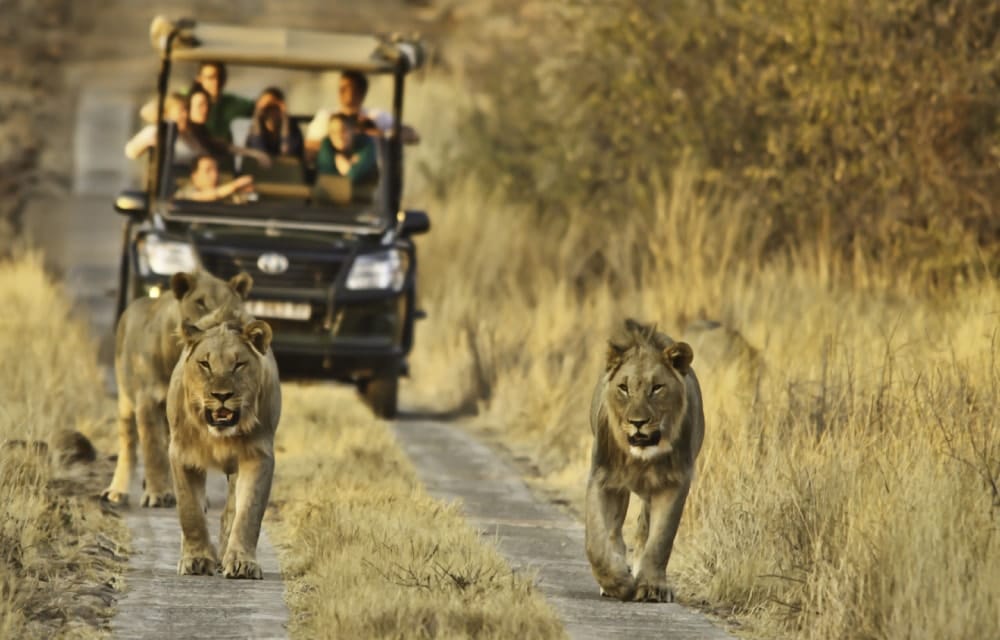 View Photos
Get to Know Kruger National Park
Extending over a similar area to Wales, Kruger National Park is a 20,000 square-kilometre national park supports more than 160 mammal and 500 bird species, including substantial populations of all the Big Five
The Kruger National Park is an important stronghold for several of Africa's most iconic large mammals. Kruger National Park supports more than half the world's remaining white rhinos, along with substantial populations of buffaloes, elephants, black rhinos, leopards, cheetahs, African wild dogs and giraffes, and one of the few viable lion populations in southern Africa. Birding in Kruger National Park is excellent too, particularly in the summer months. Other wildlife you can see at Kruger National Park includes baboons, warthogs, hyenas, many small predators, and around a dozen antelope species.
Kruger National Park Video
Where to go in Kruger National Park
Travel with Peace of Mind
Plan your safari with confidence. Refundable deposits and flexible rebooking terms standard on your African safari.
Refundable
Rebookable
Flexible
Authentic
When is the best month to travel to Kruger National Park?
---
Why travel with us?
Recent reviews from travellers who planned and booked their Africa trips with Discover Africa Safaris
FAQs about Kruger National Park
There are plenty of different accomodation options in Kruger National Park, ranging from luxury
safari lodges to simple safari camps. Examples of this include;
Imbali Safari Lodge
,
Hoyo Hoyo Safari Lodge
, Nsala Safari Camp and much more.
Travel along the N1 through Polokwane (Pietersburg). Link up with the R524 at Makhado (Louis Trichard) and follow this route for 140km.

This will bring you to the gate.

Allow 5 to 6 hours for the journey to the gate. Pafuri Border Camp is about 70 kilometres from the gate.

Allow plenty of time for the drive to the camp, especially if you want to take advantage of the game viewing opportunities!
Safari/bucket showers are common in mobile or tented camps where there is no permanent plumbing. They are an effective yet environmentally friendly way to shower where water is at a premium and provide plenty of hot water to wash comfortably.
Generally, there is an en-suite private shower stall within your tent with a "rainfall" style shower head at which you can control the water flow. Outside the tent, there is a large waterproof bag or bucket which is filled with about 10 to 15 litres (5 US gallons) of hot water before being raised with a pully/rope system to either connect to the shower pipe or fill a cistern.
The water is delivered at the ideal temperature so it is best to use it as soon as it arrives. Staff typically fill the showers at a pre-arranged time of day, or you simply need to give them a few minutes notice so they can get it ready.
Safari lodges have guest rooms similar to a hotel with en-suite bathrooms. They are comfortably furnished with facilities normally associated with a hotel rooms, except your rooms are normally set in beautiful wilderness settings, with nature and wildlife around.
Tented lodges have rooms which are tents on a platform and with a roof and also have en-suite facilities with showers, flush toilets and hot water. Basically all the amenities of a hotel room, except canvas walls and roof.
The boutique lodges and camps can be very stylish and smart in terms of design and decor, often with very spacious rooms and even going so far in some cases as having plunge pools for each room.
Eco-camps and smaller tented camps have insect-proof tents with en-suite facilities including a safari shower and flush toilet.  They give a more authentic safari experience but the tents are comfortably furnished with proper beds and you don't need to bring your own sleeping bag! The emphasis is usually on having excellent guides and great wildlife viewing away from the crowds. Guests often eat together and people travelling alone usually say that they found the atmosphere friendly and enjoyed meeting other like-minded travellers around the campfire in the evening or at dinner.
The Adventure Camps are a budget option with guests bringing their own sleeping bags and towels. Accommodation is in small dome tented with a mattress on the floor. Each tent has its own nearby cubicle with a flush toilet, safari shower, and wash basin. The Adventure Camps are suitable only for those who don't mind "real camping" and can put with some degree of "roughing it". Apart from the accommodation in simple dome tents, the meals and the guiding are the same standards as the higher quality camps and game drives are in 4x4 safari vehicles. For those on a limited budget, the Adventure Camps are a good alternative to the big tourist lodges and minibus tours for those for whom the safari experience is more important than hotel accommodation.
Most lodges and hotels will have safes for your valuables either in your room or at the reception.
The local currency is the South African Rand (ZAR). There are numerous currency exchange outlets and the main credit cards (Visa, MasterCard, Amex and Diners) are normally accepted everywhere.
Most petrol stations and toll roads take credit cards, but always have a small amount of cash on you for tips etc. Numerous ATMs can be found in all the big towns.
Electricity in Botswana, Kenya, Namibia, South Africa, Tanzania, Zambia, Zimbabwe and in most of the continent is 220/240 volts.
Most safari lodges and camps are not connected to an electrical supply. Solar lighting (backed up by batteries) is common, with many lodges having a generator, which runs part of the day (morning and late evening when guests are out on their activities).
Lanterns also provide light at night. In many camps running on solar power, you will not be able to use a hairdryer.
Some areas won't suit the family and it's also wise to be aware of malaria in others, however, South Africa has a few malaria-free safari locations and there are other safari lodges and bush camps throughout Africa that cater to young children and toddlers, just do the research beforehand.
Southern Africa is a hot wildlife destination. There is a world of luxury bush camps, lodges and Eco-friendly tourist establishments in the heart of wildlife heaven.
Show More FAQs
---
See Kruger National Park in Your Comfort
---
Holiday Styles and Options in Kruger National Park
---
Who is Travelling to Kruger National Park with you?
---
© Copyright Discover Africa Group