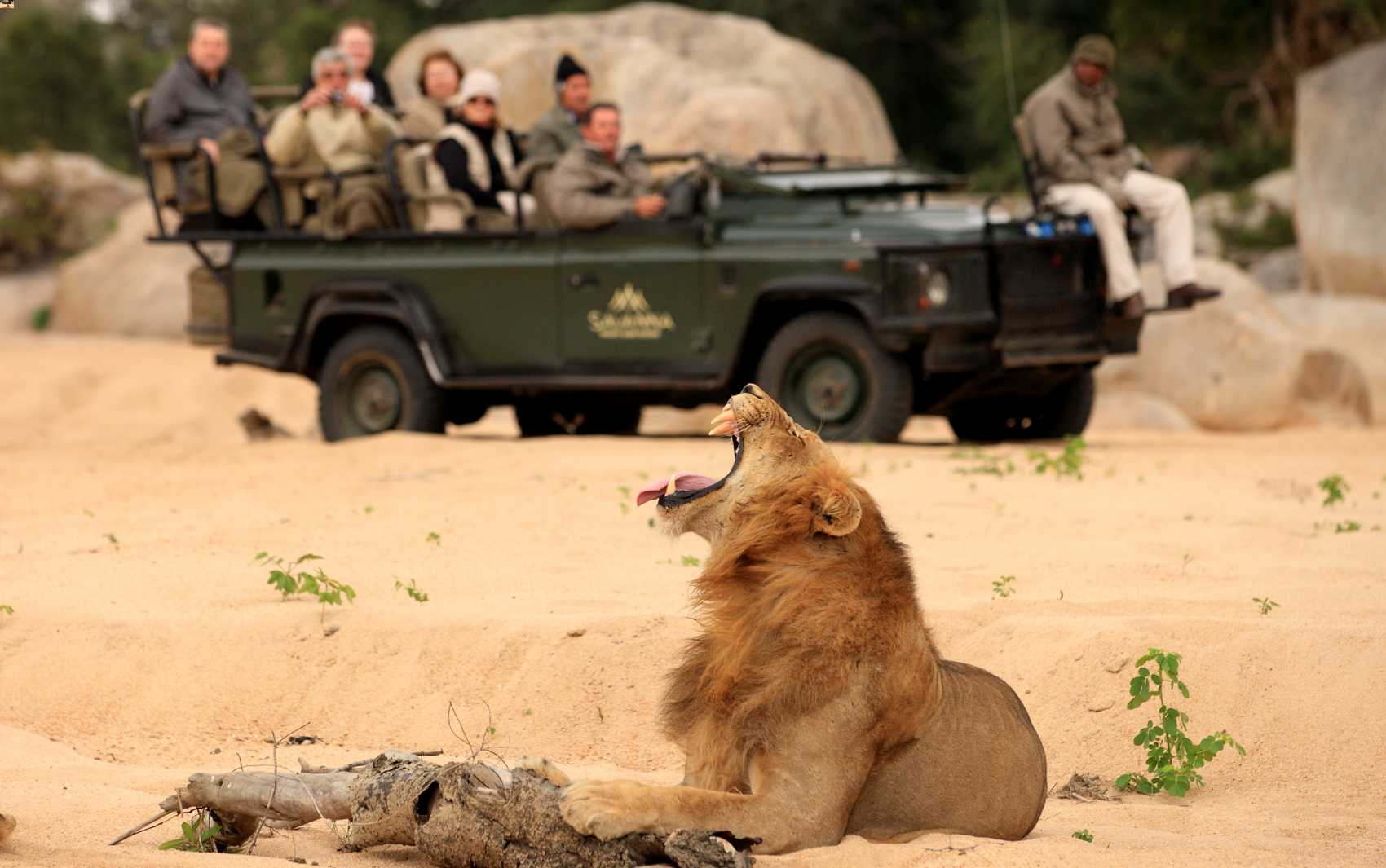 View Photos
Get to Know Sabi Sands Game Reserve
A western extension of the wildlife-rich southern Kruger, the cluster of private reserves known collectively as Sabi Sand are renowned for their stylish lodges and peerless game viewing.
Comprising around 20 small but contiguous private reserves, the Sabi Sand area is arguably the most exclusive Big Five game-viewing location in Africa. The area is renowned for the frequency and quality of its leopard sightings, but it is also superb when it comes to close-up encounters with lions, cheetahs, white rhinos, elephants and most other large ungulates common in Kruger.
A feature of the reserves is the superb night drives, which often yield sightings of nocturnal oddities such as bushbabies, genets, civets and (occasionally) the bizarre aardvark.  Off-road driving is also permitted, selectively.
Travel with Peace of Mind
Plan your safari with confidence. Refundable deposits and flexible rebooking terms standard on your African safari.
Refundable
Rebookable
Flexible
Authentic
---
Why travel with us?
Recent reviews from travellers who planned and booked their Africa trips with Discover Africa Safaris
Safari lodges have guest rooms similar to a hotel with en-suite bathrooms. They are comfortably furnished with facilities normally associated with a hotel rooms, except your rooms are normally set in beautiful wilderness settings, with nature and wildlife around.
Tented lodges have rooms which are tents on a platform and with a roof and also have en-suite facilities with showers, flush toilets and hot water. Basically all the amenities of a hotel room, except canvas walls and roof.
The boutique lodges and camps can be very stylish and smart in terms of design and decor, often with very spacious rooms and even going so far in some cases as having plunge pools for each room.
Eco-camps and smaller tented camps have insect-proof tents with en-suite facilities including a safari shower and flush toilet.  They give a more authentic safari experience but the tents are comfortably furnished with proper beds and you don't need to bring your own sleeping bag! The emphasis is usually on having excellent guides and great wildlife viewing away from the crowds. Guests often eat together and people travelling alone usually say that they found the atmosphere friendly and enjoyed meeting other like-minded travellers around the campfire in the evening or at dinner.
The Adventure Camps are a budget option with guests bringing their own sleeping bags and towels. Accommodation is in small dome tented with a mattress on the floor. Each tent has its own nearby cubicle with a flush toilet, safari shower, and wash basin. The Adventure Camps are suitable only for those who don't mind "real camping" and can put with some degree of "roughing it". Apart from the accommodation in simple dome tents, the meals and the guiding are the same standards as the higher quality camps and game drives are in 4x4 safari vehicles. For those on a limited budget, the Adventure Camps are a good alternative to the big tourist lodges and minibus tours for those for whom the safari experience is more important than hotel accommodation.
Most lodges and hotels will have safes for your valuables either in your room or at the reception.
The local currency is the South African Rand (ZAR). There are numerous currency exchange outlets and the main credit cards (Visa, MasterCard, Amex and Diners) are normally accepted everywhere.
Most petrol stations and toll roads take credit cards, but always have a small amount of cash on you for tips etc. Numerous ATMs can be found in all the big towns.
During the dry season of May to September is the best time to visit Leopard Hills Private Game Reserve.
May through September, during the winter months, is the best time to visit Mala Mala Game Reserve. Animals are easier to spot, as they convene at trusted water sources.
The dry season / winter months of May to September is the best time to visit the Sabi Sand Game Reserve. The vegetation will thin out, making it easier to spot wildlife congregating around water sources.
Southern Africa is a hot wildlife destination. There is a world of luxury bush camps, lodges and Eco-friendly tourist establishments in the heart of wildlife heaven.
Show More FAQs
---
© Copyright Discover Africa Group