Honeymoons in Africa, holidays & tours
Honeymoons in Africa, holidays & tours
There's no better way to relax and celebrate your lives together, than on a romantic honeymoon in Africa.
Honeymoons in Africa, holidays & tours available in
Botswana, Kenya, Mozambique, Namibia, Rwanda, South Africa, Tanzania, Uganda, Zimbabwe
Custom designed Honeymoons in Africa
Describe your dream trip
We'll put together the best value for you
Book when you're ready
Help Me Plan
There's no better way to relax and celebrate your lives together, than on a romantic honeymoon in Africa.
The early explorers fell in love with quiet, intimate nights under canvas, sitting around the fire with the energy of optimism and opportunity that filled the air. It is the same romance and freedom that bought the European settlers to Africa years later and it's the incredible feeling of being alive that makes people return for romantic holidays.
Africa is the only real authentic honeymoon destination that offers you endless options, from romantic boutique camps and lodges in the heart of the Serengeti or the Okavango Delta, to nights under stars on privately owned wildlife concessions. There are beaches and tropical islands, hot air balloon rides over the savannah plains and an energy and love that can only be found in Africa.
Honeymoons are highly personal and specialised and they require a lot of attention. It's important to find the perfect itinerary and accommodations to make it as special as it should be.
Popular Honeymoons in Africa
These popular itineraries can be customised to match your budget and travel dates
More on Honeymoons in Africa
Tanzania's uncrowned wildlife parks and reserves combined with the turquoise Indian Ocean islands makes for an incredible honeymoon destination that is both unspoilt and authentic. At the moment, it's Africa's premier honeymoon option. The people's warm and friendly manner combined with the world's best parks and reserves, islands and beaches is unparalleled.
During the right time of year, Botswana's reserves and parks offer a magnificent safari experience. With its intimate boutique camps in remote locations, Botswana is very accessible and can easily be combined with the beaches in South Africa or Mozambique.
South Africa is a honeymoon from start to finish, with pristine beaches and extraordinary wildlife lodges and camps. At the moment it's one of the few safari destinations where you can effortlessly combine the bush with the beach.
Kenya is a bit more of a mass tourism beach location, but there are a few private villas or lodges that offer authentic, romantic honeymoon options. Combine the beach with the Laikipia, Lewa and central highlands and find a perfect honeymoon in Kenya. Lamu in the north offers wonderful beach options in a remote location and can easily be combined with the Masai Mara or private wildlife areas.
Uganda's forests and Lake Victoria's beaches make a great combination and there are few things more romantic than a wooden cabin in the African rainforest. The Nile River is another stellar option.
Mozambique's private islands are simply ideal for a honeymoon. The Quirimbas and Bazaruto archipelago's are southern Africa's premier beach destinations. Combine these with some good safari locations just across the border in South Africa.
Namibia has an entirely different beauty. The space and contrast has its own unique beauty and appeal, with the empty, flat dessert and the wildlife rich Etosha National Park. There's also the Atlantic Ocean and endless vistas and sunsets. Namibia is for the adventurous honeymoon couple and offers space and tranquillity with wonderful locations and warm hearted locals.
The Islands of Mauritius, Seychelles, Reunion and or Madagascar offer wonderful honeymoon experiences with private and romantic accommodation options. Mauritius and the Seychelles are the more commercial options, while Reunion and Madagascar are more authentic and unspoilt. Combine any of these islands with mainland Africa's wilderness or simply visit the islands on their own.
Frequently Asked Questions about Honeymoons in Africa
What vaccinations should I get?
This is all dependant on the countries that you will be visitng and due to the status of certain vaccinations changing at times, please consult our experts before getting vaccines. go there.
Is it okay to drink the water?
In some parts of Southern Africa it is safe to drink the tap water, however it is highly recommended to stick to bottled water (mostly supplied) during your trip as even drinkable African water is completely different in taste and… go there.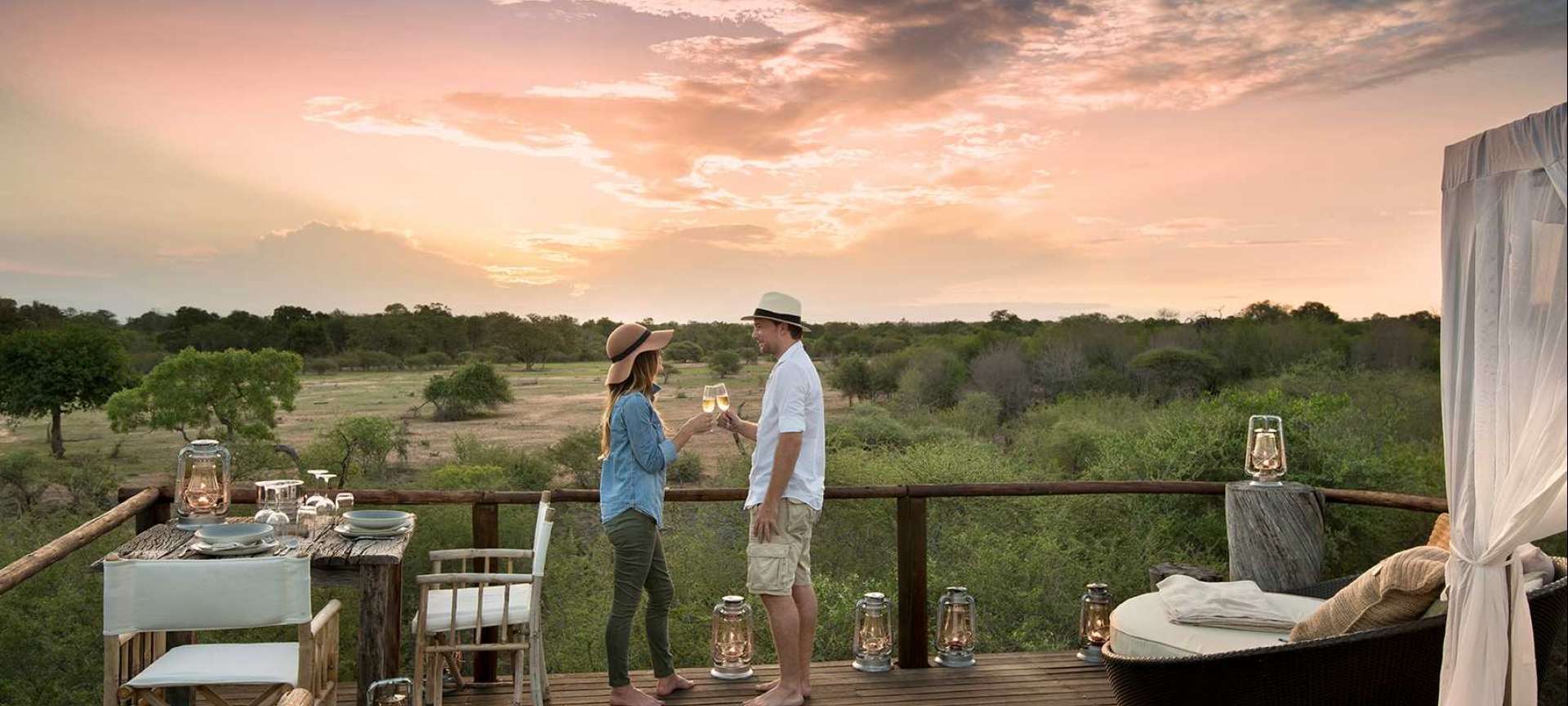 Reviews on our Honeymoons in Africa
This was my first safari. I didn't expect to be so pampered. Everything was first class. We had everything provided for us before even asking. We had a dedicated team at our service. Megan was on call whenever we needed something and she…
Saada
from Nigeria
Tanya was an absolute delight to deal with. From the first phone call she was extremely polite, professional and very eager to facilitate my requests regarding our safari. Our 3 nights at the V & A Hotel were fabulous and Motswari Game…
Debbie
from Australia
Perfectly tailor-made tours that take all your wishes and requests into consideration. All my expectations were beyond fulfilled.
Henrik Wetterstrand
from Sweden
Living afar and trusting in an organisation with whom you have no previous knowledge can lead to feeling of mistrust and wondering whether what we have paid for actually exists. A little more proactive communication would have eased those…
Tony Russell
I just wanted to thank Discover Africa and Karl Svendsen - the safari was great - we saw many more animals than expected including cheetah, leopard, many lions and even a three-day old elephant calf. Additionally, we had our own hippo…
Margaret Dean
Planning the trip was managed extremely well especially since travel was at a busy time of year and not much notice was given. All communication was by email, and was responded to promptly and efficiently. Different options were provided…
Suzanne McKeen