There is just something magical about the African sunsets. Colours of orange and red fill the sky as the sun waves goodbye to another great day in Africa.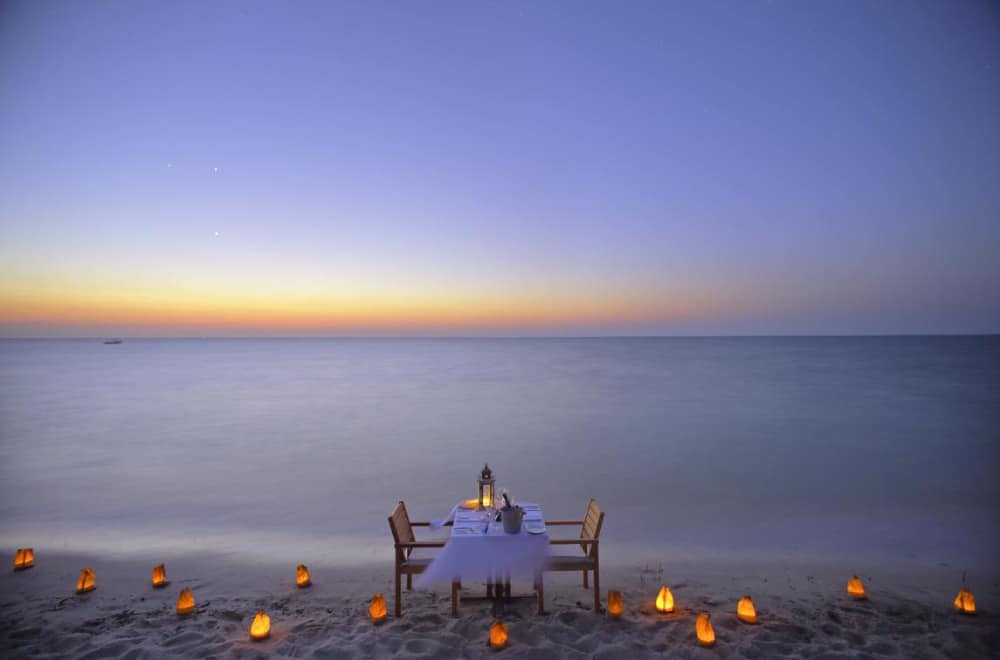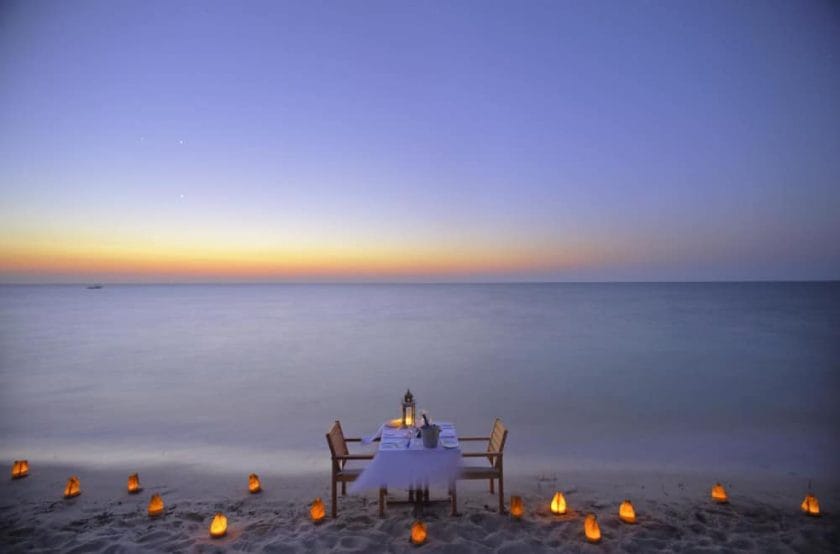 Benguerra Island Mozambique Dinner setup
But what is the ideal length of your trip to spend in Africa and more particularly on your honeymoon?  Here is some advice.
Best time to go on safari
Travel to Africa for your safari, you would like to travel at the perfect time.  There is however no perfect time for a safari, especially with Mother Nature at the steer of things.  But I can point you in the right direction.
The drier season, which would be from about July to October, would be the better choice for travelling to Southern Africa. The bush would be less dense and spotting wildlife a little easier. They tend to gather around water sources and these are mostly the areas with the most activity.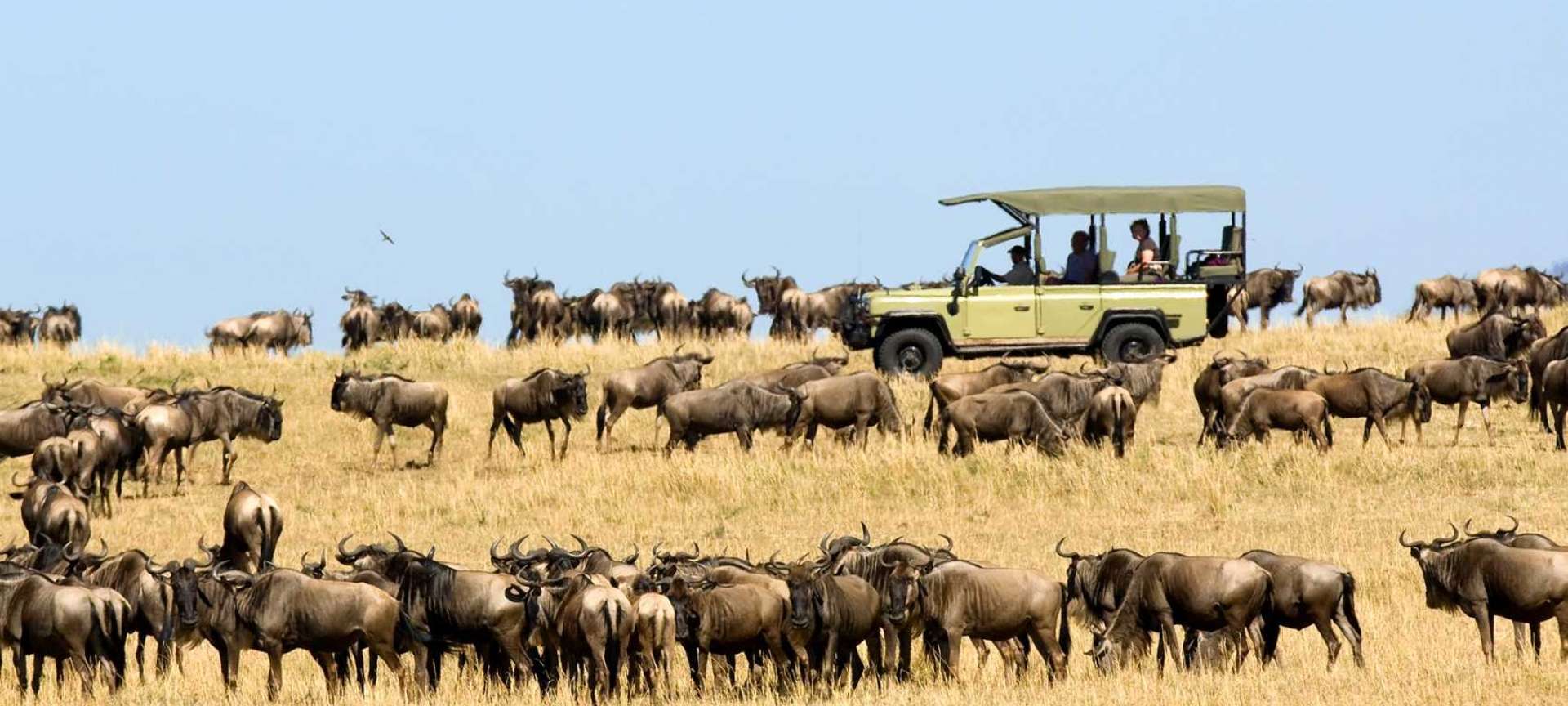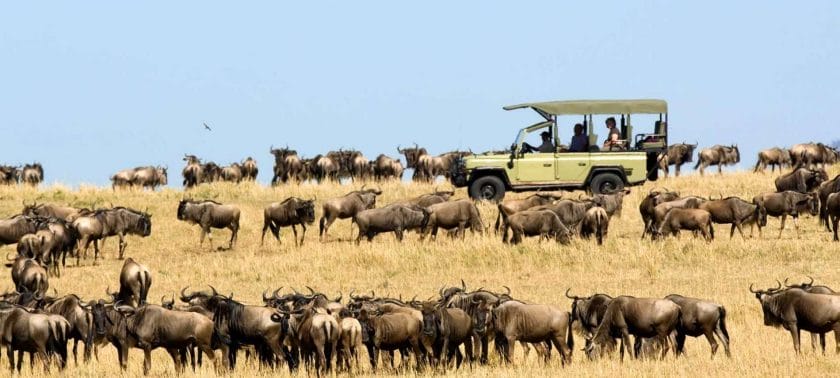 Game drive during a Wildebeest Migration?
However, if you are travelling to East Africa to witness the wildebeest migration, the best would be to travel to the right area at the right time of year.  As the migration would be a year-round event, you would just have to be in the right area at the right time. 
For the famous river crossings in the northern part of the Serengeti, you would need to travel around about July / August.  If you are keen to see all the newborns, the best time to travel to the Southern Serengeti would be around February.
List Priorities to Select Best Safari Honeymoon Destination
Once you have decided on Africa as your honeymoon destination, the next step would be to select the best country for your trip.
There are some great safari destinations in Africa. In Southern Africa, you would have the choice between South Africa, Botswana, Zimbabwe and Zambia. Travelling to East Africa, Kenya and Tanzania are great options.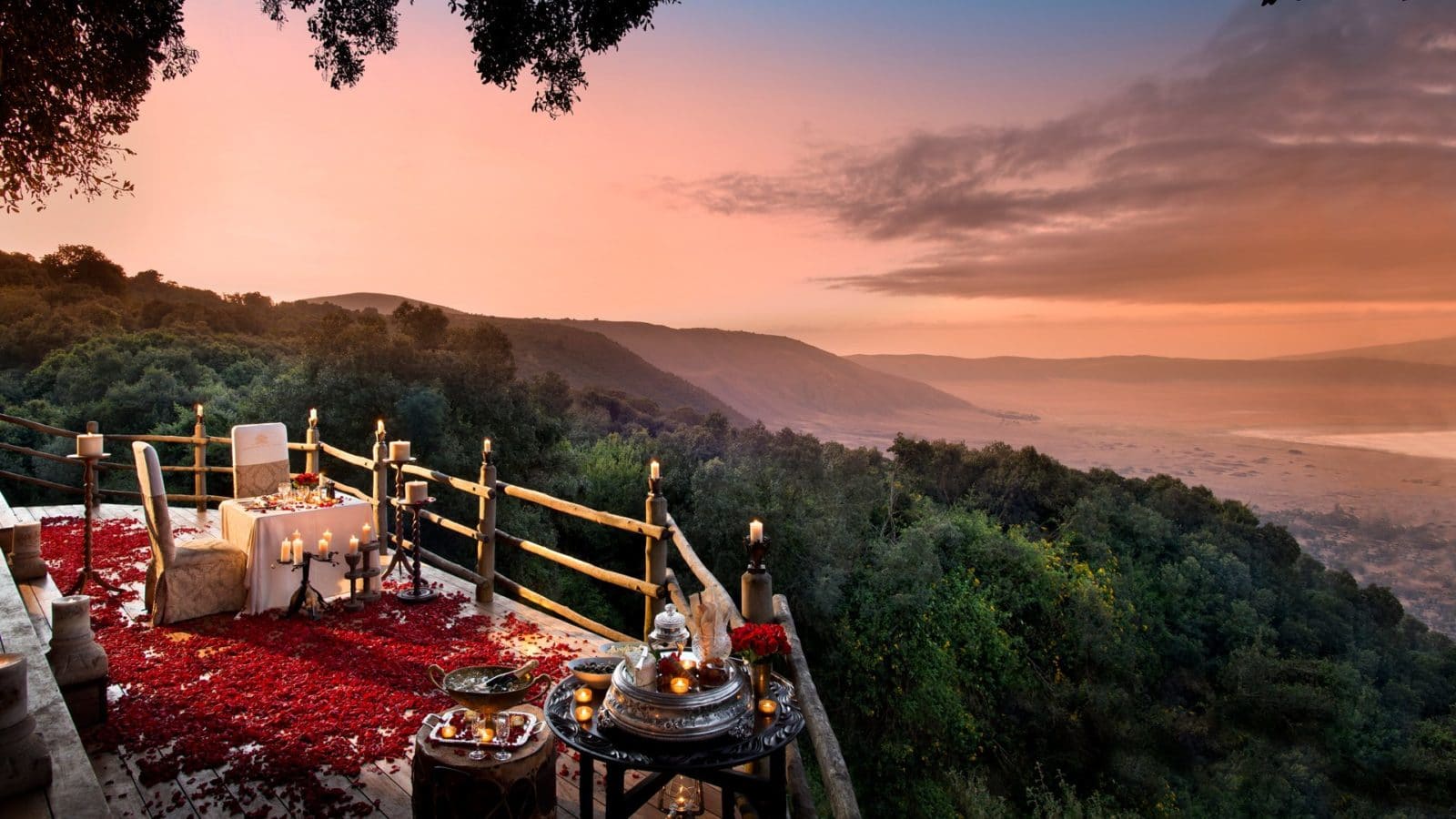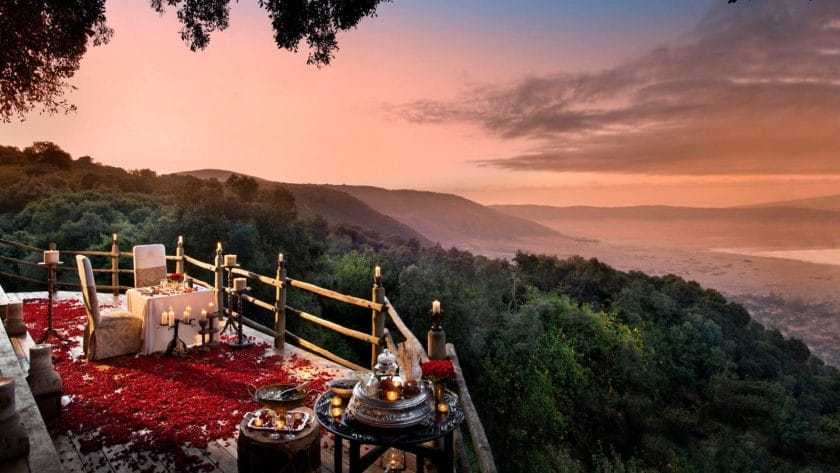 Romantic setup overlooking Tanzania ?
However, most of the countries are great when combined. A big 5 safari in South Africa ending with a river cruise on the Chobe River in Botswana is an amazing safari. Or why not visit both Tanzania and Kenya to experience the wildebeest migration and enhance your chances of witnessing a river crossing.
Safari can be tiring with early morning game drives and late evenings. Spending some time at the beach after your safari would be great to relax and just soak up the African sun. Depending on how many countries you would like to include as well as the destinations, your trip can be anything from a week to 15 days.
Three of Four days is usually enough time at each camp
Depending on how many destinations you are planning to include in your itinerary, about 3 to 4 nights would be enough time at a safari camp. This would give you plenty of time to spot the wildlife on your bucket list, but also some time to enjoy the lodge. Most safari lodges have great pools that have views over the bush or you might even have your own private plunge pool or sala. Great to spend your afternoons!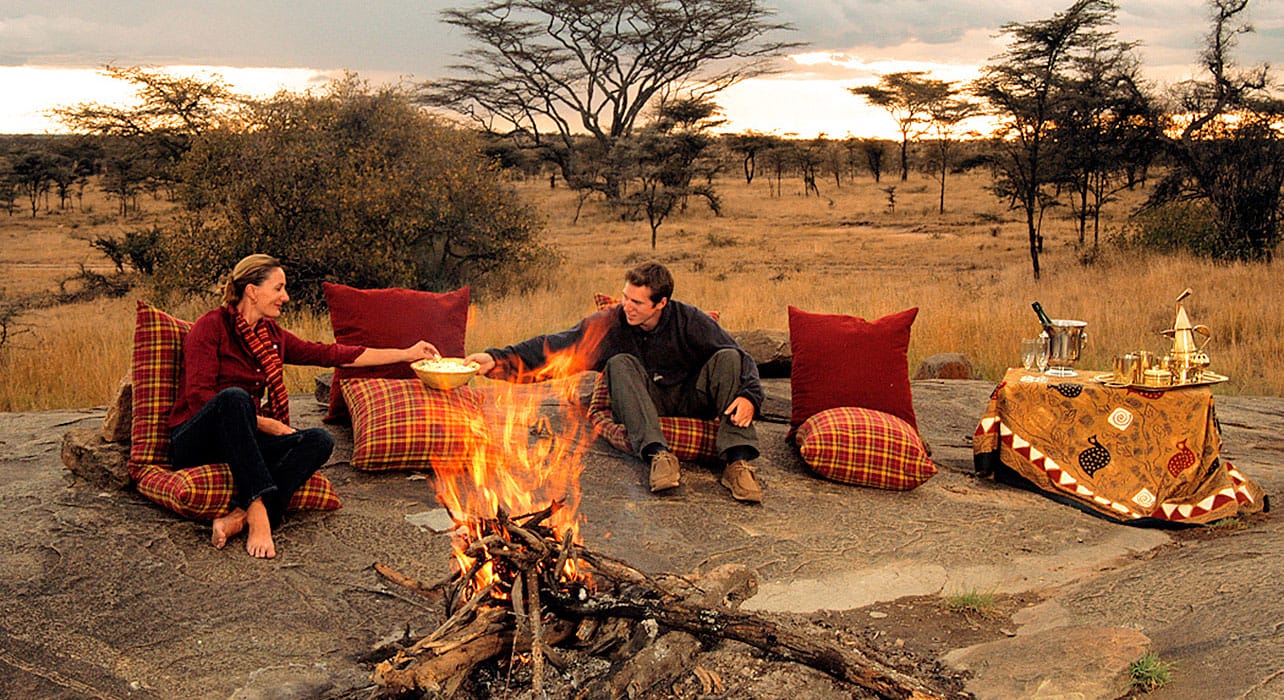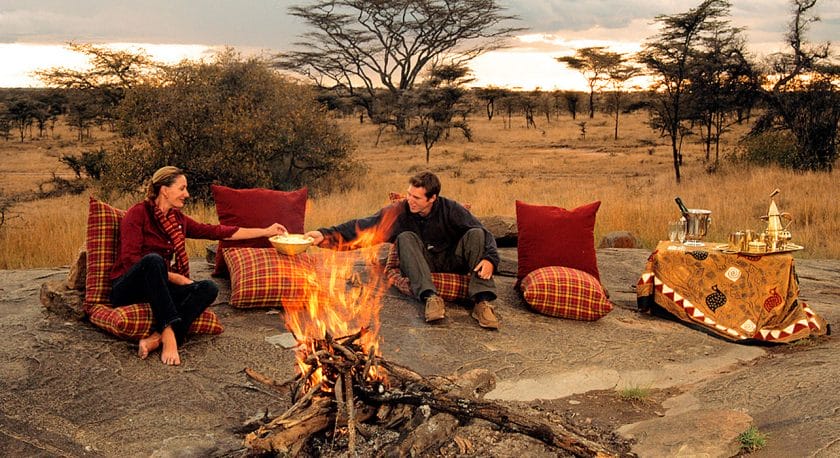 Romantic campfire in the African bush?
There are also great destinations to add to your safari and you would not want to miss out. There's the famous Table Mountain in Cape Town and the Victoria Falls in either Zimbabwe or Zambia when selecting Southern Africa as your destination choice. 
The Ngorongoro Crater in Tanzania is a great add on while in East Africa.  Another amazing add on while in East Africa would be a Gorilla trekking in either Uganda or Rwanda. These creatures are magical and a once in a lifetime experience to witness up close.
How far you able to stretch the budget
Travelling to Africa for a safari can add up rather quickly.  But travelling on a budget does not mean that you have to cut your trip short. Most hotels and lodges offer great specials for honeymooners. 
Whether it is free dinner or activity while at the hotel, some game lodges offer up to 50% discount for the bride for the duration of the stay. With a discount like this, you would be able to add about another night or 2.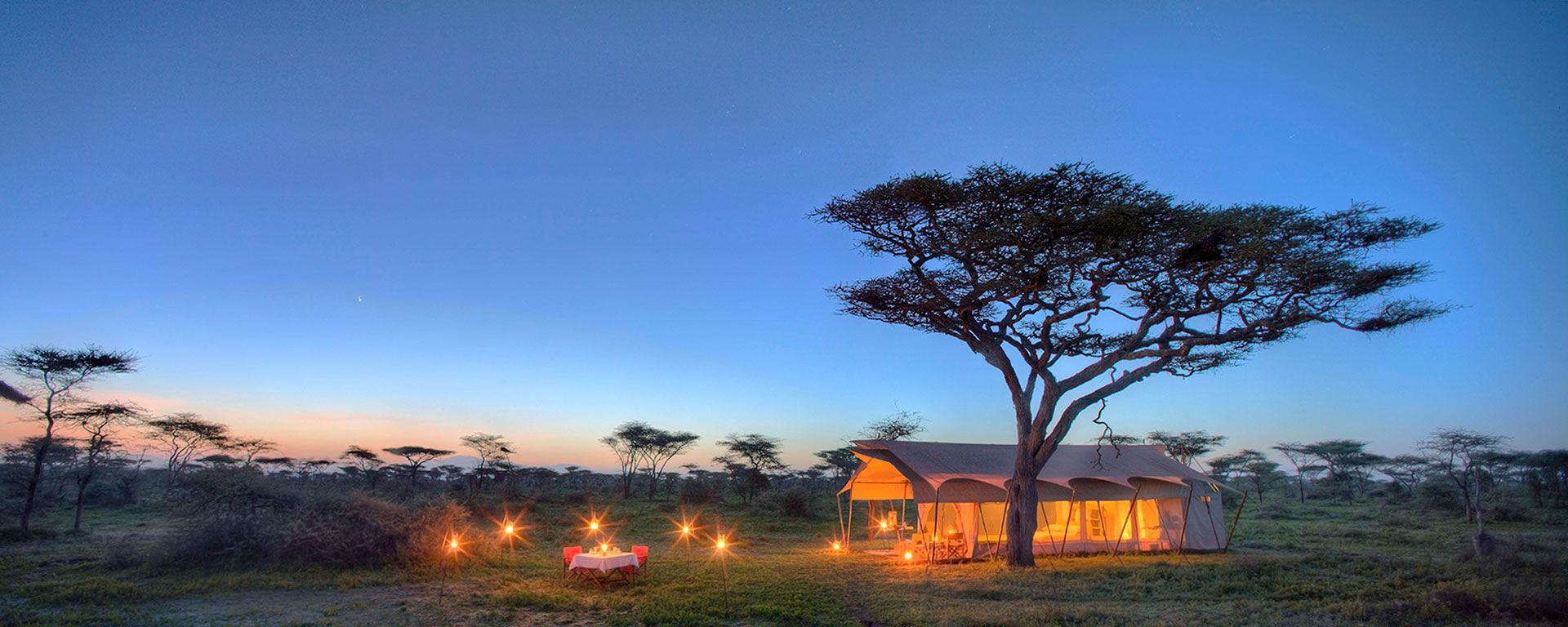 Luxury Serengeti Mobile Camp
When travelling to Africa, there is no perfect length as there is so much to experience and see.  But I would not recommend that you travel for less than a week and then split your time between only two destinations. This would allow you to enjoy the areas and not spend too much time travelling. Travelling for 10 days or more, you can add another destination.  But don't stress too much. Contact Discover Africa and we will gladly assist you with planning your amazing honeymoon!