Everything you need to know about the Ngorongoro Crater
Welcome to Discover Africa's Ngorongoro Crater guide. Exploring the unique Ngorongoro Crater – surrounded by the towering volcanic walls on every side and blessed with prolific and extremely well-habituated wildlife – almost feels like you're driving through a zoo; only the surrounding crater scenery is jaw-droppingly impressive. With the greater Serengeti ecosystem so blessed with wildlife and scenic beauty, it is hard to imagine it could have anything more to offer, but the great East African migration steals the show.
---
Our recommended tour
Affordable Ngorongoro & Serengeti Safari
Begin your journey in northern Tanzania at the pristine Ngorongoro Crater, an extinct volcano that collapsed millions of years ago, creating one of the world's biggest calderas. As a result of this natural phenomenon, the fertile rich soils have attracted incredible amounts of wildlife and birds. Your next stop is the northern Serengeti, the most epic place to see the Wildebeest Migration, the Mara River crossings into Kenya being the most thrilling. Another highlight of this tour is the chance to meet the warm guardians of Tanzania & Kenya; the Maasai people. Two world-famous destinations in under a week!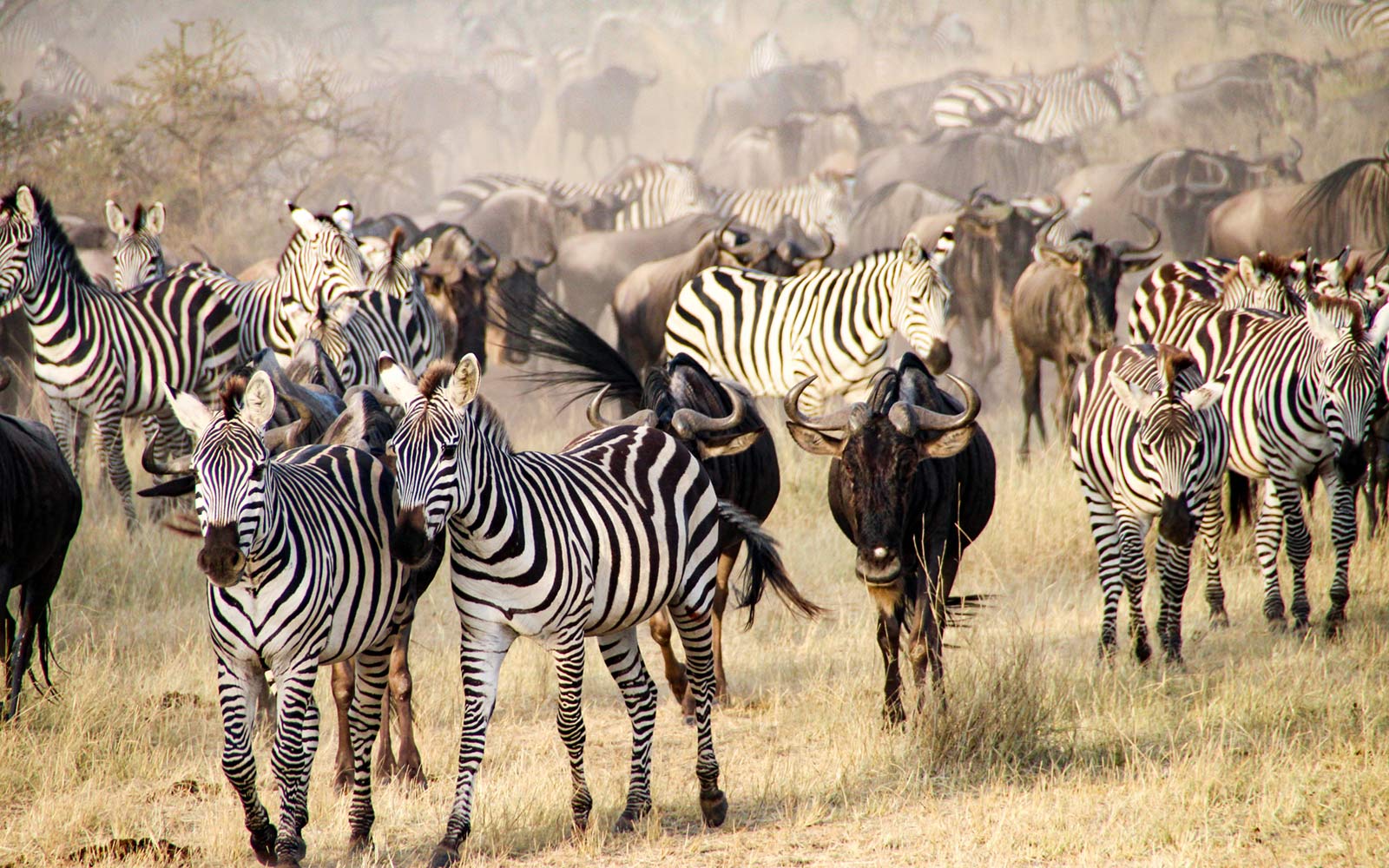 Where to go and Highlights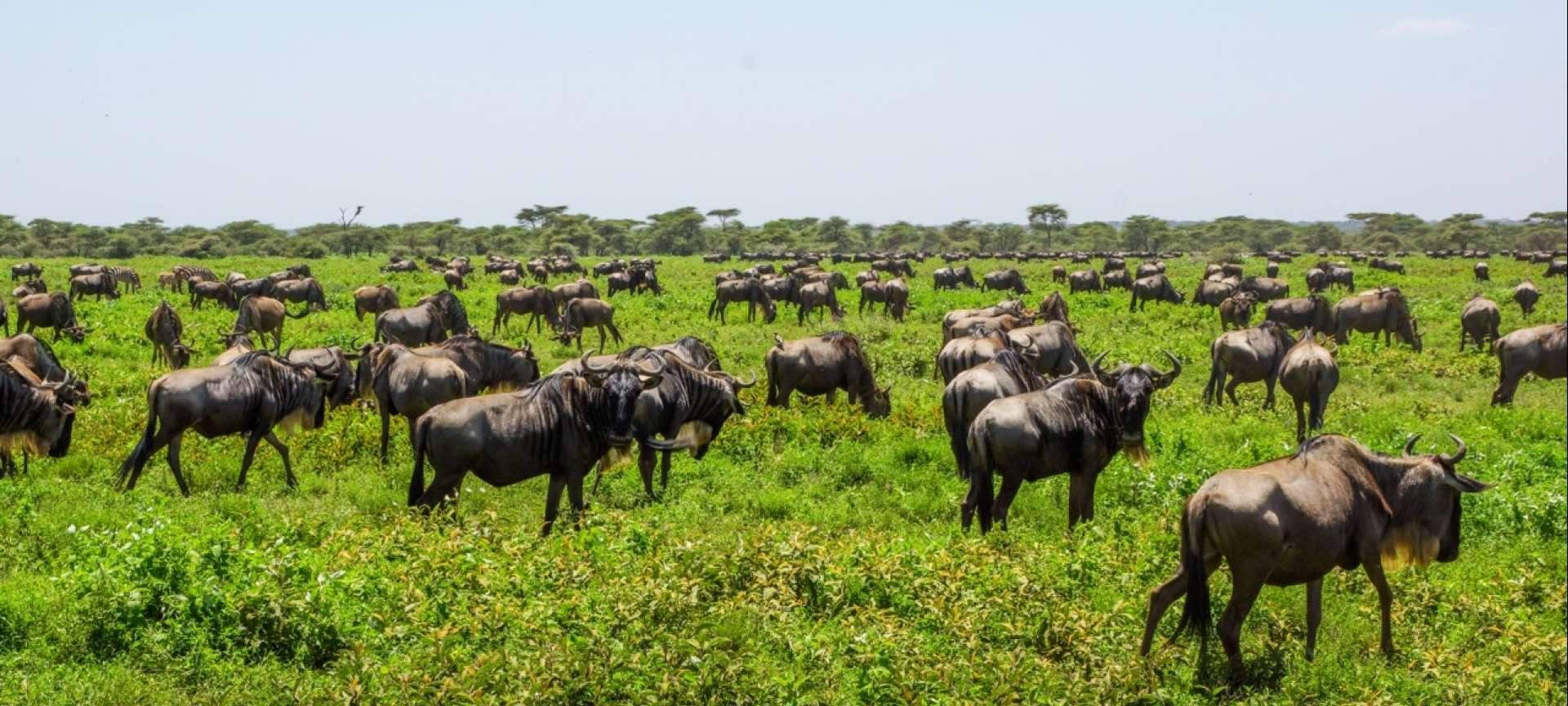 Weather in Ngorongoro
Although Ngorongoro and the Crater Highlands stand in the heart of the tropics less than 200km south of the equator, the high elevation (mostly above 2,000m) means the climate is surprisingly cool, seldom rising above 25°C by day and more often than not dropping to below 10°C by night. It tends to be sunny by day, but cloudy weather is far from unusual and the gap in altitude between the crater floor and rim usually results in a significant build-up of mist in the early mornings. Ngorongoro's tropical location means there is relatively little seasonal variation in average minimum and maximum temperatures
You can visit Ngorongoro at any time of year and there are several more compelling factors in deciding your timing than climate. Because the crater can get quite crowded with safari vehicles during peak seasons, those seeking a relatively untrammeled atmosphere might consider aiming for April and May, which are the quietest months for tourism, not only both in Ngorongoro but in all the other reserves along the northern Tanzania safari circuit.
The Ngorongoro Conservation Area is the largest unbroken, unflooded volcanic caldera in the world. It is a scenic showstopper that extends across an astonishing 260 square kilometres. The crater is hemmed in on all sides by sheer craggy walls that rise up to 600m above the floor. The view from the lushly forested rim is utterly stupendous and would justify a visit to Ngorongoro in its own right. But this spectacular crater also stands as one of Africa's most alluring safari destinations, supporting solid populations of all of the Big Five (elephant, lion, leopard, black rhino and buffalo), plus a host of other iconic large mammals, in a lush and scenic landscape that frequently draws comparisons to the metaphorical "Garden of Eden".


Extending eastward from its border with the Serengeti National Park, the 8,292-square-kilometre Ngorongoro Conservation Area forms part of the greater Serengeti ecosystem, and its western plains lie along a migration route followed annually by some 2,5 million wildebeest and other ungulates. The eastern part of the conservation area comprises the Crater Highlands, a geologically spectacular region of volcanic peaks and craters formed by the same tectonic forces that created the Great Rift Valley below. Most of the crater highlands stand above the 2,000m contour, and while the loftiest peak, Lolmalasin, only ranks third among Tanzania's mountains (after Mount Kilimanjaro and Mount Meru), there is no higher summit in any of the dozen African countries that lie to its south.
Ngorongoro Conservation Area was inscribed as a UNESCO World Heritage Site in 1979. It is one of only 38 such sites worldwide to be listed on mixed natural and cultural criteria. In addition to its staggering volcanic scenery and profuse wildlife, the conservation area contains many archaeological sites of great international importance. Most notable among these is Oldupai Gorge, where Richard and Mary Leakey discovered the game-changing , 1,75 million-year-old fossil jawbone nicknamed Nutcracker Man in 1959. Nearby, the three-million-year-old Laetoli footprints are the most ancient hominid tracks ever found. Another striking feature of Ngorongoro Conservation Area is that among African game reserves of comparable stature, it still supports significant human communities, comprised mainly of traditionalist Maasai and Datoga pastoralists and Hadza hunter-gatherers, all of whom co-exist reasonably harmoniously alongside the prodigious wildlife.
Wildlife
The game viewing centre piece of Ngorongoro Conservation Area is the grassy floor that stands at an altitude of 1,800m. The crater is dominated by a cover of open savannah that looks lush and green during the rainy season but is altogether dustier and more windswept during drier months. Important micro habitats within the crater floor include the fever-tree forest at Lerai, the shallow saline Lake Magadi, the lush reed-fringed Gorigor Swamp, and a permanent hippo pool fed by Ngoitokitok Springs.
The open grasslands of the crater floor is home to immense concentrations of grazing antelops all year through, with numbers peaking between December and May, the main rainy season. Most common are blue wildebeest and Burchell's zebra, resident populations of which are estimated at 10,000 and 5,000 respectively. Wildebeest and zebra are commonly seen together and/or in the company of other grazers such as the diminutive Thomson's gazelle, the larger and longer-horned Grant's gazelle, and the rather doleful looking topi and Coke's hartebeest). Other less numerous antelopes include the handsome Defassa waterbuck (which differs from the common waterbuck in having a redder tinge to the coat and a full white rump), the secretive bushbuck, and the massive eland, all of which are most commonly seen in the vicinity of Lerai Forest or swampy areas.
Animals
The crater floor supports significant populations of all the Big Five. Most commonly the African buffalo, large herds of which are often seen marching across the crater floor in search of grazing or water. Least likely to be seen is the leopard, which is resident on the crater floor, but only in small numbers due to a lack of suitable habitat, and tends to be retiring and secretive.
Ngorongoro Crater serves as something of a retirement ground for old elephant bulls, many of which sport outsized tusks to dimensions now seldom seen in parts of Africa that have suffered from commercial poaching in recent decades. Lerai Forest and the nearby Gorigor Swamp are the favoured haunt of these mighty male tuskers, up to 70 of which are resident at any given time. Oddly, no elephant breeding herds are resident on the crater, though females and family herds do pass through from time to time.
Ngorongoro Crater is one of the best places in East Africa to look for the black rhino, an endangered species with a very restricted presence in Tanzania. Between 1964 and 1992, the crater's resident population of these cumbersome beasts decreased from an estimated 100 individuals to no more than 10 as a result of poaching. Since then, the local rhino population and the diversity of the gene pool has been boosted by the introduction of several individuals from South Africa, though the authorities are reluctant to publicise actual numbers. All the crater's rhinos have been fitted with a tracking device in their horns, in order to monitor their movements and to discourage poachers. They tend to range between the Lerai Forest and Lake Magadi, browsing in the latter by night and then moving into more open terrain by day. Their unusually pale coloration is attributable to a predilection for bathing in saline Lake Magadi and rolling in the fringing salt flats.
The floor of Ngorongoro Crater reputedly supports Africa's densest concentration of lions, with up to 100 individuals present in suitable conditions. That said, lion numbers do fluctuate somewhat, due to a combination of disease (the closed nature of the crater makes its inhabitants particularly vulnerable to epidemics), emigration from and immigration to the surrounding highlands, and occasional pride takeovers that often result in the new dominant male killing all unrelated cubs and adolescents. It would be unusual to spend a day in the crater and not see any lions, which are generally very relaxed around vehicles, though they might be encountered just about anywhere so it is difficult to predict where you might find them.
Other predators are well represented too. Most populous is the spotted hyena, which is Africa's second largest carnivore after the lion, and tends to be less dependent on scavenging than is popularly assumed. An estimated 400 individuals are resident in the crater, so you are unlikely to spend long there without stumbling across one. If you specifically want to seek out a hyena, head to the eastern shore of Lake Magadi, where they often rest up during the day, occasionally trying to sneak up and snack on the flamingos that flock the shallows.
The open grasslands of the crater floor are the perfect cheetah habitat, and there are also plenty of small antelope for these feline speedsters to feed on, so it's a bit surprising that none were present as recently as the 1990s. The most likely explanation for this is competition with the dense populations of lion and spotted hyenas, both of which will routinely chase a cheetah off a fresh kill. Since 2000, however, cheetahs have recolonised the crater floor and they are now quite commonly seen stalking through the plains in search of gazelle.
Other common predators are the golden jackal, black-backed jackal and bat-eared fox, with the former being most likely to be encountered due to its relatively diurnal habits. By contrast, giraffe and impala, both common on the surrounding plains, are totally absent from the crater floor. In the case of the giraffe, this is possibly attributable to a lack of suitable browsing fodder, or to the difficulty of descending the steep crater walls, but the absence of impala is a mystery.
Birds
A high proportion of the 550-plus bird species recorded in the Ngorongoro Conservation Area inhabit the crater floor. For casual visitors, a highlight is the large flocks of lesser and greater flamingo that aggregate in Lake Magadi, tinting its margins pink from a distance. Common grassland specialists include ostrich (the world's largest bird), Kori bustard (the world's heaviest flying bird, known for its spectacular mating dance) and a host of smaller ground birds including the exquisite rosy-throated longclaw, the babbler-like rufous-tailed weaver (a species endemic to the Tanzanian interior) and various larks, wheatears and pipits. Moist grassland often supports flocks of the lovely grey crowned crane and (in the rainy season) huge flocks of migrant white, black and Adbim's storks. Lerai forest is the place to seek out striking woodland specialists such as Hildebrandt's starling, green wood hoopoe and Fischer's lovebird.
Raptors are abundant. The most conspicuous species is the handsome augur buzzard, sometimes seen here in its unusual melanistic form, but always distinguishable by its reddish tail. The crater floor is ideal habitat for the secretary bird, an anomalous long-legged terrestrial hunter that stands up to 1.5m tall and feeds mainly on snakes, which it stamps to death in a bizarre flailing dance. The most interesting of seven vultures recorded in the crater is the Egyptian vulture, a localised species whose who know to crack open ostrich eggs by holding a stone in its beak, making it the only avian tool-user. Finally, on the subject of scavenging birds, watch out for the black kites that haunt the picnic site at Ngoitokitok Springs, swooping down on unprepared tourists to snatch the food from their hands!
The Afromontane forest that swathes the crater rim supports a very different flora and fauna to the crater floor. Mammals are thinly distributed, but the forest does support a dense population of elusive leopards, plenty of blue monkeys and bushbuck, as well as the secretive bushpig and the localised tree hyrax (which is more difficult to see than the rock hyrax, but reveals its presence with an far-carrying eerie nocturnal call that sounds like it comes from a much larger creature). Colourful forest birds often seen in lodge gardens on the crater rim include bar-tailed trogon, cinnamon-chested bee-eater, baglafecht weaver, tacazze sunbird, malachite sunbird, golden-winged sunbird and Schalow's turaco.
Flora
Elsewhere the crater highlands support a cover of open Afromontane grasslands where low volumes of grazers such as buffalo and zebra coexist with domestic cattle owned by the red-robed Maasai who still pursue their traditional pastoral lifestyle in the area. Game is rather more prolific in the relatively low-lying short-grass plains that stretch west from the base of the Crater Highlands to the Serengeti border. Indeed, this Serengeti-Ngorongoro border region is the main focal point of the annual Serengeti migration of more than two million wildebeest and other ungulates during the rainy season (typically from late November to early May) and it is also where the wildebeest calving takes place over February.
Type of traveller
Solo travel to the Ngorongoro

Credit: Sanctuary Ngorongoro Crater Camp

Very few people visit Ngorongoro solo. The main reason for this is presumably because a solo safari in northern Tanzania works out to be so much more expensive per person than it does for a couple or a small group. That said, if cost is not an obstacle, there is absolutely no reason why you couldn't do a solo safari to Ngorongoro and elsewhere in Tanzania.

Those actively seeking company along the way might do best to fly between the sort of exclusive lodges that offer all-inclusive packages, shared game drives and a common dining experience.

Those that prefer their own company might prefer to book a bespoke road safari with their own driver/guide throughout. Special interest groups for which a solo safari might be preferable to joining a group safari are photographers and birdwatchers who want to pursue their passion without having to compromise to allow for the requirements of more generalist safari goers.

Honeymoon safari in the Ngorongoro

Credit: Ngorongoro Crater Camp

Bespoke safaris are the name of the game in Tanzania, and probably half of the open-topped 4x4s you see in Ngorongoro and elsewhere on the northern safari circuit are occupied by one couple. In many respects, the best way to explore the area is with a like-minded partner rather than a larger group with more divergent interests and temperaments. It is also a more spacious arrangement than cramming four or more passengers into one vehicle.

For honeymooners, the Ngorongoro Crater rim must one of the most romantic and memorable settings imaginable. While long dusty game drives on a chilly highland morning watching lions devour gazelles or elephants depositing their heavyweight stools on the roadside might not be everyone's cup of romance, the crater rim does boast a couple of lodges whose honeymoon facilities live up to the superb setting.

A popular option with honeymooners to Tanzania is a few days on safari taking in Ngorongoro and the greater Serengeti area, or even a sojourn into Kenya if you have the time and budget.

Family safari in the Ngorongoro

Credit: Ngorongoro Crater Camp

Ngorongoro and the other reserves that comprise Tanzania's northern safari circuit are well suited to family and small group safaris. Cost-wise, since almost all safaris are undertaken in 4x4s with pop-up tops, the optimum group size is four or five individuals, though larger groups can always be split between two or more vehicles.

It is generally a good idea for groups to be reasonably compatible in terms of previous safari experience and special interests - repeat safari goers often have different priorities than first-timers, while passionate birdwatchers or photographers are likely to get up the noses of less dedicated fellow passengers. For this reason, unless your budget absolutely dictates it, we would recommend against joining a group safari with strangers.
Budget Ngorongoro Safari

The Ngorongoro Crater cannot be considered a budget destination. The conservation authority charges a high daily entrance fee and crater service fee and access is only realistic in a sturdy and well-maintained 4x4 with an experienced local driver, and accommodation on the crater rim and in nearby Karati is all pretty pricey.

The best way to keep down costs is to camp, either at the official campsite on the crater rim (stunning location, but expensive, with limited amenities, and very cold at night) or at one of several equipped but less attractive private sites close to Karati. It will also cut the price significantly if you join or try to put together a group of four of five like-minded travellers, so that transport-associated costs can be split between several people, bearing in mind that most itineraries would also take in a couple of other safari destinations, for instance Serengeti, Tarangire and/or Lake Manyara National Park.


Try our African Safari Cost Calculator

Affordable safari in the Ngorongoro

Affordability is a relative thing when it comes to Ngorongoro and the other parks along the northern Tanzania safari circuit. All the parks are serviced by mid-range lodges but these tend to charge rack rates that would be considered upmarket in most other contexts.

a good way to keep things affordable is to stay in or around Karatu - although it is less atmospheric than sleeping on the crater rim. Rooms in terms of quality are probably 50% cheaper outside the conservation area, and there are even a few genuine mid-range options that offer simple but comfortable accommodation at wallet-friendly rates.

Accommodation and meals aside, most costs associated with an Ngorongoro or northern Tanzania safari (for instance, fuel, driver and conservation fees) are pretty much the same irrespective of whether it is labelled a budget, mid-range or upmarket safari, but the 'per person' cost of a safari will decrease significantly if these are split between a group of four or five like-minded friends or family rather than a solo traveller or couple.


Try our African Safari Cost Calculator

Luxury safari in Ngorongoro


Try our African Safari Cost Calculator
---