Ngorongoro Crater safaris, tours & holiday packages
This is where vast herds of the Great Migration come to give birth in a 3-million-year-old collapsed volcano, Masai people live and fossils abound
Ngorongoro Crater – a Unesco World Heritage site – is 600 meters deep, 20 kilometres wide and the largest unflooded, unbroken caldera in the world. It's an extraordinary ecosystem where you can find the Big Five or even, if you're lucky, the endangered black rhino on the Crater floor.When it was still active, the volcano deposited its volcanic ash on what's now the Serengeti plains towards the west, preserving many fossils in Olduvai (Oldupai) Gorge, discovered by Louis and Mary Leakey. The greater Ngorongoro Conservation Area conserves the fragile Ngorongoro Crater ecosystem and serves as an important space for the animals of the Great Migration to give birth at Lake Ndutu, which borders the southern Serengeti.
Popular Ngorongoro Crater safaris
These popular itineraries can be customised to match your budget and travel dates
Megan Warrington says
"'The greater Ngorongoro Conservation Area is far more than just the Crater itself. You have options to see the birth of the new generation of migratory species at Ndutu, visit Olduvai Gorge, do multi-day walks to Empakai or Natron. Where you stay is important, so let us know how much time you plan to spend and we can design your NCA experience carefully.' "
More on Ngorongoro Crater holidays
Despite its name, the Ngorongoro Crater isn't technically a crater (i.e. the top of a volcanic pipe that spewed lava); it's a caldera (collapsed volcanic mountain). Try to imagine a mountain that was more than 7 kilometres above sea level and 5 000 metres high – higher than Mount Kilimanjaro – before it imploded about 3 million years ago. The peak safari season (July to September) is very crowded. To experience its true magnificence, it's better to visit Ngorongoro when it's green and less busy. During the months of March to June, the Crater floor is covered in yellow flowers and you can watch big elephant bulls standing among them. Another draw-card of the area is the famous red-clothed Masai tribe, whose villages were relocated to Ngorongoro from the Serengeti during the late 1950s.
Ngorongoro Crater Map
Ngorongoro Crater's location on Google Maps

Frequently Asked Questions about Ngorongoro Crater
What is a safari "bucket" shower?
Safari/bucket showers are common in mobile or tented camps where there is no permanent plumbing. They are an effective yet environmentally friendly way to shower where water is at a premium and provide plenty of hot water to wash… go there.
What is the accommodation like on safari?
Safari lodges have guest rooms similar to a hotel with en-suite bathrooms. They are comfortably furnished with all facilities normally associated with a 3-star hotel. Tented lodges have rooms which are tents on a platform and with a roof and… go there.
What languages are spoken in Tanzania?
Language The official language in Tanzania is Swahili but there are hundreds of other local dialects. English is the second official language and the country's commercial language. It is also the main teaching language used for all higher… go there.
Can I bring my children along on a safari?
Family safaris in Africa are a worthwhile and meaningful experience. Aside from spending quality time with your nearest and dearest under a wide blue African sky, a safari in Africa offers invaluable experiences including unique cultural… go there.
What vaccinations should I get?
This is all dependant on the countries that you will be visitng and due to the status of certain vaccinations changing at times, please consult our experts before getting vaccines. go there.
Is it okay to drink the water?
In some parts of Southern Africa it is safe to drink the tap water, however it is highly recommended to stick to bottled water (mostly supplied) during your trip as even drinkable African water is completely different in taste and… go there.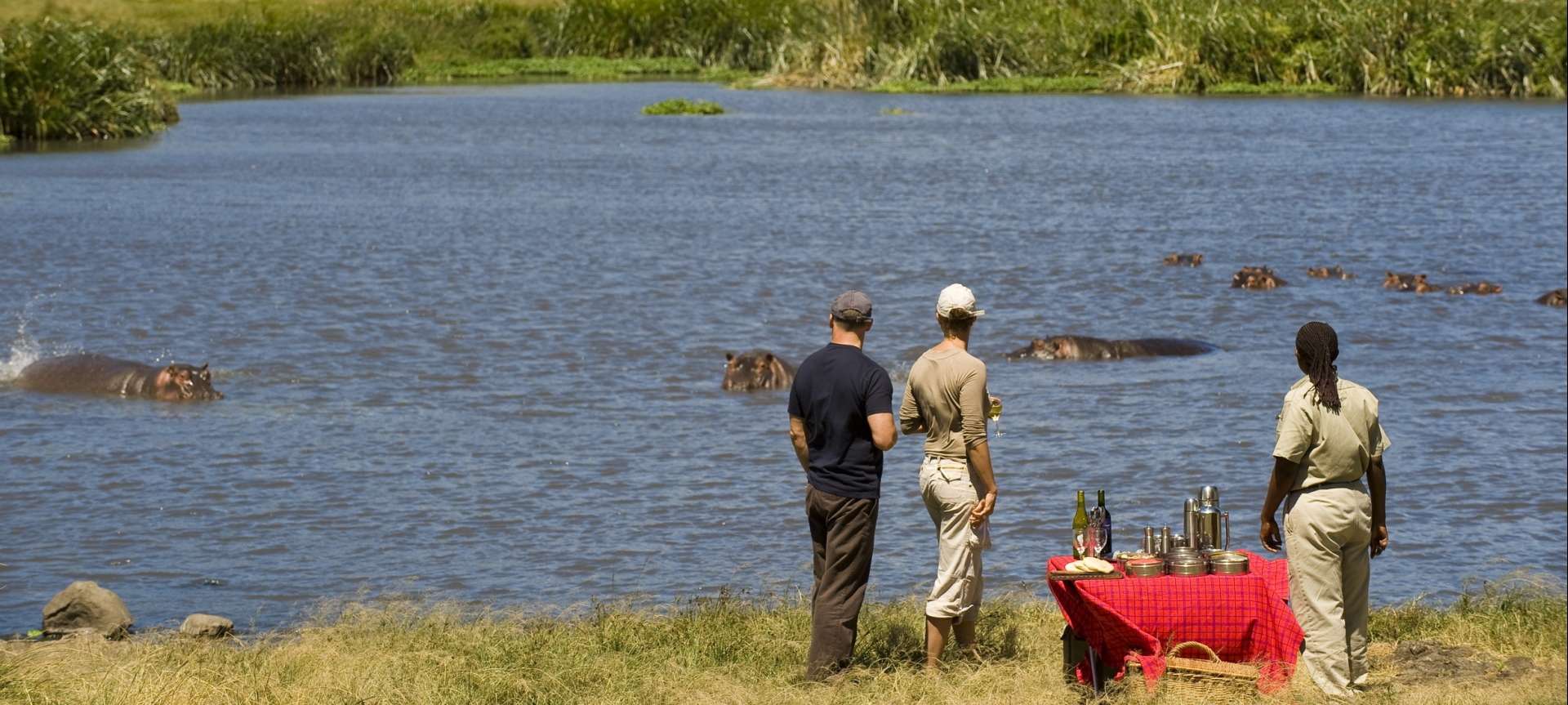 Reviews on our Ngorongoro Crater safaris
All details were covered, all staff and food excellent, service was perfect - would highly recommend for sure.
Ron
from United States of America
Excellent combination of calling to chat about plans and details, followed up with emailing of detailed information. Made all arrangements easy for us from the actual booking to payment procedures, exchange rate recommendations, visa advice,…
Saldrix
from South Africa
Waking up at 5:00 am to a bumpy ride all the way to a hidden hyena den, was something I'll never forget. But the absolute best part was when the 1 month old cub peeked his head out to say hello. It was heartbreakingly cute.
Alana Krutoyarsky
from United States of America
I wish to say thanks to Megan for all your assistance in ensuring that me and my wife enjoy a wonderful holiday, a nice stay at the hotel with just minor issues, and the Hluhluwe Imfolozi park tour. We just wish to pass our gratitude for all…
Mokatse Itumeleng
from South Africa
It was great to work with Discover Africa and thanks so much for your help.
Lisa and Niall Shapiro
from Australia