Lake Manyara National Park safaris, tours & holiday packages
A perfect start to your Tanzanian safari
Custom Lake Manyara National Park
Describe your dream trip
We'll source the best value
Book when you're ready
Savannah-woodland, rainforest and lake combine to put on a show of elephants, tree-climbing lions, primates and birds
Lake Manyara makes a perfect start to a safari, just a 1.5-hour drive west of Arusha in northern Tanzania, on the way to Ngorongoro and the Serengeti. It gives you a chance to see plains game, primates and up to 400 bird species in a 50-kilometre strip of rainforest and savannah-woodland between the Great Rift Valley's Gregory Rift and the soda lake of Lake Manyara.
The park is well protected between these two natural boundaries. Lake Manyara was originally proclaimed to protect elephants, and the small Manyara elephants with their short tusks still roam the rain and fever tree forests in abundance.
Popular Lake Manyara National Park safaris
These popular itineraries can be customised to match your budget and travel dates
Megan Warrington says
"Lake Manyara is a wonderful first park to visit in Tanzania. It shows you a great variety of species, plains game, primates, elephant and even cats if you're lucky. It's very scenic during the rainy seasons and a wonderful park to kick off your safari. Even when Tarangire is too wet, Manyara is always there to rely on."
More on Lake Manyara National Park holidays
The groundwater forest as you enter the park from the north is perfect if you're interested in forest birds and primates, with vervet and Sykes' monkeys and olive baboons in the area. You'll hear and see silvery-cheeked hornbills and crowned hornbills up in the branches. Around the hot springs, you might see tree-climbing lions and even leopard if you're lucky.
Other wildlife attractions are plains game in the form of gazelle, wildebeest, giraffe and buffalo, while hippo and water birds are aplenty at the hippo pool lookout. Highlights include pelicans and storks as well as thousands of pink-hued flamingos when the lake's water level and algae concentrations are right. Spend a night inside the park for the full Lake Manyara experience of early morning and late afternoon; going on a night drive or early morning walk are some of the Manyara's most enjoyable activities.
Lake Manyara National Park Map
Lake Manyara National Park's location on Google Maps

Frequently Asked Questions about Lake Manyara National Park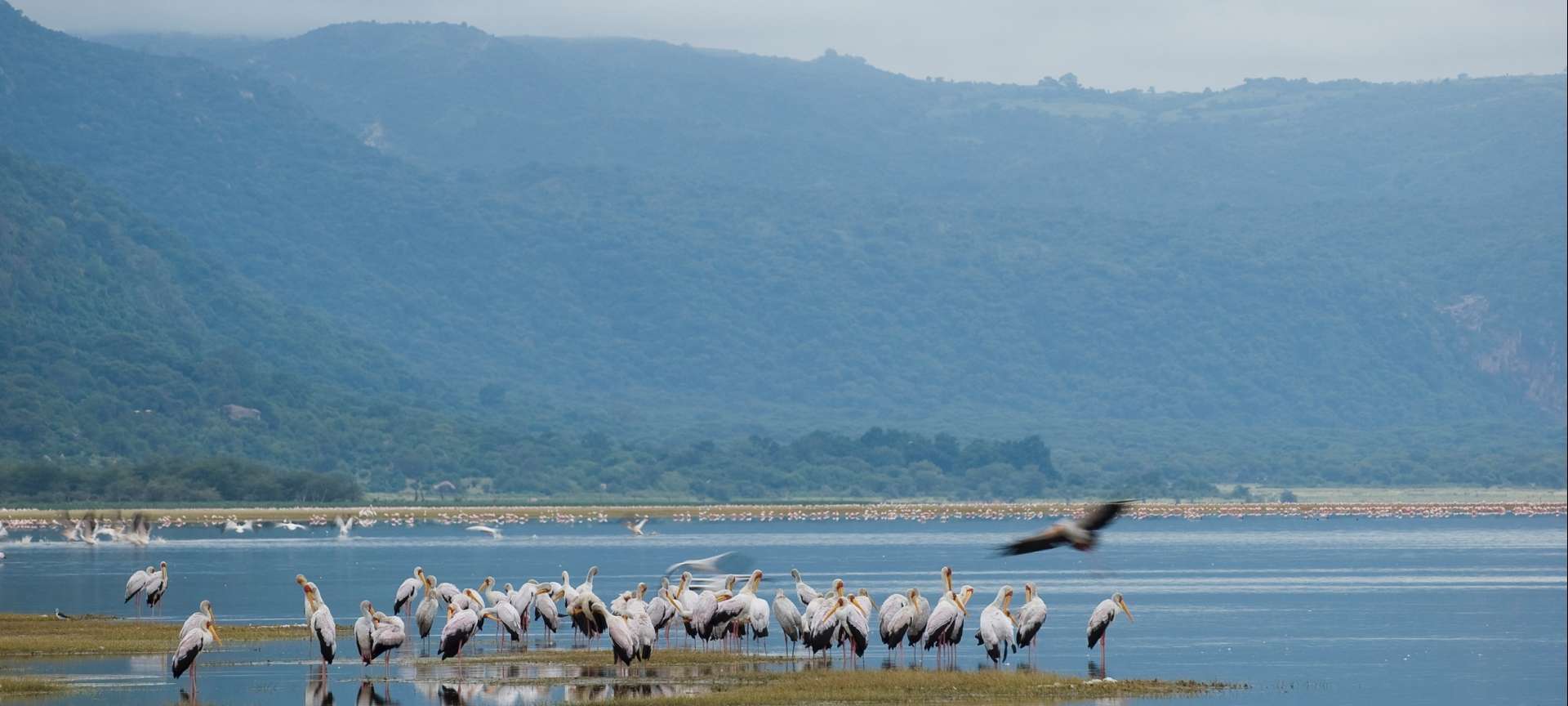 Reviews on our Lake Manyara National Park safaris
This was my first safari. I didn't expect to be so pampered. Everything was first class. We had everything provided for us before even asking. We had a dedicated team at our service. Megan was on call whenever we needed something and she…
Saada
from Nigeria
Tanya was an absolute delight to deal with. From the first phone call she was extremely polite, professional and very eager to facilitate my requests regarding our safari. Our 3 nights at the V & A Hotel were fabulous and Motswari Game…
Debbie
from Australia
Perfectly tailor-made tours that take all your wishes and requests into consideration. All my expectations were beyond fulfilled.
Henrik Wetterstrand
from Sweden
Living afar and trusting in an organisation with whom you have no previous knowledge can lead to feeling of mistrust and wondering whether what we have paid for actually exists. A little more proactive communication would have eased those…
Tony Russell
I just wanted to thank Discover Africa and Karl Svendsen - the safari was great - we saw many more animals than expected including cheetah, leopard, many lions and even a three-day old elephant calf. Additionally, we had our own hippo…
Margaret Dean
Planning the trip was managed extremely well especially since travel was at a busy time of year and not much notice was given. All communication was by email, and was responded to promptly and efficiently. Different options were provided…
Suzanne McKeen