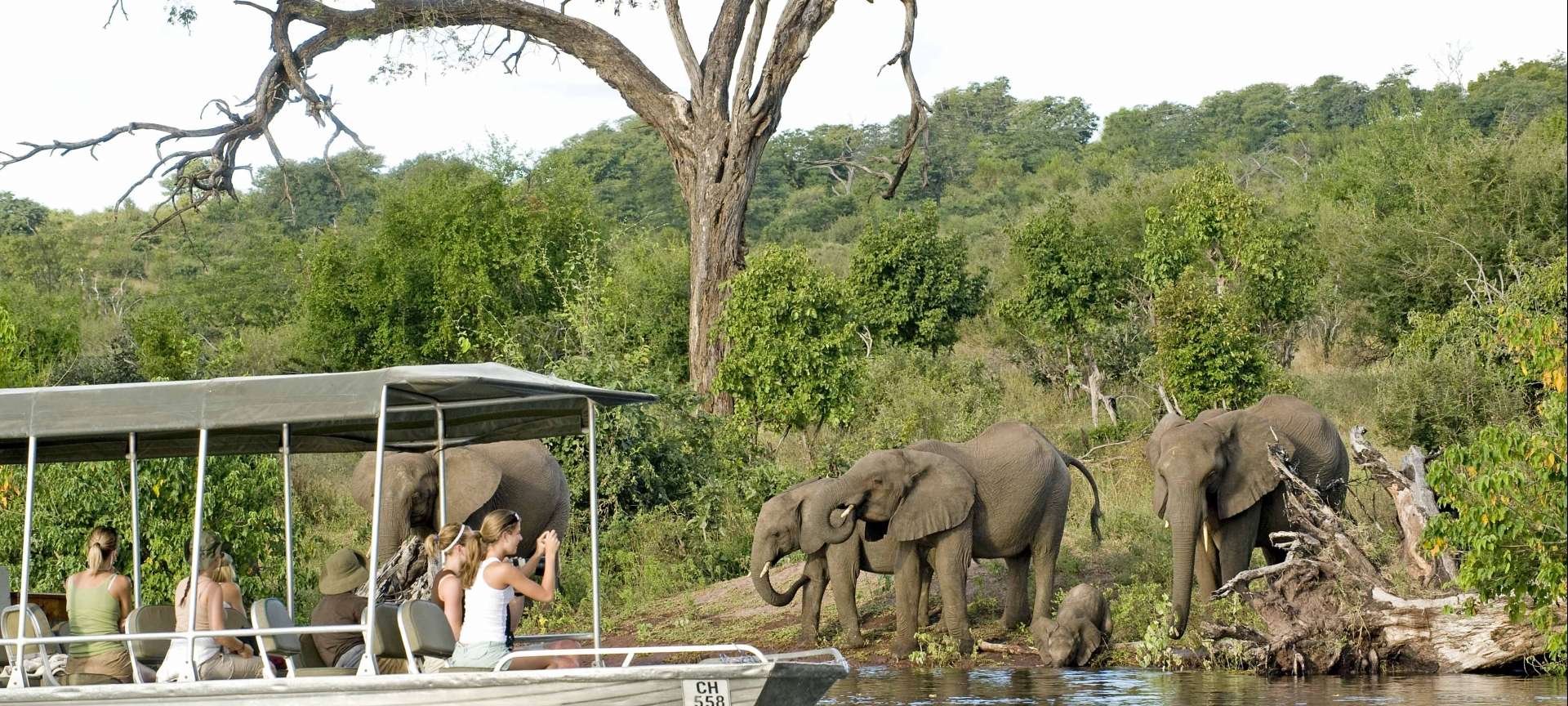 Chobe National Park Safari
The ultimate guide to your next Chobe National Park Safari
View 17 Chobe Safaris
View Photos
Get to Know Chobe National Park
Offering the highest density of elephants to be found anywhere in Africa, Chobe is the ultimate destination for elephant enthusiasts
While elephants are the main attraction at Chobe, there is also a wealth of other wildlife to be found. During the dry season months between June and November, visitors can expect to see four of the Big Five (the rhino is locally extinct). Lions and leopards are plentiful, while the ubiquitous elephants share the grassy floodplain with huge herds of buffalo, zebra, giraffe and impala. Rare antelope species like sable, roan and the Chobe bushbuck can also be spotted here. But the star attraction is undoubtedly the hundreds-strong elephant herds that come to drink, swim and play in the meandering, perennial river.
Chobe National Park Video
Travel with Peace of Mind
Plan your safari with confidence. Refundable deposits and flexible rebooking terms standard on your African safari.
Refundable
Rebookable
Flexible
Authentic
When is the best month to travel to Chobe National Park?
---
Why travel with us?
Recent reviews from travellers who planned and booked their Africa trips with Discover Africa Safaris
The Chobe River originates in Angola, the Kwando River.

It flows along the northeast edge of

Botswana's Chobe National Park, becoming the Linyati River and ultimately the Chobe River.
The depth of the Chobe river is 3m; it is truly impressive.
Some areas won't suit the family and it's also wise to be aware of malaria in others, however, South Africa has a few malaria-free safari locations and there are other safari lodges and bush camps throughout Africa that cater to young children and toddlers, just do the research beforehand.
You are putting yourself in a position where you are exposed to wild animals for which many of them are dangerous. However, on a safari every precaution is made to ensure your safety when going on a game drives or walks. This is why it is of absolute importance that you listen to your well-trained guide at all times, failure to do so might result in harm, however, if you are respectful of your surroundings and the fact that you are in a wild place you will be perfectly safe and have an experience of a lifetime.
If you're looking to experience the large elephant herds and the other variety of wildlife on show in Chobe, then a visit during the dry season months of May - November are ideal as the animals will congregate around water sources such as the Chobe River. If you're a keen birding enthusiast, then the wet months of December to March is your best to see the migrant birds.
Show More FAQs
---
See Chobe in Your Comfort
---
Holiday Styles and Options in Chobe
---
Who is Travelling to Chobe with you?
---
© Copyright Discover Africa Group