Savuti
The often biscuit-dry, wild and eternally surprising Savuti region (also spelled "Savute"; it means "mystery") is an entirely different experience to the Chobe Riverside. At its heart is the enigmatic 100km-long Savute Channel, which follows no laws visible to humans and flows only when it will – remaining dry for decades at a time. Tiny shifts in the tectonic plates below may hold the answers to the cycle, as might high water levels in the Zambezi and Chobe. Author Mike Main explains that in years when the Zambezi has exceptionally high water, the Chobe can flow backwards towards the Linyanti section. "If the Linyanti rises sufficiently, it will flood into Zibadianja Lagoon which, in turn, will overflow, flooding the Savute Channel once more."
Whatever the source of the mystery, the Savute Channel is certainly erratic. Main says that David Livingstone found it flowing strongly in 1851 and hunter Frederick Courtney Selous saw it run in 1874. After a long wet period, "I walked the length of the channel in 1981 and it was drying up," says Main. That drought lasted 30-odd years, resulting in spectacular and innovative animal behaviour. In around 2010 the Savute Channel flowed once more, and it is currently dry. It winds through the Gubatsaa hills to seep into the vast, flat floodplain of the Savute Marsh.
Water equals life in Africa, so the channel changes the landscape. The water transforms the Savute Marsh and Mababe Depression into wetlands, attracting literally hundreds of thousands of birds and beasts. One August in 1980, after the channel had been flowing for some years, a Wilderness Safaris guide remembers looking out over the marsh and ticking off "two huge herds of buffalo, a pride of 27 lions, a pack of wild dogs, zebra, giraffe, warthog, impala, sable, tssessebe, wildebeest, waterfowl and walking off the marsh towards us, a honey badger".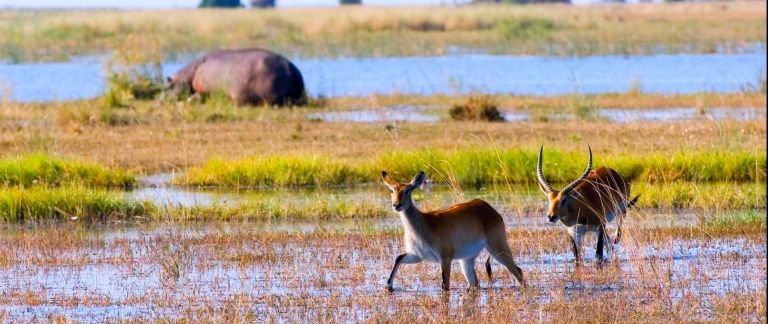 The channel does not have to be flowing for wonderful wildlife experiences; this is a year-round destination, justifiably renowned for large concentrations of game. Savuti is known for predators, both big cats (lion, leopard and cheetah) and birds of prey. Spotted hyena and their chilly cries are a staple, and many big bull elephants live out largely solitary years here. Camps in the area provide permanent waterholes, attracting animals in the dry season from May to October.
Savuti's grasslands and savannah woodlands bloom when it rains and food is abundant. This is when elephant herds stride into the picture to feed. The wide plains are also full of young antelope, the zebra migration, and many migrant birds arrive.
Savuti is possibly less appealing to visit than the Chobe Riverside for families with small children. But it is the kind of place safari addicts keep returning to, as transformation is always around the corner…
Highlights
Raptors and rollers Elegant eagles, feisty falcons, vultures and all manner of birds of prey soar over these habitats – few other places in Africa can compete with the numbers. Other species abound too. "Bradfield's Hornbill is widespread throughout Chobe National Park, with regular influxes of large numbers of birds to Savuti during winter months," says Peter Hancock, co-author of Birds of Botswana. "We don't know where they come from or go to, but many stay to breed during summer. The female seals herself into a nest hole (tree cavity) and is provisioned during incubation and brooding of the chicks by her mate. This has led to the Setswana proverb "Korwe ke bapala tsetse" meaning that it is the male's job to fend for the family. Good ticks in Savuti are Rosy-throated Longclaw, Magpie Mannikin, Black-winged Pratincole and Common Quail (during summer), Kori Bustard with Southern Carmine Bee-eaters riding on their backs, hawking insects, Grey Crowned Crane, Pallid Harrier and Montagu's Harrier, Mosque Swallow and Slaty Egret (when the marsh has water)."
Expect the unexpected Savuti's changeability has resulted in fascinating animal behaviour: imagine lions that preyed on sub-adult elephant and leopards that caught catfish in the drying mud of the channel. Photographer James Gifford, who spent two years in the region to make his book Savute, Botswana's Wildlife Kingdom, recently captured both these rare behaviours. Back in the 1990s, wildlife couple Beverly and Dereck Joubert had recorded 74 elephant kills by an infamous Savute pride, an unusually large alliance of the predators up to 30 animals strong. Conditions at the time probably contributed (the marshes were drying up once more). But these pioneering lions' skills have been passed on to new generations of cubs, and every so often, a report emerges of another elephant kill. Gifford knows Savuti and its sights and sounds better than most. It's not all hunts and drama; smaller creatures offer much joy. He describes the "lilting call of the rufous-naped lark" singing to attract a mate from one of the marsh's many termite mounds – and the exceptional feeling of space. "The beauty of Savute is that the place metamorphoses during the year," says Gifford. "During the rains the marsh transforms from a wasteland into a lush paradise."
When the Savute Channel, flowed, Savute's different habitats "led to a kaleidoscope of species that had to coexist with each other," says Gifford. "Now the channel is dry, the pumped waterholes attract a remarkable diversity of species. I have seen jackals hunting doves, wild dogs hunting impalas, tawny eagles chasing red-billed quelea all at one waterhole. Sometimes it seems like different species become more tolerant of each other when water is scarce – it is not often you see elephants, warthogs and spotted hyenas all sharing a waterhole at the same time. The photographic potential was (and still is) incredible."
Ancient art - search the rocks of the Gubatsa Hills for delicate, stylised paintings of buffalo, giraffe, the magical eland and other animals. They were painted in natural ochres, blood and possibly snake venom up to 1,500 years ago by the San people. They still shine despite being fully exposed to the elements.
Gubatsa is also home to a gathering of ancient baobab trees, their enormous trunks up to 7m around. They are usually fairly solitary, so a "grove' like this is unusual. Baobabs are sometimes called "upside-down trees" as their bare branches look like roots, but there's nothing silly about these giant trees. They are revered by many people, and they are life-giving. People can and do eat the seeds, leaves, roots, flowers, fruit pulp and bark and the tree has antimicrobial, anti-malarial, and anti-inflammatory activities. In drought, elephants consume the bark, which stores water: the baobab is unusual in that it can regenerate after such attentions. The large floppy flowers are pollinated by bats.
A dazzle of zebra - masses of plains or Burchell's zebra trek through Savuti's grasslands in the rainy season, a shimmering spectacle of stripes. It is weather dependent, but the best months to hope for migration sightings are November to December (when they usually arrive and foal) and March and April (when they are moving back north to the rivers). The predators won't be far behind… Some also pass through the Nogatsaa region. This is a phoenix-like phenomenon: game fences erected in 1968 to prevent the spread of foot and mouth disease cut off ancient migration routes to the Nxai and Makgadikgadi Pans and certain of these barriers only came down in 2006. Somehow, the route was etched in the consciousness of new generations of zebras, and they began making an annual there-and-back-again trip from the Chobe and eastern Okavango that is actually the longest migration in the word. Rains trigger the movements, and two separate routes have been identified.
Savute is in the southwest of Chobe National Park, and so a very long drive from anywhere. Fly in from if you can: journalist and author Gill Staden recommends spending the extra money to fly between camps. "The views are amazing and have to be part of a Chobe experience." Flights take about 40 minutes from both Maun and Kasane; some lodges will have their own airstrip, and there is Department of Wildlife and National Parks airstrip too.
If driving is part of the adventure, ask about the state of the roads. From Kasane to Nogatsaa the road is first very sandy, then you hit clay (what is called black cotton and as slick as ice when wet). From Nogatsaa to Savuti is another 100-odd km. An alternate route skirts the north and west of the park and you enter through Goha gate. There are fine accommodations in Savuti, as well as a public camp site.
Travel tips
Savuti is more remote, and so has less traffic than Chobe Riverside experiences.

A 4x4 vehicle is required to negotiate the terrain. A good map and GPS are invaluable. Consider hauling extra fuel as the sand is heavy on consumption. Fuel is only available at Kasane and Maun.

Savuti has a public campsite with 14 shaded sites (18 33 55 S; 24 03 48 E). It is not fenced, so encounters with animals are likely – visitors who are comfortable with this will enjoy it more! It is best not to walk to the ablutions at night. One visitor writes of hearing rustling as they barbecued; their torch illuminated a lone elephant, scrunching branches just meters away. Don't pack citrus, which elephant adore. Each site has a barbecue area; the ablutions have hot showers and flush loos. There is a tuck shop that sells firewood and drinks. Rhinovlei, Harvey's, Marabou and the Pump Pans are within easy range, says SKL, that company runs the camp. Contact them on +267 686-5365 or Email reservations@sklcamps.co.bw.

Mobile camping safaris, too, are set up in unfenced areas in Savuti, but being in a group with experts will shift this from a scary to a thrilling experience for most. And there will undoubtedly be better food and loo paper!

Unfenced camps and small children don't always go together – and driving long hot distances may also not suit the youngsters. You will know your family's limits.

Savuti allows full immersion in natural rhythms and diverse landscapes. It is for those who enjoy the deep peace (and occasional visceral drama) of the African bush. Wonderful for solo travellers (as game drives and meals at lodges are often shared), photographers, couples celebrating a special moment together and more adventurous family parties.

Malarial protection is recommended, although the risk is not especially high when dry. Ask your travel specialist or health care practitioner to help you decide what prophylaxis will suit you best. Wear long sleeves and trousers at dusk, and use repellent. If you experience fluey symptoms, headaches, nausea or diarrhoea, get tested immediately, even if it is weeks after you return

The closest gates to Savuti are the Goha Gate (30km), Mababe Gate (56km) and the Linyanti Gate (40km).

Charter flights limit luggage to just 20kg and all bags must be soft to fit into the tiny craft: no shell suitcases!
---