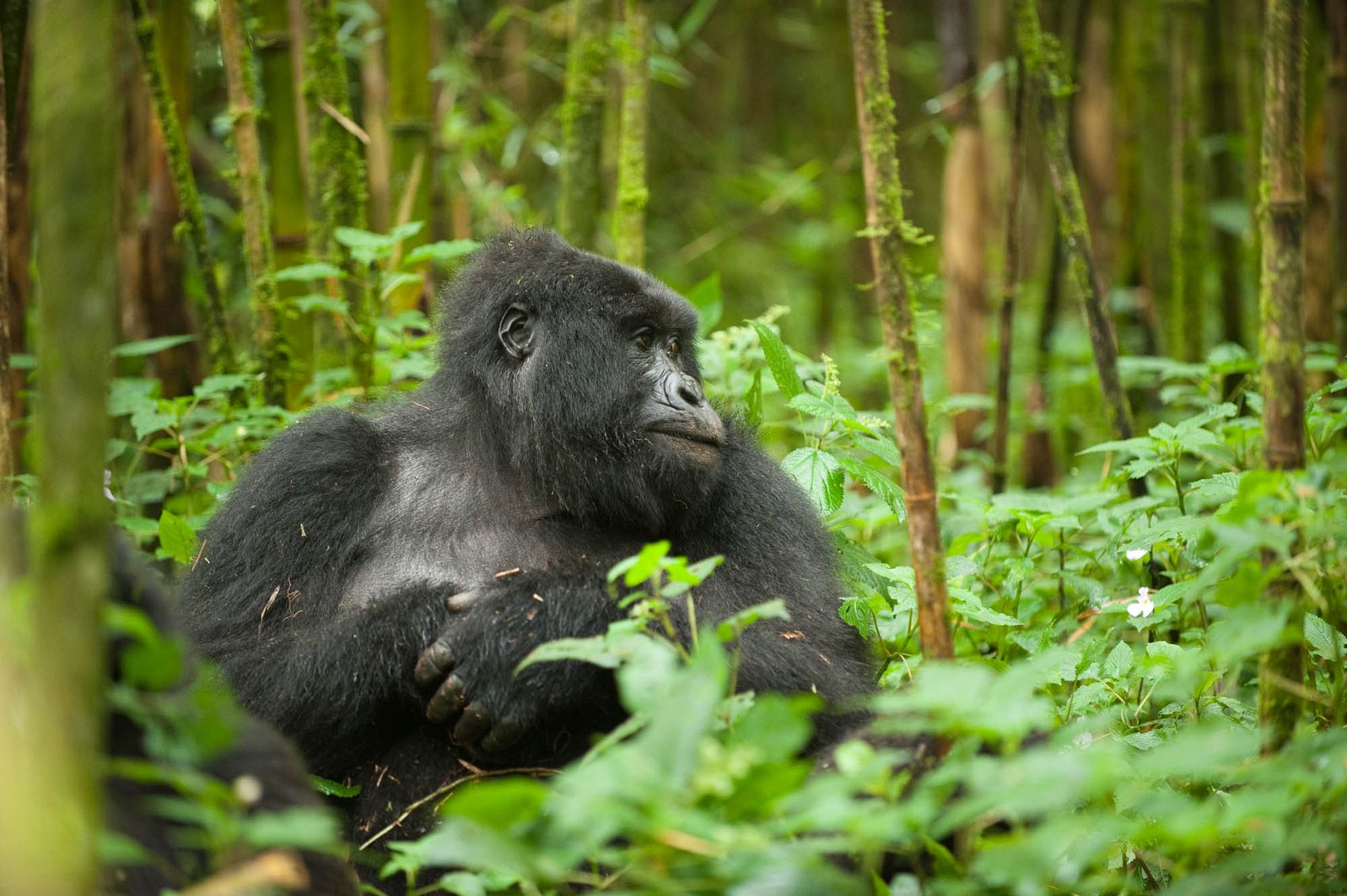 Gorilla Trekking in Africa
The sheer size of mountain gorillas – especially the male silverback – is enough to engender awe, but the first thing you'll probably notice when you come face to face with these astonishing primates is their intelligence and lack of fear. Unlike other wild animals, which are naturally cautious in the presence of humans, gorillas, along with chimpanzees, have no such fear.
An encounter with mountain gorillas is a humbling experience, one of the best you'll ever have with mammals in the wild
Mountain Gorilla Trekking in Africa Video
What You Need To Know
When gorilla trekking, your day usually starts early, as you'll need to travel to the park headquarters at either Volcanoes National Park in Rwanda or Bwindi Impenetrable Forest in Uganda. If you're on a gorilla safari in Rwanda, you'll only find out which family you're going to see on the morning of your trek. On the Ugandan side, your permit will be have been booked in advance to see a specific gorilla family, so you can prepare a little better for the safari.
The thick vegetation and slippery mud in the forests can be hazardous. You should wear strong walking shoes, thick jeans, long-sleeved tops and gloves to protect your skin against the aptly named blister bush, which causes severe blisters. You should also be prepared for rain at any stage, so have waterproofs ready and a case for your camera. Higher-end lodges will provide you with a gorilla-trekking kit, but others will just get you to the park headquarters. Check in advance what you need to pack.
Your rangers and trackers will lead you to where the gorilla family was last noted the day before. However, there's no way of knowing how long you'll have to trek to get to the primates, and they could be on the move. Be prepared for quite a hike to get to them and to keep up with them when you do! After each day of gorilla trekking you'll generally get back to your lodge in the early afternoon, in time for a late lunch.
It's well worth combining a mountain gorilla safari with a visit to see chimpanzees. The best place for chimps is in Kibale Forest in Uganda, where you can spend an hour or a full day with habituated families. It's preferable to visit the chimps in the afternoon when they're likely to be closer to the ground; earlier in the day they feed in the forest canopy.
Each of our popular itineraries can be tailor-made to suit your budget as well as your specific interests.
Travel with Peace of Mind
Plan your safari with confidence. Refundable deposits and flexible rebooking terms standard on your African safari.
Refundable
Rebookable
Flexible
Authentic
Why travel with us?
Recent reviews from travellers who planned and booked their Africa trips with Discover Africa Safaris
© Copyright Discover Africa Group