Gorilla trekking is an amazing experience for many reasons. First of all, it's a chance to get up close and personal with one of the most majestic creatures on earth. For years, gorillas have been portrayed in movies and books as terrifying beasts, but in reality, they are gentle giants. Trekking through the jungle to find them is an adventure in itself, and once you catch a glimpse of them in their natural habitat, you will be transfixed.
Secondly, gorilla trekking is a great way to support conservation efforts. By visiting a national park and paying for a permit to trek, you are helping to provide funding for the care and protection of these endangered animals.
Finally, gorilla trekking is an opportunity to connect with nature in a truly unique way. There is something special about being in the presence of such incredible creatures that makes you feel more alive than ever before. If you have the chance to go gorilla trekking, do not hesitate – it will be an experience you will never forget.
Why see mountain gorillas in the wild?
Although the number of mountain gorillas in the wild has increased slightly to around 1,000, they are still highly endangered, particularly since they don't survive in captivity.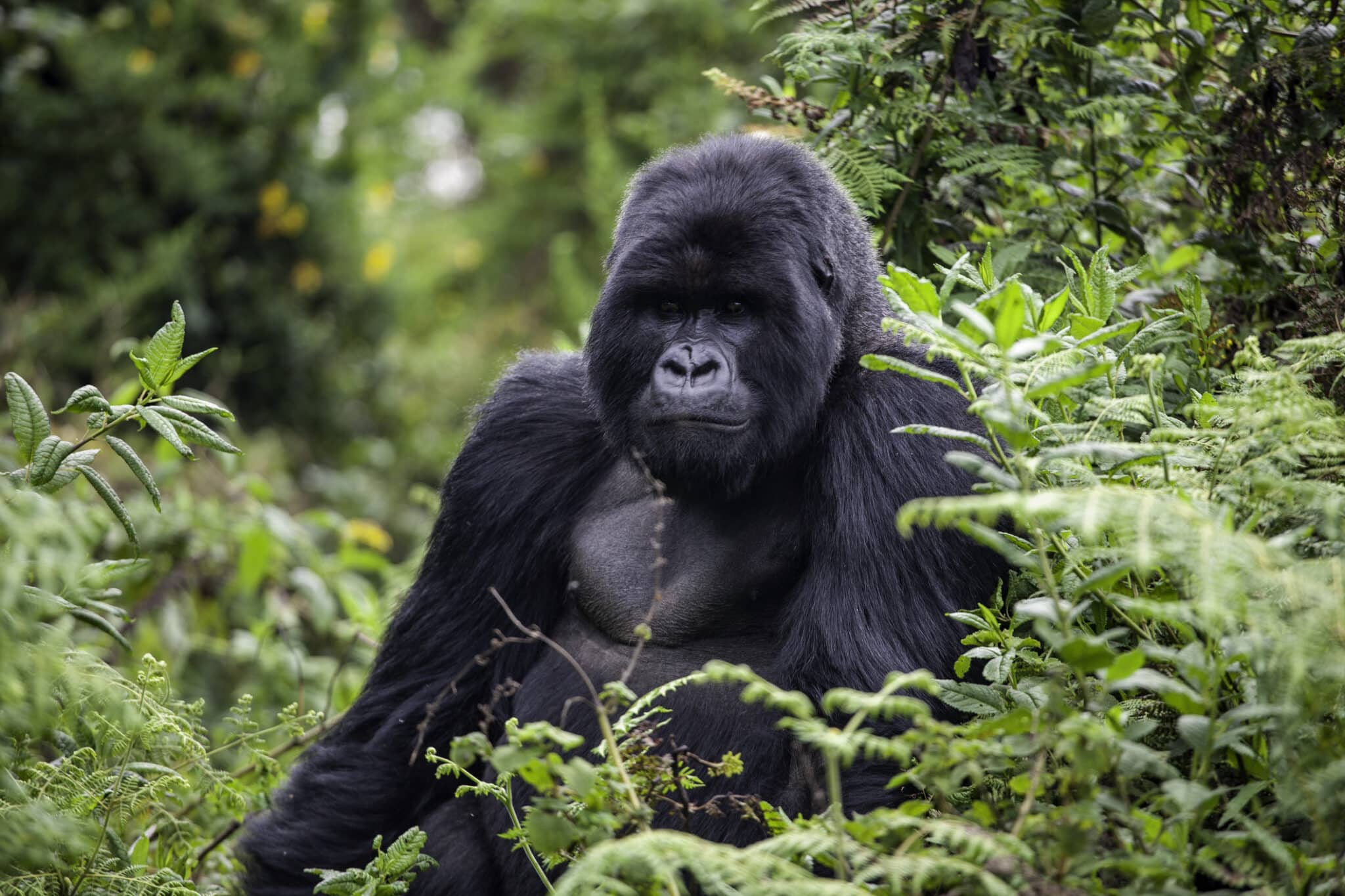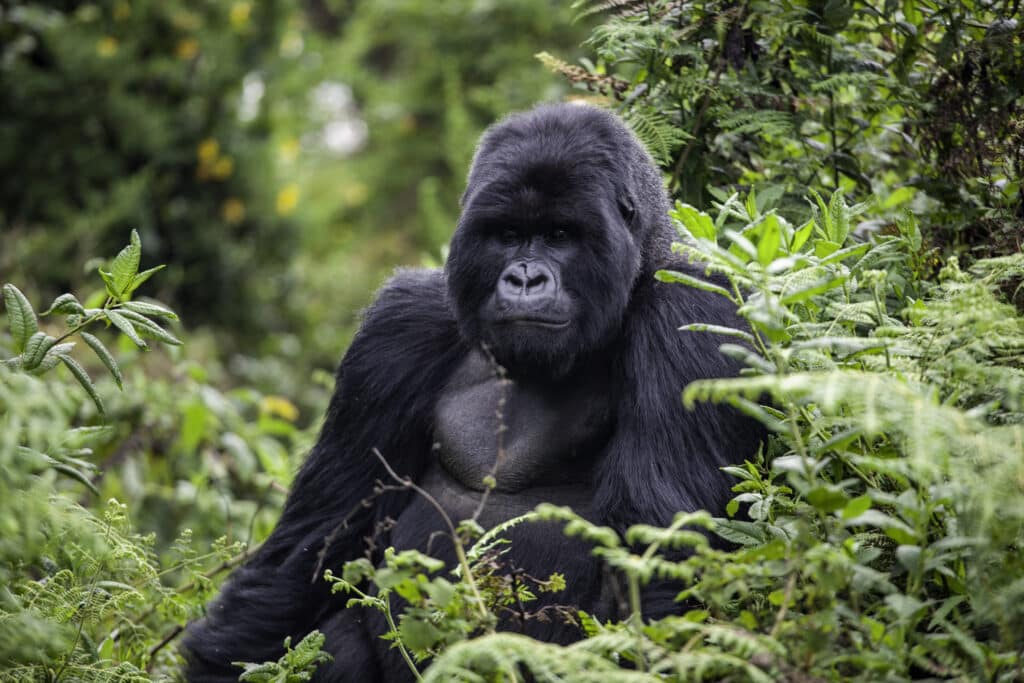 Trekking into their native forest habitats is the only way to see these fascinating creatures going about their daily routines and complex interactions. Observing the loving care with which a mother cares for her baby, or meeting the inscrutable gaze of a 200kg silverback as he looms protectively over his troop, is a profound, humbling, and never-to-be-forgotten privilege.
This, of course, raises the baffling question of which are the best destinations in Africa to see mountain gorillas. But don't worry – we've had extensive hands-on experience of gorilla trekking in Africa's remote wildernesses! We've put together some to-the-point and valuable guidelines for you about where in Africa you'll have the best gorilla trekking experiences.
So, firstly, Rwanda or Uganda?
Well, let's start by looking at a holiday in Rwanda. The gorilla species you'll see here are mountain gorillas located in the beautiful Volcanoes National Park in the Virunga mountains. Trekking is available all year round, but the two drier periods, June – September and December – February, are best for ease of trekking. Your trekking time will be about five hours, depending on the weather, the fitness level of your group and where the gorilla families are foraging on that particular day.
But please be aware that your trek will not be a walk in the park! You'll be hiking at high altitudes on the thickly forested slopes of the Virunga mountains – accompanied by experienced guides, of course.
Once the gorillas are located, you'll get to spend an hour with them before starting the trek back down the mountain. The cost of your gorilla trekking permit in Rwanda is $1,500 (USD).
Your gorilla trekking experience in Uganda will be similar. Again, the gorilla species you'll see will be mountain gorillas. They'll be located in the aptly named Bwindi Impenetrable Forest National Park on the rim of the Albertine Rift. Trekking is again available all year-round, but the same two drier periods, June – September and December – February, make hiking easier. Trekking time will also be about five hours, as per the weather and the group's fitness levels, and where the gorilla families are on the day.
Again, remember your trek will be taxing! You'll again be hiking at high altitudes on the steep and densely grown slopes of the Virungas with the assistance of experienced guides. Once the gorillas have been located, you'll spend an absorbing hour with them before starting your trek back. The cost of your gorilla trekking permit in Uganda is lower than in Rwanda and will come to $700 (USD).
Mountain Gorilla experiences in Rwanda
The Republic of Rwanda is a small, densely populated and landlocked country located in Central Africa's Great Rift Valley. Lying just a few degrees south of the equator, most of it lies above 900 metres, or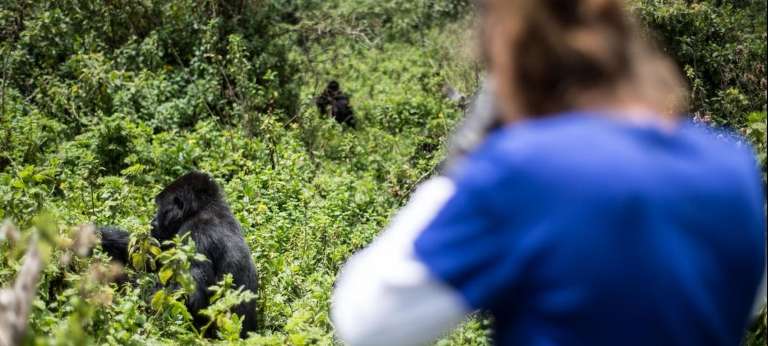 3,000 feet, above sea level. It is extremely hilly, so is often referred to as "The land of a thousand hills", and it has a plethora of lakes. With a subtropical climate, it has two dry and two rainy seasons annually.
Rwanda boasts a predominantly young population of over 12.6 million, comprised of the Hutu, Tutsi and Twa, the latter being a forest-living pygmy people of ancient lineage. Rwanda's largest city and capital is Kigali. Its main language is Kinyarwanda, with English and French as further official languages.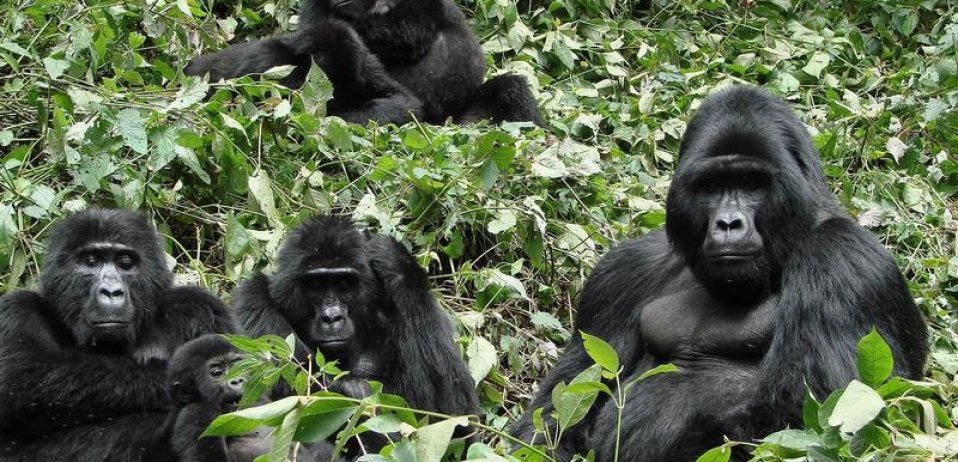 Interestingly, along with Bolivia and Cuba, Rwanda is one of the world's only countries that has a female majority in their parliament! This may well account for the fact that Rwanda has emphatically left its turbulent past behind and is committed to peace and reconciliation these days.
Gorilla trekking in Rwanda
Rwanda is probably the iconic destination for gorilla trekking. With its towering mountains and verdant hills, it offers guests premier primate trekking. It is also the famous location where Dian Fossey did her ground-breaking work that brought gorillas to the world's attention, and triggered gorilla conservation efforts.
Apart from having more than half of the planet's endangered mountain gorilla population, Rwanda is also home to Sykes and Golden monkeys, as well as chimpanzees, and an astonishing variety of mammals, birds, insects, reptiles, and amphibians.
Volcanoes National Park, a 160 sq km portion of the greater Virunga Conservation area, is the central hub for Rwanda gorilla safaris. It lies only about a 2-hour drive from Kigali International Airport which makes it the most easily accessible gorilla viewing experience in the world. The Park houses a number of habituated gorilla families, of various sizes, that visitors can observe.
The families are led by a dominant silverback and consists of females, babies, youngsters of various ages and other silverbacks. Relationships within a family and its composition are frequently subject to change as the silverbacks jockey for power and members die or move away.
A total of 80 gorilla permits are available daily in Rwanda and visitor groups normally consist of eight people. These are some of the gorilla families visitors can see, though as said, these are dynamic and volatile:
The Titus family is named after the now deceased Titus who was born into the original gorilla group Dian Fossey studied. Sadly, the group was decimated by poachers so Titus was raised by unrelated male gorillas.
The Susa A group was studied by Dian Fossey from 1967 to 1985. It was very large and split into two groups in the mid-2000s.
The Karisimbi or Susa B group. This is the hardest group to track because they live on the higher slopes of the highest Virunga peak, Mt Karisimbi.
The Amahoro group. Named after the Kinyarwanda word for serenity, this family is known for its peaceful nature.
The Bwenge group is famous! Named after its dominant silverback at the time, Bwenge (that means wisdom), this is the group that featured in the movie Gorillas in the Mist in which Sigourney Weaver so memorably portrayed Dian Fossey.
The Kwitonda group is a migrant group from DRC. It is difficult to track because it moves around a lot.
The Sabyinyo group is the easiest to track because they live on the easy slopes between Mts Gahinga and Sabyinyo. The group is well-known for its huge, 220kg silverback called Guhonda, who was 50 years old in 2021. He has not been seen for a while.
The Agashya group is named after the silverback Agashya who overthrew its original dominant silverback, Nyakarima.
The Hirwa group, which lives in the foothills of Mt. Sabyinyo.
The Ugenda group got their name from the Kinyarwanda word ugenda meaning 'to move around' because they roamed around a lot.
Other activities to enjoy in Rwanda
Rest assured that gorilla trekking isn't the only thing to do in Rwanda, though it is understandably top of most people's bucket-lists! Nature lovers simply have to visit Akagera National Park for a fantastic game drive taking in one of Central Africa's biggest protected wetlands, as well as the Big Five and other abundant wildlife.
Nyungwe Forest with its breathtaking biodiversity of 75 species of mammals, 322 bird species and a staggering 1,068 plant species is another must-see for nature lovers. The Park also houses habituated chimpanzees that tourists can interact with. Don't miss out on its mind-blowing canopy walk, or explore some of its 15 great hiking trails.
Culture lovers can explore the rich selection of exhibits at Rwanda's Ethnographic Museum. Be transported back to pre-colonial times by its collection of skilfully woven baskets, traditional clothing, spears, farming tools and musical instruments from days of yore. The Gorilla Guardians' Village is great for learning about the Rwandan culture.
And don't miss out on exploring Kigali! It has a rich selection of local fashion and clothing outlets. The Inema Arts Centre and the Rwanda Art Museum showcase the work of some amazing local artists. Or just savour a cup of authentic Rwandan coffee, or enjoy a delicious meal at one of Kigali's many restaurants.
Mountain gorilla experiences in Uganda
The land-locked country of Uganda in East Africa is astoundingly rich in natural beauty and diversity of habitat and wildlife. Its landscapes vary from the snow-capped Rwenzori 'Mountains of the Moon', the immensities of giant Lake Victoria, colossal swathes of savannah, to the remote Bwindi Impenetrable National Park, its world-renowned mountain gorilla habitat and sanctuary.
African elephants, mountain gorillas, chimpanzees, lions, hippos, and Cape buffalo are just some of Uganda's astonishing 345 mammal species. It also has no fewer than 501 fish species, 142 reptile species, and 86 amphibian species. Its bird count tops an amazing 1,020 species, and it has a gobsmacking 1,242 butterfly species!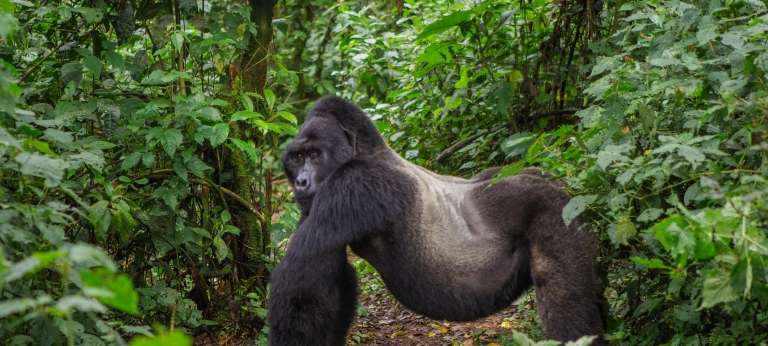 The magnificent crested crane is its national emblem and is displayed on Uganda's flag. The country's population exceeds 42 million, and its capital and largest city is Kampala. Its official languages are Swahili and English.
Gorilla trekking in Uganda
The verdant and pristine slopes of the Virungas in Uganda make the perfect habitat for mountain gorillas, and is therefore the perfect and one of the few locations in the world to see them. The cost of a gorilla permit in Uganda is significantly lower ($700 as opposed to $1,500 in Rwanda), so if you're on a restricted budget, coming to Uganda to see gorillas makes eminent sense.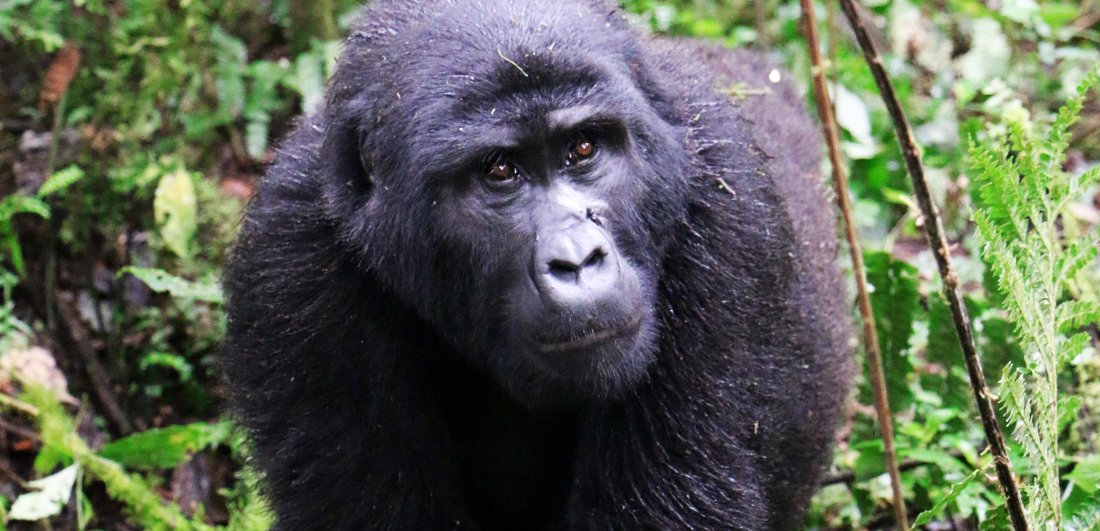 There are also many different and adaptable travel itineraries, and interesting combinations of itineraries, available in Uganda to suit your preferences perfectly. Also note that accommodation and other costs are lower during the two 'wet' seasons, March – May and September – December. If you opt to visit during these months you will still have a great holiday, just a slightly muddier one!
Other activities to enjoy in Uganda
Uganda has great riches to offer visitors apart from seeing the amazing mountain gorillas! How about visiting the endangered rhinos in the vast Ziwa rhino sanctuary? Go canoeing on Lake Bunyonyi, or have a trip to Queen Elizabeth National Park
to see some of its 96 species of mammals, including elephants, lions, hippos, buffalos, warthogs, and crocodiles. You might even see one of their famous tree-climbing lions, well, yes, climbing a tree!
A boating safari on the hippo-rich Kazinga Channel is a unique experience, as is a visit to the Lake Katwe salt pans. You might want to visit Entebbe on the shore of Lake Victoria. Don't miss visiting the Ngamba Island Chimpanzee Sanctuary while you're there and pop into the admirable Uganda Wildlife Conservation Education Centre.
And if you're a watersports enthusiast, Lake Victoria will delight you, with fishing, kayaking, swimming, boat trips and canoeing being just some of the activities on offer. Don't lose out on exploring the vibrant city of Kampala, or take a hike to the beautiful Sipi Falls on the slopes of Mt Elgon. If you feel very adventurous you can even do some abseiling here!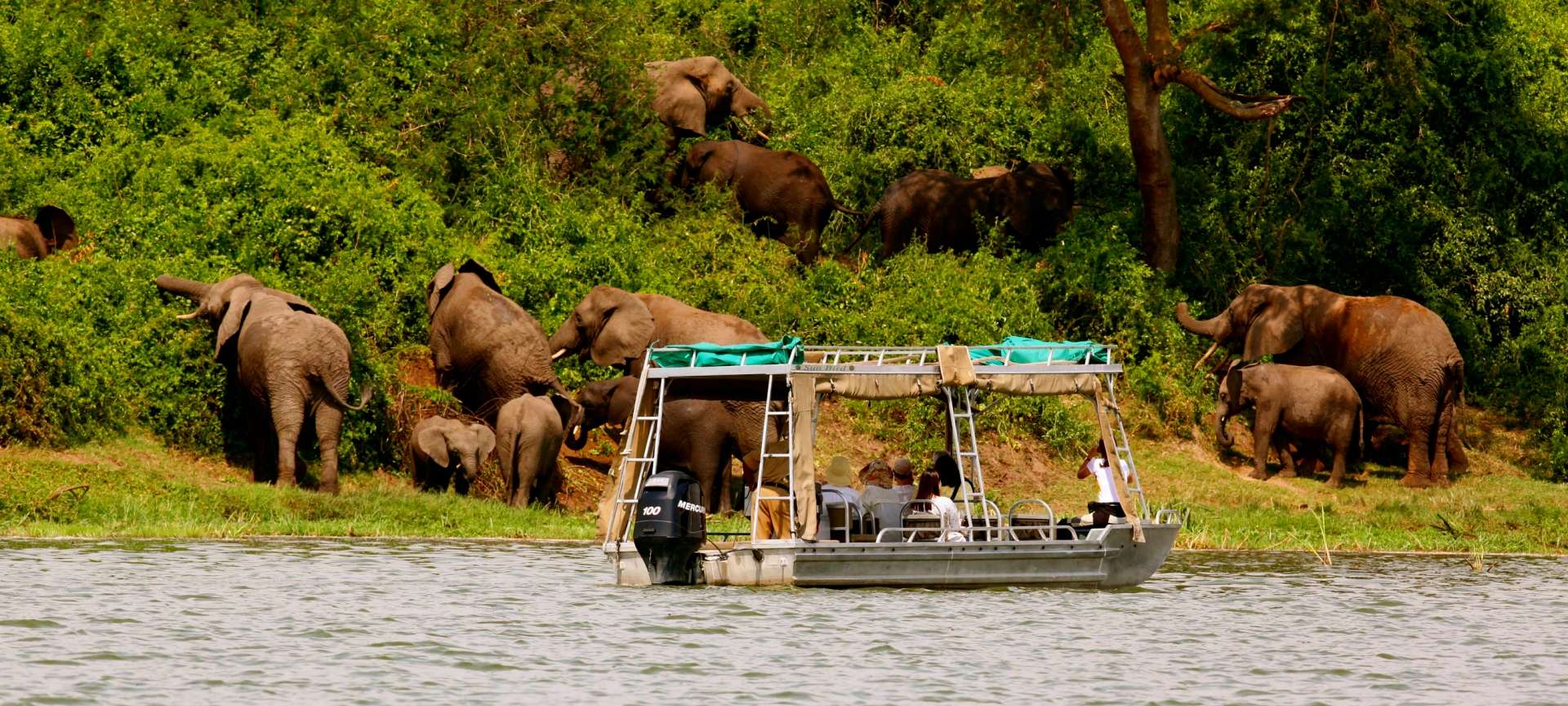 In which case you may also want to visit the small city of Jinja which is renowned as Uganda's adventure capital for some white-water rafting, tubing, mountain or quad biking, horse-riding or bungee jumping. No visit to Uganda will be complete without a visit to Murchison Falls, one of Uganda's first national parks where you are certain to see a tower of Rothschild's giraffes. A hike in the famous Ruwenzori mountains is truly magical, as is zip-lining through Mabira Forest.
And finally, you can't pass up the opportunity to straddle the equator, see Kibale Forest's famous chimpanzees, or experience the Sempaya hot springs
in Semuliki National Park. The Park also boasts a famous wetland where cunningly constructed boardwalks make sure your feet stay dry! Its amazing monkey population includes black-and-white colobus, red-tailed monkeys, and mangabeys.
Discover Africa's Gorilla Trekking Safaris:
Meet the Primates of Uganda and Rwanda Tour:
This 12-day tour is packed with interest and ideal for the most discerning gorilla and wildlife enthusiast. Destinations in Uganda include the Kibale National Park, the Bwindi Impenetrable National Park for incredible gorilla viewing, and the famous Queen Elizabeth National Park with its great wealth of diverse wildlife. In Rwanda, you will visit the splendid Volcanoes National Park for further extraordinary encounters with mountain gorillas.
So if you are interested in East Africa's primates, the area's rich culture and its abundant wildlife, this is the safari for you:
Meet the endangered mountain gorillas in both Rwanda's Volcanoes National Park and in Uganda's Bwindi Impenetrable Forest with experienced guides and trackers to keep you safe.
Visit Dian Fossey's grave to pay your respects to this famous conservation visionary. She almost single-handedly brought the plight of the critically endangered mountain gorillas to the world's attention.
Spend an entrancing day with the chimpanzees at Kibale.
Track golden monkeys in Mgahinga National Park.
Be transported and amazed by the wealth of plains game and other wildlife in Queen Elizabeth National Park.
Marvel at the tree-climbing lions of the Ishasha plains!
Enjoy a memorable boat cruise on the hippo-rich Kazinga channel in Queen Elizabeth Park.
Be moved by the genocide memorial in Kigali.
Enjoy some wonderful accommodation, food, wine, pampering, and service as you experience the best that wonderful East Africa has to offer.
Gorilla Trekking and the Great Migration Combined:
Destinations in this jam-packed 11-day safari include Rwanda's renowned Volcanoes National Park, Tanzania's iconic Serengeti National Park and Kenya's famous Masai Mara. The safari focuses on some of the greatest highlights that the natural world has to offer. As such it is tailor-made for the most exacting wildlife connoisseur. The safari offers you:
Two unique opportunities to meet the highly endangered mountain gorillas of the Virunga Mountains in the Volcanoes National Park in Rwanda, an encounter that is sure to be profound and deeply memorable. And we will even clean your boots for you!
See one of the top wildlife spectacles anywhere in the world – the Great Wildebeest Migration in the Serengeti and the Masai Mara. This great annual natural wonder attracts literally thousands of wildlife enthusiasts, filmmakers, and photographers from across the globe to see one of the world's most dramatic wildlife events.
Get the latest updates on where the wildebeest herds are by using our Herdtracker app.
Gain valuable and often unique insights from our experienced guides and trackers to make this special safari even more memorable and exciting.
Stay in the superb Sabyinyo Silverback Lodge nestled into the foothills of the spectacular Virunga mountains at the edge of the Volcanoes National Park.
Enjoy the comfort of Sayari Camp situated on the Serengeti side of the Mara River giving you a superb base to view the breathtaking drama of the river crossings.
To optimise your chance of seeing river crossings, you'll be flown across the Mara River to the heart of the Masai Mara where you'll stay at the well-appointed Rekero Camp.
Explore the Masai Mara Reserve and the Serengeti for some of the best wildlife sightings in Africa.
Be spoilt with superb comfort, food, wine and service as we do our utmost to help you enjoy every minute of your dream African safari.
Are you all set now to embark on a great gorilla trekking adventure in Africa? With the famous Great Migration thrown in for good measure? We can take care of it all for you!
We can build your gorilla trekking experience into a tailor-made safari designed just for you. Do you fancy seeing Africa's big cats or the famous Big Five as well as mountain gorillas? We can make it all happen, so get in touch!