Walking safaris, holidays & tours
Walking safaris, holidays & tours
Discover the secrets of the bush from a unique perspective
Walking safaris, holidays & tours available in
Botswana, Kenya, South Africa, Tanzania
Custom designed Walking safaris in Africa
Describe your dream trip
We'll put together the best value for you
Book when you're ready
Help Me Plan
Discover the secrets of the bush from a unique perspective
In the days before vehicles carved up the landscape, people were forced to walk from place to place, and in so doing, a powerful connection with their natural environment was formed. While game drives are the fastest way to see wildlife, nothing is quite like exploring the bush on foot. Not only will you be able to view animals such as elephant, plains game and giraffe from a different perspective, you'll also notice the little things; insects, small mammals, reptiles and uniquely adapted flora that are just waiting to be discovered.
Walking safaris are completely safe and only require a low fitness level (not if you're climbing a mountain or tracking mountain gorillas in the forest of course). You will be accompanied by a professional game ranger or field guide, who will be able to explain the sights and sounds that make this activity one of the highlights of an African safari.
Popular Walking safaris in Africa
These popular itineraries can be customised to match your budget and travel dates
More on Walking safaris in Africa
Many camps and lodges offer a choice of a walking safari as part of your safari itinerary. This will most likely be at camps and lodges in private reserves and concessions (most national parks do not often offer this safari activity). However, we have a few walking-only safaris that bring you that much closer to nature. A walking safari is typically more affordable than a traditional, game drive-based safari.
The best place to experience a walking safari
The ideal terrain for a walking safari is arguably the grasslands and savannahs of Africa. Not only will animals and birds be more visible, but you'll be able to truly appreciate the natural environment of your destination. However, during the wet season, the dry plains transform into a lush garden of grass and wildflowers, depending on where in Africa you'll be exploring. In areas where the vegetation is much thicker, walking safaris are usually not a viable safari activity.
We offer walking-only safaris in the Kruger National Park and Wild Coast of South Africa, as well as the Serengeti National Park in Tanzania. All of these countries are prime walking safari destinations, with plenty of wildlife, birds and naturally beautiful landscapes to enjoy.
Best time of year to go
Depending on the season in your chosen destination, we would recommend a dry season safari, simply because it is much easier to spot wildlife and birds when the vegetation has receeded after the rains.
What should I pack?
You will require comfortable clothes that you can walk in, closed shoes and socks, a hat, sun screen, camera and a pair of binoculars. An insect repellent will also help to keep the bugs away.
Frequently Asked Questions about Walking safaris in Africa
How does the weather influence a safari?
While a safari holiday can be at any time of year, it is worth noting that seasonality will impact the type of experience you're likely to have as well as the cost of your safari. During the dry season, the wildlife tends to congregate… go there.
What is a typical day on safari like?
Life on safari has a rhythm of its own, largely dictated by the animal's movements. Generally, the most rewarding times for game viewing is in the cooler early mornings and also late in the afternoons when the animals are most active. A… go there.
What vaccinations should I get?
This is all dependant on the countries that you will be visitng and due to the status of certain vaccinations changing at times, please consult our experts before getting vaccines. go there.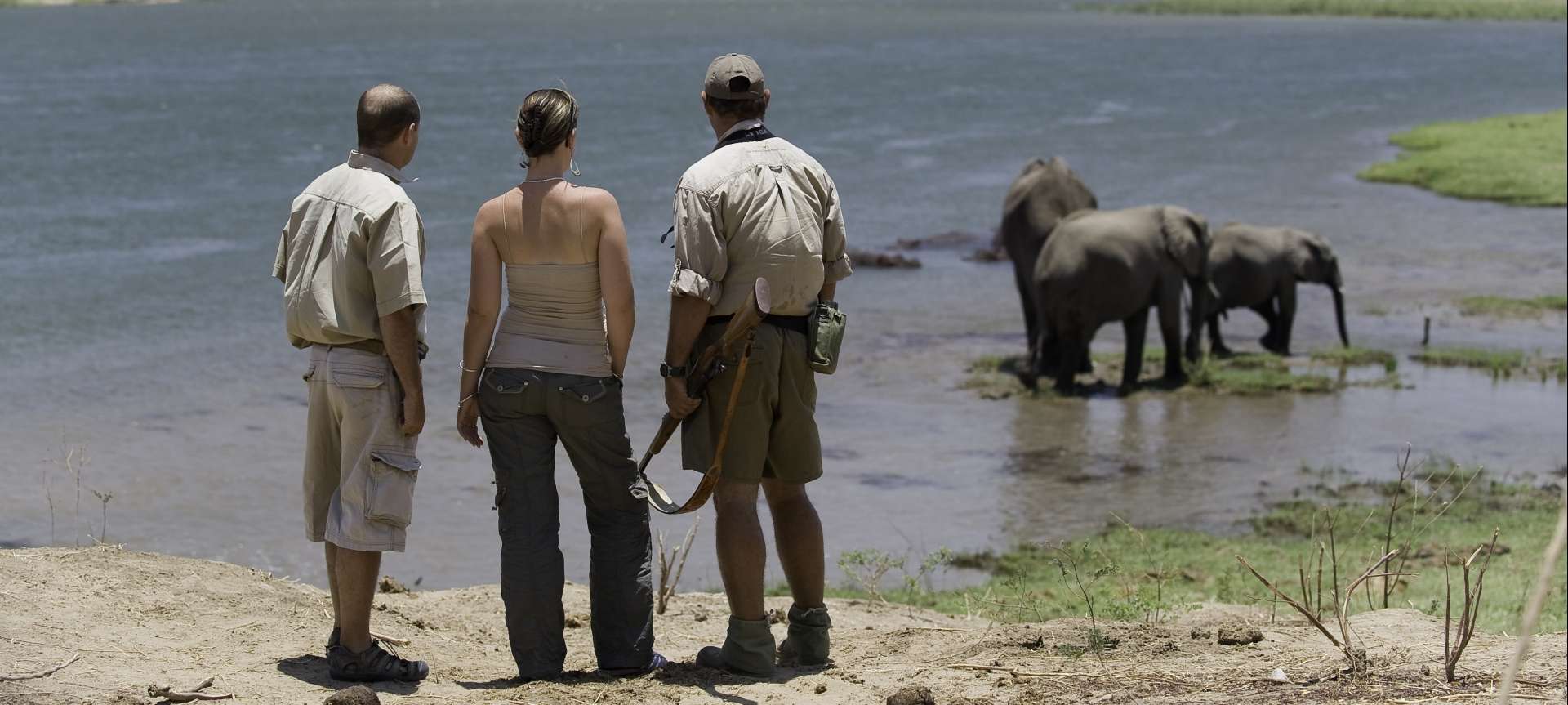 Reviews on our Walking safaris in Africa
Perfectly tailor-made tours that take all your wishes and requests into consideration. All my expectations were beyond fulfilled.
Henrik Wetterstrand
from Sweden
Discover Africa was the only tour operator I reached out to who wanted to have a Skype conversation to get to know more and my husband & my tastes and preferences. Megan Warrington was wonderful to work with - she crafted our activities and…
Stephanie
from United States of America
All details were covered, all staff and food excellent, service was perfect - would highly recommend for sure.
Ron
from United States of America
After shopping around for a couple of months, Discover Africa was the one who had the most diverse options for the price. Megan Warrington always responded quickly and was professional and patient with my endless questions. Discover Africa…
Kelly
from United States of America
They organized everything for our first visit to Africa, from the airport meet & greet through to the tours, great hotels and locations.
Michael
from United States of America
From the first approach to the end, Discover Africa, has been excellent . The hotels, the service and every think has been well above our expectation. The perfect choice ! Thanks to all and specially to Megan.
Enrico Liberati
from Italy