Walking safaris, holidays & tours
If you are relatively fit, adventurous and want to form a strong connection with nature, a walking safari is for you
Walking safaris, holidays & tours available in
Botswana, Kenya, South Africa, Tanzania
Custom designed Walking safaris in Africa
Describe your dream trip
We'll source the best value for you
Book when you're ready
Help Me Plan
If you are relatively fit, adventurous and want to form a strong connection with nature, a walking safari is for you
Walking is the original way to explore Africa. In the days before vehicles carved up the landscape, people were forced to walk from place to place, and in so doing, a powerful connection with their natural environment was formed. It is possible to see and experience much more on a walk than on a game drive. Big game such as cats, elephants and other mammals are around and viewable from a safe distance, but the beauty of a walking safari is in the little things. You become tuned to the the sights and smells of Africa and your senses are heightened substantially by the signs left by these bigger animals.
Popular Walking safaris in Africa
These popular itineraries can be customised to match your budget and travel dates
More on Walking safaris in Africa
East Africa is the ideal walking safari destination because it is possible to view the landscape over long distances while moving through the bush. This makes it less likely to bump into something unexpected. Southern Africa has slightly thicker vegetation, making walking locations harder to come by, particularly in the summer months.
This said, there is a distinct lack of walking guide training or standard in East Africa. Most walks are conducted from lodges and are much shorter one-to-two hour strolls through the bush led by Masai warriors and park rangers. It's very important to understand that there is a big difference between a multi-day walking safari and a walk as an activity offered by your camp or lodge. A multi-day walk is a more powerful experience because you get the opportunity to spend days in the wild and connect the senses with your surroundings.
Where to do a walking safari
At the moment, we endorse only three multi-day walking safaris, and those are in Ruaha National Park, the northern Serengeti and Loita Hills.
There are two walking safaris in Tanzania that we will be comfortable sending you to because they have many years of safe and successful operation within the Ruaha and Serengeti areas. These journeys have the perfect support structure and level of accommodation to keep you comfortable and safe on your walking adventure.
In terms of Kenya, we've recently bumped into one of Kenya's best walking experiences. The journey begins in The Forest of the Lost Child at Loita Hills and carries on all the way down to the Masai Mara. This multi-day walk is conducted and hosted by Jan's Camp based in Loita, just east of the Mara, and they make use of the traditional Masai guided donkey to carry luggage and equipment from camp to camp. It's an incredible experience walking long distances over beautiful stretches of Masai land with these nomads, ending up at the edge of the Masai Mara - the perfect Loita/Mara migration route.
Frequently Asked Questions about Walking safaris in Africa
How does the weather influence a safari?
While a safari holiday can be at any time of year, it is worth noting that seasonality will impact the type of experience you're likely to have as well as the cost of your safari. During the dry season, the wildlife tends to congregate… go there.
Can I bring my children along on a safari?
Family safaris in Africa are a worthwhile and meaningful experience. Aside from spending quality time with your nearest and dearest under a wide blue African sky, a safari in Africa offers invaluable experiences including unique cultural… go there.
What is a typical day on safari like?
Life on safari has a rhythm of its own, largely dictated by the animal's movements. Generally, the most rewarding times for game viewing is in the cooler early mornings and also late in the afternoons when the animals are most active. A… go there.
When is the best time to visit Ithala Game Reserve?
The best time to visit Ithala Game Reserve is during the dry winter months, from May to September. During this season it is easier to spot the wildlife since the grass is eaten by herbivores. Expect to encounter and sight birds - such as… go there.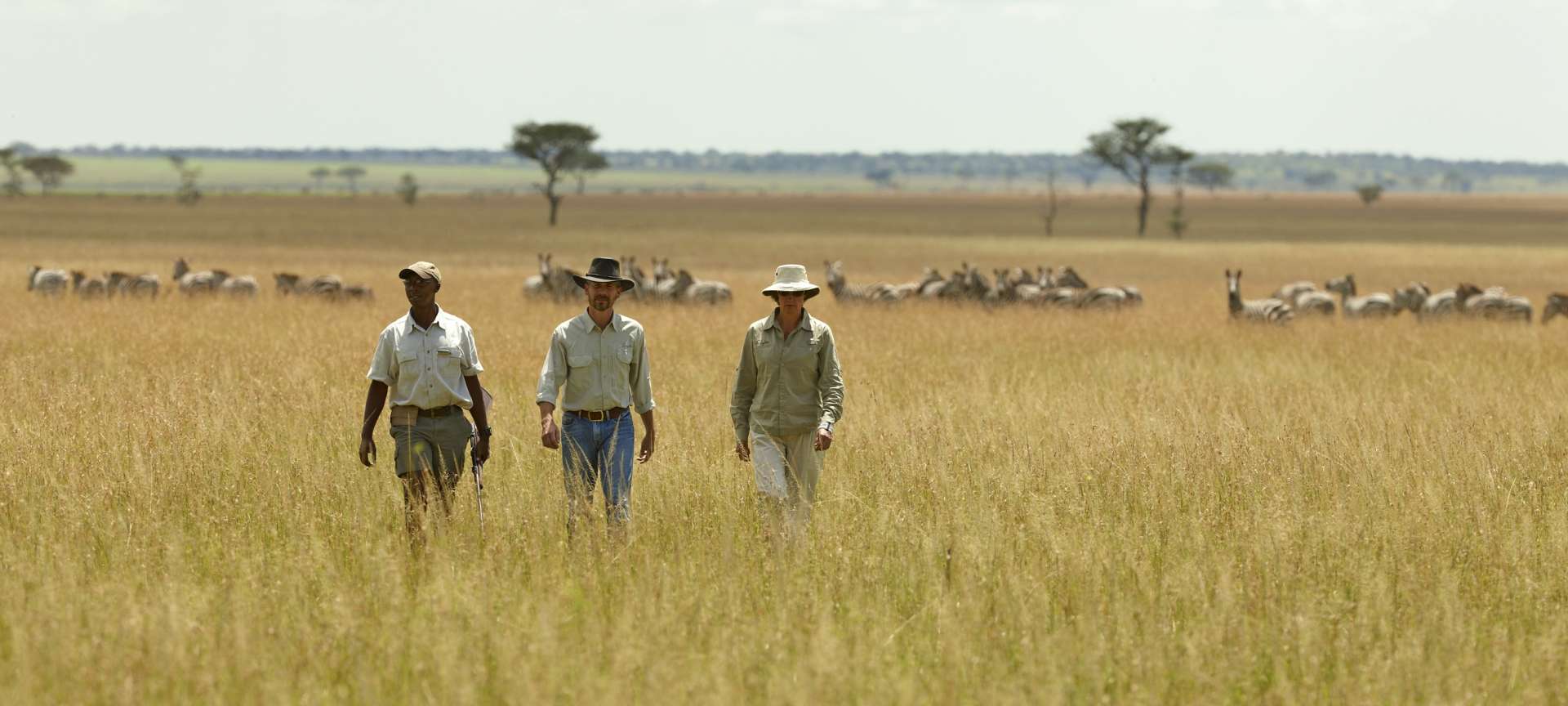 Reviews on our Walking safaris in Africa
Discover Africa was the only tour operator I reached out to who wanted to have a Skype conversation to get to know more and my husband & my tastes and preferences. Megan Warrington was wonderful to work with - she crafted our activities and…
Stephanie
from United States of America
All details were covered, all staff and food excellent, service was perfect - would highly recommend for sure.
Ron
from United States of America
After shopping around for a couple of months, Discover Africa was the one who had the most diverse options for the price. Megan Warrington always responded quickly and was professional and patient with my endless questions. Discover Africa…
Kelly
from United States of America
They organized everything for our first visit to Africa, from the airport meet & greet through to the tours, great hotels and locations.
Michael
from United States of America
From the first approach to the end, Discover Africa, has been excellent . The hotels, the service and every think has been well above our expectation. The perfect choice ! Thanks to all and specially to Megan.
Enrico Liberati
from Italy
My trip last August to Botswana was arranged by Discover Africa and I couldn't have chosen better. Everything was well organised and I didn't have to worry about anything. The safari tour was far beyond expectations; the accommodation was…
Debby
from Spain