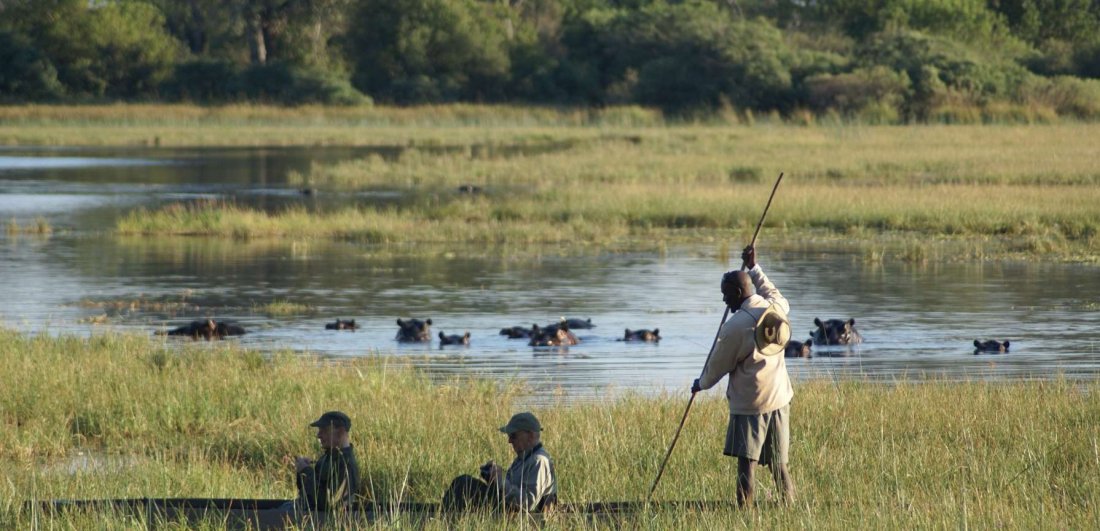 View Photos
Get to Know Okavango Delta
The seasonal flooding of the Okavango River spills across the parched Kalahari landscape, producing a gigantic inland sea that is peppered with lush islands and brimming with wildlife
Each year, during Botswana's long dry season, the Okavango River floodwaters arrive from the Angolan highlands and push the permanent Okavango Delta outwards into its seasonal floodplains.
The result is an enormous sprawling inland delta that is characterised by a mosaic of islands, shallow channels and fluctuating wetlands. Wildlife abounds in this verdant landscape. Aside from the Big Five – all of which occur here –visitors also stand an excellent chance of seeing African wild dogs, especially in the drier northern and eastern regions of the delta.
Where to go in Okavango Delta
Travel with Peace of Mind
Plan your safari with confidence. Refundable deposits and flexible rebooking terms standard on your African safari.
Refundable
Rebookable
Flexible
Authentic
When is the best month to travel to Okavango Delta?
---
Why travel with us?
Recent reviews from travellers who planned and booked their Africa trips with Discover Africa Safaris
FAQs about Okavango Delta
Electricity in Botswana, Kenya, Namibia, South Africa, Tanzania, Zambia, Zimbabwe and in most of the continent is 220/240 volts.
Most safari lodges and camps are not connected to an electrical supply. Solar lighting (backed up by batteries) is common, with many lodges having a generator, which runs part of the day (morning and late evening when guests are out on their activities).
Lanterns also provide light at night. In many camps running on solar power, you will not be able to use a hairdryer.
If you'd like to experience a mokoro ride (a dugout canoe) through the waters of the delta, then its best visited during the wet months of June to August. Game viewing is excellent during this period as many wildlife will migrate during this period. The dry months of September and October are also excellent months to visit the delta. Game viewing is consistent during this period, as the wildlife will congregate around water sources - ideal for budding photographers.
Southern Africa is a hot wildlife destination. There is a world of luxury bush camps, lodges and Eco-friendly tourist establishments in the heart of wildlife heaven.
Show More FAQs
---
See Okavango Delta in Your Comfort
---
Holiday Styles and Options in Okavango Delta
---
Who is Travelling to Okavango Delta with you?
---
© Copyright Discover Africa Group