Okavango Delta in December
December marks the start of the rainy season proper. It's the second wettest month of the year and afternoon thunderstorms become increasingly regular and violent. As the rains intensify the dusty atmosphere clears and between the storms the skies are bright and fresh. The usual pattern is a few days of cloud and rain, followed by another few days of hot, sunny weather. This builds and builds until the next storm breaks and as the month progresses the gaps between storms lessen. It's unusual to have more than two or three days without sunshine, but if two storm systems run into each other there may be persistent cloud cover for over week. When the sun does come out, temperatures can rise to 40°C (104°F), although the rains cool things somewhat and the December average across the Delta is around 33°C (91°F).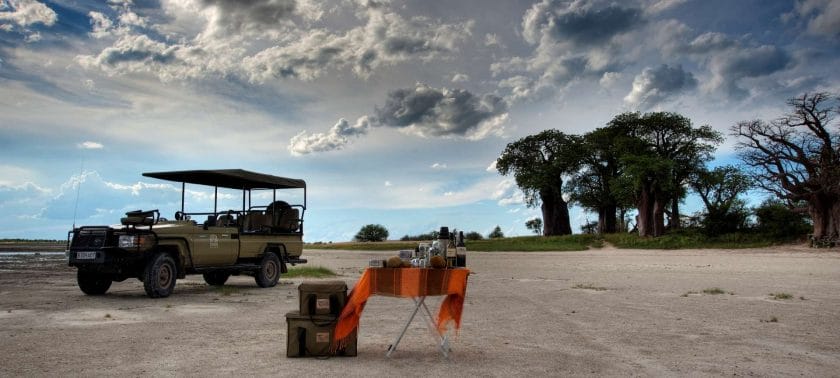 Where to Go
As the rains fill the Kalahari's seasonal pans and pools, the herbivores begin to disperse from the Delta. With surface water now more readily available they can roam further afield in search of fresh grazing. New buds and shoots are appearing everywhere and the riverine forests and surrounding plains teem with life. Although still a good time of year for game viewing, the early rainy season is not ideal for motorboat and mokoro trips. You may get lucky with a few bright days, but it could just as likely be overcast and raining, and the Okavango water levels are also very low. The central, northern and north-western lodges will have the best access to deep water, but if you're especially interested in water-based activities, it's best to visit the Okavango between May and August.
Travel Tips
Highlights: December is all about the rejuvenation of the bush, a brief, stormy springtime after months of heat and dust. All around the Delta, and across the Kalahari, new grass is sprouting and young lambs and calves take their first tentative steps. December also means low season rates and it's a great time for discounts while the game viewing is still good.
Disadvantages: There's always the risk of heavy rain in December and if you're unlucky you may not see much sunshine at all. Though wildlife viewing is usually still good until the vegetation thickens in January, it's still not at the same level as September/October. December is also not the best time for mokoro and motorboat trips, with low water levels all across the Delta.