Selinda safaris, tours & holiday packages
Selinda is a unique and moody wilderness, where constantly changing waterways and wild savanna play host to some of Africa's most dramatic animal interactions
Lions and hippos (even lions hunting hippos), a great concentration of elephants, a stable population of African wild dogs, wide untouched wilderness and a selection of unique camps ensure that your Selinda safari is really special. Dereck and Beverly Joubert are renowned National Geographic filmmakers who know this 130,000-hectare landscape intimately. They have combined their talents with like-minded people in the tourism industry to create ecologically sensitive camps that are run according to a strict code of ethics, providing conscience-free yet superbly comfortable places to stay.
Popular Selinda safaris
These popular itineraries can be customised to match your budget and travel dates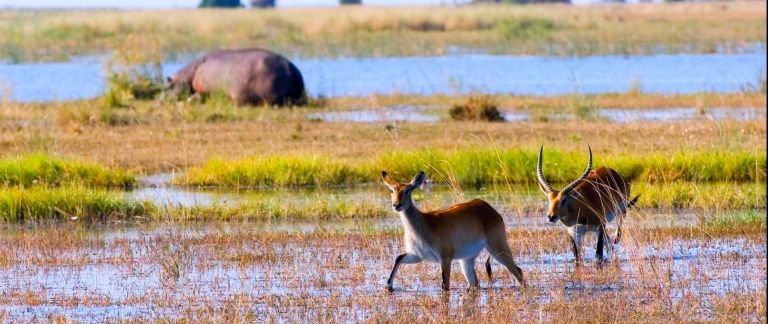 Explore Botswana's Moremi and Selinda reserves on foot, in a safari vehicle or a mokoro for unforgettable wildlife encounters with big game and rare birds
$ 10,090
£ 7,917
R 172,551
€ 8,675
per person
6 days
Steve Conradie says
""Having guided and travelled in Botswana for 10 years and seen very special places and dramatic animal interactions, I rate Selinda among the top of all my experiences. I experienced it when it was still a hunting concession and the animals were scarce and very skittish, a far cry from the pristine wilderness area and wildlife refuge it is today."
More on Selinda holidays
Selinda is a private reserve that is centered on the famous Selinda Spillway, which flows through the concession from east to west, linking the far reaches of the Okavango Delta in the south with the Linyanti systems in the east and disappearing into the Savute Marsh. The reserve is a place of rising and falling water and wild savanna, a place where it feels as though you've returned to a far more ancient time. The landscape is pristine. Once the haunt of trophy hunters, Selinda was unknown to the safari tourism trade until a few years ago, when hunting in the area was stopped. Now managed by passionate conservationists, Selinda has quickly become one of the most sought-after destinations in Africa. And as the reserve is privately owned, exclusive viewings are almost guaranteed. You can explore the land and waterway attractions on game drives and wilderness walks and in canoes – all in the capable hands of knowledgeable guides.
Selinda Map
Selinda's location on Google Maps

Frequently Asked Questions about Selinda
What vaccinations should I get?
This is all dependant on the countries that you will be visitng and due to the status of certain vaccinations changing at times, please consult our experts before getting vaccines. go there.
Is it okay to drink the water?
In some parts of Southern Africa it is safe to drink the tap water, however it is highly recommended to stick to bottled water (mostly supplied) during your trip as even drinkable African water is completely different in taste and… go there.
Reviews on our Selinda safaris
Excellent combination of calling to chat about plans and details, followed up with emailing of detailed information. Made all arrangements easy for us from the actual booking to payment procedures, exchange rate recommendations, visa advice,…
Saldrix
from South Africa