Kenya is often thought of as the ultimate safari destination, and it's easy to see why. The country is home to an incredible diversity of wildlife, including lions, elephants, and rhinos. Not only does Kenya have some of the best safari camps, it has many other lodges, hotels, guest-houses and accommodation options.
The country's stunning landscape includes everything from snow-capped mountains to palm-fringed beaches. Its vibrant culture is on display in bustling cities and traditional villages. Whether you're looking for an African adventure or a relaxing beach vacation, Kenya has something for everyone.
In this post, we'll take a look at twenty of the best safari lodges from around the country.
1. Tortilis Camp, Amboseli National Park

This luxury Kenyan safari camp in the shade of beautiful acacia tortilis trees has stunning views of snow-capped Kilimanjaro and Mount Meru in Tanzania. It offers guests roomy tents set well apart ensuring privacy, making it ideal for couples and honeymooners. However, there is a family tent as well.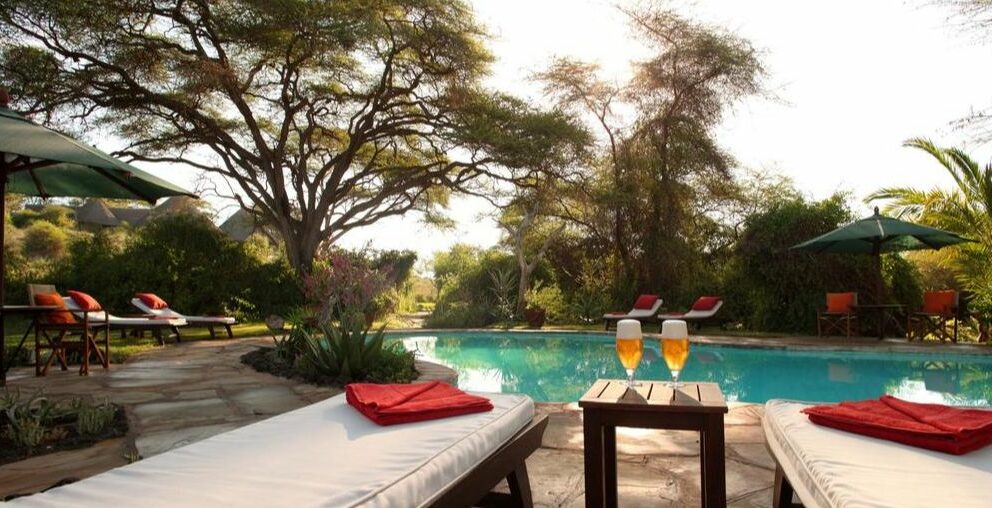 The luxurious Tortilis Camp tents have comfortable beds, gorgeous ensuite bathrooms and private verandas. The beautiful swimming pool area, with tempting loungers invitingly set out, simply compels relaxation.
The safari camp has a private entrance to Amboseli National Park renowned for its magnificent elephant herds. Mouthwatering Italian cuisine and superb service makes a stay at Tortilis unforgettable!
2. Ol Donyo Lodge, Chyulu Hills

Situated between Tsavo East and Amboseli National Parks, ol Donyo (meaning 'large mountain') is located on the Masai-owned Mbirikani Group Ranch. It nestles picturesquely in the foothills of the Chyulu Hills in Kenya's renowned Amboseli National Park.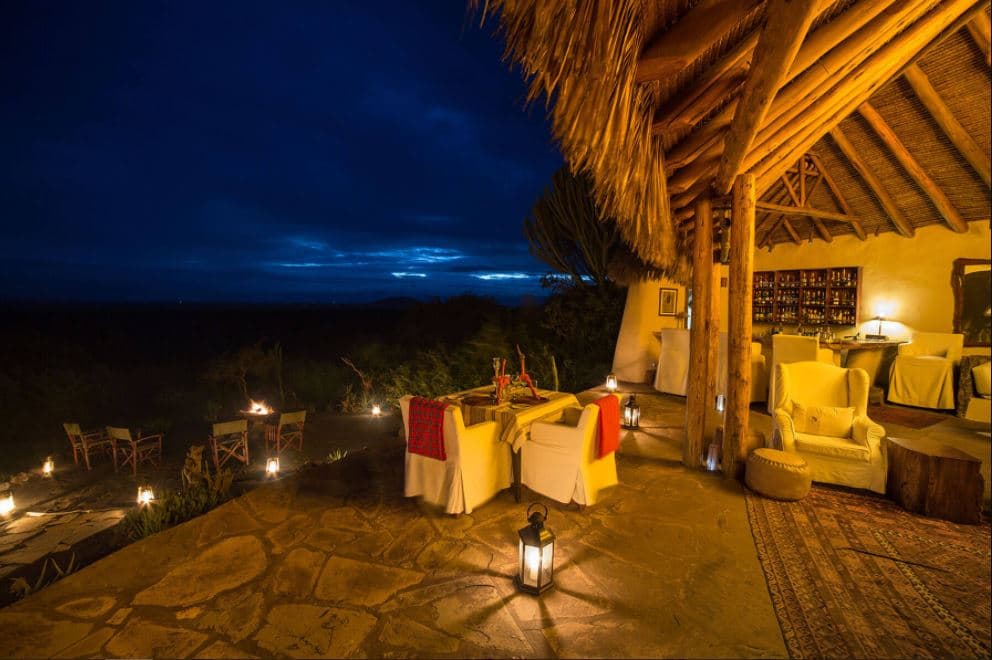 The lodge combines Masai culture and contemporary design to create the perfect setting for a luxury safari. Guests stay in six roomy ensuite villas with well-appointed lounges, verandas and private plunge pools. Roof terrace star beds allow you to sleep out under the stars in a peerless experience of nature. An executive chef and his skilled team ensure fine cuisine matched with hand-picked wines and impeccable service!
The open-air hide ensures fantastic wildlife viewing. Horseback and mountain bike excursions, and expertly guided nature walks complete this unparalleled wildlife experience.  
3. Alfajiri Villas
, Diani Beach

Condé Nast Traveller rated Alfajiri Villas amongst the most luxurious in the world, and they offer the ultimate in relaxation, comfort and personalised pampering.  Located on stunning Diani Beach, washed by the balmy waters of the Indian Ocean, these villas ensure a magical beach holiday. Vibrant Mombasa is just 30km north.
All three of the exclusive-use villas come with their own personal butler service, meals tailored to your taste, and private swimming pools. A masseuse is on hand for daily massages, and the owner will personally arrange all your activities, like snorkelling, kite surfing, golf and skydiving. And you'll enjoy some of the most delicious and freshest sea-to-table seafood you've ever tasted!
An excellent choice after staying at one of Kenya's best safari camps.
4. Kinondo Kwetu
, Galu Beach

If barefoot luxury in a relaxed setting is your style, Kinondo Kwetu is the place for you! Located on the pristine Indian Ocean shoreline just south of Diani Beach, this beautiful hotel is the only one on private Galu Beach.
It is surrounded by verdant coastal forest and offers water activities like swimming, sailing, boating, diving and snorkelling. Beach and forest horse riding, tennis, yoga, golf and wood-fired saunas are also on offer. You can enjoy a romantic dinner on the beach, take in a cultural visit to a local village, or book a boat trip to Paradise Lost Island.
Or just ensconce yourself in a hammock under some whispering palms with a drink or a book while the balmy Indian Ocean breezes gently waft your cares away …  
5. Loisaba Tented Camp, Laikipia

There can be few better views than Loisaba's across Laikipia's marvellous landscape all the way to Mount Kenya, over the 56 000-acre private conservancy. And nowhere are the views better than from Loisaba's magnificent infinity pool! Relax in the pool with a delicious sundowner whilst watching families of elephants forage below the camp.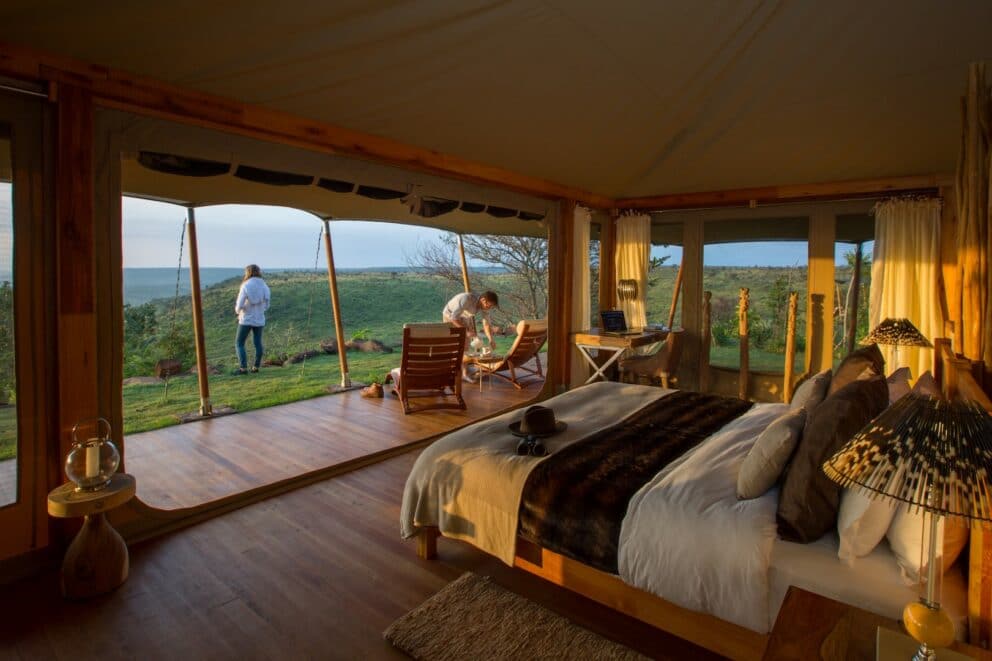 Large, high-ceilinged, and airy tents all feature huge floor-to-ceiling windows and doors and windows. The sophisticated decor stylishly combines African influences with modern state-of-the-art lighting systems and showers. The service is impeccable, the food delicious, and a night in your private outdoor star-bed will create an indelible memory.
Camel treks, horse riding and mountain biking excursions are all on offer, as are expertly guided bush walks to see rare species like Grevy's zebra and wild dogs.  
6. Segera Retreat, Laikipia

Located on the rim of the Great Rift Valley, Segera Retreat is a sanctuary for numerous species, including endangered African wild dogs, the patas monkey and rare Grevy's zebras.
Established by conservationist and art collector Jochen Zeitz, this retreat offers luxury, privacy and stunningly beautiful surroundings and gardens. Coupled with excellent service, delicious cuisine, fine wines, 'sleep-outs' under the stars, and an indulgent spa, this unique retreat has it all.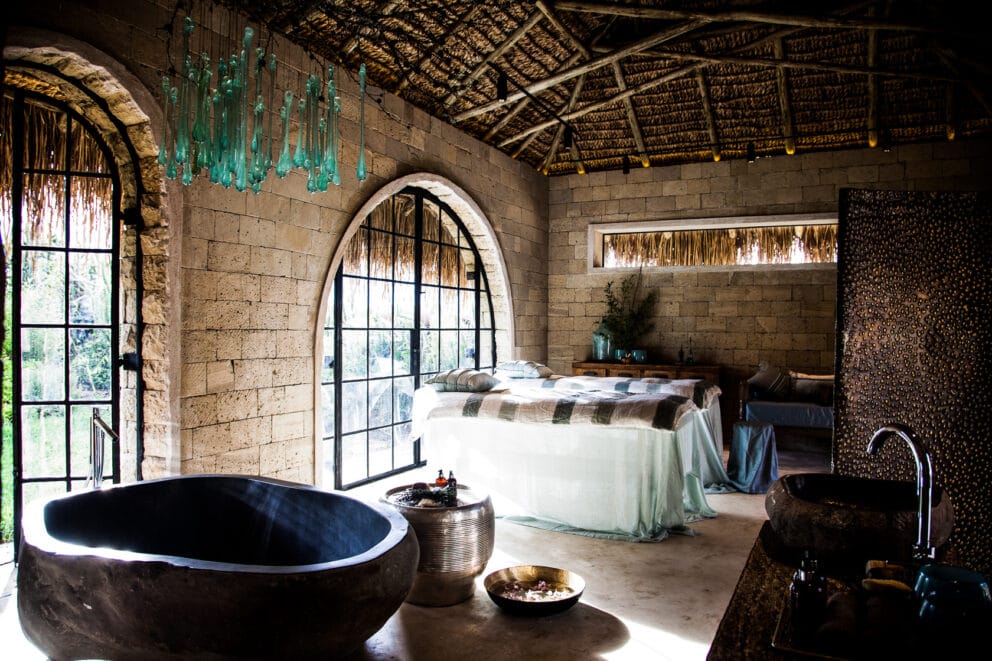 All six thatched and superbly appointed villas have a villa attendant who takes personal care of guests during their visit. Pathways link the villas to tempting daybeds, swimming pools, and bar and lounge areas. Private decks overlook the savannah and the stunning Sculpture Garden. Guided game drives, helicopter excursions, and hidden hides ensure guests have excellent game viewing.
7. The Sanctuary at Ol Lentille, Laikipia

Snuggled into the lush hills of Laikipia's northern escarpment, the Ol Lentille Sanctuary combines unsurpassed views with privacy, seclusion, and opulent luxury. Its four uniquely designed, butler-served villas are ideal for honeymooners or couples.
Guests can explore 40 000 acres of pristine wilderness through jogging, quad biking, horse riding, cycling and camel trekking. Guided game drives and bush walks are available, as are kayaking and river-rafting excursions for more adventurous souls. Yoga, croquet and boules offer less taxing pursuits, as does a fine library.
International cuisine, fine wines and a sumptuous spa and wellness centre put the final seal on this safari of a lifetime!
8. Loldia House
, Lakes District

Situated on one of Kenya's earliest farms near Hell's Gate National Park, Loldia is a luxury safari lodge that has it all – dormant volcanoes, serene lakes, mind-boggling canyons, and even hot springs!
Ideal for couples and families, it offers luxurious accommodation, fine cuisine, and flawless service. Its relaxed colonial ambience calls more relaxed and gracious times to mind where playing croquet on a velvety lawn and evenings spent talking before a fire was the norm.
A paradise for bird-lovers, Loldia has stupendous views of Lake Naivasha and the extinct volcano, Mount Longonot. Guests can see millions of flamingos on the nearby lakes, rare colobus monkeys, endangered black and white rhinos, lions, leopards, and many other species. You can enjoy boat excursions, horse riding, golf, tennis, fishing, swimming and yes, of course, croquet! And evenings soaking up the peace in front of the fire.
9. Manda Bay
, Lamu Archipelago

Part of the Lamu Archipelago, Manda Island lies just off Kenya's north coast. This gorgeous island is tailor-made for visitors looking for a far-from-the-madding-crowd escape, or as a fabulous end to their African safari.  
Manda Bay is a tranquil boutique beach resort that offers frequent sightings of humpback whales, dolphins and turtles. A wealth of activities like swimming, waterskiing, scuba diving, deep-sea fishing, windsurfing and dhow safaris is on offer. Enjoy some of the delicious food, indulge in a massage, or just relax and soak up the peace.
10. Kifaru House
, Lewa

Lewa Wildlife Conservancy's 62,000 acres lie in the foothills of majestic Mount Kenya, and is an internationally acclaimed success story of collaborative conservation between tribal communities. Luxury lodge Kifaru House is an oasis of incredible views and sweeping lawns overlooking a popular waterhole.
Home to some of East Africa's most thriving populations of black and white rhinos, Lewa also houses the Big Five, cheetah and endangered Grevy's zebras and black rhinos. Activities include game drives, walking safaris guided by Samburu rangers and an enchanting canopy walk and picnic in Ngare Ndare forest. Horse riding, camel trekking and instructive visits to local Samburu homesteads or manyattas will make your eco-safari even more memorable.  
11. Lewa Wilderness Lodge, Lewa

Dating back to 1924, this innovative luxury Lewa Wilderness lodge is centred around the original family farmhouse of the Craig family who still run this conservation-centric resort. Guests sleep in nine beautiful, thatched cottages.
Fireplaces, inviting lounge areas and private verandas with incredible views all add to this resort's unique ambience. Couples, families and ecotourists will all love it. Dining is either private or communal; your choice.
Activities include night and day game drives, guided walks, fly camping, tennis, swimming, horse riding, camel trekking or a visit to the gym. You can have a flight in a vintage bi-plan, or enjoy a magical canopy walk in Ngare Ndare Forest with its numerous waterfalls. A visit to Il NGwesi village will inspire you, as will meeting the anti-poaching dogs that protect this 'safe house' for rhinos.
12. Angama Mara, Masai Mara National Reserve

Aptly meaning 'suspended in midair' in Swahili, Angama Mara's two ultra-luxurious safari camps sit atop two koppies on the edge of the Great Rift Valley. Each enormous tent has a 10-metre-wide glass front that assures unrivalled vistas and game viewing. This includes the crocodile-dense Mara River, scene of many a drama-filled river crossing during the yearly Great Wildebeest Migration from August to November!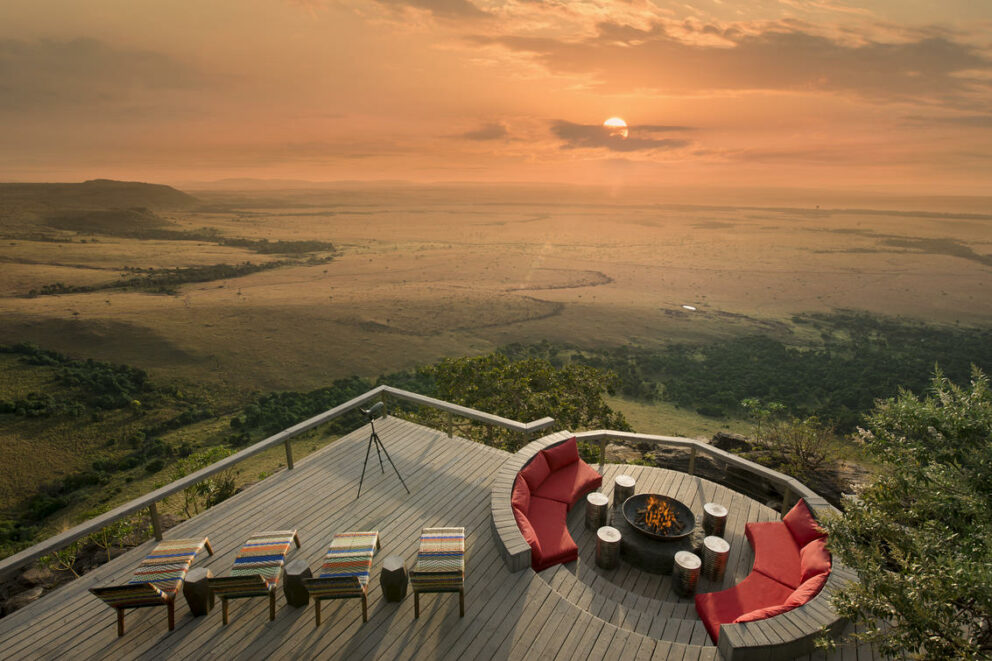 There's a magnificent swimming pool, and you can have a massage or a workout in the gym. The camps also have wi-fi connectivity, child minders, and laundry facilities.
Guests enjoy game drives, guided walking safaris, hot-air ballooning and delicious cuisine and wines. Birdwatchers will be ecstatic with more than 570 recorded bird species! Photographers will love the onsite photography studio.
Angama Mara is undoubtable one of the most unique safari camps in Kenya.
13. &Beyond Bateleur Camp, Masai Mara National Reserve

Bateleur Camp enjoys a superlative location with its stunning infinity pools seeming to do just that – look out on infinity! Its two camps sit at the foot of the massive rock walls of the Oloololo Escarpment and a primaeval riverine forest. Each has nine sumptuous suites tucked away among the trees.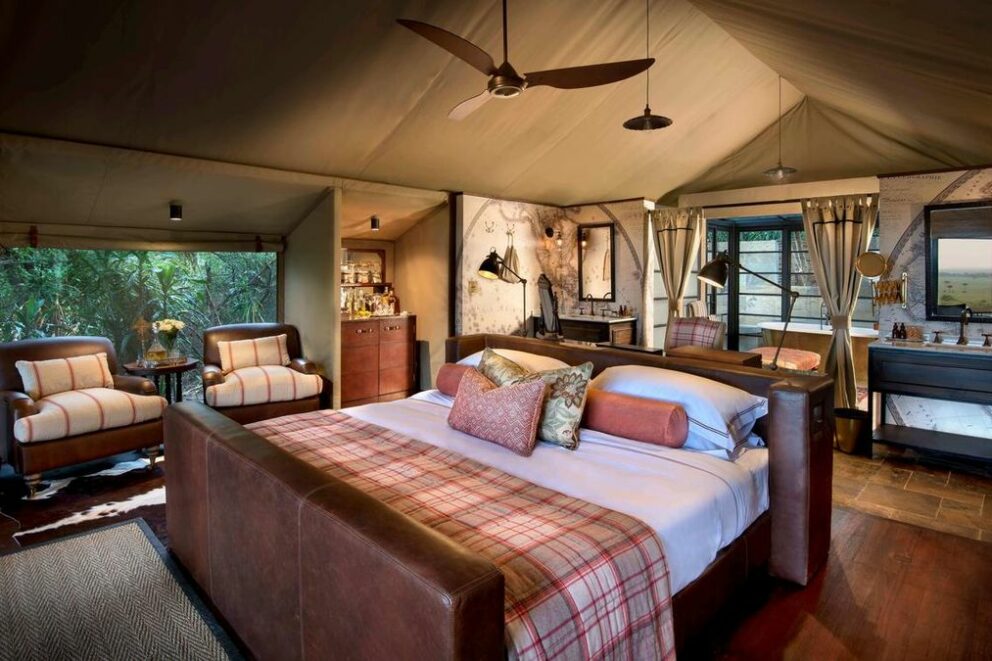 Each ensuite tent is furnished with fine antiques and handcrafted artefacts, and has its own shaded deck with chairs and table. You'll even be supplied with a pair of Swarovski Optik binoculars to use during your stay, and a personal butler will look after you. Guests enjoy outstanding cuisine, candlelit dinners in a forest clearing, sumptuous bush breakfasts, guided bush walks and hot-air balloon safaris.
An ideally placed deck with tempting armchairs is so inviting that monkeys and warthogs drop in from time to time!  
&Beyond's staff are renown for their excellent service and attention to detail, making this one of the finest safari camps in Kenya.
14. Sanctuary Olonana, Masai Mara National Reserve

Intimate, luxurious, award-winning Sanctuary Olonana Lodge nestles scenically in a forest on a private stretch of the iconic Mara River. Apart from excellent game viewing all year round, it guarantees you easy access to the greatest wildlife spectacle on the planet – the Great Wildebeest Migration.
You'll have the best seats in the house to see thousands of wildebeest and zebra cross the Mara with its gauntlet of Nile crocodiles. The large numbers of predators that stalk them add to the excitement.
Olonana offers family-friendly accommodation in 14 spacious en suite glass-sided suites with private decks. Game drives, sundowners, delicious dinners in the bush, cultural visits to a Masai village, scenic flights and magical hot-air balloon excursions are all on offer. There's even a mini spa to help you relax!
15. Elsa's Kopje

, Meru National Park

This luxurious, romantic and award-winning lodge is named after Elsa, conservationists Joy and George Adamson's beloved lioness of Born Free fame. The camp is crafted into rocky Mughwango Hill just above the original campsite where the Adamsons raised Elsa in Meru National Park.

The Park is real lion and elephant country, and is famous for rhino conservation. Guests can watch game drinking at a waterhole just below the lodge.

All the ensuite cottages have incredible 360° views from their private decks with romantic outdoor bathtubs. You can enjoy bush dinners or breakfasts, picnics, guided 4X4 game drives with sundowners, and rafting on the Tana River. Or have a swim or a relaxing massage, or browse the gift shop or library. And those essentials, wi-fi and a laundry service, have not been forgotten!
16. Giraffe Manor, Nairobi

Want to have dinner with somebody really tall, utterly beautiful, and gentle? Then you must stay at Giraffe Manor in Kenya's capital, Nairobi. Built in 1932, it's a small boutique hotel modelled on a Scottish hunting lodge, so plenty of olde-world charm!
The Manor is world-famous for its commitment to the conservation and its resident herd of Rothschild's giraffes. You can feed the giraffes from your breakfast table, or from the window of your second-storey bedroom.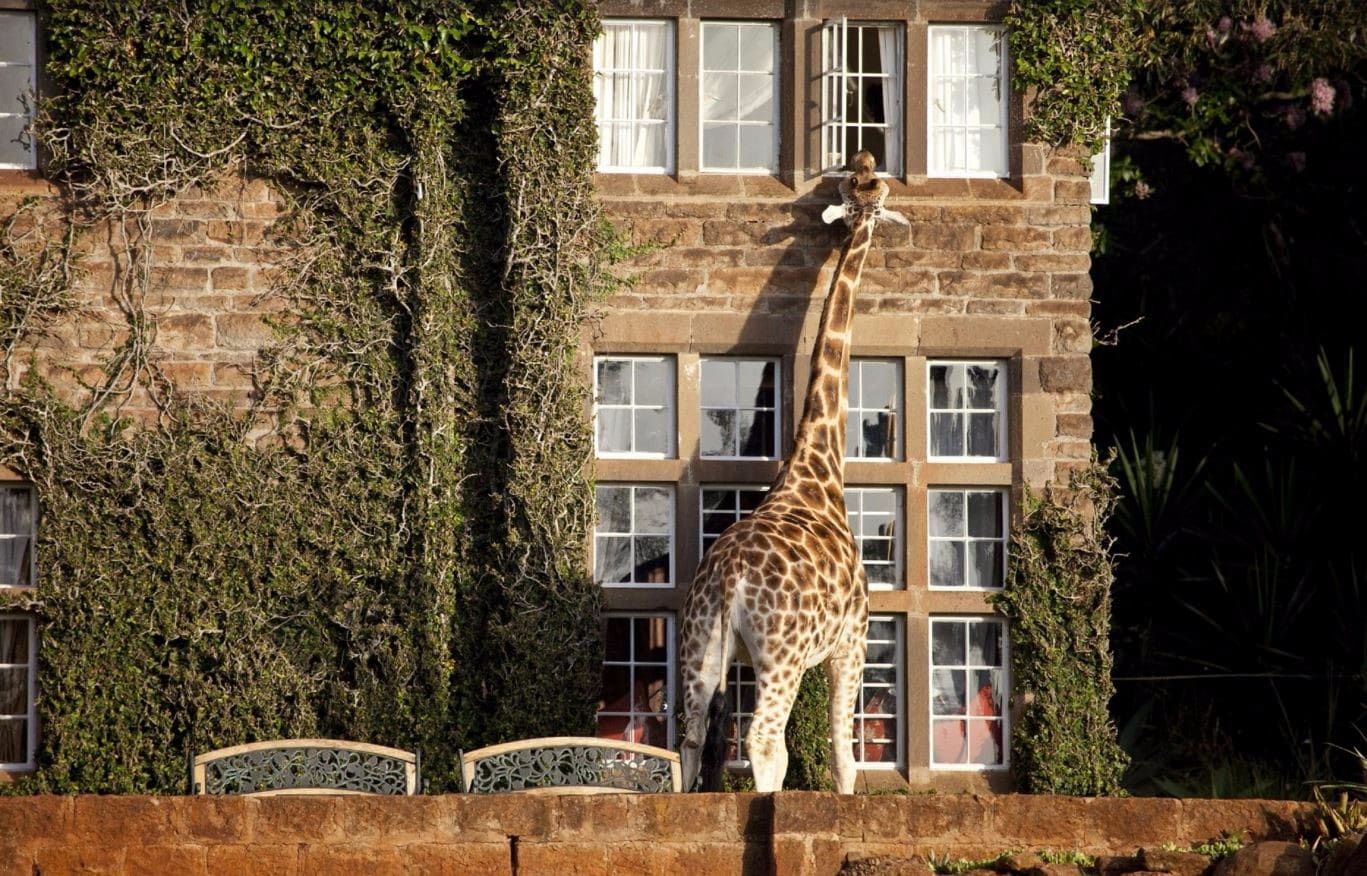 But you will have to book well in advance – the Manor has only 12 much-in-demand bedrooms! Some of the famous people who have stayed here over the years include Brooke Shields, Johnny Carson, Richard Chamberlain, Richard Branson, Ewan McGregor and Walter Cronkite. The latter even had a resident warthog named after him! Now that's fame for you!
17. Saruni Samburu, Samburu National Reserve

Built into a massive volcanic rock face ensuring spectacular views from its open-air cliff-top reception area, luxurious Saruni Samburu is known for its avant-garde design, architecture and décor. Each of the six stunning villas are unique and offer the last word in comfort.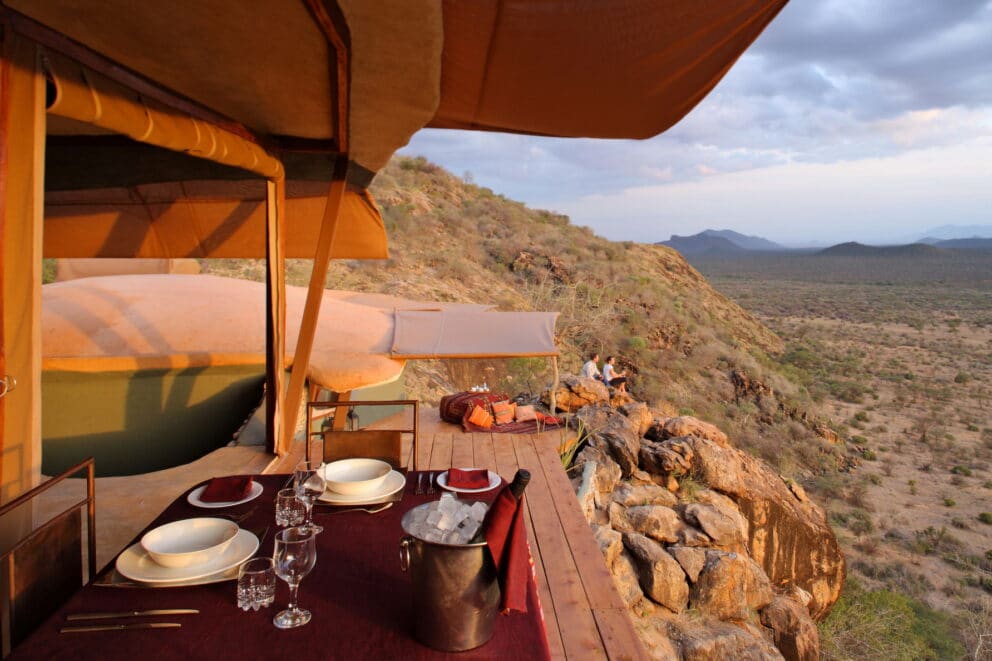 Guests can go on both morning and evening game drives to view Samburu's Special Five – the endangered Grevy's zebra, the Somali, or reticulated, giraffe, the Somali ostrich, the East African or beisa oryx, and the graceful long-necked gerenuk gazelle. You can explore the ancient rock art and abundant wildlife of the region on nature walks with Samburu rangers.  Children will love the junior rangers programme, and scrumptious picnics and bush dinners can be arranged. Saruni Samburu is simply one of the best safari camps in the region.
18. Sasaab Camp, Samburu National Reserve

Sasaab luxury tented camp has a stylish Moroccan ambience and offers riveting views of the endless plains of the Laikipia Plateau and Mount Kenya. Nine uniquely styled tents offer guests deluxe four-poster beds, spacious seating areas, en suite luxury bathrooms, ceiling fans, wi-fi, and roomy verandas with plunge pools.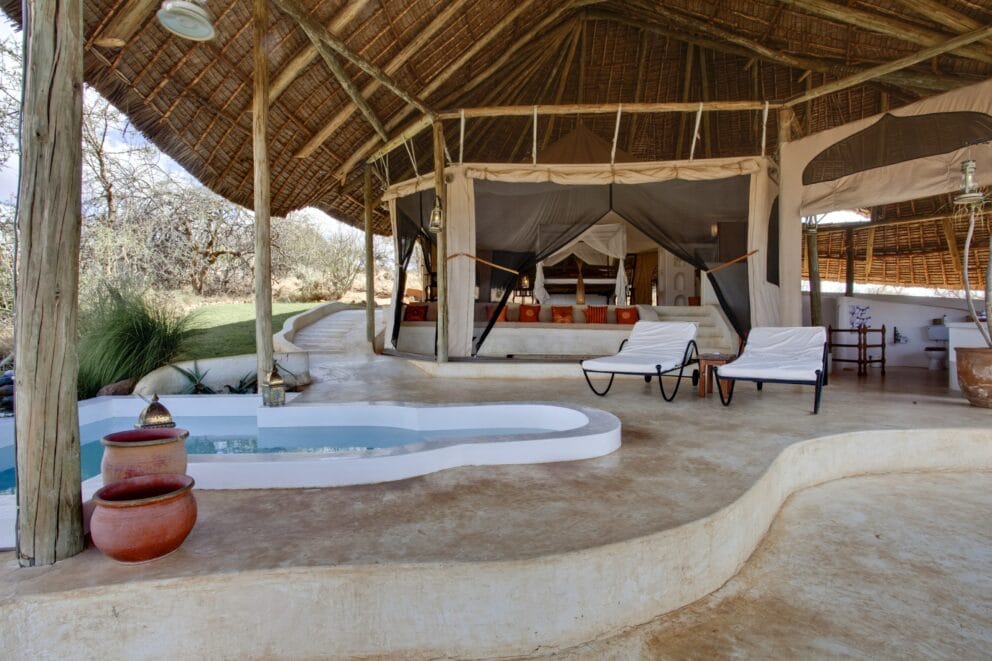 A spa is available for indulgent pampering, as are in-room beauty treatments and massages. Guests are spoilt with twice-daily game drives, spotlit night drives, guided walking safaris, mountain biking, cultural excursions, camel treks, fly-camping and all-day trips to the Samburu Reserve. Superb Moroccan-styled cuisine is served, and the camp is famous for its pizzas!
19. Lentorre Lodge
, Southern Rift Valley

Secluded, sumptuous and serene, Lentorre Lodge is ideal for that breakaway far from the madding crowd. Situated on the Nguruman Escarpment in the remote Southern Rift Valley, Lentorre is the only lodge on the Olkiramatian Conservancy.  
A natural spring behind the lodge ensures a constant supply of pristine water. It also sustains a historic grove of tamarind trees where elephants still come to feast on the ripe fruit.
With exclusive access to the Olkiramatian Conservancy, guests enjoy day and night drives with unrivalled game viewing. Scenic helicopter flights are on offer, as is the opportunity to join in herding livestock with traditional Masai villagers. You can meet some baboons as they go about their daily activities, or float down the Ewaso Ng'iro river on an innertube!
20. Finch Hattons Luxury Tented Camp
, Tsavo National Park

Named after Robert Redford's Out of Africa alter ego, aristocratic safari leader Denys Finch Hatton, Finch Hattons is a top-rated tented camp in Tsavo National Park, Kenya. The safari camp overlooks a freshwater spring that's a potent draw-card for animals ensuring incomparable game viewing, including elephant sightings right outside the camp.
The camp has only 17 superbly appointed luxury suites with private viewing decks with heated plunge pools. Facilities include a yoga room, fitness centre, spa, home theatre and children's entertainment room. Daily game drives, crater climbs, and scenic fights are on offer.
The sumptuous Karen Blixen Lounge simply demands relaxation, as does the library. Then add a lookout tower, a magnificent palm-fringed infinity pool, a cushion- and rug-strewn star-gazing terrace, superlative food and wine… Wow!
Choosing from Kenya's best safari camps and safari lodges
Kenya is a land of stunning natural beauty and diverse wildlife. From the grassy plains of the Serengeti to the snow-capped peaks of Mount Kenya, there is something for everyone. And of course, Kenya is home to some of the best safari parks in Africa, where visitors can see lions, elephants, and other iconic animals in their natural habitat.
Reach out to our expert team today to plan your Kenyan safari experience at one of Kenya's best safari camps or Kenya's best safari lodges.