Aberdare National Park safaris, tours & holiday packages
Close to Nairobi
Custom Aberdare National Park
Describe your dream trip
We'll source the best value
Book when you're ready
Photographers will love the mountain peaks, rivers and waterfalls, moorland, bamboo and rain forest – and there's unusual wildlife too
The higher slopes of the Aberdare Mountains make up the bulk of the relatively small Aberdare National Park, just north of Nairobi in central Kenya. You'll find lots of dense forest, deep ravines and accompanying waterfalls. The diverse topography makes it hard to spot the elusive bongo forest antelope, which lives in the bamboo forest, or to find the resident prides of lion. Black rhino, leopard and other primates such as Sykes's and black-and-white colobus monkeys are often seen. Strange forest or melanistic (black) cats have also been seen, including both black serval and black leopard.
More on Aberdare National Park holidays
If you're keen on birds, you'll want to look for some of the 290 species in the park, including eagles, sunbirds and goshawks, as well as Jackson's francolin and the Aberdare cisticola. The Aberdare National Park is only about 100 kilometres from Nairobi and easily accessible from Naivasha or the towns of eastern Kenya. As a result, it's a popular destination for a weekend away. Although we don't often visit this park, it would be a great place to walk in the forest on the lookout for bongo, black serval and black leopard.
Aberdare National Park Map
Aberdare National Park's location on Google Maps

Frequently Asked Questions about Aberdare National Park
What vaccinations should I get?
This is all dependant on the countries that you will be visitng and due to the status of certain vaccinations changing at times, please consult our experts before getting vaccines. go there.
Is it okay to drink the water?
In some parts of Southern Africa it is safe to drink the tap water, however it is highly recommended to stick to bottled water (mostly supplied) during your trip as even drinkable African water is completely different in taste and… go there.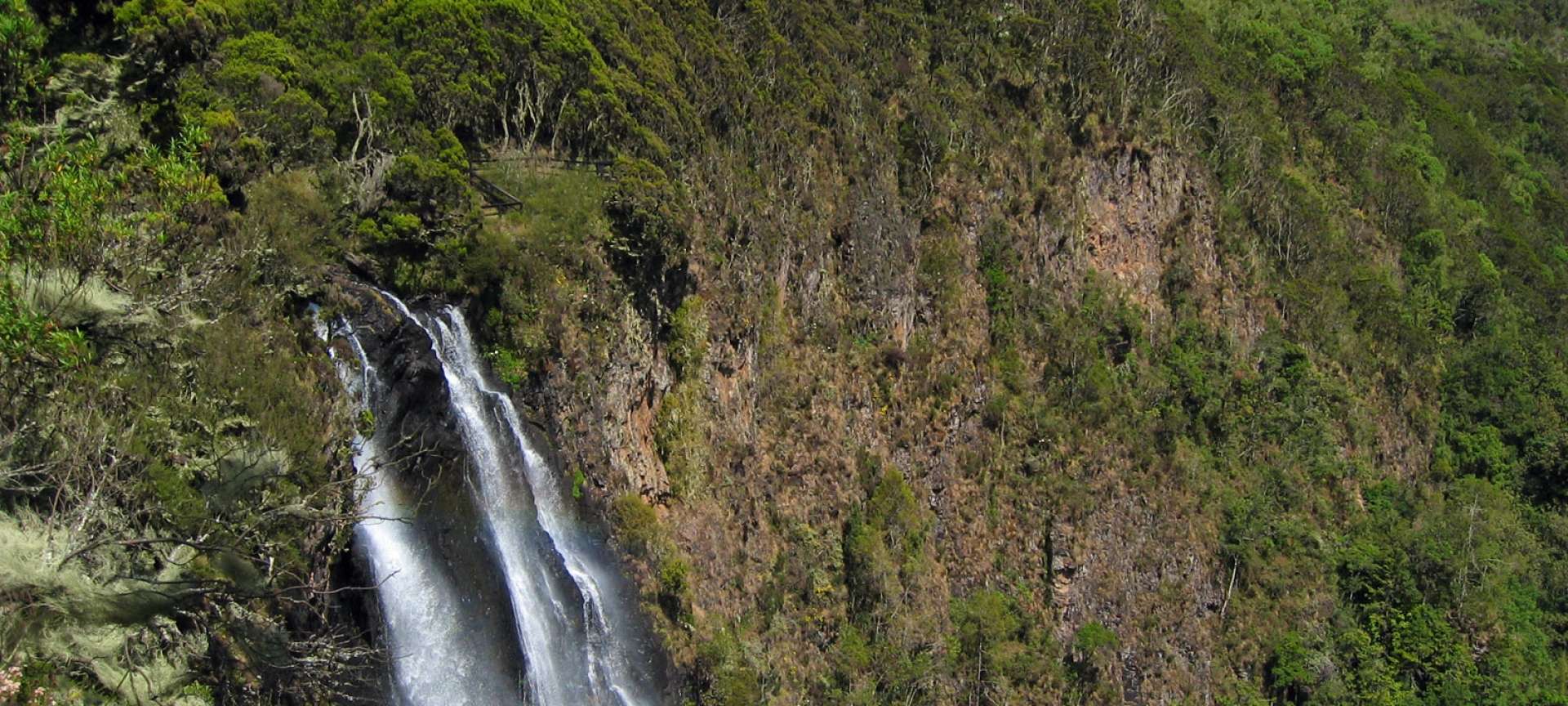 Reviews on our Aberdare National Park safaris
Thank you for the way you organised the trip for us. It was a pleasure dealing with Discover Africa and Matthys in particular. From start to finish, everything was simple and easy. Our trip has been tremendous and we would fully recommend…
Craig and Sue Wood
All details were covered, all staff and food excellent, service was perfect - would highly recommend for sure.
Ron
from United States of America
Excellent combination of calling to chat about plans and details, followed up with emailing of detailed information. Made all arrangements easy for us from the actual booking to payment procedures, exchange rate recommendations, visa advice,…
Saldrix
from South Africa
Two male lions tried to take on an older female lion. The alpha male recently died and they were trying to take over his pride. The female lion was having none of it and while the males tried to tag team her; she swatted her massive paw at…
Kay Oczkowski
from United States of America
Waking up at 5:00 am to a bumpy ride all the way to a hidden hyena den, was something I'll never forget. But the absolute best part was when the 1 month old cub peeked his head out to say hello. It was heartbreakingly cute.
Alana Krutoyarsky
from United States of America
I wish to say thanks to Megan for all your assistance in ensuring that me and my wife enjoy a wonderful holiday, a nice stay at the hotel with just minor issues, and the Hluhluwe Imfolozi park tour. We just wish to pass our gratitude for all…
Mokatse Itumeleng
from South Africa