Laikipia Conservancy safaris, tours & holiday packages
Lewa, Ol Pejeta and Matthews Range together preserve more endangered wildlife than anywhere else in East Africa
The economic viability of wildlife tourism – as opposed to cattle farming – became apparent in the 1990s, when farmers, cattle ranchers and local tribes partnered to create wildlife conservation areas that now comprise 800,000 hectares of the central Kenyan plateau plains, including Ol Pejeta, Lewa and Matthews Range in the greater Laikipia county. The area preserves more endangered wildlife mammals than any other in East Africa, including the more famous Masai Mara and Serengeti ecosystem. Half of the endangered rhino population is to be found on private conservancy land. This is the only area in Kenya where wildlife numbers have increased in the last 25 years.
Popular Laikipia, Lewa and Ol Pejeta Conservancy safaris
These popular itineraries can be customised to match your budget and travel dates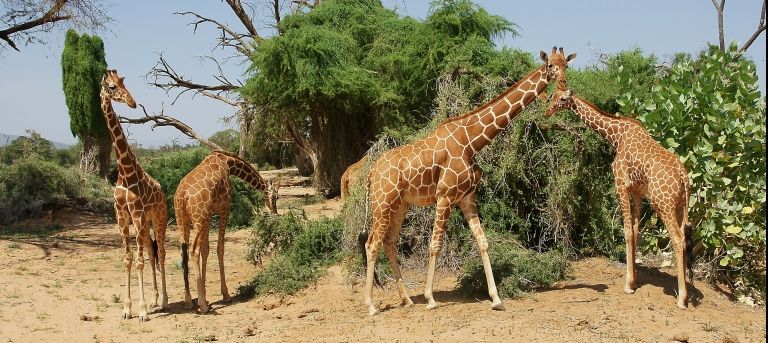 Even if you've seen the Big Five and the Great Migration, you'll appreciate the different beauty of animals like reticulated giraffe, Grevy's zebra, gerenuk and bongo
$ 5,920
£ 4,690
R 99,302
€ 5,239
per person
8 days
More on Laikipia, Lewa and Ol Pejeta Conservancy holidays
It began with the Lewa Downs Conservancy, its success paving the way for communities including the Masai, the Kikuyu, Samburu, Turkana, Meru and Europeans to combine efforts for conservation and open up areas to restore historical migratory routes that were disturbed by the fencing of cattle ranches. Many camps are partly community-owned and others work closely with the communities to ensure that conservation is the primary concern and benefits are spread widely.
The Laikipia Conservancy consists of large private ranches and Samburu tribal lands. Loisaba is a 61,000-acre private game conservancy in the heart of Laikipia, with the Ewaso Nyiro River on its southern boundary, dramatic escarpments and wildlife plains in the north. Sabuk Lodge lies on the northern escarpment. The Ol Pejeta Conservancy is known for its relatively large black rhino population, reticulated giraffe, the rare Grevy's zebra, plenty of plains game and a strong predator population. It has the highest resident game-to-area ratio of any park or reserve in Kenya. It has 200 species of resident and migratory birds, the latter found here between March and May and between September and November.
Lewa Wildlife Conservancy is one of Africa's conservation success stories, with the Big Five within its borders. It provides a refuge for a number of endangered species, including black and white rhino, and the largest single population of Grevy's zebra. Begun in 1995, it has developed into 60,000 acres of conservancy where even sitatunga – a water-loving antelope – can be found. North of both Laikipia and Samburu is the Matthews Range, a remote, unspoiled and rarely visited area that rises from the grey desert of the Northern Frontier District of Kenya. Wildlife finds this verdant forest a natural refuge amid the arid surroundings and elephant, buffalo, kudu, waterbuck and giant forest hog are regularly seen. Leopard, lion and wild dog are also present but seen less often. There's also a variety of forest birds.
Laikipia, Lewa and Ol Pejeta Conservancy Map
Laikipia, Lewa and Ol Pejeta Conservancy's location on Google Maps

Frequently Asked Questions about Laikipia, Lewa and Ol Pejeta Conservancy
What vaccinations should I get?
This is all dependant on the countries that you will be visitng and due to the status of certain vaccinations changing at times, please consult our experts before getting vaccines. go there.
Reviews on our Laikipia, Lewa and Ol Pejeta Conservancy safaris
Discover Africa and Carel has put in such an effort for us to experience the annual wildebeest migration, meticulous planning and accurate predictions with logical and the best accommodation options both sides of the Mara River guaranteed us…
Jates and Hil Oettle
from South Africa
Our trip was arranged by Carel Verhoef at discoverafrica.com and was perfectly organised. We flew into the Masai Mara from Nairobi and all flight connections and transfers were arranged for us and went like clockwork. Carel was also very…
Geoffrey Burton
from South Africa
Every one was so helpful in making the arrangements. The booking people helped in all the questions we had, they were polite and helpful. The tour and lodge were amazing. Every one was helpful and very interesting to talk to. They made our…
Shelia
from United States of America
Our service from Carel at Discover Africa was outstanding. His recommendations on the timing of our trip, the lodges we should book, communication and overall assistance ensured that our trip went off very smoothly and that we were in the…
Patti Legg
from South Africa
Discover Africa planned our safari to East Africa and we were certainly in the right areas at the right time, our itinerary was well designed to maximize time with the migration and related sightings - logistics ran smoothly and all in all…
Billy
from South Africa
Well planned safari and good service. Discover Africa planned our safari to East Africa and we were certainly in the right areas at the right time, our itinerary was well designed to maximize time with the migration and related sightings -…
Billy