Birding Tour through Uganda (10 days)
Birding Tour through Uganda (10 days)
This is a safari for the serious birder wanting to see exciting new bird species, as well as chimpanzees and mountain gorillas
This ten-day safari includes a thrilling visit with the Mountain Gorillas in Bwindi Impenetrable Forest National Park, chimpanzee tracking in both Kibale National Park and Kyambura Gorge, multiple game drives in Queen Elizabeth National Park and a boat cruise on the Kazinga Channel.
Uganda boasts some of the best bird watching in Africa, with over 1000 different species, including the rare shoebill and the remarkable grey crowned crane. Luxury accommodation, professional guides and custom-made safari vehicles – this safari will be the trip of a lifetime.
Included Activities:
Gorilla Permit
Kibale chimp permit
Forest Walk Bwindi with ample opportunities for bird watching
Bigoda Swamo, Kibale - one of Uganda's best bird watching locations
Mabamba Swamp - a favourable habitat for 260 recorded bird species
Jan
Feb
Mar
AprLow
MayLow
Jun
JulPeak
AugPeak
SepPeak
Oct
Nov
Dec
Costing tip: When comparing with other companies, remember most of them only show the low season rate. How pricing works >
What to Expect on This Safari
This popular itinerary can be customised to match your budget and travel dates by adding/removing a few days or selecting different lodges
Arrival at Hotel No.5, Entebbe
On arrival at Entebbe International Airport you will be met by a Wild Frontiers representative and transferred to Hotel No.5, or similar, for your overnight stay.
Set on the shores of Lake Victoria, Entebbe is a small town that is easy to explore on foot or local boda bodas (motorbike taxis). Explore the markets, hunt for souvenirs or crafts, meander through the Botanical Gardens or relax with a boat cruise on Lake Victoria. You'll find a wide variety of restaurants, bars and clubs where you can sample the local beer, catch a game of football and meet the friendly locals.
Nestled in the leafy suburbs of Entebbe, is the new and stylish boutique hotel, Hotel No.5. From the moment you arrive, you are warmly welcomed and cared for. With luxurious rooms opening onto the garden and swimming pool, this is a great option for guests looking for an intimate stay in a tranquil setting.
Make yourself at home – unwind beside the swimming pool, pamper yourself with a spa treatment, or work up a sweat in the hotel gym. For one of the most flavoursome dining experiences in Entebbe, carefully planned menus are paired to an international wine list, and served with pride.
Attention to detail and an attentive guest experience are synonymous with Hotel No. 5, making it the perfect choice for a restful stay in this busy town.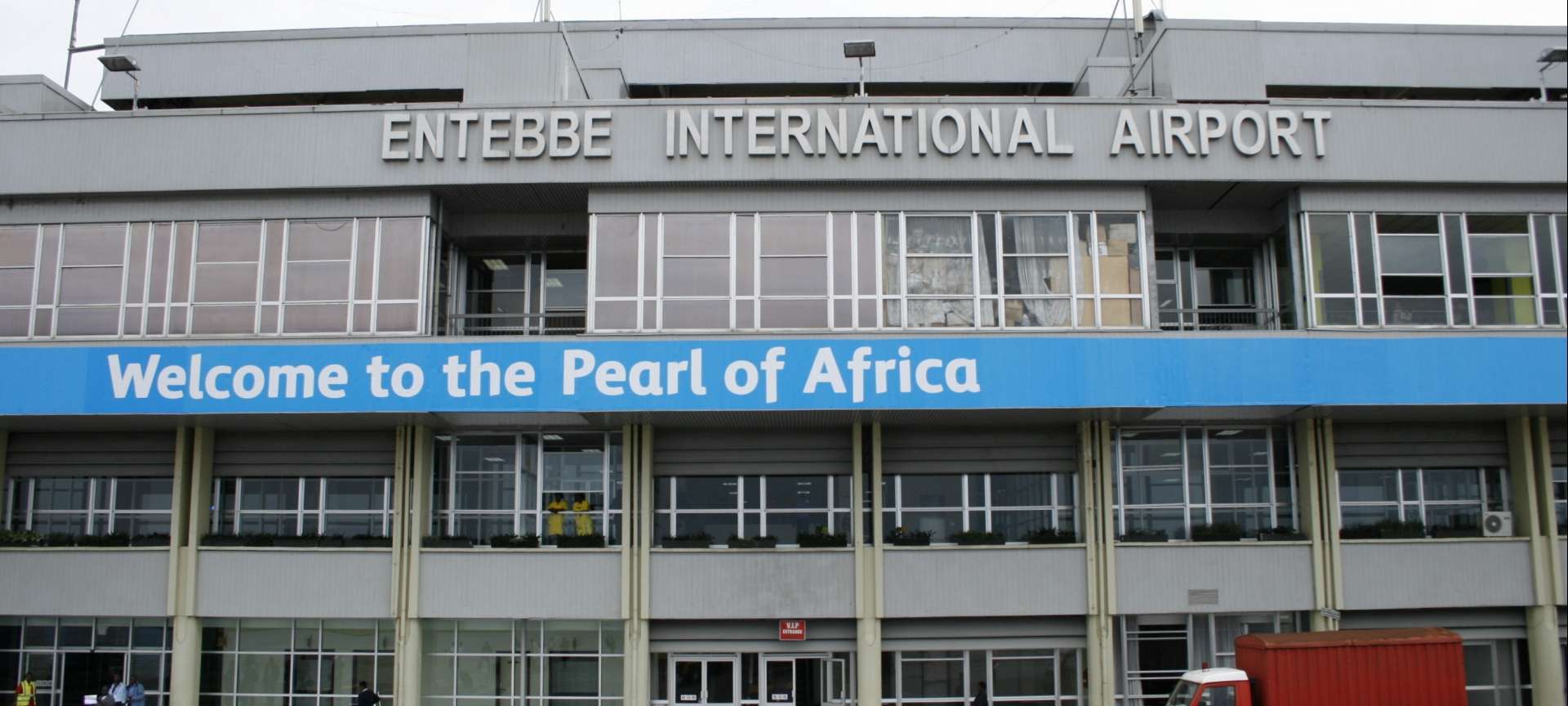 Buhoma Lodge, Bwindi Impenetrable Forest
This morning's flight on a light aircraft to Kihihi airstrip takes just over an hour. Transfer through local villages and along mountain roads to Bwindi Impenetrable Forest, a World Heritage site (a drive of +- 90 mins).
Considered the most diverse forest in Uganda, Bwindi is one of the richest ecosystems in East Africa and home to over 120 mammals, 345 species of birds, 200 species of butterflies and 160 species of trees.
The park contains an estimated one half of the world's population of the endangered Mountain Gorilla, making it an extremely valuable conservation site.
Nestled at the gateway to Bwindi Impenetrable Forest, Buhoma Lodge is one of only two lodges set within the national park, and is the perfect lodge of choice when embarking on your bucket-list Gorilla trekking adventure.
Renowned for its warm welcome and attentive service, guests love the homely ambience of this Africa inspired lodge. Constructed using sustainable materials, the elevated central lounge, bar and dining area (serving delicious multi-course meals) offers a cosy spot for guests to unwind, and offers amazing uninterrupted views over the forest. The crackling fireplace adds a mystical atmosphere to cooler evenings.
Tranquil and cosy, the ten spacious eco-friendly wooden chalets offer a private escape. Fall asleep to the sounds of the forest and awaken to chattering birds and monkeys as day breaks. Enjoy morning tea/coffee on your private verandah with sweeping views over the primal forest– what better way to start the day.
With Buhoma set just steps away from the trek start point, gorillas have been spotted popping in for an occasional visit, while our resident L'Hoest's monkey troup visit the gardens in front of the lodge almost daily, much to the delight of our guests.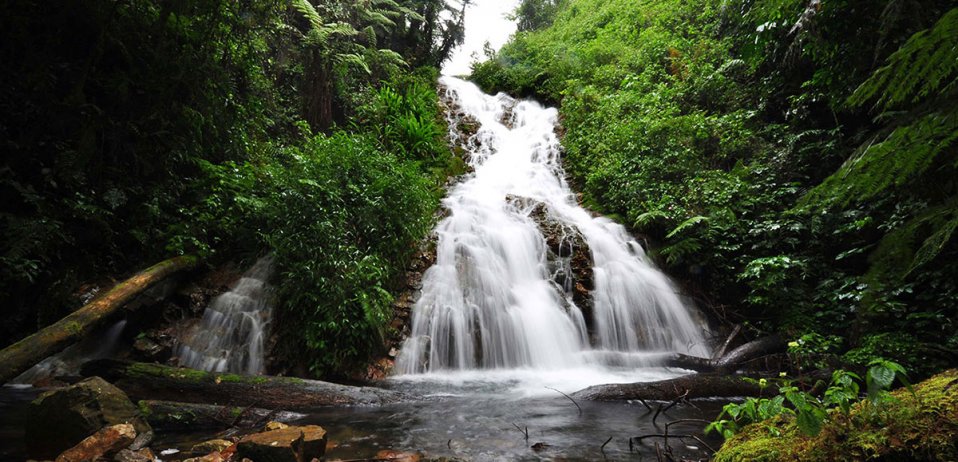 Buhoma Lodge, Bwindi Impenetrable Forest
Few words can describe the thrill of today's lifetime experience! Coming face to face with mountain gorillas is a rare wildlife encounter that is exhilarating, humbling and enthralling. Experienced guides and trackers will accompany your party on an early morning trek into the dense rain forest on the steep mountain slopes.
Please note that gorilla tracking is strenuous with treks ranging from 45 mins up to eight hours, at high altitudes in hot African conditions. The thrill of the hour you spend quietly observing these gentle giants once you find them is so worth the trek to get there! Although mountain gorillas are wild animals and sightings cannot be guaranteed, viewing success rates are over 95%.
On our scheduled departures, we typically buy permits for Buhoma & Ruhija, which are accessible from Buhoma area. One of the Buhoma families, and the Ruhija families, require a road transfer to the start point.
This does not deviate from the enjoyment of the trek (and could be considered as enhancing your trip as you are seeing a different part of the region). Your permit may be organised for day 3 or 4 of your safari - depending on availability at the time of purchase.
Head back to Buhoma Lodge for a complimentary massage after your trek, or explore the surrounding Bwindi community.
Buhoma Lodge, Bwindi Impenetrable Forest
Those with additional pre-purchased permits will depart for a second gorilla tracking experience. Guests not tracking have the day free to explore the Bwindi area – optional activities include forest walks, a visit to a local school/ orphanage/ hospital or Batwa pygmy village, and some local curio shopping.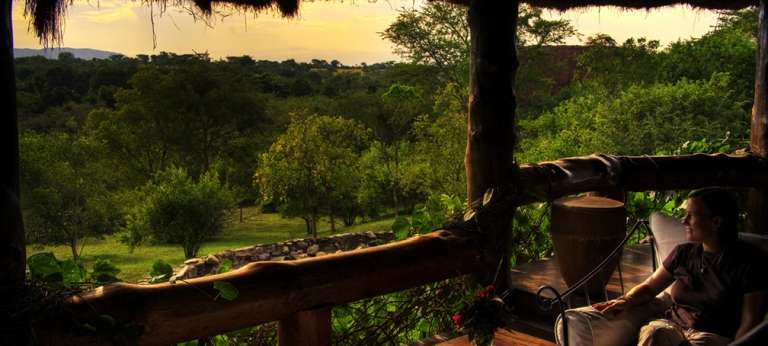 Ishasha Wilderness Camp, Southern Queen Elizabeth
Depart Bwindi Impenetrable Forest National Park this morning and travel to Ishasha in the southern part of Queen Elizabeth National Park (a 2-3 hour drive), with a brief stop en route at a community project near Ishasha Village.
Located in the western arm of the Great Rift Valley, the park is home to a wide variety of wildlife including elephants, leopard, lions, hippos, buffalo, Uganda kob, baboon, and many species of birds. With both a riverine and savannah habitat, the southern Ishasha area includes the massive Maramagambo, one of the largest surviving natural forests in Uganda, and is home to the tree climbing lions typically found in the area. Afternoon game drives will be enjoyed in the Ishasha area, looking for the huge herds of buffalo, elephant, Uganda kob and of course the famous tree-climbing lion typically found in the area.
Ishasha Wilderness Camp is an idyllic retreat for people who truly enjoy the wilderness, coupled with superb accommodation and exceptional service.
The thatched central lounge and dining area provides a cosy and relaxed space for guests, although meals are often served 'al fresco' beside the river. In the evening, the outdoor fireplace beside the river is the perfect place for guests to relax over sundowners and share their day's experiences.
Each of the ten spacious framed canvas rooms, privately nestled along the riverbank, is comfortably furnished and feature en-suite bathrooms. Wake to the delicious aroma of morning coffee served on your private verandah.
Resident troops of Black-and-White Colobus and Vervet monkeys abound and if you are lucky you'll spot Henry, the lone hippo, wallowing lazily below our viewing deck. Game roams freely through camp, with Elephant making frequent guest appearances.
Designed to respect and complement the environment, this low impact, eco-sensitive camp is really something special, and after a few days unwinding here, you may well not want to leave. Highly recommended to book in advance are the bush sundowners and the bush breakfast, both unique experiences in beautiful settings.
Ishasha Wilderness Camp, Southern Queen Elizabeth
Spend the day enjoying game drives in the Ishasha sector of Queen Elizabeth National Park, rounding things off with scenic bush sundowners including drinks and snacks. This is what memories are made of!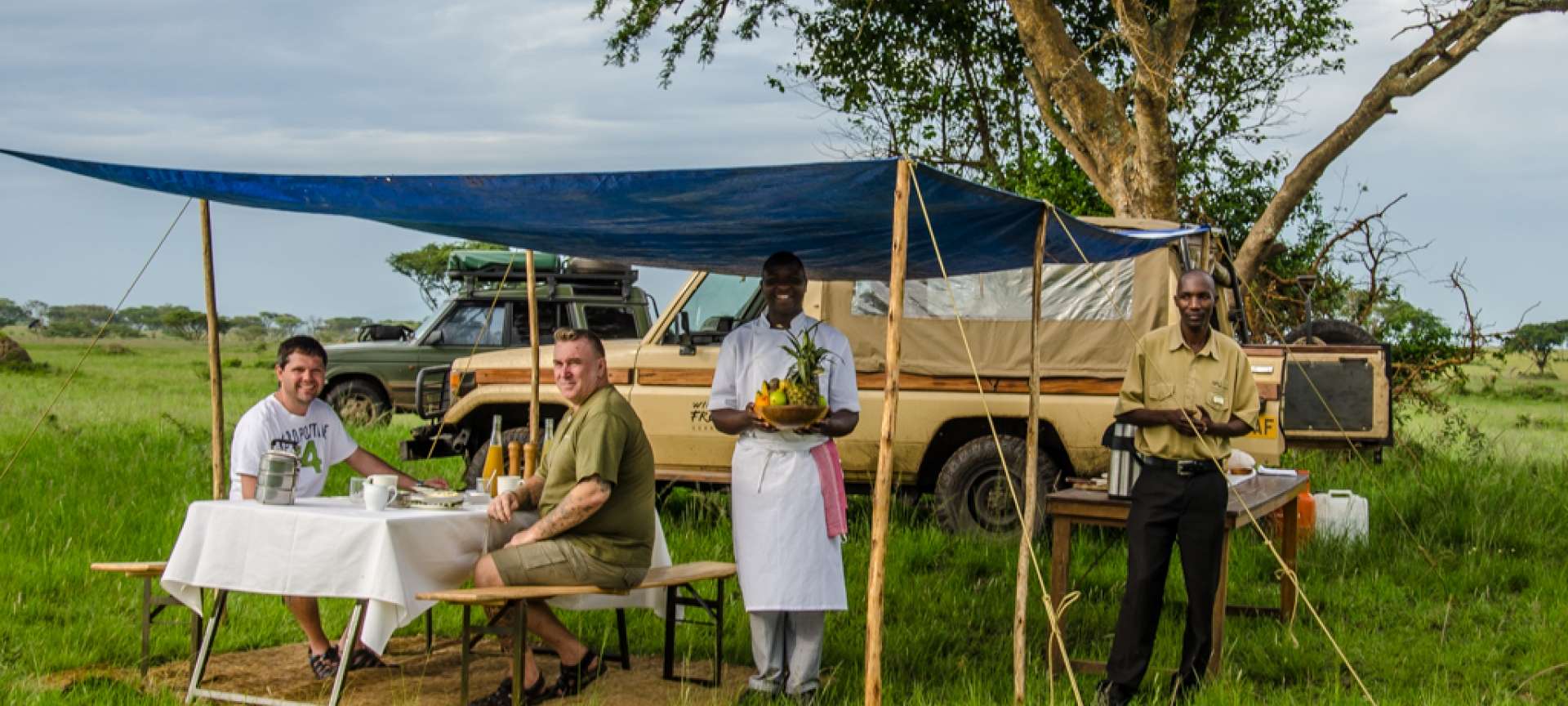 Mazike Valley Lodge, Queen Elizabeth National Park
Head north toward the 'Mweya' sector of the park which is rich with wildlife, visitors will find vast numbers of Uganda's unique and strange Euphorbia or "candelabra" tree. The many nearby crater lakes and mountain ranges provide a beautiful backdrop for your journey.
In the afternoon enjoy a leisurely boat cruise along the Kazinga Channel, a 32-kilometre long natural channel linking Lake Edward and Lake George. Kazinga's shores are dotted with herds of lazy buffalo, pods of hippos wallowing without a care, and countless bird species. Drift past local fishing villages and soak up the peaceful tranquillity of this beautiful African day. (Cruise normally departs at 14h00, although this depends on availability when booking and is subject to change – no drinks/ snacks included on boat).
You may encounter herds of elephants, buffalos and antelopes, families of warthogs, large groups of hippos, and crocodiles basking on the shore. Kazinga's shores are a haven for numerous birds, including many migratory species as they make their way south to warmer climates. The cruise also provides a spectacular view of the beautiful Mweya Peninsula and life in local fishing villages set along the banks.
Mazike Valley Lodge (formerly Kyambura Game Lodge) is a small lodge situated in Kyambura Gorge. Having recently undergone extensive refurbishment, the 8 tastefully decorated cottages offer breathtaking views of the vast Queen Elizabeth National Park, the Maramagambo Forest and the Kazinga Channel on the horizon. Set in chimp country, and constructed from sustainably sourced materials to blend into the wilderness, this is a delightfully rustic lodge offering low-key elegance in a fantastic location.
While each spacious cottage is unique in layout and décor, elegant en-suite facilities and wifi in rooms come standard throughout. The main thatched area houses an open-plan lounge, bar and dining area, where wholesome meals using produce from the lodge's garden are enjoyed. Keep the African heat in check with a plunge in the refreshing swimming pool.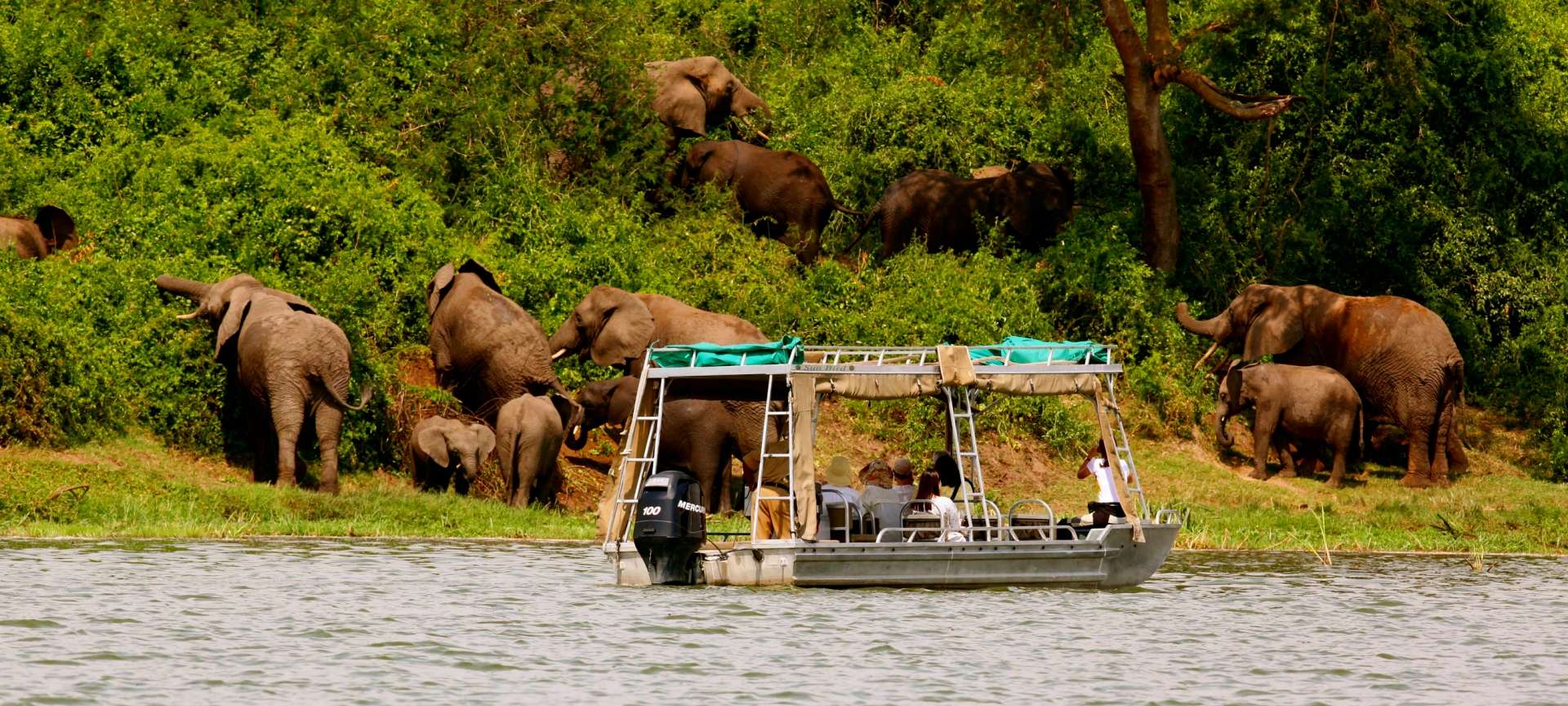 Primate Lodge Kibale, Kibale Forest National Park
We will have an early start this morning, with the highlight being your chimpanzee tracking in the Kyambura Gorge. The forest is alive with noise! Chimpanzees can be quite active and may move quickly through the forest canopy… or, if you are lucky, you may find them resting or eating near the forest floors. It's an exhilarating walk, in the beautiful scenery. As with gorilla tracking, sightings cannot be guaranteed even though the chimps are habituated to humans.
After this activity, 3-4 hour drive takes you to Kibale Forest, comprising an interesting blend of lowland tropical rain forest, montane forest, and mixed tropical deciduous forest. In addition to forests, you will also notice areas of grassland and of the swamp. The forest is rich in wildlife and is most noted for its primate population. These include a red-tailed monkey, diademed monkey, olive baboon, chimpanzee, and black and white colobus. The birdlife is also abundant, with close to 300 species identified here. The forest is also home to 144 species of butterflies and a diverse population of moths and other insects
Primate Lodge in Kibale is an exclusive eco-lodge situated in the heart of Kibale Forest National Park. It is surrounded by a lush tropical forest that is home to 13 different species of primates, including chimpanzees. Privately secluded in the rainforest, this safari lodge offers you a truly authentic jungle experience and is the perfect gateway for tracking the primates in Uganda. Whether you wish for a high level of luxury and comfort, rather stay in a midrange cottage or want to bring your own tent, Primate Lodge Kibale is the ideal place for you. Primate Lodge Kibale was awarded the Chimp Award 2008 for Investment in Eco-Tourism by Uganda Wildlife Authority.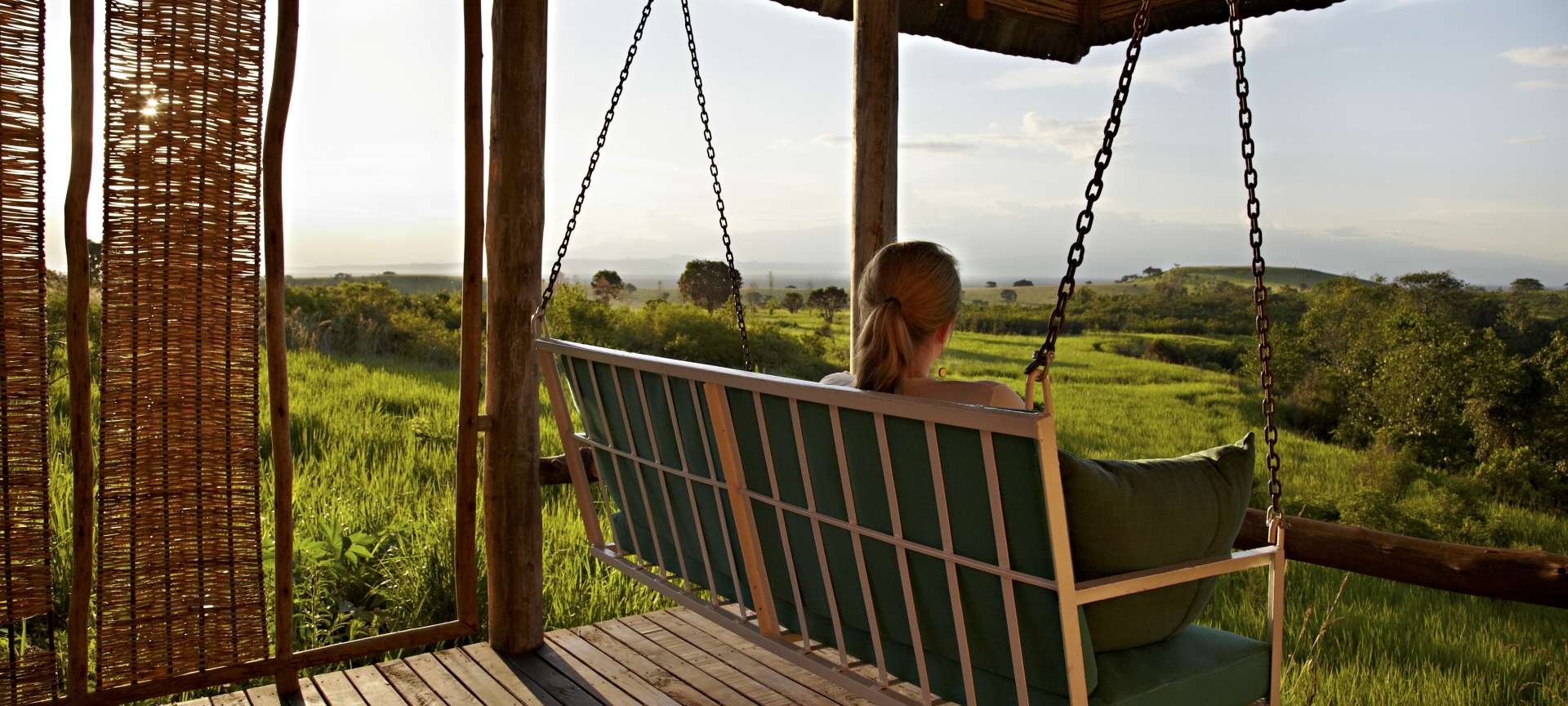 Primate Lodge Kibale, Kibale Forest National Park
Your Kibale Forest chimp trek will generally take place in the morning. The forest is alive with noise! Chimpanzees can be quite active and may move quickly through the forest canopy… or, if you are lucky, you may find them resting or eating near the forest floors. It's an exhilarating walk, in the beautiful scenery. As with gorilla tracking, sightings cannot be guaranteed even though the chimps are habituated to humans. Your guides will be able to show you different bird species and will give details of the plant species within the forest. The trek allows you to spend 1 hour observing the chimps once you have found them.
Rest of the day at leisure.
Bigodi Swamp Walk (Optional extra)
Considered one of Uganda's best bird watching locations, Bigodi Swamp's rich ecosystem makes it a spectacular venue for viewing numerous primate and bird species in their natural habitat. This two to three-hour walk can be tailored to individual schedules and interests.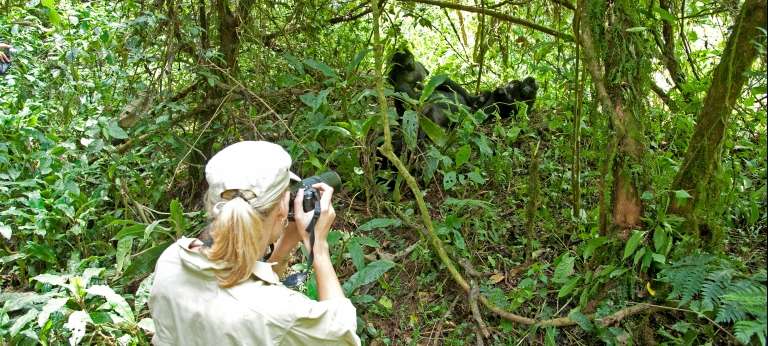 End of Itinerary
Depart after an early breakfast for the drive back to Entebbe, arriving late afternoon. (If you are departing Entebbe tonight please do not book a flight before 19h00)
End of safari.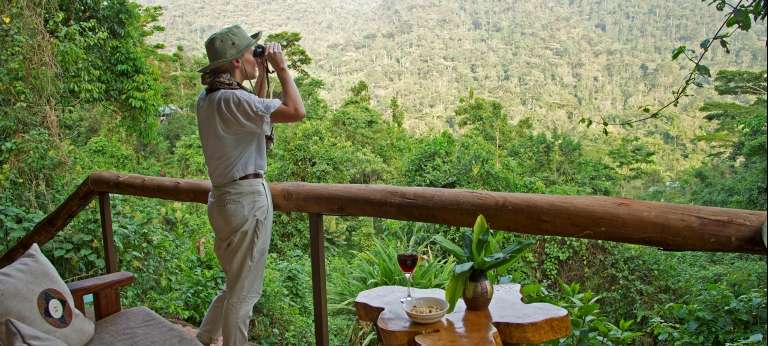 Recommended Iteniraries and Tours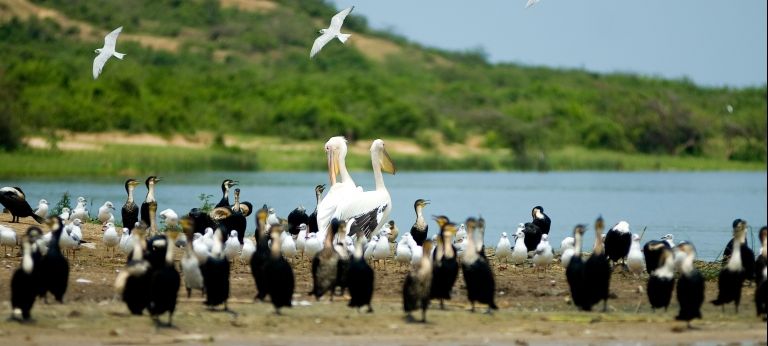 This is a safari for the serious birder wanting to see exciting new bird species, as well as chimpanzees and mountain gorillas...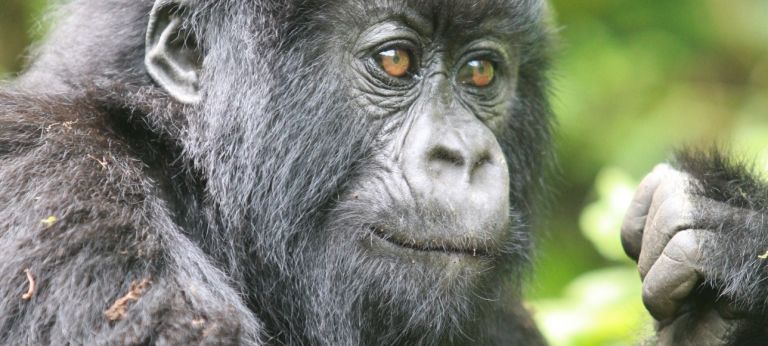 See mountain gorillas, chimpanzees, golden monkeys and tree-climbing lions, take a boat cruise and visit Rwanda's genocide memorial ...