Central Kalahari safaris, tours & holiday packages
Arid wilderness and desert solitude
Custom Central Kalahari
Describe your dream trip
We'll source the best value
Book when you're ready
Botswana's largest conservation area sprawls across a massive 52 000-square-kilometers of vast, wildlife-rich Kalahari desert that is home to lion, leopard and cheetah
Carnivores are well represented across the Kalahari landscape with the fabled black-maned lions of the Kalahari being the ultimate drawcard and top priority on most visitors wish lists.
The open terrain and sparse vegetation cover makes spotting animals considerably easier than in many of Africa's other national parks, although the arid nature of the Central Kalahari means that animal densities are far lower than in other more well-watered game reserves. But even more than its wildlife - elephants also frequent the greener northern reaches of the park - it is the Kalahari's big skies and boundless horizons that truly enthralls visitors.
Stephen Michael Cunliffe says
"With its wide-open spaces there can be no better place in Africa to embrace solitude and decompress from the stresses of city life than in the company of the black-maned king of the Kalahari."
More on Central Kalahari holidays
Nowhere else in Africa will you feel the same strong allure of genuine African wilderness. The landscape is meditative and rejuvenating. Visitors quickly lose themselves in their thoughts and all worldly cares and stresses soon evaporate while exploring the Kalahari's parched landscapes.
Like any desert wilderness, the park is largely dry and can become extremely hot during summer days and icy-cold on winter nights. While it is a place of extremes, it is precisely these extremes that give the Central Kalahari one of its greatest attributes... solitude. Few travellers step off the well-trodden Botswana safari circuit to sample the desert wilderness experience. Consequently, you can go for days at a time without seeing another vehicle or person in the Kalahari.
As you relax and rejuvenate your world-weary soul, you can expect to see the full suite of desert-adapted wildlife species with springbok, oryx, kudu, hartebeest and wildebeest providing food to lions, leopard, cheetah and the rare African wild dog. You might have to work a little harder for your sightings here than in other more renowned African safari destinations, but the beauty is that you probably won't have to share your sightings with anyone else.
Central Kalahari Map
Central Kalahari's location on Google Maps

Frequently Asked Questions about Central Kalahari
What vaccinations should I get?
This is all dependant on the countries that you will be visitng and due to the status of certain vaccinations changing at times, please consult our experts before getting vaccines. go there.
Is it okay to drink the water?
In some parts of Southern Africa it is safe to drink the tap water, however it is highly recommended to stick to bottled water (mostly supplied) during your trip as even drinkable African water is completely different in taste and… go there.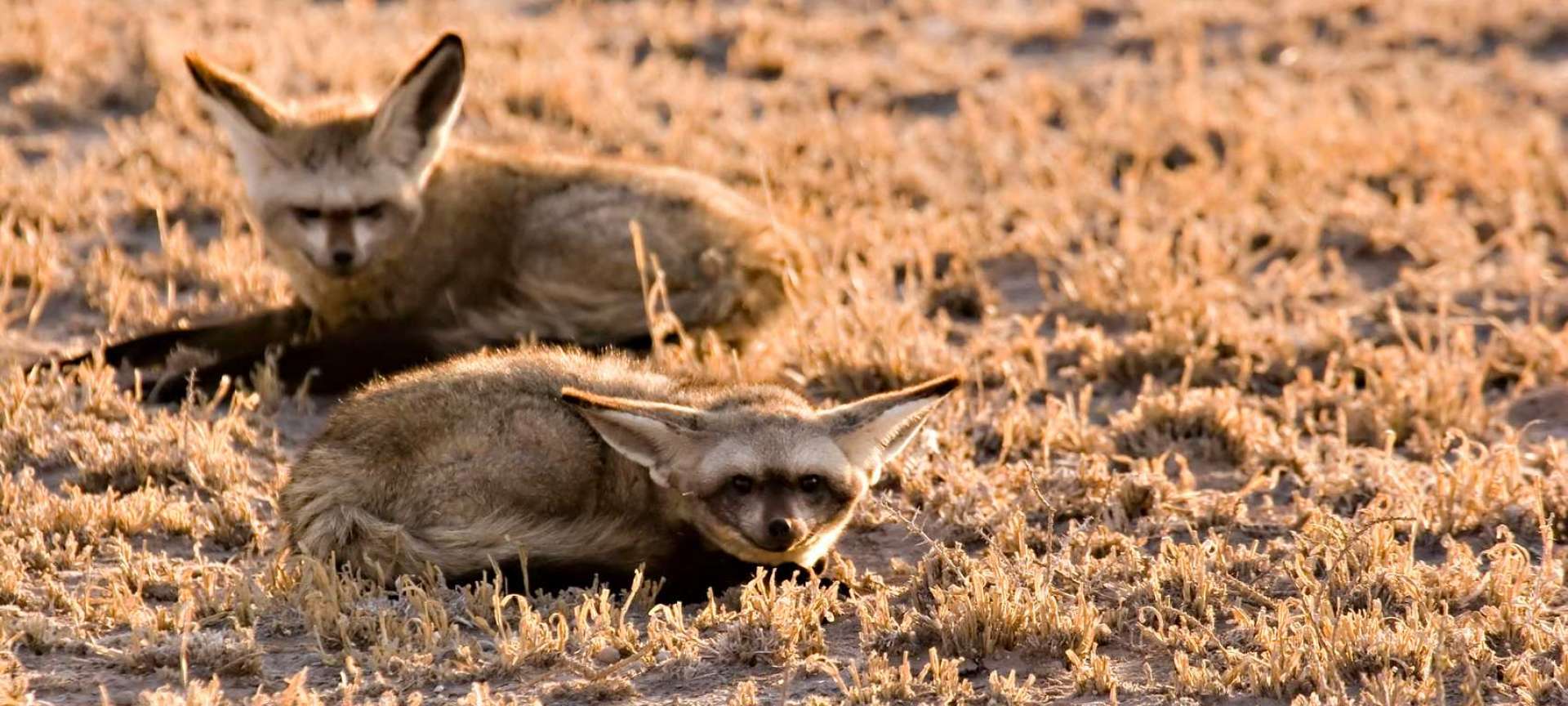 Reviews on our Central Kalahari safaris
This was my first safari. I didn't expect to be so pampered. Everything was first class. We had everything provided for us before even asking. We had a dedicated team at our service. Megan was on call whenever we needed something and she…
Saada
from Nigeria
Tanya was an absolute delight to deal with. From the first phone call she was extremely polite, professional and very eager to facilitate my requests regarding our safari. Our 3 nights at the V & A Hotel were fabulous and Motswari Game…
Debbie
from Australia
Perfectly tailor-made tours that take all your wishes and requests into consideration. All my expectations were beyond fulfilled.
Henrik Wetterstrand
from Sweden
Living afar and trusting in an organisation with whom you have no previous knowledge can lead to feeling of mistrust and wondering whether what we have paid for actually exists. A little more proactive communication would have eased those…
Tony Russell
I just wanted to thank Discover Africa and Karl Svendsen - the safari was great - we saw many more animals than expected including cheetah, leopard, many lions and even a three-day old elephant calf. Additionally, we had our own hippo…
Margaret Dean
Planning the trip was managed extremely well especially since travel was at a busy time of year and not much notice was given. All communication was by email, and was responded to promptly and efficiently. Different options were provided…
Suzanne McKeen