Kasanka National Park
Kasanka National Park is Zambia's only privately managed park, run by the Kasanka Trust charity in partnership with the local community. At slightly less than 400km2 (154 square miles), it's also one of Zambia's smallest, lying just south of the Bangweulu Wetlands near the border with the Democratic Republic of the Congo.
With its wonderful papyrus marshes, swamp forests, and miombo woodland, it's one of Zambia's most beautiful reserves. The many crisscrossing rivers and seasonal swampy pools support an incredible number and variety of birds. Kasanka is best known for its annual bat migration, which takes place in late November and early December each year.
Highlights of a Kasanka Safari in Zambia
Kasanka has limited big game but supports several interesting antelope species, including the rare sitatunga, which is relatively common here. Crocodiles and hippos are also plentiful, while buffalo, elephants, and leopards are present but rarely seen.
The major wildlife attraction is the annual bat migration, which begins in November. Up to 10 million bats, with wingspans of over half a meter in diameter, cloud the skies in an incredible swarm – small predators and scavengers pouncing on any that fall.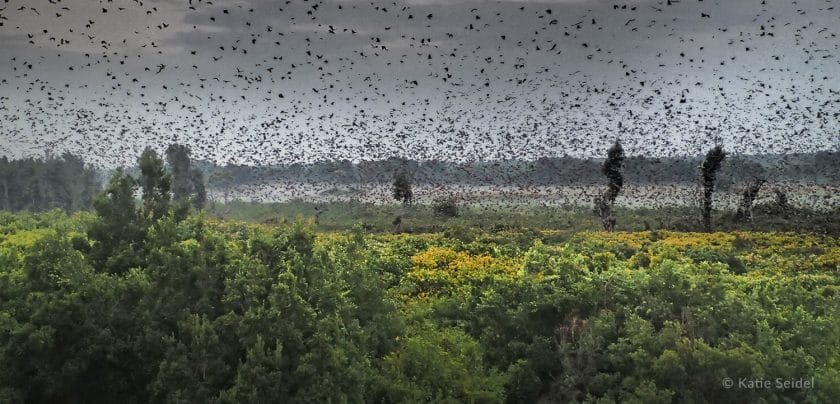 The park is also home to almost 500 species of birds, an astonishing number considering its small size. Which makes it the perfect location for photographic safaris in Zambia.
Fishing and canoe trips are available on the Luwombwa River, although river fishing is banned across Zambia from December to March. Many visitors combine Kasanka with a trip to the nearby Bangweulu Wetlands to see the shoebills and endemic Black lechwe.
Practical Advice on a Kasanka Safari
A holiday in Kasanka is excellent for experienced self-drivers with fully-equipped 4x4s. Access is relatively straightforward along the tarred T2 from Lusaka, which is in good condition for most of the way.
Within Kasanka park, there are well-managed campsites with toilets and shade, and the roads are easily manageable during the dry season (although not at all in the wet). Fly-in Kasanka safaris are also available – there's an airstrip near Wasa Lodge. Wasa Lodge is the park's main camp, and all visitors must report here on arrival.
Guided, multi-day bat safaris can be booked through various operators, and self-drivers can arrange local bird and fishing guides at Wasa Lodge. It's best to book these in advance to ensure availability, especially during the bat migration season.