Kilimanjaro Kit List
Three climatic factors must be considered when packing for a Kilimanjaro climb. Most people expect it to be very cold at night, and it is also important to bear in mind it might be very wet and drizzly at lower altitudes, while the tropical sun can be very fierce at high altitudes.
Clothing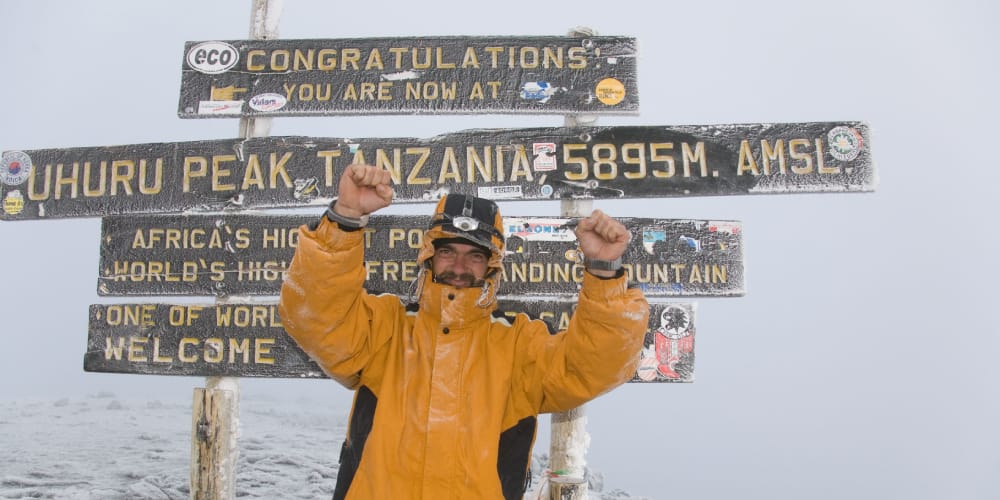 Bring plenty of warm clothes, including at least one windproof and waterproof jacket, plenty of layers to wear underneath it, insulated vests and undergarments, hiking trousers, two pair of waterproof gloves (one heavy and one lightweight), a balaclava or beanie, one change of inner socks and thick hiking socks per day, a scarf or neck gaiter, and a wide hat that offers good protection from the sun. Hiking boots should be 100% waterproof and ideally have good ankle support and be properly worn in. Carry a second pair of lighter waterproof shoes for the evenings.
Luggage and Bedding
It is customary for operators to allocate one porter to every client to carry up to 15kg of gear. This is ideally carried in a large, solid waterproof duffel bag or rucksack to protect clothing and other items from getting wet. Porters usually hike separately from their clients, so you also need a waterproof day pack to carry all items you might need access to during the course of a day's hiking. All reputable hiking companies will supply tents as required, and arrange porters to carry them, but you will need to check in advance whether sleeping bags and ground-mats are supplied, or you must bring your own. If the latter, you emphatically need a four-season sleeping bag designed for temperatures of -20°C, and should also bring a high quality ground mat.
Other Gear
Essentials include high UV sunglasses to protect your eyes from the tropical sun and and a head torch to use around camp at night. Light sleepers might like to carry earplugs. A pair of adjustable trekking pole will not only reduce the risk of slipping and injuring yourself, but it also reduces the impact on your knees during steep descents. Bring a waterproof bladder or water bottles with a total capacity of 2 litres to carry with you during the day, bearing in mind that disposable water bottles are quite rightly banned on Kilimanjaro. Binoculars are often essential for identifying birds and getting a close look at other wildlife, but they do add to the weight. Bring twice as many batteries as you need, as they tend to lose charge quickly in freezing conditions.
Camera Gear
Dedicated photographers carrying serious wildlife lenses for a safari leg of a visit to Tanzania will find little use for them on Kilimanjaro (a 28-70 zoom or similar should suffice for most situations on the mountain). And they will either need to carry surplus camera gear themselves, or entrust it to a porter, in both cases with some risk of it getting wet or receiving rough treatment. The better option is to leave excess camera gear locked up somewhere safely for the duration of the hike.
Medical Kit
A good medical kit is essential. It should include pain killers (for instance paracetamol), an anti-inflammatory such as Ibuprofen, more plasters than you could possibly need (a few foot blisters are de rigueur on a Kili hike), high factor sunblock, a chapstick for your lips, and plenty of wet wipes. Acetazolamide can be prescribed to reduce the risk of altitude-related problems.
Food and Snacks
It is customary for meals to be included in a Kilimanjaro tour, but these should be supplemented by a stash of light and portable energy-rich snacks. These might include energy bars, dried fruit, nuts, chocolate, biscuits, glucose powder and the like. These items are sometimes available at the huts on the Marangu Route, but at vastly inflated prices.