Climbing Mount Kilimanjaro, holidays & tours
A steep ascent of 19,340 feet, an endurance-testing adventure and a beautiful location
Climbing Mount Kilimanjaro, holidays & tours available in
Tanzania
Custom designed Climbing Mount Kilimanjaro in Tanzania
Describe your dream trip
We'll source the best value for you
Book when you're ready
Help Me Plan
A steep ascent of 19,340 feet, an endurance-testing adventure and a beautiful location
If you're looking for an exhilarating challenge, Mount Kilimanjaro is waiting for you. With your trust placed firmly in your guide's hands, you'll have to push through the highs and lows of an intense journey during which temperatures can drop to -20°C. Climbing Mount Kilimanjaro offers Africa's ultimate challenge to test your gear, your guide and your mental and physical fitness. Your mission? To reach the summit at Uhuru Peak. Are you prepared to take on the continent's tallest mountain?
Popular Climbing Mount Kilimanjaro in Tanzania
These popular itineraries can be customised to match your budget and travel dates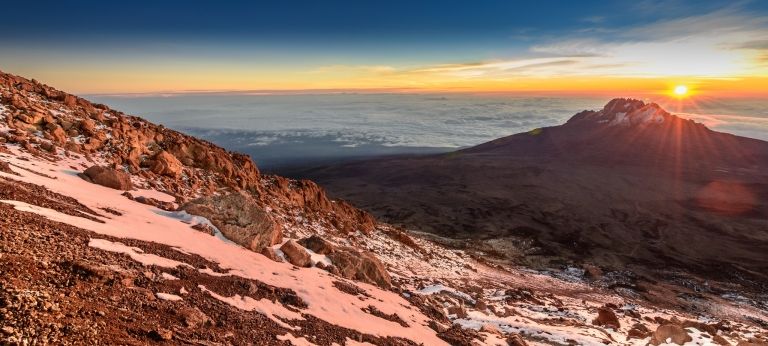 For the average climber, Machame is probably the most reliable route to the summit of Mount Kilimanjaro and the roof of Africa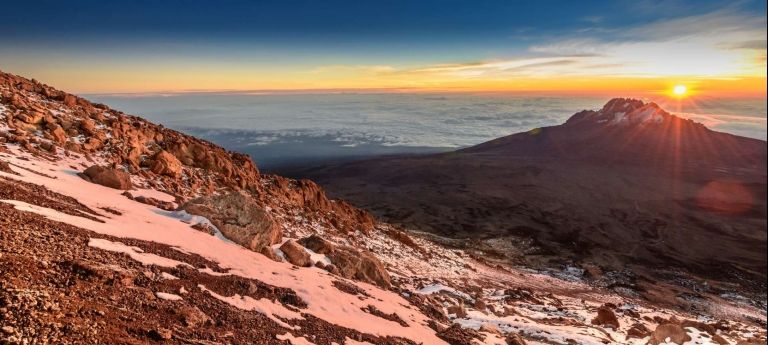 Summit two of Tanzania's iconic mountain ranges in under two weeks
More on Climbing Mount Kilimanjaro in Tanzania
Climbing Africa's highest free-standing mountain of 19,340 feet is an epic adventure for those who are prepared to take on a physical and mental challenge. Climbing Mount Kilimanjaro is an undertaking luring thousands of people every year. But before you sign up for one of Africa's ultimate adventures, climbing Mount Kilimanjaro, we'd like to prepare you for what to expect on the trek to Uhuru Peak.
Firstly, there are four vital points to be addressed:
Choosing a reputable tour operator
Preparing your body and mind
The right gear
On the climb
Choosing a reputable tour operator
In choosing a tour operator, you have to put your trust in their choice of guides and the support they have at their disposal while leading your journey. Most companies use either sub-contracted or permanently employed guides.
Sub-contracted guides
Most operators employ guides, porters and mountain staff on a subcontract basis, so you'll only know who your guide is a few days before you arrive. The reason for this is that the hiring depends on which guides are available at the time.
Permanent guides
A few companies employ permanent staff and look after them through both the low and peak seasons, but these tour operators are few and far between.
What happens if there's an emergency?
Altitude affects climbers in different ways. Statistically, three out of 10 people will not reach the summit due to some form of altitude-related problem. When booking, it is vital to make sure that the company you choose has the necessary medical, logistical and evacuation support needed should trouble strike. There are only a few tour operators that equip each climbing party with oxygen, oximeters, first-aid kits, a neck brace, stethoscope, mobile phone, satellite phone, portable stretcher and other equipment on every climb – you want to make sure you're embarking on your adventure with one of them.
Discover Africa can advise you about reliable tour operators for climbing Mount Kilimanjaro.
Preparing your body and mind
Getting ready to climb Mount Kilimanjaro is as important as choosing the right tour operator. As exhilarating as the experience is, the journey is a tough one. This ascent is not for couch potatoes.
Altitude training for a Kilimanjaro climb
There's not much you can do to prepare for how you'll respond to lack of oxygen at high altitude, unless, that is, you're able to spend some time in high places, in a dive chamber, increasing your circulation or doing breath-hold training. Breath-hold training is useful for those who don't have access to a dive chamber or an area of high altitude. The easiest way to condition your body to deal with the lack of oxygen is literally to take oxygen away, making underwater breath-hold exercises extremely effective for altitude training. Free-diving or regulated free-diving in a swimming pool will drastically increase your body's oxygen distribution efficiency and help condition your brain not to react so dramatically when you reach the low-oxygen zone.
WARNING! Never practise breath-hold exercises on your own. Always work in pairs, or at least have someone watching you.
Mental fitness
It's the day you've been waiting for, summit day, and quite possibly the hardest one you'll have to face on your trek. Summit day is a 16- to 20-hour experience, you'll have to tackle after what has probably been a sleepless night and an empty stomach (because of your loss of appetite). You'll set off at midnight, ascend more than 1,000 vertical metres and descend approximately a further 2,000 metres before returning to your overnight camp late in the afternoon. Preparing yourself mentally for this day is crucial if you are to cope with the amount of time needed to get to the top and the slowness of the pace.
The only way to prepare yourself mentally is to simulate the time it takes to submit the free-standing mountain. If you are up for the challenge, we'll ensure that you are prepared to climb Mount Kilimanjaro long before you even get to Tanzania.
The right gear
Even if you've chosen your tour operator and have successfully trained to climb Mount Kilimanjaro, you'll experience an extremely uncomfortable journey if you're lacking the right gear. It is essential to be prepared for the worst weather conditions. On the main, the climb up Mount Kilimanjaro is cold, with temperatures on rare occasions dropping to -20°C (-4°F).
So, when getting dressed each day, you'll need a minimum of three layers covering your entire body, although your feet, hands and face are obviously the most exposed. Your first layer needs to be tight, your second should provide thermal insulation and your outer layer should be wind- and waterproof shell. If you're lucky enough to encounter warmer weather, then you can simply shed a layer.
Talk to us about the gear you require. You don't want to pack too much as someone else has to carry your bags.
On the climb
If you've carried out our suggestions successfully your chances of reaching that distant Uhuru Peak has increased dramatically. Our final advice is to respect the altitude by following these tips:
Maintain a slow, steady ascent
For acclimatisation purposes, walk high and sleep low
Drink as much water as possible throughout the climb
Eat even though you have no appetite
Manage your oxygen intake vs. consumption
Now that you have an idea of what you can expect from the journey, can we help you make your wish to climb Kilimanjaro a reality?
Frequently Asked Questions about Climbing Mount Kilimanjaro in Tanzania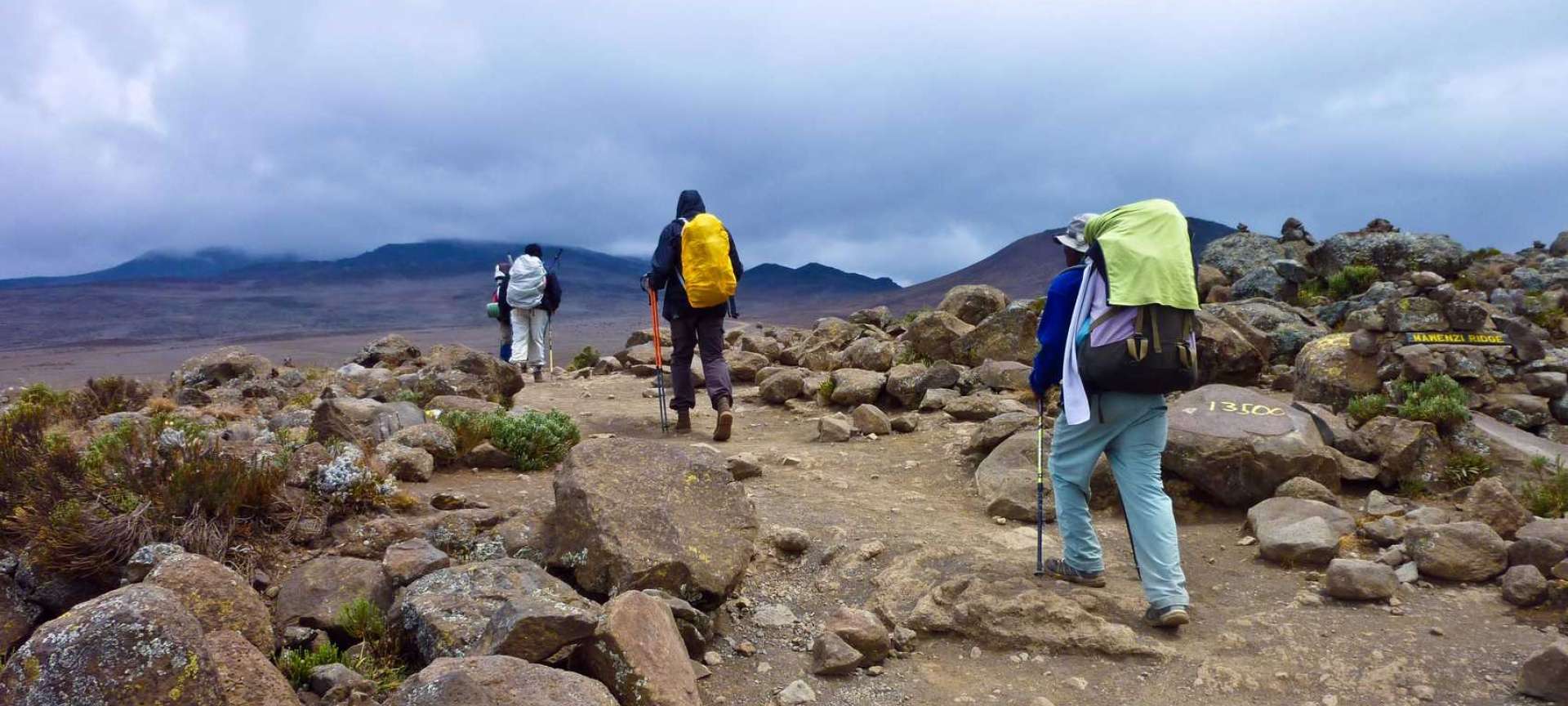 Reviews on our Climbing Mount Kilimanjaro in Tanzania
Since the beginning, agents and staff of Discover Africa already work in a professional way for me to plan the trip. Their quick responses to my questions help us a lot before departing from our place to the Africa continent. When we were…
YT
from Hong Kong
This was my first safari. I didn't expect to be so pampered. Everything was first class. We had everything provided for us before even asking. We had a dedicated team at our service. Megan was on call whenever we needed something and she…
Saada
from Nigeria
Tanya was an absolute delight to deal with. From the first phone call she was extremely polite, professional and very eager to facilitate my requests regarding our safari. Our 3 nights at the V & A Hotel were fabulous and Motswari Game…
Debbie
from Australia
Perfectly tailor-made tours that take all your wishes and requests into consideration. All my expectations were beyond fulfilled.
Henrik Wetterstrand
from Sweden
Living afar and trusting in an organisation with whom you have no previous knowledge can lead to feeling of mistrust and wondering whether what we have paid for actually exists. A little more proactive communication would have eased those…
Tony Russell
I just wanted to thank Discover Africa and Karl Svendsen - the safari was great - we saw many more animals than expected including cheetah, leopard, many lions and even a three-day old elephant calf. Additionally, we had our own hippo…
Margaret Dean