Climbing Africa's highest mountain peak is not for the faint of heart. At 5 895 metres above sea level, this dormant volcano looms high into the air and is the highest free standing mountain in the world. Situated in the Kilimanjaro National Park in Tanzania, this geological wonder is any mountaineers dream climb. Mount Kilimanjaro consists of three peaks, Mawezi, Kibo (where you'll find the challenging Uhuru peak) and the Shira Ridge (the smallest peak and easiest climb). Below you will find some interesting information if you're considering embarking on this wonderful trekking journey.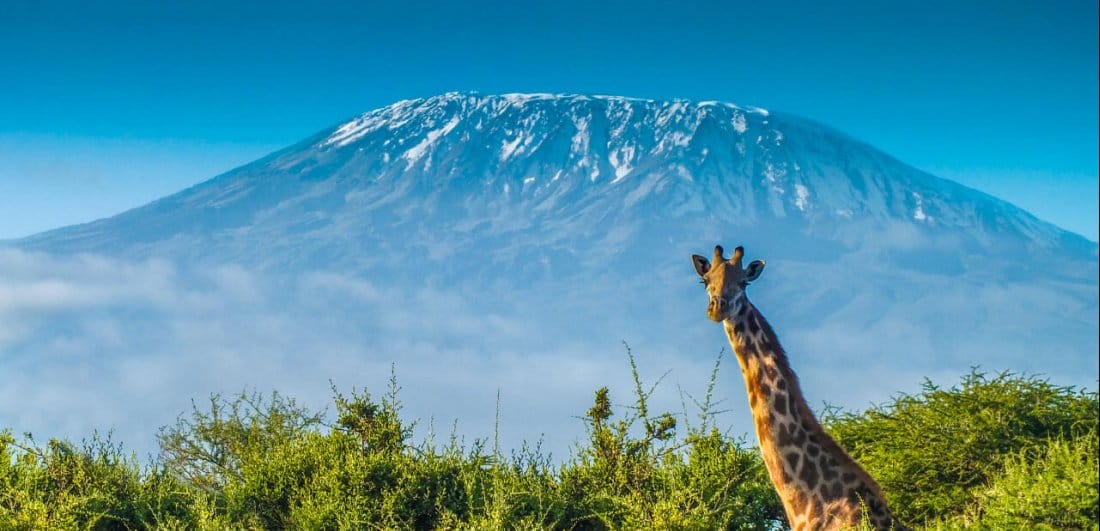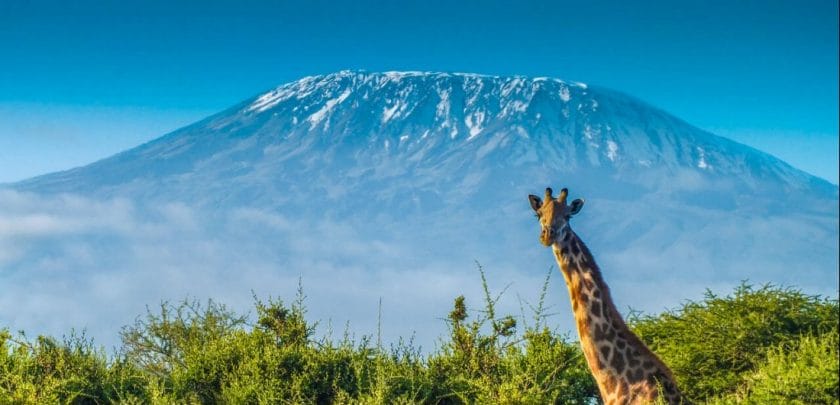 Getting there
The easiest way to reach Kilimanjaro National Park is by car. Only two hours from Arusha, or one and a half hours from Kilimanjaro International Airport, getting there is easy and quick, with plenty of wildlife and beautiful landscapes to enjoy along the way.
Flora and fauna
Kilimanjaro National Park is rich in unique bird life, wildlife and beautiful flora. We suggest getting to know the area before your trek, as there is so much to enjoy before your climb. Due to the proximity to the equator and warm Indian ocean, much of the mountain slopes are rich areas of forest, with 195 unique bird species that call this home. As you ascend the mountainous terrain, the landscape changes from lush forest to alpine moorland, interspersed with valleys and ravines. At 4 000 metres, the landscape transforms yet again into a dry and desertous region, with interesting adapted flora. Beyond this point are pure ice caps, where little grows.
In the forested areas, you can expect to see buffalo, aardvarks, leopard, honey badger and a variety of monkeys such as the colobus and blue monkeys. The iridescent blue malachite sunbird, Hartlaub's turaco and a variety of raptors.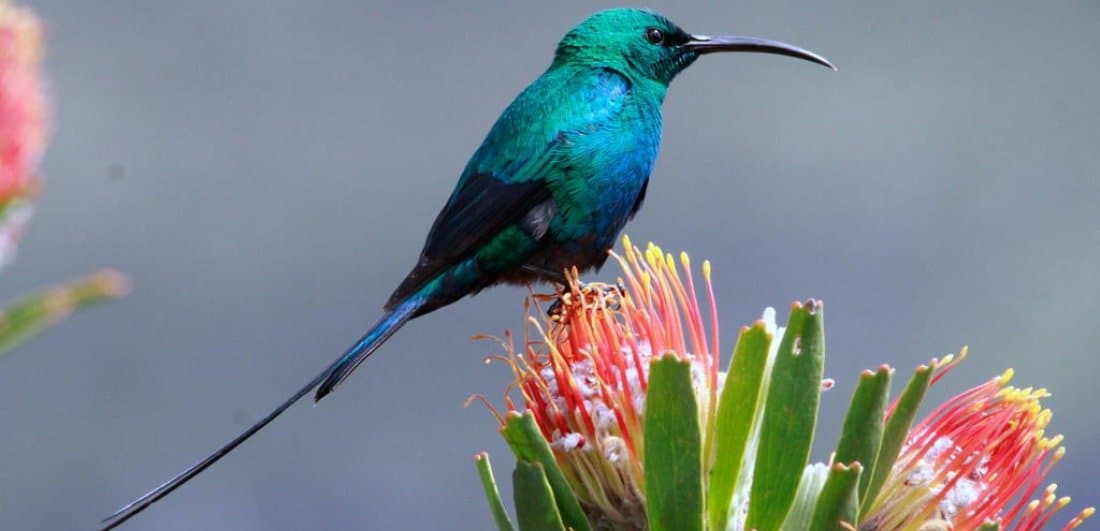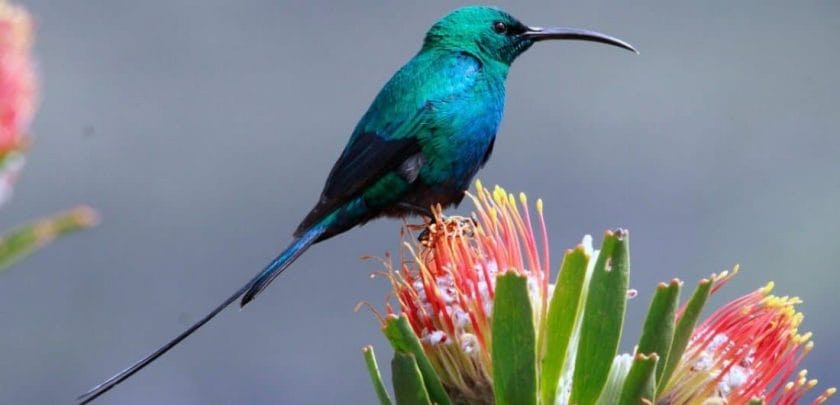 Blue malachite sunbird 
Pre-climb activities
There are a variety of activities to experience prior to your trip such as a walking safaris that will take you into the lush forests of the park. You can hike or walk the variety of trails available, or cycle through the pathways to visit waterfalls and crystal pools in the area. Another pleasant activity is birding and paragliding, where you'll be able to experience the park from the air.
Weather and seasons
The interesting thing about Kilimanjaro is that its size has meant that it creates its own weather patterns, influenced by the wind and mountain slopes. It's not uncommon to experience four seasons in one day on the mountain. While most weather changes occur the higher you ascend, the lush forests at the base of the mountain are milder and more temperate than those higher up. There are two seasons in this area; the dry and wet season. 
March to May
This period experiences the most rains and is the true rainy season. Damp soil makes the valleys fertile and rich in vegetation, but this will affect your climb. Trudging through mud, sludge and sleeping in the rain is not a pleasant experience. It is not recommended that you climb the mountain during this period, as the weather conditions take a massive toll on the body.
The shorter rainfall periods are brought on by monsoons, but the northern side of the mountain experiences little rain and the landscape remains barren and dry.
April to October
It's the dry season on Kilimanjaro. Although there will be plenty of clouds, your ascent after a day of trekking will lead you to cloudless skies and sunshine. During this period, the wind can be very strong, somewhat inhibiting your climb. However, this is the best time to trek Kilimanjaro.
The climb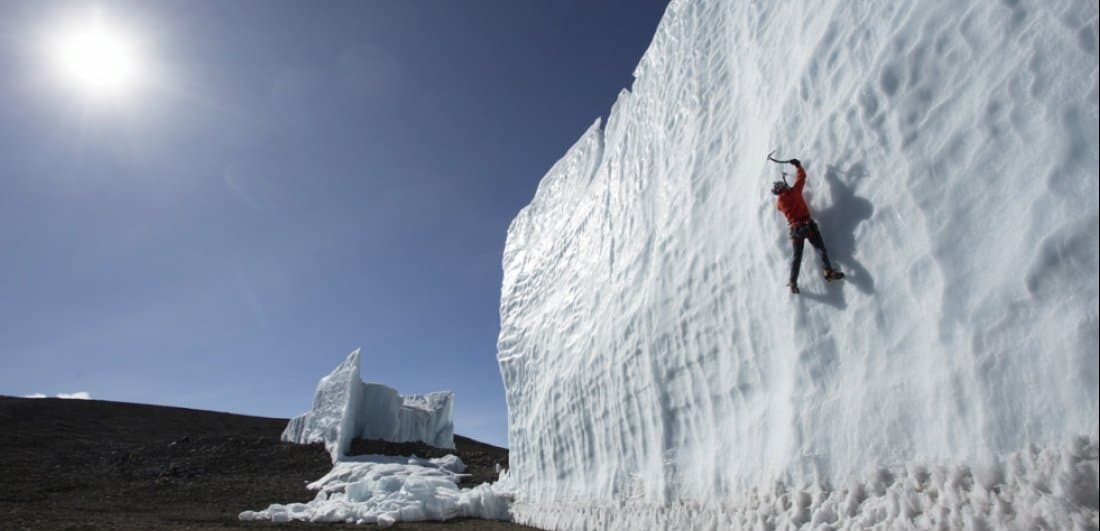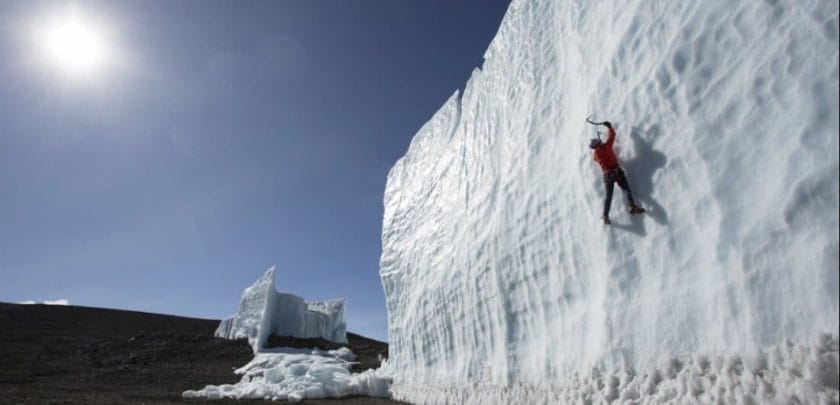 Image by Christian Pondella for Red Bull 
Whether you're an amateur or seasoned professional, this is a technically challenging trek in comparison to climbing Mount Kenya. However, this should not put you off. This climb is well worth the preparation and experience once you reach the summit. There are many reputable mountaineering experts that have summited Kilimanjaro many times. Allow us to find one for you that you can include in your itinerary. These companies will offer some, if not all equipment that you require (oxygen tanks and defibrillator) but your clothing, sleeping bags and digital equipment such as cameras will need to be self supplied.
Always remember that the ascent should be done at your own pace, as dehydration and altitude sickness can happen if you rush your climb. It is recommended that you have a reasonable level of fitness to withstand the pressures of walking for many hours a day.
You will be advised about which route up the mountain is realistic for you to take, as they vary from fairly easy to very challenging.
What about accommodation?
There are many rustic camps available along the different routes up the mountain, all of which are reasonably comfortable and will provide you with the necessary access to warm water, food and other essentials. These camps are important in that they allow your body time to adjust to the altitude and get the necessary rest your body will need for this epic journey.
Don't forget to pack…
Temperatures can reach well below -20°C and coupled with strong winds, this can be a challenge, particularly for first-time climbers. Pack warm clothing, a windbreaker and sunblock, as you can still get sunburn despite the cold. Medication and travel documents should also be on your person at all times. Tanzania is a malaria area, so preventative medication is essential, not for your trek but pre and post climb. It is also a good idea to bring spare batteries and a first aid kit. It is important to note that your guide will carry up to 15 kg of your baggage to lighten your load.
 What about the costs?
You can include this once-in-a-lifetime trip into one of our suggested itineraries, but the actually trek up Kilimanjaro will be at an additional cost with a professional tour company that has the experience needed to conduct a climb. Contact us for a quote on a safari itinerary to suit your budget.