Want to splurge on an amazing Great Migration safari? After all, this is one of the most awe-inspiring natural phenomena on the planet, so why not treat yourself to the best destinations at the best time?
What does a luxury safari mean?
The factors that determine your Great Migration safari experience will be based around the following:
The luxury level of your accommodation
Your length of stay
Whether you stay in a national park or a private reserve
The season you travel in
Accommodation and length of stay
There are many, noteworthy safari lodges and camps dotted around the Serengeti in Tanzania and the Masai Mara in Kenya that offer incredible luxury albeit in the middle of the remote African bushveld. It's all about location when it comes to a Great Migration safari. The best lodges and camps are usually close to migration 'hotspots', those areas where the wildebeest, zebra and predators tend to congregate. Historical data and research is part of determining where the action will take place, so you don't miss a moment of this incredible feat of nature.
You can expect all modern amenities at a luxury lodge and even in mobile camps (those that move along with the herds). Expect contemporary design and finishes, along with laundry services, bars and restaurants, a personal butler on request, libraries, swimming pools, private verandas, a personal chef, wireless connectivity, private dinners under the stars and even spa services.
Superior experiences
In addition to the amenities mentioned above, luxury safari camps offer guests (free of charge) either two or three safari activities per day. This is usually day and night game drives, walking safaris, cultural excursions to neighbouring villages and bushveld sundowners.
Horseback safaris and hot air ballooning are also available at these lodges, although at an additional cost. All of these activities are conducted by trained professionals, who know what to spot and where to find it.
National parks vs private reserves
Luxury lodges and camps are usually situated in private concessions or reserves. So what does this mean?
Private game reserves have strict limitations on the number of tourists allowed into the reserve. The reason for this is twofold; to preserve the integrity of the ecosystem by reducing human traffic and to ensure a less crowded, more authentic safari experience. National parks have a greater influx of vehicles and visitors, which can hinder wildlife viewing. Moreover, off-road game viewing is not permitted in national parks which may limit access to great game sightings.
National parks have designated opening and closing times, which means that vehicles need to conduct their game viewing during the daytime. Private reserves have no such limitations, so you can expect night game drives which bring their own unique surprises for guests. Not confined to strict rules, you can expect a wider variety of safari experiences on a private reserve, such as walking safaris.
Seasonality
A luxury Great Migration safari is determined by the season in which you travel. With the migratory patterns of the herds are fluid, you can accurately predict where the herds are moving to throughout the year with our HerdTracker app. With a little planning and useful resources such as our migration map, which will give you an idea of whether the migration is in Tanzania or Kenya.
The Great Migration is divided into two seasons, the green season (or calving season) and the dry (or predator season):
Green season
The months of January, February and March mark the season for heavy rains in the Serengeti of Tanzania. This, in turn, marks the start of the calving season, where hundreds of thousands of wildebeest and plains game give birth to about 200 000 babies. The rains also transforms the landscape into fields of green pastures and flowers, a very beautiful spectacle. However, increased vegetation makes game viewing a challenge, as it hides many animals. This is why you can expect reduced rates for a Great Migration safari during this period.
Dry season
As the herds migrate north towards the Masai Mara in Kenya, the rainfall stops and the vegetation recedes. This exposes both the herds and the predators, which is why game viewing is so spectacular during the dry months of July to September. Forced into the open, the interaction between predator and prey can be experienced easily. Less rainfall also means that wildlife must find water quickly, and waterholes around camps and lodges attract thousands of them. This is the most expensive time of year for a Great Migration safari, but the wildebeest crossings at the Grumeti River in Tanzania and the Mara river in Kenya are the highlights of the wildebeest migration.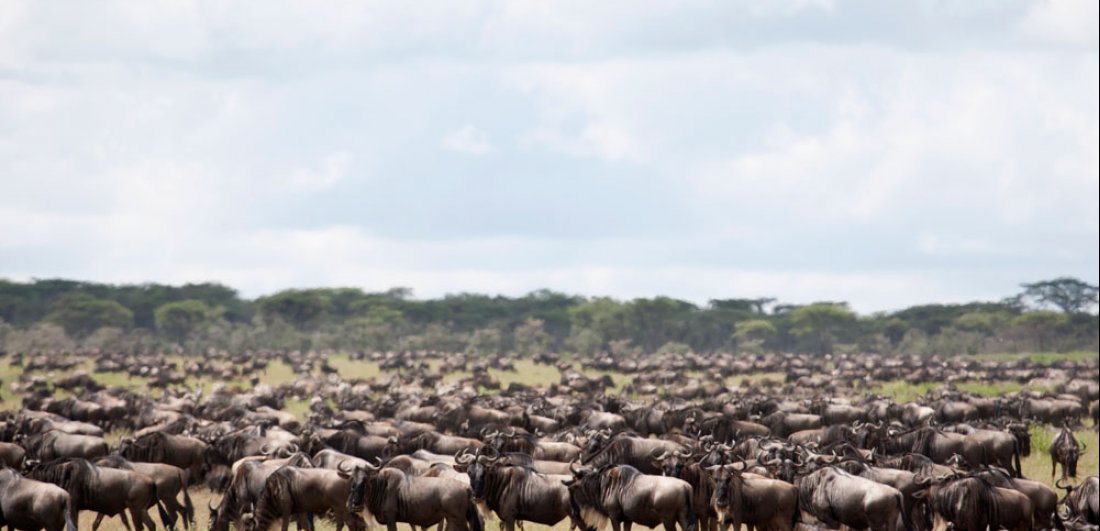 The best time for a migration safari is during the dry season.
A matter of taste
The concept of luxury is a personal one, so it's best to consult one of our safari experts who will provide you will a suggested itinerary which you can then tailor for the experience of a lifetime, with all the modern facilities you're accustomed to.

---