The Great Migration is one of the most intriguing spectacles of nature. Every year, millions of wildebeest and plains game transverse the Serengeti in Tanzania and head north to Kenya's Masai Mara in search of rich feeding grounds, and freshwater sources.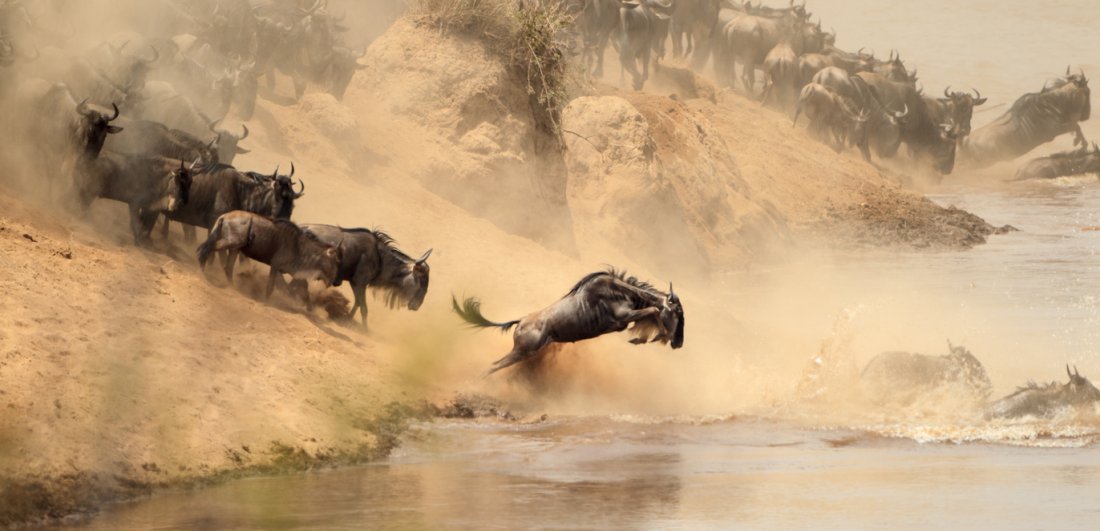 The paths that these animals follow present their own unique set of challenges, including surviving the Grumeti River in Tanzania and the Mara river crossing in Kenya. There is a dramatic interplay between the plains game and various predators, including the Big Five's most ferocious predators, as well as opportunistic smaller mammals and predatory birds.
What pleasure is there in experiencing one of nature's greatest spectacles with no one to share it with? Thrilling, oftentimes bittersweet, but most definitely life-changing, the Great Migration offers the best of both worlds; romantic getaways in the middle of the African bush, with adrenaline-pumping activities that will keep you on your toes, while still enjoying the pleasure of quality time spent together.
Weather patterns that will affect your couple's safari
The Great Migration is not a singular event, rather a repetitive cycle of migration that occurs between the Serengeti and the Masai Mara. The wildebeest and plains game movements are dictated by seasonal weather as they are driven in search of green pastures, fresh sources of water and mineral-rich grazing grounds.
The best time to go on safari will depend on which 'season' you go in. While the rainfall can be loosely predicted, the Great Migration has two distinct 'seasons:
Green season
Copious rainfall in the Serengeti during January, February and March turns the landscape into a lush garden and this is the time that the wildebeest and other game give birth to their young. Up to 200 000 baby wildebeest will be born during this period. Also referred to as the 'calving season' or 'wet season', there are often reduction in rates during safaris in this season. So why the reduction in price? Game-viewing can be rather challenging at this time, as the increase in vegetation makes animal sightings more challenging to spot. However, this season is particularly beautiful, with the Serengeti bursting into bloom with wildflowers and birds aplenty. You'll also enjoy the benefit of a less crowded safari.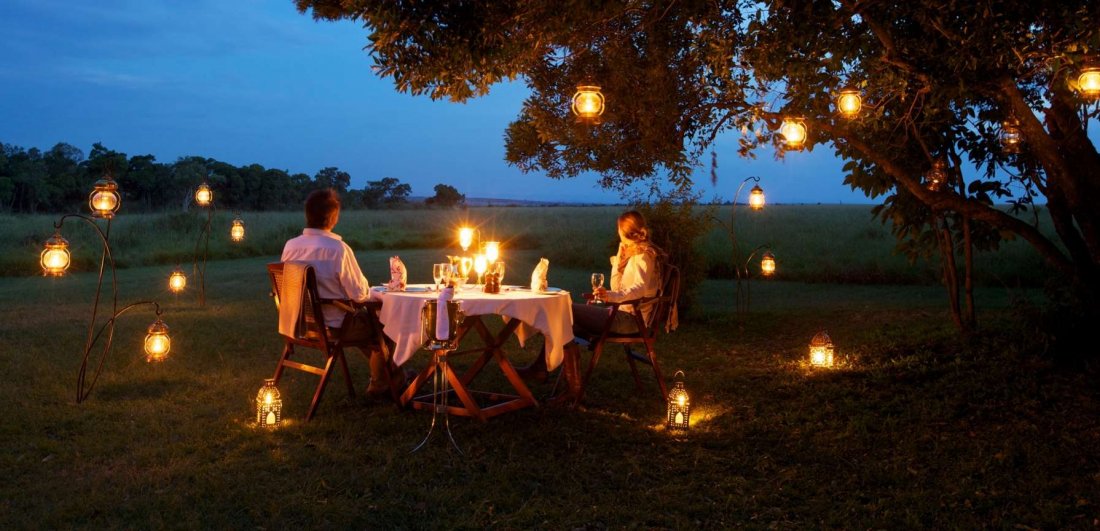 Elephant Pepper Camp
Dry season
Also known as the 'predator season', this time of the year between July to September means less rainfall as the wildebeest head north towards Kenya. In contrast to the green season, these months are particularly warm, and game sightings are much easier as many games and predators congregate along the Grumeti and Mara rivers (in Tanzania and Kenya respectively) in search of water. Coming out into the open makes the interaction between predator and prey a thrilling experience.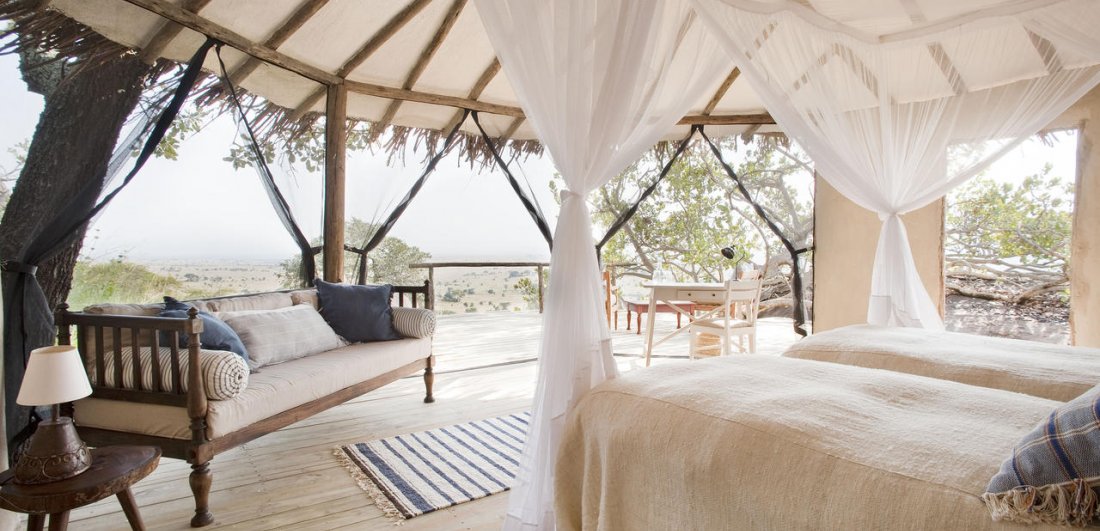 A luxury honeymoon suite like this one pictured at Lamai Serengeti will cost you more during the dry season
Safari activities that are perfect for couples
Each lodge or camp you stay at offers up to two safari activities per day, which are generally day game drives in national parks or day and night safaris in private reserves. However, different camps offer other activities that may be included in your itinerary, or available at an additional cost. We recommend the following activities for couples:
Hot air ballooning
The expansive landscapes of both Tanzania and Kenya are truly best observed from a hot air balloon. This activity generally begins in the early morning while the weather is cool and offers you the opportunity to observe an African sunrise. You'll enjoy one hour in the air, with a champagne breakfast upon landing. How romantic!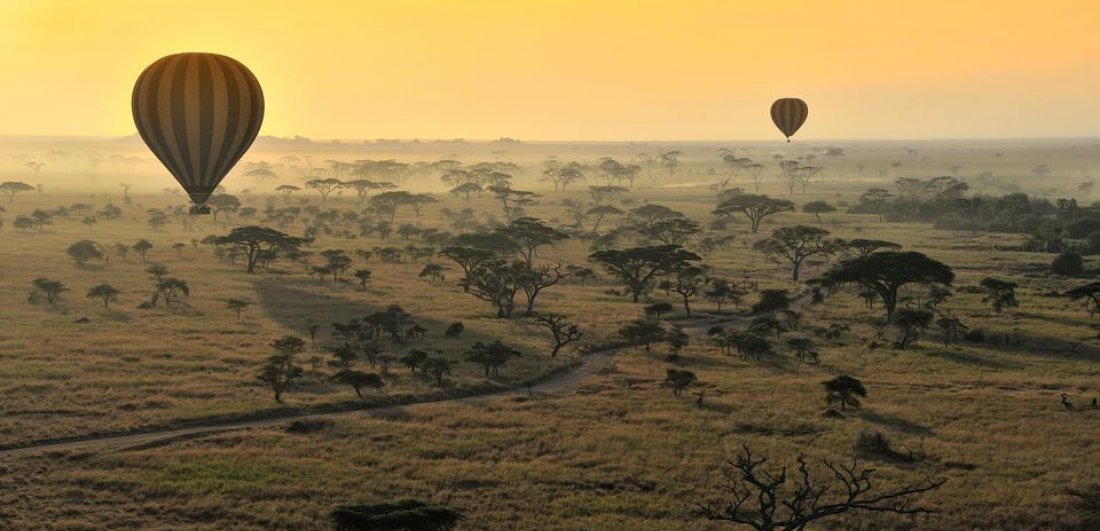 Horseback safari
For the more adventurous at heart, a horseback safari is a truly magical experience. This activity is offered in both Tanzania and Kenya, with the Kenyan experience slightly better value-for-money. You need very basic horse riding experience, such as mounting, dismounting and stopping as well as turning a horse. For less experienced riders, a short, hour-long horseback safari is perfect for you.
All horseback safaris are conducted by a professional guide and your equipment will be provided to you. You will have to answer a short questionnaire prior to your horseback safari booking to establish your level of experience.
Walking safaris
This activity is a great way to explore the bushveld on foot where you have the opportunity to see wildlife and birds from a unique vantage point. The best part about a new experience or wildlife spotting is the ability to turn to someone and say, "Did you see that?". A walking safari allows for just that; a shared experience that you can discuss with others around the campfire at night and memories you'll keep for a lifetime.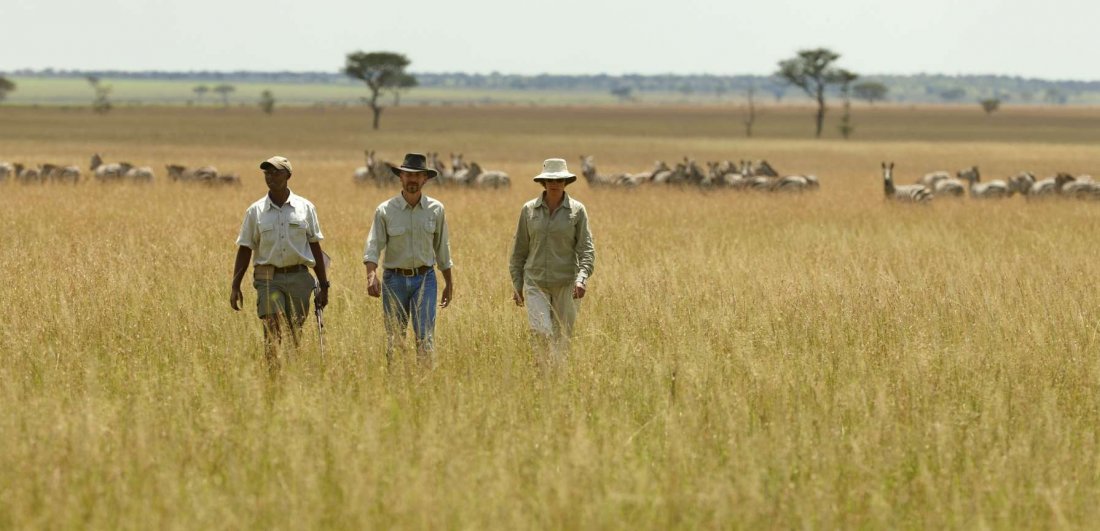 Planning makes perfect
Regardless of your budget, Kenya and Tanzania both offer a combination of bush and beach safaris that make planning a couple's trip an efficient and easy process. If you haven't found the right couple's retreat in our suggested itineraries, we encourage you to build your own, customised safari. The best way to include the Great Migration here is to plan your trip in advance, using our HerdTracker and migration map applications that allows you to plot the wildebeests' movements so that you don't miss a moment of the spectacular feat of nature and instinct and survival.
Tanzania or Kenya?
The Great Migration can be experienced from both Kenya and Tanzania, each country offers the option of luxury, medium-budget or value-for-money safaris, largely determined by the season you travel in and the level of accommodation you choose to stay at. There are plenty of lodges and camps both in Kenya and Tanzania that offer luxury honeymoon suites for newlyweds or simply for those who want to experience and enjoy privacy and intimacy together. You can expect panoramic views, personalised service, and intimate settings; no matter where you stay.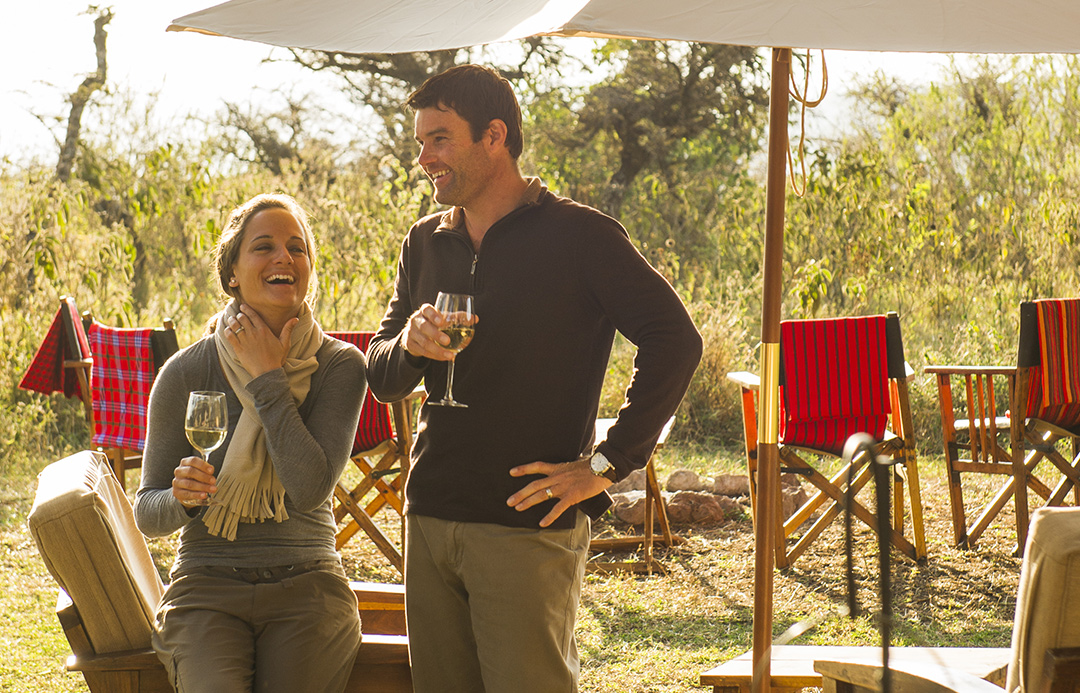 Combine the best of both worlds
We have a variety of suggested safari packages that offer couples the chance to experience the Great Migration as well as an island getaway or foray into the coastal, palm-lined beaches of the Indian ocean. Why not go the distance with an exclusive safari that takes you from South Africa through Botswana, into Tanzania and finally a gorilla trekking expedition in Rwanda? For a short but sweet honeymoon break, a simple safari to Tanzania's Serengeti National Park in under a week could be ideal for you. Contact our safari experts to find out what is possible for your romantic getaway.

---