Machame Route Up Kilimanjaro (7 days)
Machame Route Up Kilimanjaro (7 days)
For the average climber, Machame is probably the most reliable route to the summit of Mount Kilimanjaro and the roof of Africa
Machame is a popular route that summits Kilimanjaro via Stella Point. It's a camping route and we favour it as the quickest and easiest route for the average climber. The best time to climb Kilimanjaro is during the short rains (October and November) or the 'shoulder season' (March and June). The peak or dry season (July to the end of September) is extremely busy and cold, and there's not much snow at all. It also gets dusty and windy during the dry season. 
FebPeak
MarPeak
AprPeak
MayPeak
Jun
JulLow
AugLow
SepLow
OctPeak
NovPeak
Dec
Costing tip: When comparing with other companies, remember most of them only show the low season rate. How pricing works >
What to Expect on This Safari
This popular itinerary can be customised to match your budget and travel dates by adding/removing a few days or selecting different lodges
Moshi, arrival
When you arrive, you'll be met and transferred to the Keys Hotel, a great base from whic to start your climb. A climb briefing is scheduled for today in order to meet your guides and discuss the expedition with you in person. Relax, make sure your camera battery is charged and enjoy your last comfortable sleep before starting your climb in the morning.
Meals: Dinner and breakfast
Transport: Included
Find your feet to Machame Camp
After breakfast you'll leave by vehicle for Kilimanjaro. At the gate your crew will finalise packing and you'll finish with the formalities before starting off from Machame gate. Today's hiking is through verdant afromontane forest to Machame Camp with a picnic lunch en route. Look out for pretty endemic plants and a graduation of forest zones. Overnight at Machame Camp, with your meals included. Although you'll be camping throughout this climb, you don't have to pitch your own tent.
Meals: Breakfast, lunch, dinner
Transport: Your feet
A nice day to New Shira Camp
From Machame Camp, you'll hike to New Shira Camp. The first section is relatively steep and you'll gain altitude rapidly. Enjoy a packed lunch on the trail. The zone you'll pass through is known as the heath zone, where you can see attractive helichrysum and lobelia plants. You'll also see geological features such as lava tubes and glacial valleys. Overnight at New Shira Camp, with your meals included. The camp itself is one of the most scenic as it allows views towards the west with Mt Meru in the distance and offer views of Kibo (the top of Mt Kilimanjaro).
Meals: Breakfast, lunch, dinner
Transport: Your feet
Up to Lava Tower and down to Barranco Camp
Today is a walk high, sleep low day. You'll climb into alpine desert and those who're feeling strong can even head up to Lava Tower before descending to Barranco Camp. Again you'll take your picnic lunch with you to eat along the way. This is long day, but the next time you get to this altitude is in two days' time, so it's a great day for acclimatising. Overnight at Barranco Camp, with your meals included.
Meals: Breakfast, lunch, dinner
Transport: Your feet
Over the great Barranco wall to Karanga Valley
From Barranco Camp, famous for its giant groundsels (Senecio species), you'll climb the Barranco wall and hike glacial valleys to Karanga Camp. This is a relatively short day's hiking and you'll have lunch at Karanga Camp. In the afternoon you can take a walk with your guides for great views of the southern walls of Kibo and deep glacial valleys. Overnight at Karanga Camp, with your meals included.
Meals: Breakfast, lunch, dinner
Transport: Your feet
To Barafu for a few hours rest
Today is another half-day climb to Barafu Camp. Once again you'll have lunch in camp, allowing plenty of time to relax before your push to the summit. This is desolate alpine desert and at times strong winds rip over the camp, but you should get splendid views of Mawenzi peak in the evening. You'll have a relatively early dinner before resting for the night, ready for a midnight start. Overnight at Barafu Camp, with your meals included.
Meals: Breakfast, lunch, dinner
Transport: Your feet
Summit
Wake up very early to have a quick bite to eat and something warm to drink before setting out in darkness with headlamps. The hike to Stella Point is a very slow steep walk on volcanic scree for about 5-6 hours. As you approach the crater rim you will enjoy the most memorable sunrise you may ever experience – the sunrise over Africa! Keep your camera ready at all times as there are plenty of photo opportunities along the summit. Once you reach Stella Point on top of the crater rim Uhuru Peak is in sight. Hike along fairly flat terrain for about 40-45 min to reach Uhuru Peak. Spend a few minutes at the top and get that photo of you next to the sign marking the summit!
Descend from Uhuru Peak in high spirits as you have just achieved your goal. The trail down from Stella Point on the Mweka route is often enjoyed by hikers sliding down the scree slope, which entails skidding down the loose gravel with big steps and some sideways moves. Depending on how you feel, you may enjoy a short rest at Barafu Camp before descending down to Millennium Camp or Mweka Camp. Most of our expeditions overnight at Mweka Camp this evening.
Meals: Breakfast, lunch, dinner
Transport: Your feet
Celebrations
Enjoy a slow hike through the rainforest to Mweka Gate. The path has many steps leading you down to Mweka Gate where you may find a cold beer or soft-drink to start celebrating your assault of Kilimanjaro. You will be transferred back to Moshi, Keys Hotel, to overnight and celebrate (breakfast included).
Fly Home
The Kilimanjaro Expedition comes to an end. Transfer to Kilimanjaro International Airport for your flight home or continue on a safari or relaxing beach holiday.
Recommended Iteniraries and Tours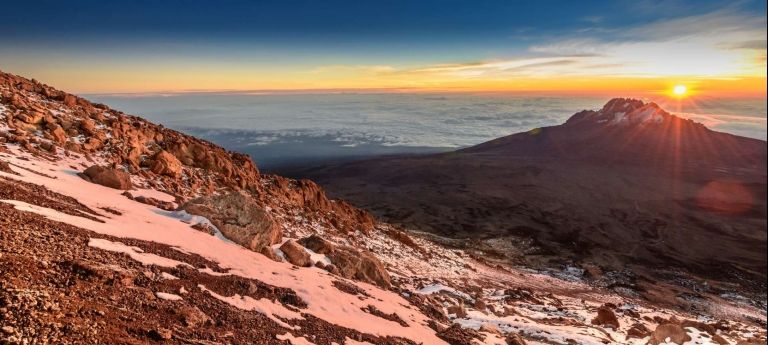 Summit two of Tanzania's iconic mountain ranges in under two weeks...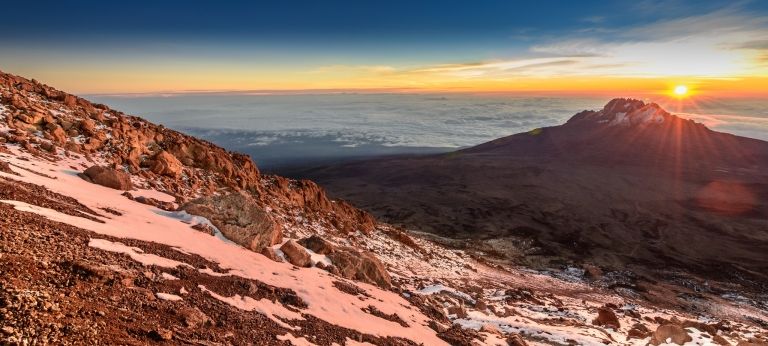 For the average climber, Machame is probably the most reliable route to the summit of Mount Kilimanjaro and the roof of Africa...