Best Time to Climb Kilimanjaro
As might be expected of an isolated massif of its immense magnitude, Kilimanjaro supports a microclimate – indeed, several different altitude- and rainfall-related microclimates – that bears little resemblance to conditions on the surrounding plains. Precipitation is largely associated with moist trade winds that blow inland from the Indian Ocean towards Kilimanjaro's southeastern slopes, which tend to receive far more rain than their northern counterparts.
Broadly speaking, the slopes below 3,000m are warm, humid and well-watered, with an annual rainfall of up to 2,000mm supporting a classic equatorial swathe of lush montane rainforest. Between 3,000m and 4,000m, the climate is significantly dryer and cooler, while the higher reaches of the mountain receive very little rainfall, and effectively support an alpine desert characterised by extreme daily temperature shifts, often dripping below freezing at night before soaring to above 30°C in the heat of the day.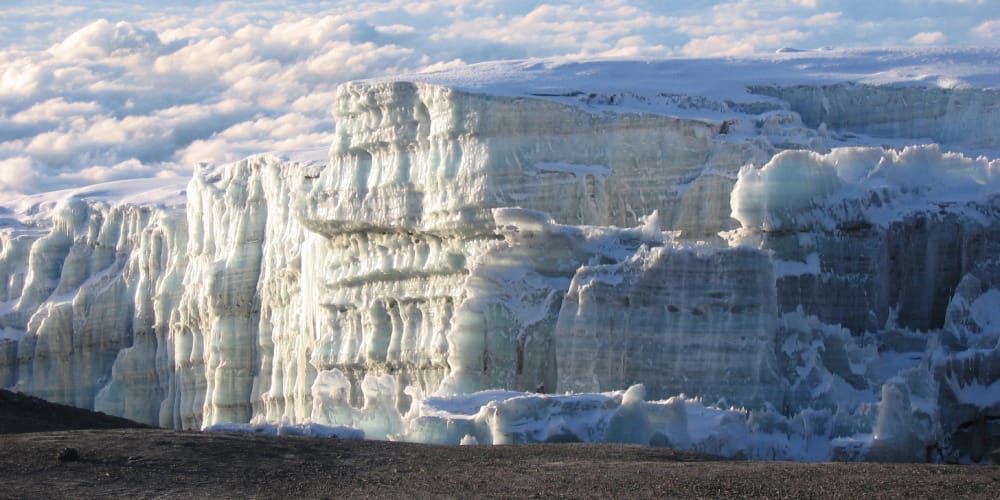 Above 5,000m, the mountain supports a permanent glacial ice cap. This covered around 20km² and buried the main caldera of Kibo when the mountain was first surveyed in the late 19th century, but now extend over less than 2km², largely as as a result of global warming, and at the present rate of retreat, it will most likely vanish entirely before 2060. Though it can be quite warm by day, temperatures might drop as low as -20°C on the summit, and the wind chill factor makes it feel even colder.
Because Kilimanjaro lies so close to the equator, there isn't a great deal of monthly variation in average minimum and maximum temperatures, so this shouldn't be a big factor in your timing. By contrast, rainfall on Kilimanjaro is highly seasonal, and it is definitely worth aiming to climb during one of the dry seasons (January to March/June to October) and avoiding the long rains that fall over of April to May. The dry season is not only more pleasant, but it improves your chance of summiting, as conditions are less tiring underfoot and hiking boots and other gear are less likely to be soaked.