Luxury Safaris in South Africa
Luxury Safaris in South Africa
Luxury safaris in South Africa take you closer to Africa's wildlife but still offer you top-class accommodation and unrivaled service.
Luxury Safaris in South Africa available in
Central Kalahari, Karoo, Kruger National Park, Limpopo, Madikwe Game Reserve, Mpumalanga, Pilanesberg National Park, Sabi Sands Game Reserve, South Africa, Timbavati Game Reserve, Waterberg, Western Cape
Custom designed Luxury safaris in South Africa
Describe your dream trip
We'll put together the best value for you
Book when you're ready
Help Me Plan
Luxury safaris in South Africa take you closer to Africa's wildlife but still offer you top-class accommodation and unrivaled service.
If you are looking for the total safari experience and would like to explore the South African wildlife, then choosing one of South Africa's top reserves is a good place to start. Take a look at some of the camps that offer an unparalleled luxury safari in South Africa.
Popular Luxury safaris in South Africa
These popular itineraries can be customised to match your budget and travel dates
More on Luxury safaris in South Africa
Introduction
South Africa is a large country with so much to offer avid travellers. But one of the most loved tourist attractions are the safari experiences. From budget options to the more luxurious, South African game reserves offer a bird's eye view of some of the world's most prolific animal life.
Being the third most diverse country in the world makes the options to explore a wide array of natural landscapes, wildlife and climate that much more accessible. The top game reserves in the country are equipped for the most discerning of tastes and in most instances no expense has been spared to ensure an authentic luxury safari in South Africa.
Know before you go
​Visas: ​Many countries do not require a visa for South Africa. As long as you are not visiting for more than 90 days then you should be ok. Be sure to verify this though.
Currency: ​You will use South African Rand and compared to the USD, Euro and Pound, you should receive a favourable exchange rate. Important to note is that if you are travelling to remote areas, ATM's may be unavailable, so bringing extra cash with is advisable.
Getting around: South Africa's public transport system is not ideal in some instances, unless you are travelling on a luxury passenger rail. However, Uber is popular and there are a number of metered taxi operaters throughout the country.
Language: South Africa has 11 official languages, but Emglish is predominantly spoken in all regions. The more remote the region, the less this rule may apply.
Vaccinations: You don't need any, unless you have been traveling through other countries in the "Yellow Fever Belt" in which case you will be required to show proof of a yellow fever shot.
When to go
For an optimal safari experience, visit South Africa from May-September.
What to pack
Comfortable, muted clothes.
A good pair of walking shoes
Sandals
Hat
Long pants
Shorts
A light jacket/jumper (for mild summer evenings)
Warm clothing for winter months - the evenings can get cold.
Weather and Climate
Being a subtropical location, moderated by ocean on two sides of the triangle-shaped country, South Africa's climate is generally warm and temperate warm temperate. Winters experience snowfall in some regions, but this is typically isoltade to high-lying areas. Summers are characterised by a lot of sun and warm to hot conditions, depending on the region.
Safari / Holiday Styles
Malaria is only prevelant in a very small part of South Africa, around the Kruger National Park and KwaZulu Natal. The three main areas for excellent game viewing are Limpopo, Mpumalanga, North West, KwaZulu Natal and the Eastern Cape. However, before deciding that you need to go down the malaria-free route, remember that in South Africa, mosquitos are not usually a year-round concern. There are a number of months (May to mid-September) when it is too cold at night for mosquitos to survive.
Where to stay
​Kruger National Park
Madiwe Nature Reserve
Pilanseberg Nature Reserve
The Waterberg
Karoo National Park
Addo Elephant Park
West Coast National Park
Frequently Asked Questions about Luxury safaris in South Africa
Is tipping the norm in South Africa?
Tipping is common practice in South Africa. Some guidelines concerning tipping are - in the bars and restaurants, the tipping is normally 10%. The car parks are monitored by guards or watchmen, they will often ask if you want them to keep an… go there.
When is the best time to visit Ithala Game Reserve?
The best time to visit Ithala Game Reserve is during the dry winter months, from May to September. During this season it is easier to spot the wildlife since the grass is eaten by herbivores. Expect to encounter and sight birds - such as… go there.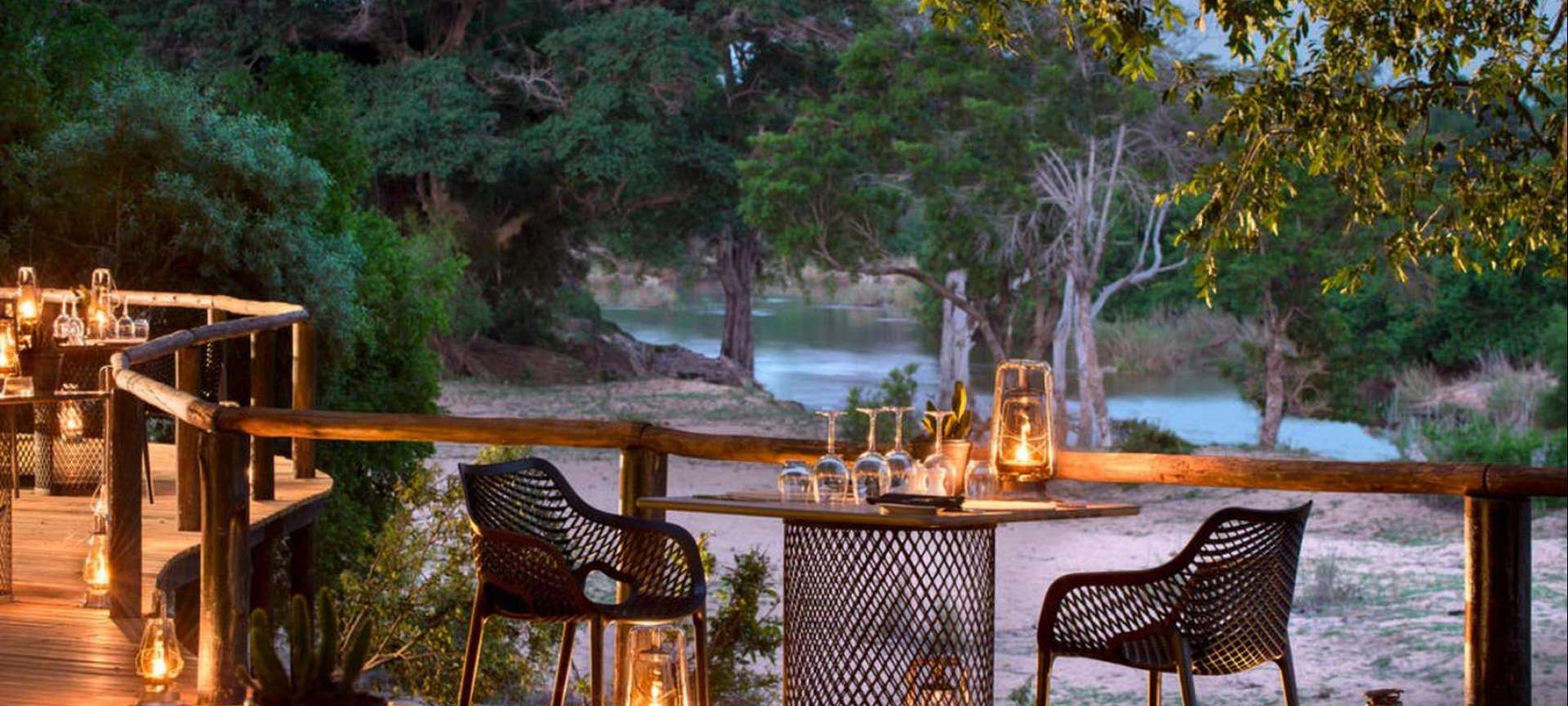 Reviews on our Luxury safaris in South Africa
This was my first safari. I didn't expect to be so pampered. Everything was first class. We had everything provided for us before even asking. We had a dedicated team at our service. Megan was on call whenever we needed something and she…
Saada
from Nigeria
Tanya was an absolute delight to deal with. From the first phone call she was extremely polite, professional and very eager to facilitate my requests regarding our safari. Our 3 nights at the V & A Hotel were fabulous and Motswari Game…
Debbie
from Australia
Perfectly tailor-made tours that take all your wishes and requests into consideration. All my expectations were beyond fulfilled.
Henrik Wetterstrand
from Sweden
Living afar and trusting in an organisation with whom you have no previous knowledge can lead to feeling of mistrust and wondering whether what we have paid for actually exists. A little more proactive communication would have eased those…
Tony Russell
I just wanted to thank Discover Africa and Karl Svendsen - the safari was great - we saw many more animals than expected including cheetah, leopard, many lions and even a three-day old elephant calf. Additionally, we had our own hippo…
Margaret Dean
Planning the trip was managed extremely well especially since travel was at a busy time of year and not much notice was given. All communication was by email, and was responded to promptly and efficiently. Different options were provided…
Suzanne McKeen