Sossusvlei safaris, tours & accomodation
The world's tallest dune fields
Custom Sossusvlei
Describe your dream trip
We'll source the best value
Book when you're ready
The dry pans known as Sossusvlei and Dead Vlei form the most iconic of Namibia's landscapes, enclosed as they are in the world's tallest and arguably most spectacular dunes
Sossusvlei is the main tourist focus in Namib-Naukluft, the world's largest national park. And it is a truly breathtaking site, comprising a cluster of parched clay pans towered over by a field of curvaceous scorpion-tail dunes up to 300 metres tall. Formed over millions of years, these rippled apricot sand mountains are composed entirely of orange sand that has blown across from the Kalahari Desert and the mouth of the Orange River. Occasionally you might make out the distinctive outline of a rapier-horned gemsbok catching the breeze on the crest, one of the strategies this desert antelope uses to reduce its body temperature.
Popular Sossusvlei safaris
These popular itineraries can be customised to match your budget and travel dates
Andre Van Kets says
"Though Sossusvlei is less well known than, say, Victoria Falls, Kilimanjaro or Table Bay, I'd rank it right up there with these great travel icons as one of the absolute must-see sights in sub-equatorial Africa."
More on Sossusvlei holidays
The most beautiful – and most photographed – of the pans are Sossusvlei itself and nearby Dead Pan. The latter retains a floor of cracked dry mud and supports a spectral forest of camelthorn trunks that died around 500 years ago, when this arid parody of a lake last received water on a regular basis. Another important landmark here is Dune 45, the only dune of comparable size that visitors are permitted to climb. Be warned, the foot-dragging ascent of this immense shadeless sandhill will give fresh meaning to the phrase 'two steps forward, one step back'. But if you make it to the top, the fabulous view justifies the effort. South of Sossusvlei, Sesriem Canyon is a spectacular 40-metre gorge carved into layers of ancient schist and gravel by the Tsauchab River. From the rim, which is accessible by road, a steep path leads down to the canyon floor.
Sossusvlei Map
Sossusvlei's location on Google Maps

Frequently Asked Questions about Sossusvlei
What vaccinations should I get?
This is all dependant on the countries that you will be visitng and due to the status of certain vaccinations changing at times, please consult our experts before getting vaccines. go there.
Is it okay to drink the water?
In some parts of Southern Africa it is safe to drink the tap water, however it is highly recommended to stick to bottled water (mostly supplied) during your trip as even drinkable African water is completely different in taste and… go there.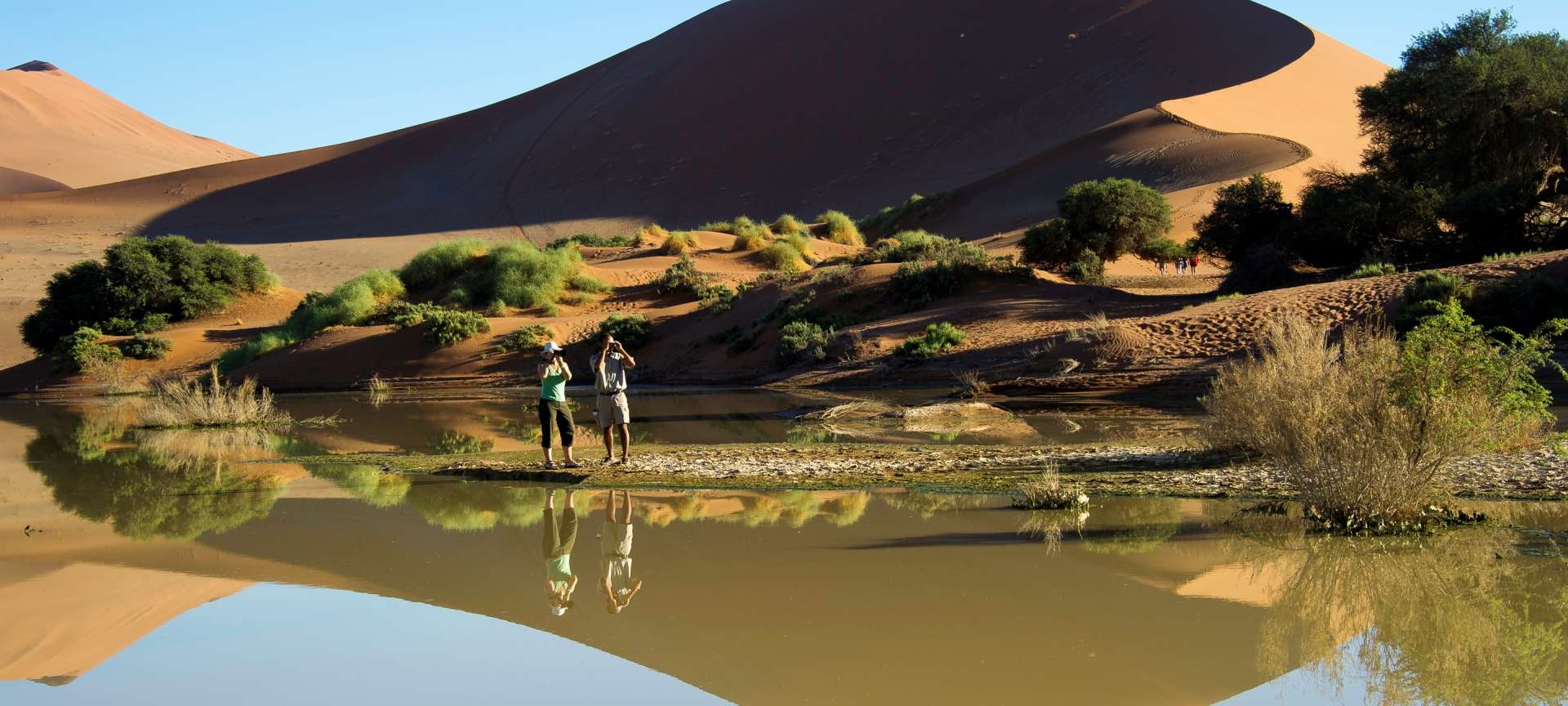 Reviews on our Sossusvlei safaris
This was my first safari. I didn't expect to be so pampered. Everything was first class. We had everything provided for us before even asking. We had a dedicated team at our service. Megan was on call whenever we needed something and she…
Saada
from Nigeria
Tanya was an absolute delight to deal with. From the first phone call she was extremely polite, professional and very eager to facilitate my requests regarding our safari. Our 3 nights at the V & A Hotel were fabulous and Motswari Game…
Debbie
from Australia
Perfectly tailor-made tours that take all your wishes and requests into consideration. All my expectations were beyond fulfilled.
Henrik Wetterstrand
from Sweden
Living afar and trusting in an organisation with whom you have no previous knowledge can lead to feeling of mistrust and wondering whether what we have paid for actually exists. A little more proactive communication would have eased those…
Tony Russell
I just wanted to thank Discover Africa and Karl Svendsen - the safari was great - we saw many more animals than expected including cheetah, leopard, many lions and even a three-day old elephant calf. Additionally, we had our own hippo…
Margaret Dean
Planning the trip was managed extremely well especially since travel was at a busy time of year and not much notice was given. All communication was by email, and was responded to promptly and efficiently. Different options were provided…
Suzanne McKeen