Damaraland safaris, tours & holiday packages
Desert-adapted elephants and UNESCO-certified rock art
Custom Damaraland
Describe your dream trip
We'll source the best value
Book when you're ready
Safarigoers travel to Damaraland in search of its legendary desert-adapted elephants and rhinos, but the region is also a treasure trove of prehistoric rock paintings and engravings
Damaraland is a loosely defined part of the Namibian interior north of Windhoek and inland of the Skeleton Coast. Like most of the country, it is very dry, but the landscape is dominated by craggy peaks such as the Brandberg and Spitzkoppe rather than the dunes associated with the Namib.
The region supports a fair amount of wildlife, including gemsbok, greater kudu, springbok, Hartmann's mountain zebra and dry-country bird species. It is best known, however, for being the last desert stronghold of the endangered black rhino, and for its several herds of desert-adapted elephants, both of which are likely to be seen only on a few exclusive ecotourism concessions allocated by the government to private operators.
Popular Damaraland safaris
These popular itineraries can be customised to match your budget and travel dates
From the famous Sossusvlei, quaint Swakopmund, historical Damaraland and on towards Etosa National Park, this road trip through Namibia is an authentic and different take on a safari...
$ 1,235
£ 969
R 21,120
€ 1,062
per person
9 days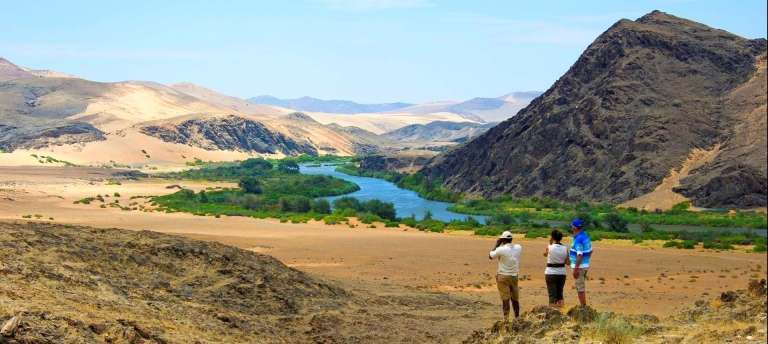 Experience Sossusvlei's red dunes glowing in the early morning light, find desert-adapted elephant in Damaraland and meet the Himba nomads in Namibia's far north-west
$ 6,036
£ 4,736
R 103,220
€ 5,189
per person
7 days
Philip Briggs says
"I'm not sure our experience of Damaraland is very representative, as on both occasions our visits coincided with rare stormy weather. We consider ourselves privileged to have caught a rather bemused herd of desert elephants crossing a river that probably flows for only two or three days a year. The rock paintings here are superb, and the engravings are probably the best I've seen anywhere in Africa."
More on Damaraland holidays
Unlike its wildlife concessions, Damaraland's wealth of rock art sites, though quite remote and in some cases accessible only on foot, are generally open to the public. The most celebrated rock painting in the region is the misnamed White Lady of the Brandberg. This splendid 40-centimetre-tall figure actually depicts a male hunter or shaman, but was once erroneously thought to have a Mediterranean origin due to the use of white pigmentation.
At Twyfelfontein, inscribed as Namibia's first UNESCO World Heritage Site in 2007, the boulder-strewn hillside forms one of the richest rock-art sites in Africa, comprising more than 2,000 engravings and paintings of people and animals, some executed around 5,000 years ago.
The area around Twyfelfontein is also known for its unusual rock formations. Vingerklip (Finger Rock) is a spectacular limestone pinnacle that protrudes dramatically from the surrounding flat-topped terraces. Equally striking is the Petrified Forest, a stand of around 50 fossilised logs estimated to be some 250 million years old.
Damaraland Map
Damaraland's location on Google Maps


Frequently Asked Questions about Damaraland
Reviews on our Damaraland safaris
Discover Africa and Carel has put in such an effort for us to experience the annual wildebeest migration, meticulous planning and accurate predictions with logical and the best accommodation options both sides of the Mara River guaranteed us…
Jates and Hil Oettle
from South Africa
I just wanted to thank Discover Africa and Karl Svendsen - the safari was great - we saw many more animals than expected including cheetah, leopard, many lions and even a three-day old elephant calf. Additionally, we had our own hippo…
Margaret Dean
We had the most wonderful time in Tanzania. We left yesterday and miss it already. We saw the big 5 and felt super lucky to see the lions and leopard with their kill. Our guide was also wonderful. Thank YOU for planning our trip of a…
Debbie Wei
We had a wonderful experience with the Discover Africa team on our trip to Kilimanjaro and Zanzibar. Due to unforeseen circumstances we needed to head down early and their team were most helpful in arranging exciting new options for us while…
Mark Tomlinson
from South Africa
Our service from Carel at Discover Africa was outstanding. His recommendations on the timing of our trip, the lodges we should book, communication and overall assistance ensured that our trip went off very smoothly and that we were in the…
Patti Legg
from South Africa
History was made in supporting Chaeli Mycroft to become the 1st quadraplegic female to summit Kilimanjaro. What amazing partners Discover Africa are! Great communications from home team ensured that getting to Tanzania happened without a hitch.
Zelda Mycroft
from South Africa