Twyfelfontein tours & holiday packages
Ancient valley lined with rock paintings and engravings
Custom Twyfelfontein
Describe your dream trip
We'll source the best value
Book when you're ready
Ranked among the richest rock-art sites in Africa, the rocky hillside of Twyfelfontein is also one of only two UNESCO World Heritage Sites in Namibia.
An arid boulder-strewn valley in the heart of Damaraland, Twyfelfontein is possibly the most important of the impressive rock art sites in Namibia and was recognised as a World Heritage Site by UNESCO in 2007. It is best known for its engravings, of which at least 5,000 have been documented, along with hundreds of paintings, some thought to be more than 5,000 years old. A wide range of wildlife is depicted on the site, including black rhinoceros and elephant, presumably both forefathers of the desert-adapted herds that still frequent Damaraland today. There are also some fine geometric engravings, as well as depictions of people hunting and dancing.
Philip Briggs says
"I've visited most of sub-Saharan Africa's best-known rock art sites, and Twyfelfontein is right up there with the best of them – indeed, the engravings are probably the finest I've seen anywhere in Africa."
More on Twyfelfontein holidays
The area around Twyfelfontein is known for its unusual rock formations. Vingerklip (Finger Rock) is a spectacular limestone pinnacle that stands out dramatically from the surrounding flat-topped terraces. Equally striking is the Petrified Forest, a stand of around 50 fossilised logs estimated to be some 250 million years old.
The most celebrated individual rock painting in Damaraland actually lies about 80 kilometres southeast of Twyfelfontein. This is the so-called "White Lady" of the Brandberg (Fiery Mountain), a splendid 40-centimetre-tall figure that depicts a male hunter or shaman but, was once erroneously thought to have a Mediterranean origin due to its pigmentation.
Twyfelfontein Map
Twyfelfontein's location on Google Maps

Frequently Asked Questions about Twyfelfontein
What vaccinations should I get?
This is all dependant on the countries that you will be visitng and due to the status of certain vaccinations changing at times, please consult our experts before getting vaccines. go there.
Is it okay to drink the water?
In some parts of Southern Africa it is safe to drink the tap water, however it is highly recommended to stick to bottled water (mostly supplied) during your trip as even drinkable African water is completely different in taste and… go there.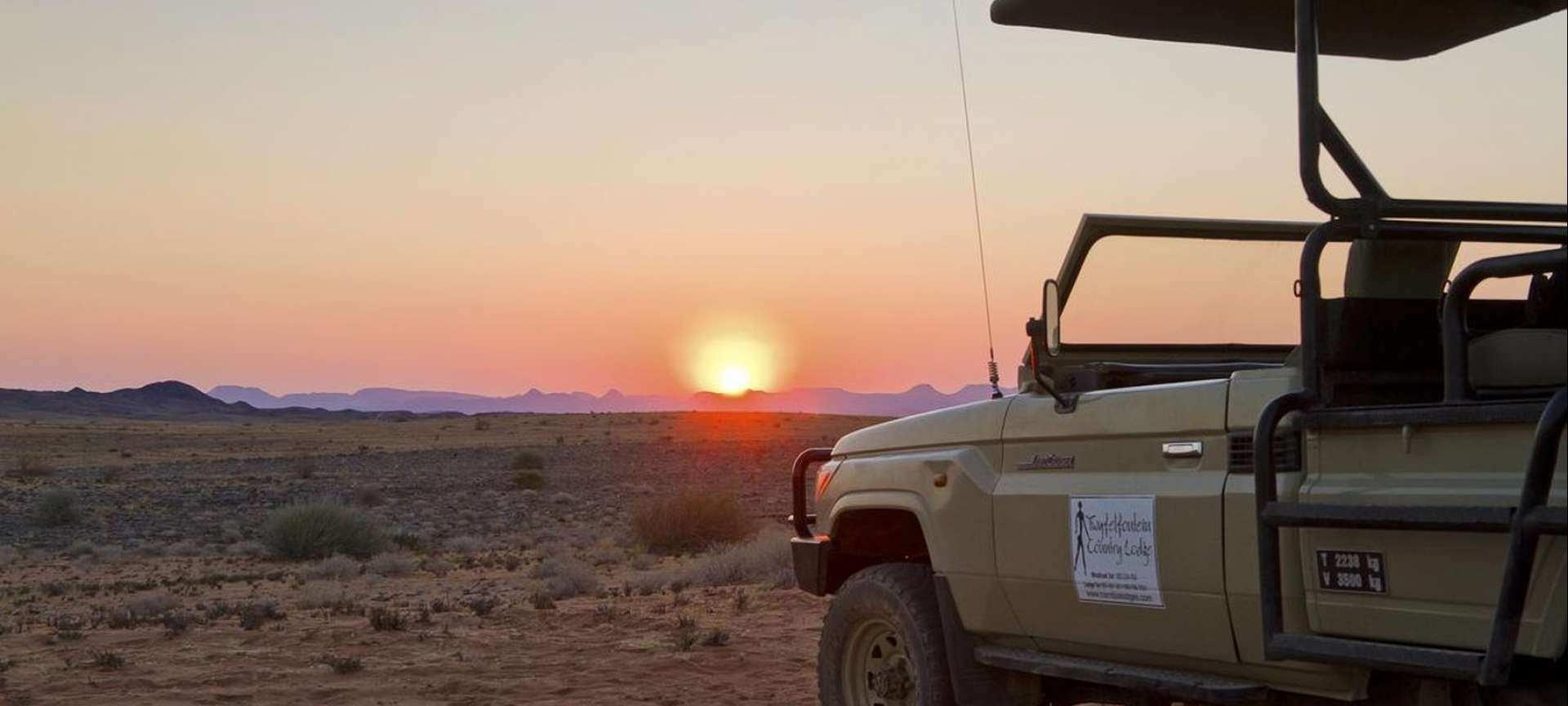 Reviews on our Twyfelfontein safaris
This was my first safari. I didn't expect to be so pampered. Everything was first class. We had everything provided for us before even asking. We had a dedicated team at our service. Megan was on call whenever we needed something and she…
Saada
from Nigeria
Tanya was an absolute delight to deal with. From the first phone call she was extremely polite, professional and very eager to facilitate my requests regarding our safari. Our 3 nights at the V & A Hotel were fabulous and Motswari Game…
Debbie
from Australia
Perfectly tailor-made tours that take all your wishes and requests into consideration. All my expectations were beyond fulfilled.
Henrik Wetterstrand
from Sweden
Living afar and trusting in an organisation with whom you have no previous knowledge can lead to feeling of mistrust and wondering whether what we have paid for actually exists. A little more proactive communication would have eased those…
Tony Russell
I just wanted to thank Discover Africa and Karl Svendsen - the safari was great - we saw many more animals than expected including cheetah, leopard, many lions and even a three-day old elephant calf. Additionally, we had our own hippo…
Margaret Dean
Planning the trip was managed extremely well especially since travel was at a busy time of year and not much notice was given. All communication was by email, and was responded to promptly and efficiently. Different options were provided…
Suzanne McKeen