Fish River Canyon tours & holiday packages
Africa's most spectacular canyon
Custom Fish River Canyon
Describe your dream trip
We'll source the best value
Book when you're ready
The Fish River has carved out a spectacular canyon over 500m deep that snakes its way through southern Namibia for 160km to the confluence with the Orange River
Namibia's world-class canyon is protected within the Fish River Canyon National Park. Visitors have a few alternatives to choose between when deciding how to explore the lengthy gorge.
Undoubtedly the best way to truly appreciate this spectacular geological masterpiece is from the five-day self-supported hiking trail that descends into the canyon's depths and follows the winding seasonal river all the way to the Ai-Ais Hot Springs. The hot springs resort provides weary hikers with an excellent base to recuperate for a couple of days, soaking their tired legs and aching muscles in the natural thermal pools.
Stephen Michael Cunliffe says
"The Fish River Canyon affords hiking enthusiasts the opportunity to immerse themselves in one of Africa's premier multi-day trails through a pristine, otherworldly landscape that makes everyone who experiences the arid canyon's majesty seriously consider becoming a geologist!"
More on Fish River Canyon holidays
For visitors who don't have the stamina or inclination to rough it on an 85km self-supported hiking trip, there is always the option of basing one's self at either Ai-Ais in the south or Hobas in the north and viewing the canyon from a series of picturesque viewpoints scattered along the canyon's rim. All of these viewpoints can be accessed by vehicle and provide a great outlook over the wide canyon, including the famous Hell's Corner that features in most Namibian tourist brochures.
This canyon rim viewing option is perfect for families with small children or travellers that lack the fitness or time to take on the tough five-day trail down below. Remember that the trail is only open to hikers from May to September due to the extreme heat and unpredictable weather of summer with possible flash floods. Another less well known multi-day hiking trail exists in the neighbouring Löwen and lower Fish River canyons. While the Fish River Lodge and the Cañon Lodge of private Gondwana Cañon Park are two other top accommodation options worth investigating in the area.
Fish River Canyon Map
Fish River Canyon's location on Google Maps

Frequently Asked Questions about Fish River Canyon
What is a safari "bucket" shower?
Safari/bucket showers are common in mobile or tented camps where there is no permanent plumbing. They are an effective yet environmentally friendly way to shower where water is at a premium and provide plenty of hot water to wash… go there.
What is the accommodation like on safari?
Safari lodges have guest rooms similar to a hotel with en-suite bathrooms. They are comfortably furnished with all facilities normally associated with a 3-star hotel. Tented lodges have rooms which are tents on a platform and with a roof and… go there.
What languages are spoken in Tanzania?
Language The official language in Tanzania is Swahili but there are hundreds of other local dialects. English is the second official language and the country's commercial language. It is also the main teaching language used for all higher… go there.
Can I bring my children along on a safari?
Family safaris in Africa are a worthwhile and meaningful experience. Aside from spending quality time with your nearest and dearest under a wide blue African sky, a safari in Africa offers invaluable experiences including unique cultural… go there.
When is the calving season?
The wildebeest migration calving season generally starts in February. During this time, the migratory herds will give birth to newborn calves. Predators such as lion, leopard and cheetah will move into the southern Serengeti to take… go there.
What vaccinations should I get?
This is all dependant on the countries that you will be visitng and due to the status of certain vaccinations changing at times, please consult our experts before getting vaccines. go there.
Is it okay to drink the water?
In some parts of Southern Africa it is safe to drink the tap water, however it is highly recommended to stick to bottled water (mostly supplied) during your trip as even drinkable African water is completely different in taste and… go there.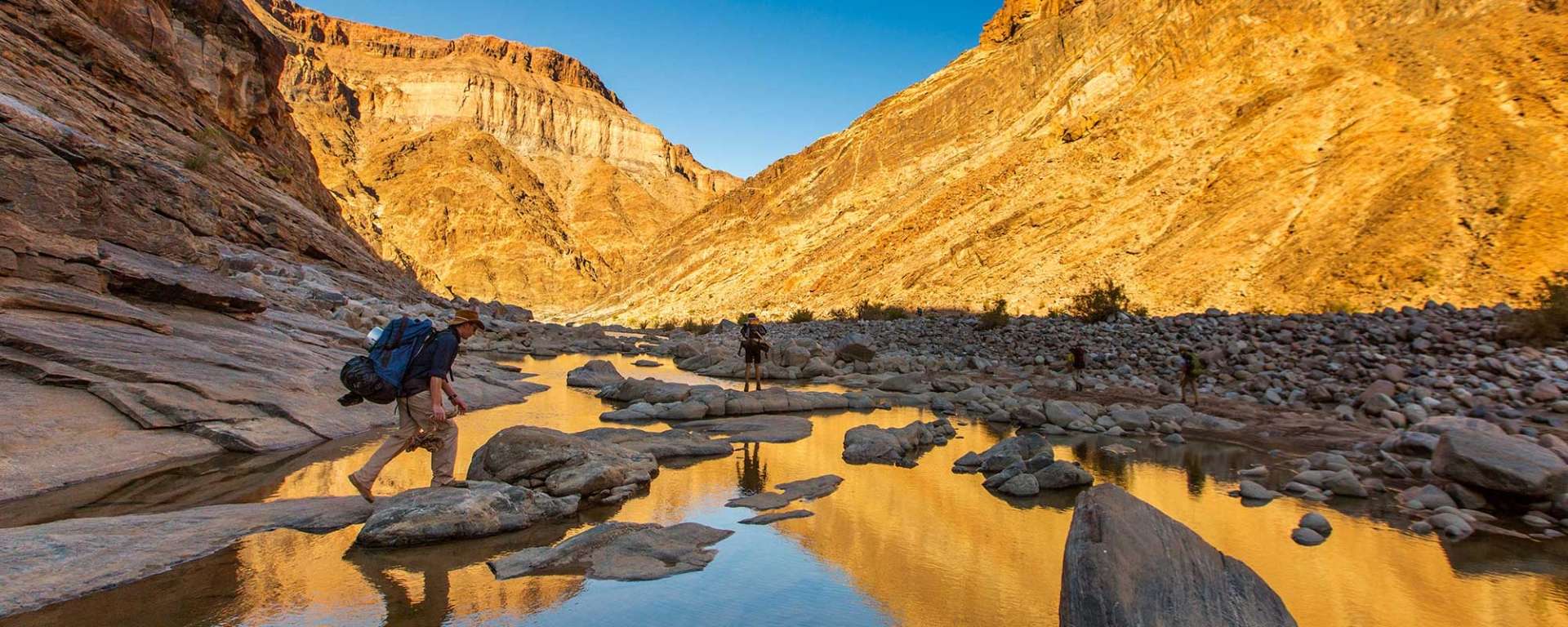 Reviews on our Fish River Canyon safaris
All details were covered, all staff and food excellent, service was perfect - would highly recommend for sure.
Ron
from United States of America
Excellent combination of calling to chat about plans and details, followed up with emailing of detailed information. Made all arrangements easy for us from the actual booking to payment procedures, exchange rate recommendations, visa advice,…
Saldrix
from South Africa
Waking up at 5:00 am to a bumpy ride all the way to a hidden hyena den, was something I'll never forget. But the absolute best part was when the 1 month old cub peeked his head out to say hello. It was heartbreakingly cute.
Alana Krutoyarsky
from United States of America
I wish to say thanks to Megan for all your assistance in ensuring that me and my wife enjoy a wonderful holiday, a nice stay at the hotel with just minor issues, and the Hluhluwe Imfolozi park tour. We just wish to pass our gratitude for all…
Mokatse Itumeleng
from South Africa
It was great to work with Discover Africa and thanks so much for your help.
Lisa and Niall Shapiro
from Australia