Blissful Fly-In Kruger Safari (4 days)
Blissful Fly-In Kruger Safari (4 days)
Experience luxury in the Kruger Park
The famous Kruger National Park is one of the largest dedicated game reserves in Africa. Thousands of visitors come to the Kruger National Park each year to experience the best in game viewing, the Big Five and luxury accommodation. This fly-in safari takes you to the Sabi Sand private game reserve, a pristine area of land adjacent to the Kruger National Park.
For 90 years, Sabi Sand has been dedicated to the preservation and conservation of South Africa's natural heritage. As a result, this unspoilt haven hosts an impressive array of animals and birds that call these savannahs and plains home. Numerous watering holes and the perennial Sabi and Sand rivers draw game from the surrounds for an epic wildlife experience.
You will be staying at the renowned Londolozi Varty Camp, a prime destination for royalty and celebrities. On his visit to Londolozi, Nobel Prize winner Nelson Mandela said, "During my long walk to freedom, I had the rare privilege to visit Londolozi. There I saw people of all races living in harmony amidst the beauty that Mother Nature offers. Londolozi represents a model of the dream I cherish for the future of nature preservation in our country."
JanLow
FebLow
MarLow
AprLow
MayLow
JunLow
JulPeak
AugPeak
SepPeak
OctPeak
Nov
Dec
Costing tip: When comparing with other companies, remember most of them only show the low season rate. How pricing works >
What to Expect on This Safari
This popular itinerary can be customised to match your budget and travel dates by adding/removing a few days or selecting different lodges
Sabi Sand Private Game Reserve
Your first day will begin with a transfer flight from O.R Tambo International airport in Johannesburg to the exciting Londolozi Varty Camp. You will be greeted by a representative from this luxury lodge upon your arrival.
Londolozi Varty Camp is a 7-star lodge and is the epitome of bushveld luxury and Afro-chic design. As the symbolic heart and soul of Sabi Sand, Londolozi offers guests superb accommodation. Raised chalets lie under a canopy of trees, with the distant roars of lion making themselves known throughout the camp. Each chalet offers a private swimming pool in which to cool down after a long, hot day. In addition, Londolozi offers a Cardio Vascular Room, Massage Treatment Room and Wine Cellar. Guests from all of Londolozi's camps are invited to make use of these facilities.
After settling in, your first evening will be spent on a guided game drive, with a delicious meal to look forward to after your first encounter with Africa's bountiful flora and fauna.
Meals: Included
Drinks: Included
Transfers: Included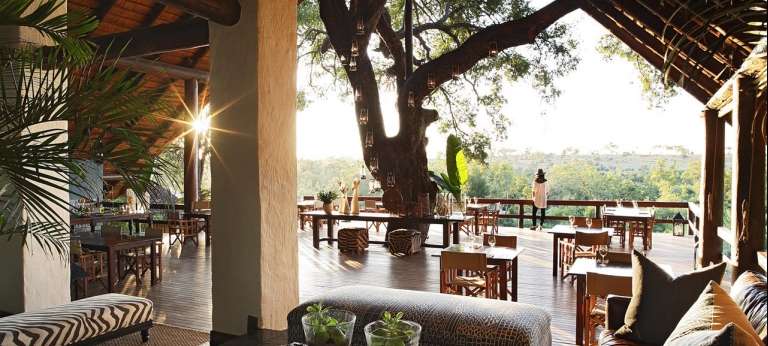 Sabi Sand Private Game Reserve
For the next two days, your time will be spent between bushveld game drives, led by a professional and experienced tracker and ranger team; to give you the best chance of spotting hyena, lion, rhino, giraffe, cheetah and the shy leopard.
In the spirit of relaxation and renewal, you are more than welcome to try yoga in this serene setting, as well as bush walks that allow you to discover the hidden secrets of the Sabi Sand on foot. These activities are included in your stay.
Whether it be star gazing under the canopy of night lights, or learning about the history and culture of the region, Londolozi is a place for young and old; thrill-seekers or animal enthusiasts. There is no shortage of experiences to be had at Londolozi.
Look out for the incredible bird life of this magnificent corner of the world; binoculars are essential.
Departure
It's difficult to say goodbye to this impressive location, but all good things must come to an end.
Enjoy one last morning game drive whereafter you'll be bid farewell over breakfast and be transferred back to O.R Tambo International airport, where your South African journey continues.