Cape Winelands
Less than an hour east from Cape Town lies a stunning countryside region where stately farm mansions look out over sweeping vineyards that meet the dramatic jagged mountainscapes of the Cape Fold range.
(P.S. If you're looking for country holiday travel deals, we've got some great offers for you.)
As the name suggests the district is primarily known for its wine production, a tradition that has existed here since the very first settlers came to the Cape more than 300 years ago. The region's suited Mediterranean climate make it the largest wine producing region in South Africa and each year more than a million liters of wine is made here.
The epicenter of the Cape Winelands is the valleys that contain the towns of Stellenbosch, Franschhoek and Paarl. Stellenbosch, South Africa's second oldest town after Cape Town, is situated on the banks of the Eerste River at the foot of the impressive Cape Fold mountain range. Its streets are lined with oak trees and prime examples of colonial buildings in the Cape Dutch style. Although Stellenbosch is famous for its wine culture and being a university town, it also boasts a range of boutiques, art galleries and museums.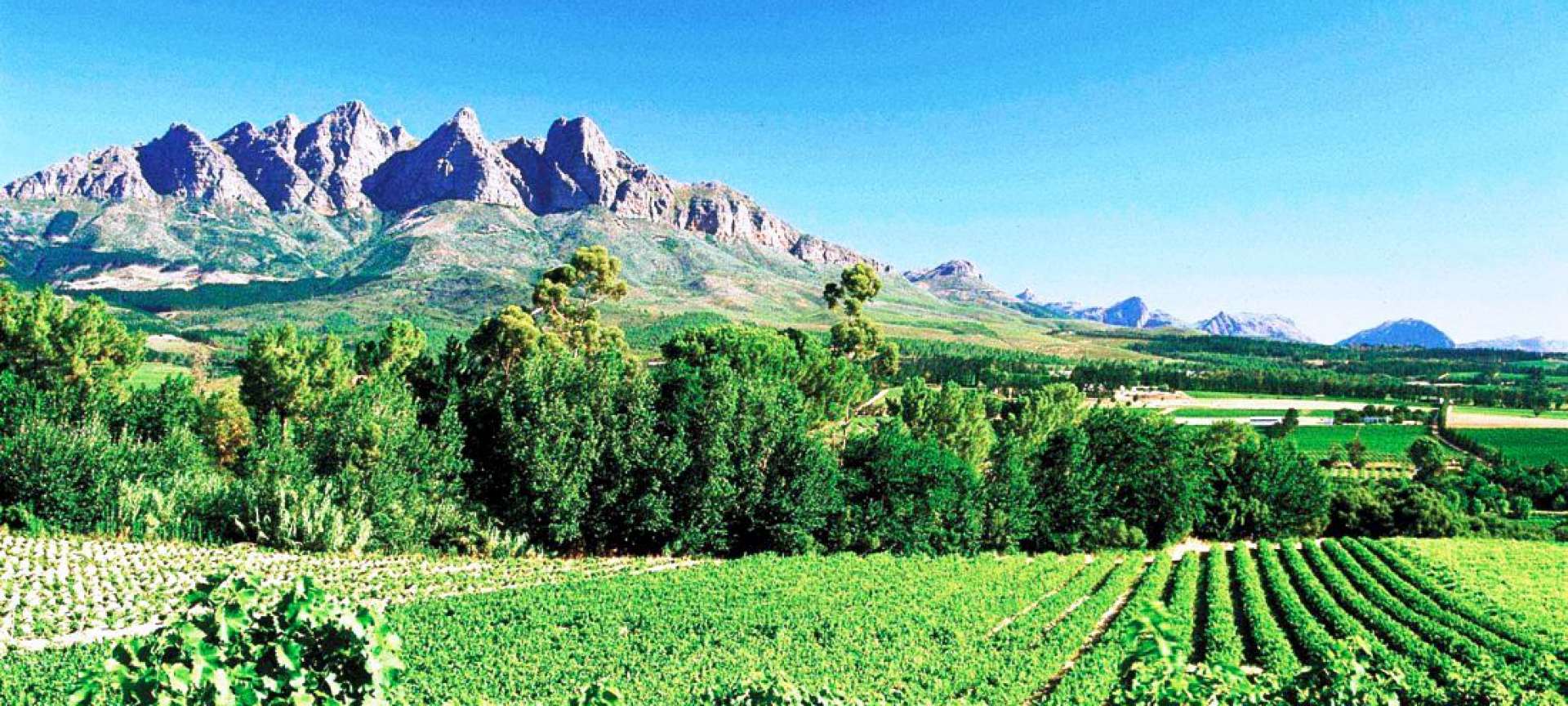 Franschhoek, which translates as "French Corner", was established in the late 17th century as French Huguenot refugees settled in the area. They brought with them their knowledge of vine cultivation and their original farmlands went on to become world-renowned wine estates. The town boasts beautifully preserved Cape Dutch architecture, dozens of outstanding restaurants, boutiques and contemporary art galleries.
Budget-focused accommodation such as backpacker hostels are less plentiful in the Cape Winelands than in the more central areas of Cape Town, but the region offers superb accommodation ranging from mid-range self-catering villas to bespoke guest houses and exclusive villas on its various wine estates.
Highlights
• With its collection of world-class wine farms, the Cape Winelands is the country's top region for wine tasting tours. The famous open-air Wine Tram, which transports passengers between wine estates, is one of the most unique ways of exploring the Franschhoek Valley.
• Stellenbosch and Franschhoek play host to various annual festivals which are centered around the celebration of wine, champagne, art, literary and music.
• Franschhoek is home to some of the country's premier art galleries, especially those that feature contemporary South African art and ceramics
• Restaurants in Franschhoek and its surrounding wine estates rate amongst the best in the country and the town is often referred to as the food and wine capital of South Africa. Diners can look forward to exceptional cuisine featuring local favourite as well as international dishes.
Practical advice
• The Cape Winelands are roughly 30 minutes from the nearest international airport and 45 minutes from Cape Town's city center. Regular shuttle and taxi transfers are available while all major car rental companies have offices in both locations.
• Several sightseeing bus tours and private tour operators offer day trips to the Cape Winelands departing from Cape Town. Combination trips to other noteworthy tourist destinations are possible too.
• The Cape Winelands are notoriously hot in summer with average temperatures around 30C and some days as high as 40C. Bring appropriate light clothing, sunscreen and a hat.
---