The Historic Baobabs in Botswana
There are several extraordinarily monumental historic baobabs in the Makgadikgadi area, but the ones most worth visiting are Chapman's and Green's baobabs in Ntwetwe Pan and Baines Baobabs in Nxai Pans National Park. Green's baobab can be found at Gutsha Pan on the Gweta–Orapa track, 27km south of Gweta village.
In the days of early European explorers, a small pan beside this baobab was filled with perennial water, giving the old tree special significance as a beacon of hope that signaled a spot to replenish supplies after a long trek through the saltpans.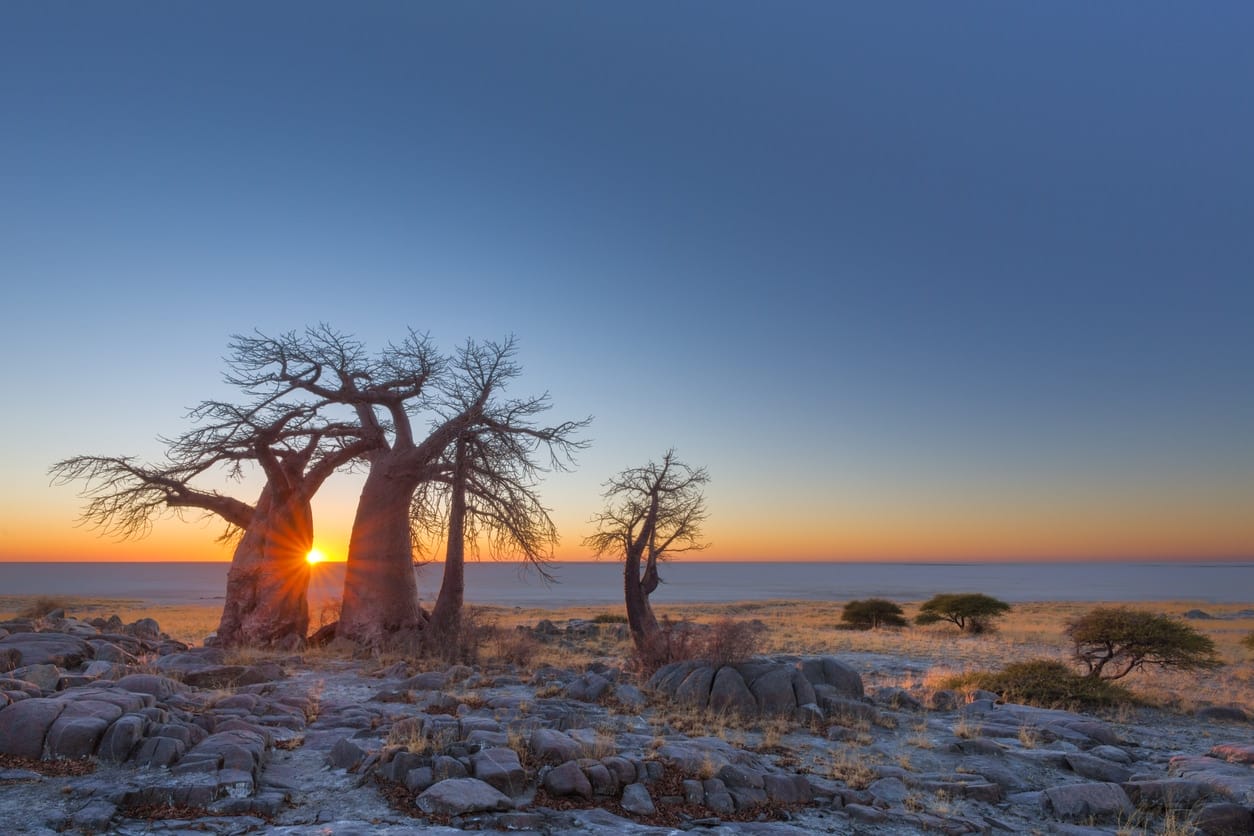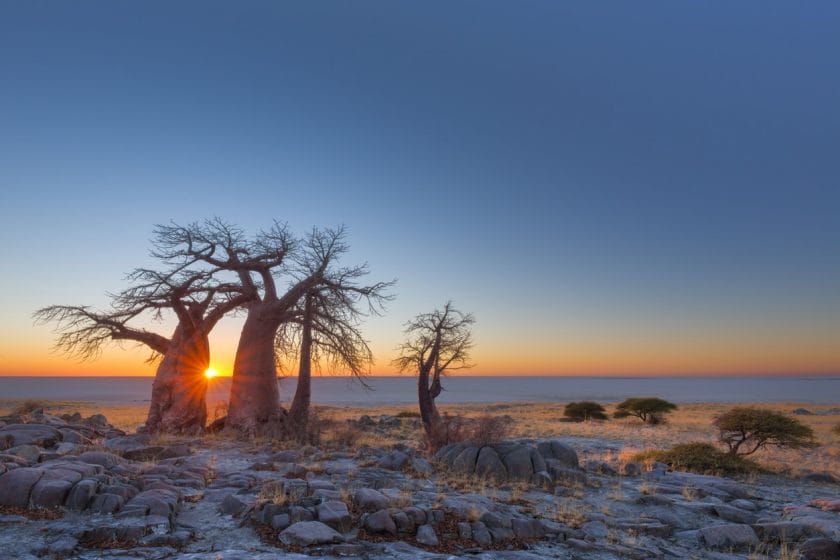 The intrepid Green brothers were among the many early traders, hunters, and explorers to carve their names here, leaving "Green's Expedition 1858–1859" scrawled into the tree's bark and giving the tree its name. Perhaps the most intriguing mark on this baobab is the date 1771, which is even before Livingstone's time and possibly left by an early Portuguese explorer.
The tree is now one of Botswana's National Monuments. Baobab trees can live for thousands of years, and this one certainly bears the battle scars to prove it, gunshot wounds included.
Located in the south of Nxai Pans National Park are the seven baobabs known as Baines Baobabs or the Sleeping sisters. This stunted cluster of Africa's most iconic tree was immortalized by the paintings of Thomas Baines, a British landscape artist commissioned by the Royal Geographic Society. Baines camped beneath these trees in 1862 en route to the memorable Victoria Falls.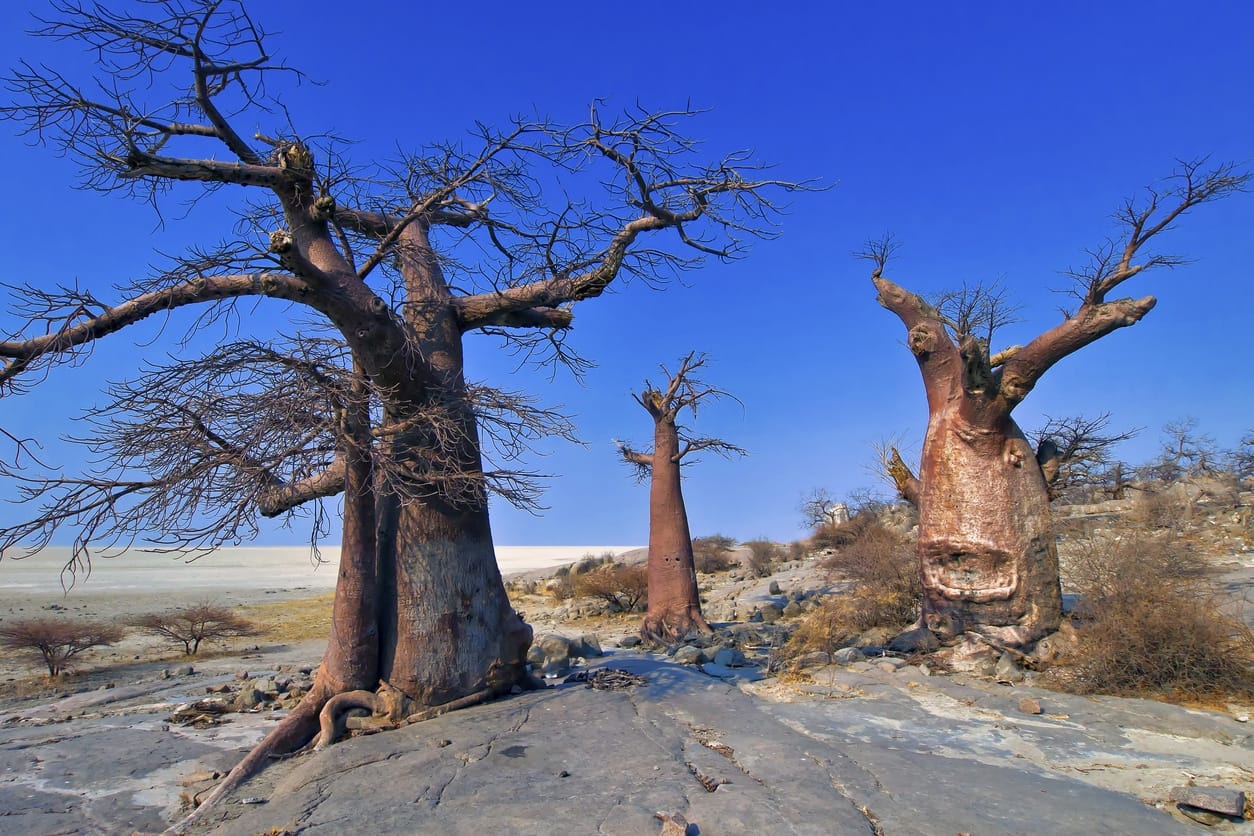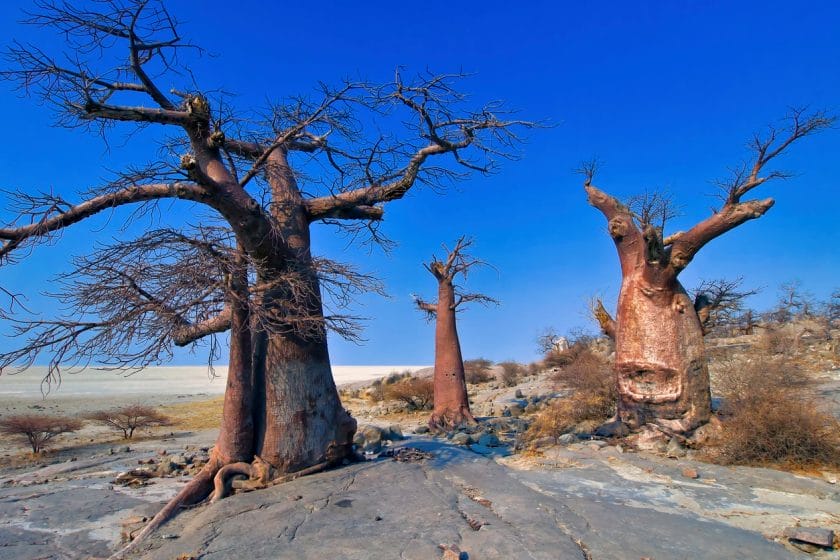 The pans at Baines Baobabs are dry and bare for much of the year, as are the branches of the baobabs themselves, but during the wet season, the pans are covered in sheets of water, and green canopies emerge from the tree's branches.
Baines Baobabs overlook Kaudia Camp Pan on the South side of the Nxai Pan South camp. Three allocated camping areas with basic toilet and shower facilities require visitors to bring their own water.