Two of our most popular Southern Africa destinations are pitted against one another so that you can choose a safari adventure that is perfect for you.
A South Africa safari means bush, beach and vibrant cities, while Namibia's isolated and vast landscapes offer seclusion, a reconnection with nature and more than enough adventure.
Take a look at our brief comparison below:
South Africa

Namibia

Wildlife

All of the Big Five mammals
Game-viewing all year round
Over 900 bird species

Four of the Big Five (no buffalo)
Unique desert-adapted mammals such as the oryx, elephant and black-maned lion
Over 600 bird species

Photography

Excellent wildlife photography

Superb landscape photography

Type of traveller

Honeymooners
Family travel
Solo travellers
Foodies
LGBT travel

Best for group tours
Active and adventure travellers
Couples looking for romantic seclusion

Accommodation

Multiple five-star luxury accommodation
Service excellence
More variety for your budget
Plenty of family-friendly accommodations

Secluded, intimate accommodation for budget or medium-budget safaris
Remote; so travel is tricky if not on a self-drive tour. Fly-in services can be pricey
Camping is the most budget-friendly option. Facilities are excellent and safe

Language, culture and history

Almost everyone speaks and understands English
Robust cultural and political history

Small percentage of English speakers
Colonial German dialects and the South African-originated Afrikaans are most widely spoken

Experiences

Geared more towards bush and beach safaris
Robust and diverse city experiences

Self-drive safaris are the easiest and possibly most enjoyable safari option

Best time to travel

Year-round based on your budget
Climate varies significantly from region to region

June to October for favourable weather conditions

Transport

Better transport infrastructure so multiple destination safaris are common

Self-drive, luxury train and fly-in travel is best

Malaria risk

Most regions are malaria-free except the Kruger National Park and surrounds

Medium to low risk in most regions, except the northern Caprivi Strip close to Botswana as well as near the Angolan border
Take your pick: 

OR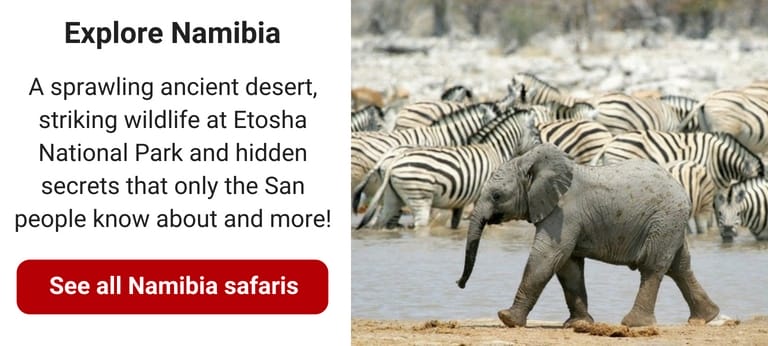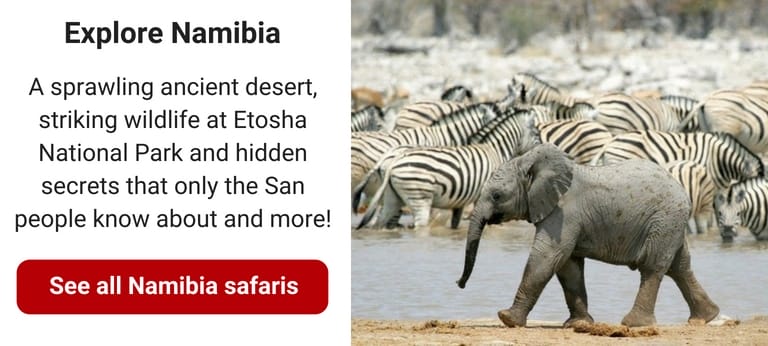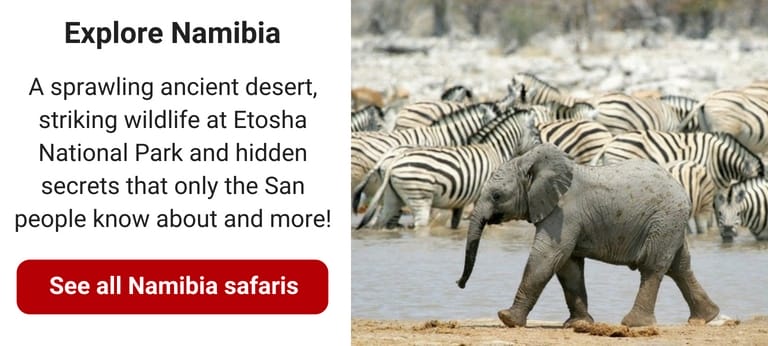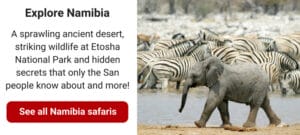 Bespoke safaris for your budget
The factors that will determine your safari costs are:
Length of stay
Level of accommodation
Seasonality
Multiple-country travel
You can customise your safari to suit your budget and we'll gladly create the safari package of your dreams.