A Namibian Safari is an incredible choice for a family vacation: it's safe, easy to travel around on a self-guided journey and offers a wealth of attractions and activities that will delight kids.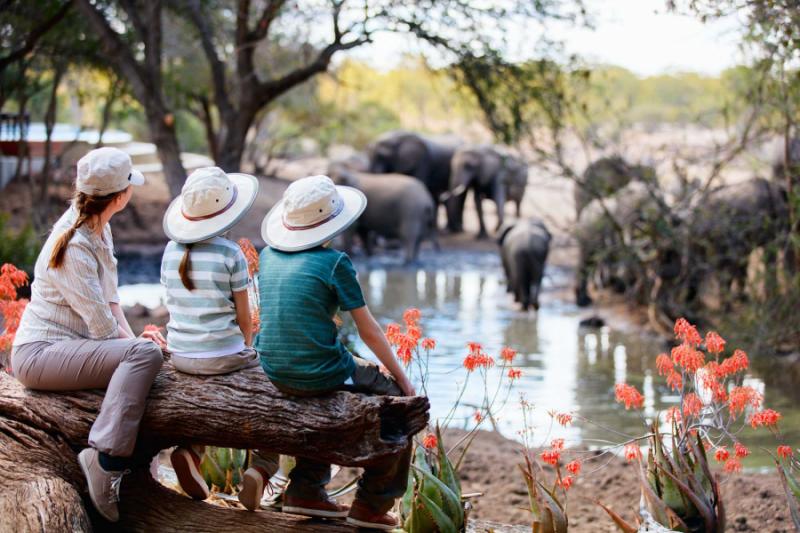 Family Vacation in Africa
Namibia also has a much lower malaria risk than many other Southern African countries.
There are fun things to do with kids of all ages: nature walks, wildlife spotting and sand dune boarding for young ones, and multi-day hiking, sandboarding, quad biking, animal tracking and sky diving for teenagers.
With Namibia's wide range of lodging options, choosing places to stay for a family vacation in Namibia is easy: pick from self-catering bungalows and cottages, well-equipped campsites or luxury lodges (just be sure to check with lodges beforehand if they have a minimum age limit).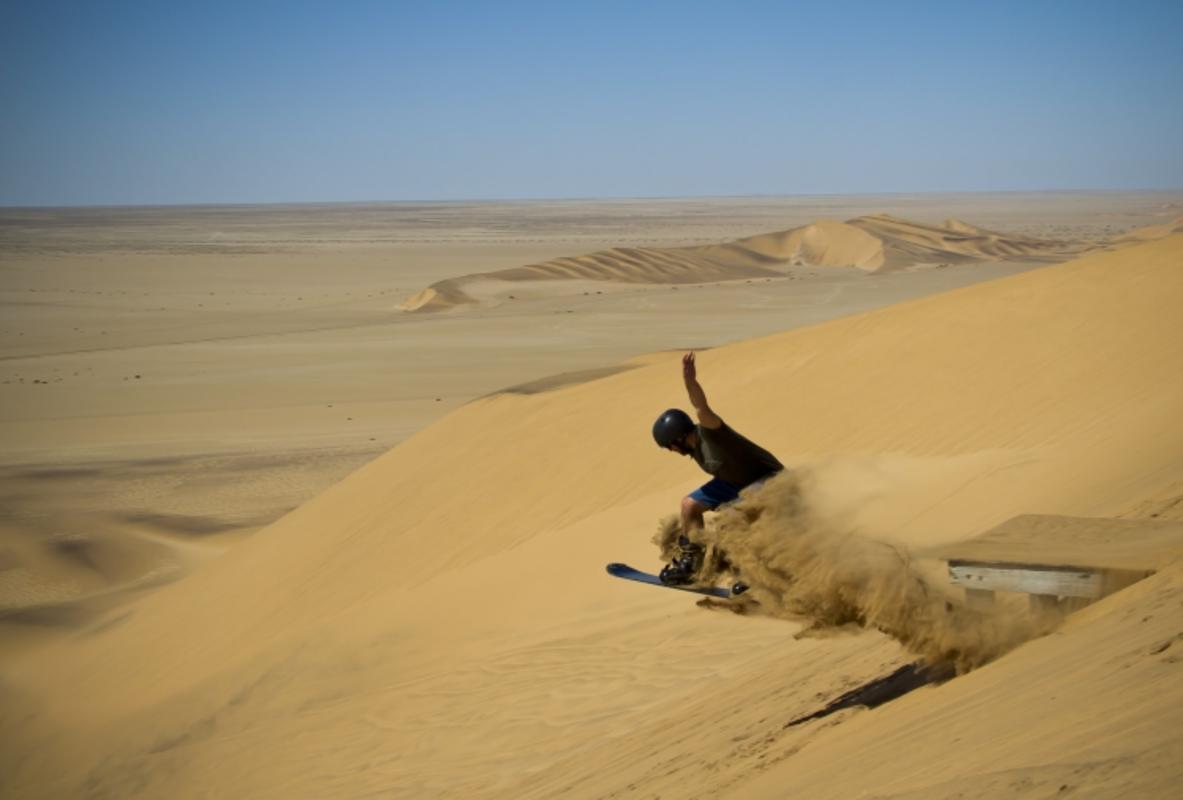 Credit | iExplore, Dune Boarding in Swakopmund
Central Namibia is the best area for a family Safari in Namibia because of the broad range of family-friendly activities on offer on both the coast and in the desert.
Swakopmund is an ideal base for families with lots of lodging options, family-friendly restaurants and a wealth of adventure activities ranging from sandboarding (ages seven and up) and quad biking, kayaking with seals, and guided living desert walks for younger kids.
Similarly, Sossusvlei and its neighbouring area is a great place to explore with kids: there are dunes to climb, a canyon to walk through, flying over the desert in a hot air balloon, guided walks, quad buggy nature trails and star gazing at night.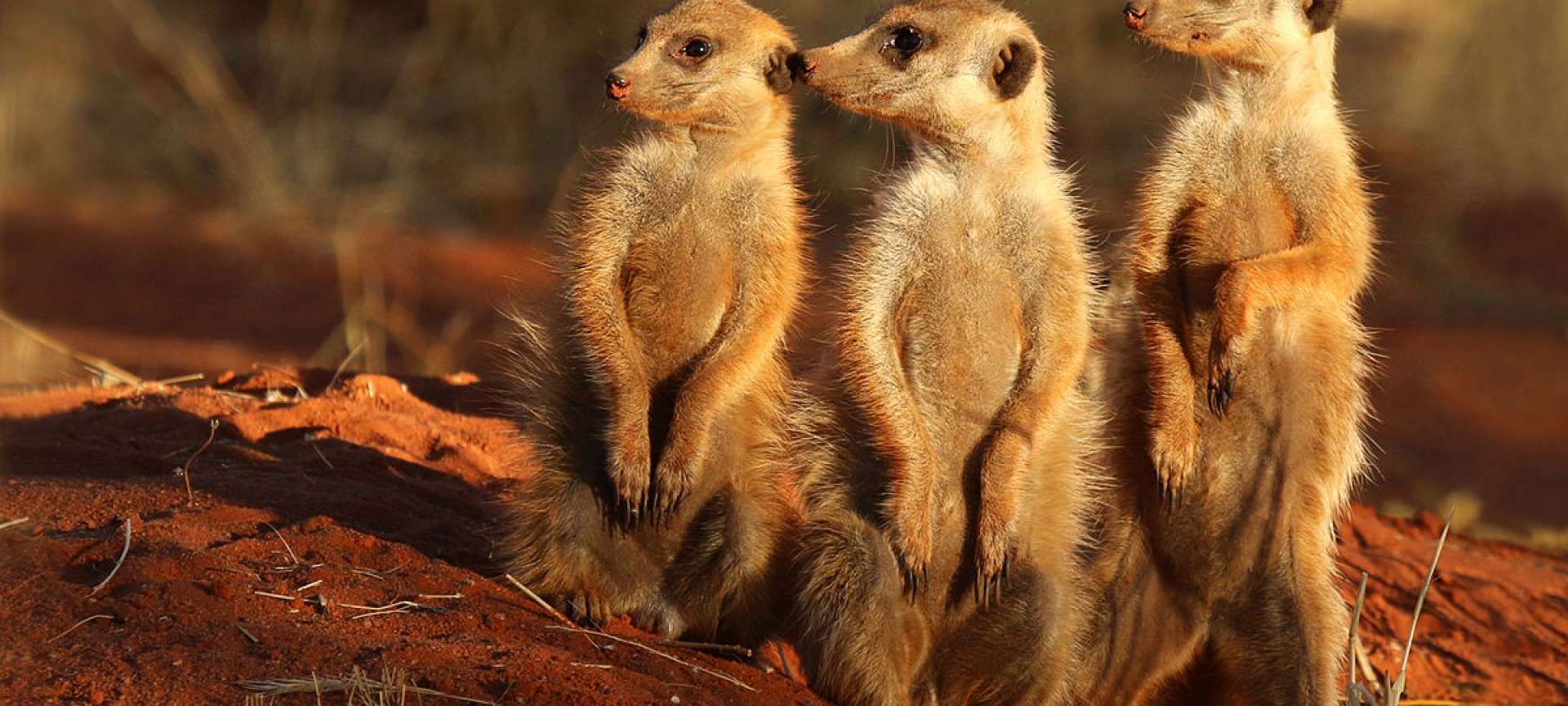 Meerkats in Namibian Desert
Further south, the NamibRand Nature Reserve may not have big predators for stellar wildlife viewing, but it does mean that it's safe to walk in the reserve, and children aged eight and above can join a three-day guided walking trip that takes in the best of the reserve's desert landscape and animals.In Namibia's far southern region, multi-day canoeing trips along the Orange River in the |Ai-|Ais/Richtersveld Transfrontier Park are also an excellent family holiday idea for kids over the age of six: the canoeing is not too strenuous, and it's a wonderful way of experiencing the park's beautiful landscapes.

Etosha National Park
Kids of any age will be entranced by the spectacle of hundreds of animals vying for a drinking spot at the numerous waterholes dotted around the park and its camps.
Highlights of a family Safari in Namibia include parking off at waterholes in Etosha National Park to watch herds of zebra, wildebeest, and giraffe congregate, going on guided walks in the barren-looking Namib Desert and discovering a fascinating world of insects, birds, lizards and adapted plants, scrambling up the dunes near Sossusvlei and sliding back down, zooming down the dunes of Swakopmund on a sandboard, sitting around a campfire under the twinkling stars of the Milky Way after a day canoeing on the Orange River and kayaking among seals, turtles and dolphins off the coast near Swakopmund.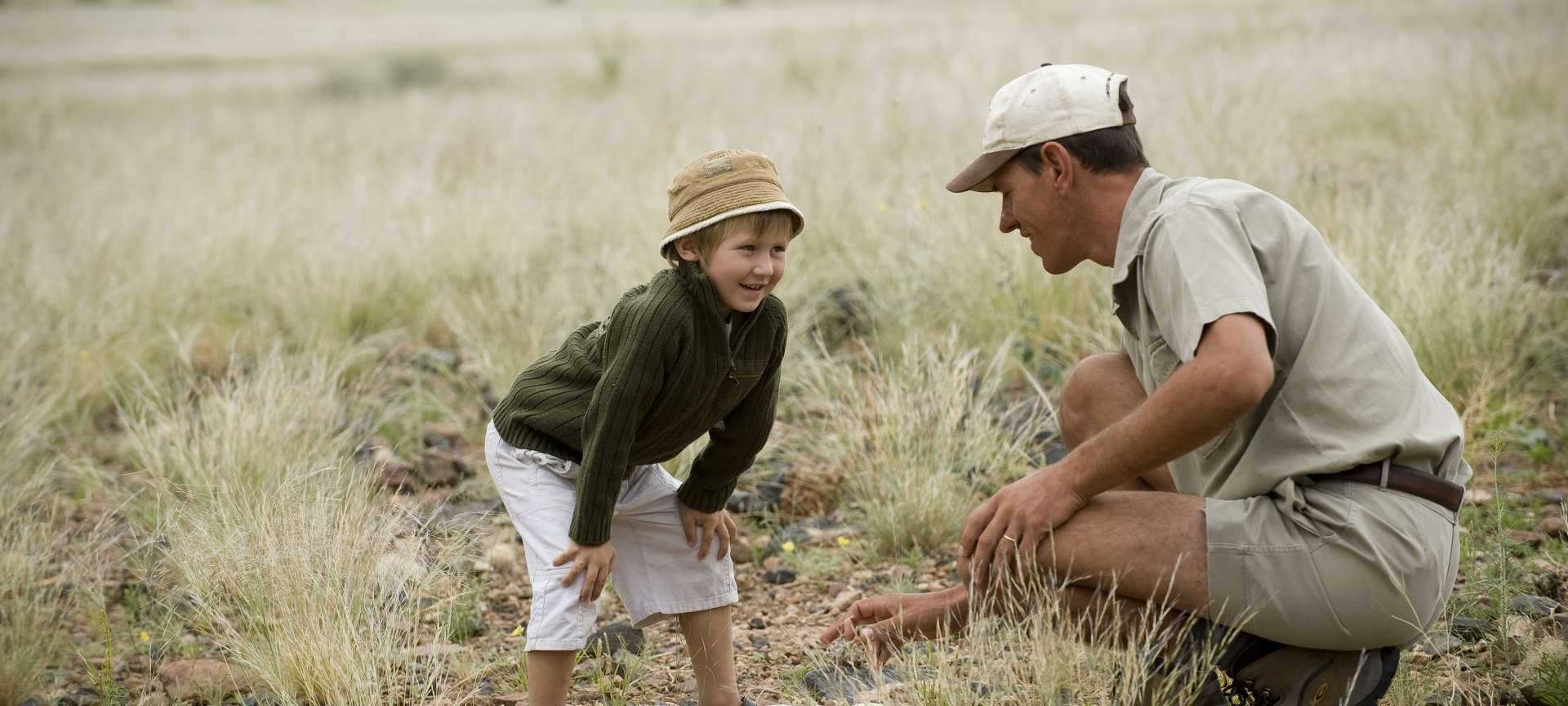 Family Safari in Namibia
Travel Tips
It's a good idea to just pick two or three destinations and spend longer at each one rather than trying to see all the highlights of Namibia at once, as driving distances in Namibia are very long and you won't get the most out of your family Safari in Namibia if most of it is spent in the car with the kids getting restless in the backseat.

When you do have to do a long drink, think about breaking your journey up with stopovers along the way, especially if you're travelling with young children. If you're going to be exploring wildlife parks – which involves lots of driving around – plan to break up the game drives with snack breaks and picnics at designated areas.
Family Holiday
If you have young children, it may be best to avoid travelling to high-risk malaria areas. It's advisable to travel to Namibia in the cooler months of April to October, as the summer months can be unbearably hot. Bear in mind that Namibia's climate is harsh and your kids will need to be able to cope with the elements. It's extremely dry and dusty, it can be very hot and the sun is strong. Be prepared with lots of sun cream, lotion and SPF cream for lips, hats and clothes to protect from the sun, good sunglasses and a big shade cloth if you're camping.

Take note of lodges' policies regarding game drives with children – many lodges have a minimum age limit for young children on a game drive vehicle, and some lodges won't accept children under a certain age at all.

If you're travelling over the border to Botswana or South Africa after your trip to Namibia you must have unabridged birth certificates for your children.