Namib Desert safaris, tours & holiday packages
Accounting for around half of Namibia's surface area, the ancient Namib Desert is probably best known for harbouring the world's tallest dunefields at Sossusvlei
Namibia's dominant geographic feature is the Namib Desert, large tracts of which are protected in two immense national parks: Namib-Naukluft in the south and Skeleton Coast in the north.
The best-known feature of the Namib, a genuine must-see, is the Sossusvlei area, where several dry pans are enclosed by the world's tallest sand dunes, rippled apricot beauties that stand up to 300 metres high. The desert receives a paltry annual average rainfall of 15 millimetres, and some areas go years on end without receiving a drop. Yet it still supports a low volume of wildlife, with the handsome gemsbok being perhaps the most common large mammal, often seen walking nobly across the crests of the dunes.
Popular Namib Desert safaris
These popular itineraries can be customised to match your budget and travel dates
From the famous Sossusvlei, quaint Swakopmund, historical Damaraland and on towards Etosa National Park, this road trip through Namibia is an authentic and different take on a safari...
$ 1,518
£ 1,133
R 23,480
€ 1,362
per person
9 days
Philip Briggs says
"I love the immensity of the Namib. It is starkly beautiful by day, but utterly compelling after dark, when the awe-inspiring night skies are complemented by a nocturnal silence so total that it can be quite a shock when it is broken by the chatter of a barking gecko or whoop of a jackal."
More on Namib Desert holidays
The Namib is surprisingly varied in topography. There are wide-open stony plains, ancient tree-lined waterways that flow briefly a couple of times every decade, tall black mountains whose slopes support a scanty cover of shrubs and smaller succulents, and a forbiddingly rocky coast alleviated by sparkling lagoons renowned for their marine birdlife.
A worthwhile introduction to the stony desert is provided by Welwitschia Drive, a half-day motor trail that follows the Swakop River inland from Swakopmund past stark black dolerite outcrops and fields of mist-fed lichen. Here you are sure to see the remarkable Welwitschia mirabilis, an aberrant ground-hugging conifer that consists of just one stumpy, spongy stem and two very long serrated leaves that form windblown tangles reminiscent of stranded seaweed.
Namib Desert Map
Namib Desert's location on Google Maps

Frequently Asked Questions about Namib Desert
What vaccinations should I get?
This is all dependant on the countries that you will be visitng and due to the status of certain vaccinations changing at times, please consult our experts before getting vaccines. go there.
Is it okay to drink the water?
In some parts of Southern Africa it is safe to drink the tap water, however it is highly recommended to stick to bottled water (mostly supplied) during your trip as even drinkable African water is completely different in taste and… go there.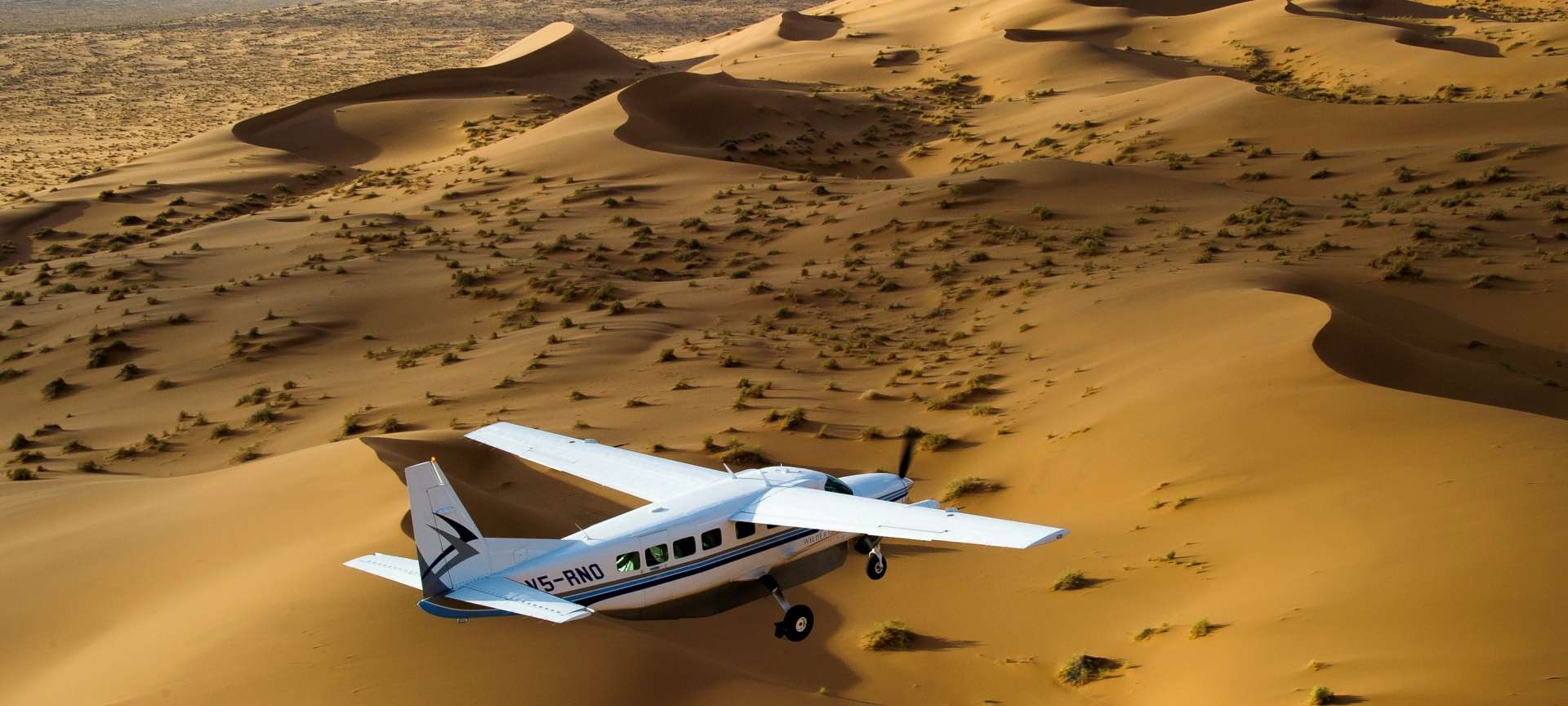 Reviews on our Namib Desert safaris
Since the beginning, agents and staff of Discover Africa already work in a professional way for me to plan the trip. Their quick responses to my questions help us a lot before departing from our place to the Africa continent. When we were…
YT
from Hong Kong
This was my first safari. I didn't expect to be so pampered. Everything was first class. We had everything provided for us before even asking. We had a dedicated team at our service. Megan was on call whenever we needed something and she…
Saada
from Nigeria
Tanya was an absolute delight to deal with. From the first phone call she was extremely polite, professional and very eager to facilitate my requests regarding our safari. Our 3 nights at the V & A Hotel were fabulous and Motswari Game…
Debbie
from Australia
Perfectly tailor-made tours that take all your wishes and requests into consideration. All my expectations were beyond fulfilled.
Henrik Wetterstrand
from Sweden
Living afar and trusting in an organisation with whom you have no previous knowledge can lead to feeling of mistrust and wondering whether what we have paid for actually exists. A little more proactive communication would have eased those…
Tony Russell
I just wanted to thank Discover Africa and Karl Svendsen - the safari was great - we saw many more animals than expected including cheetah, leopard, many lions and even a three-day old elephant calf. Additionally, we had our own hippo…
Margaret Dean