Cape Town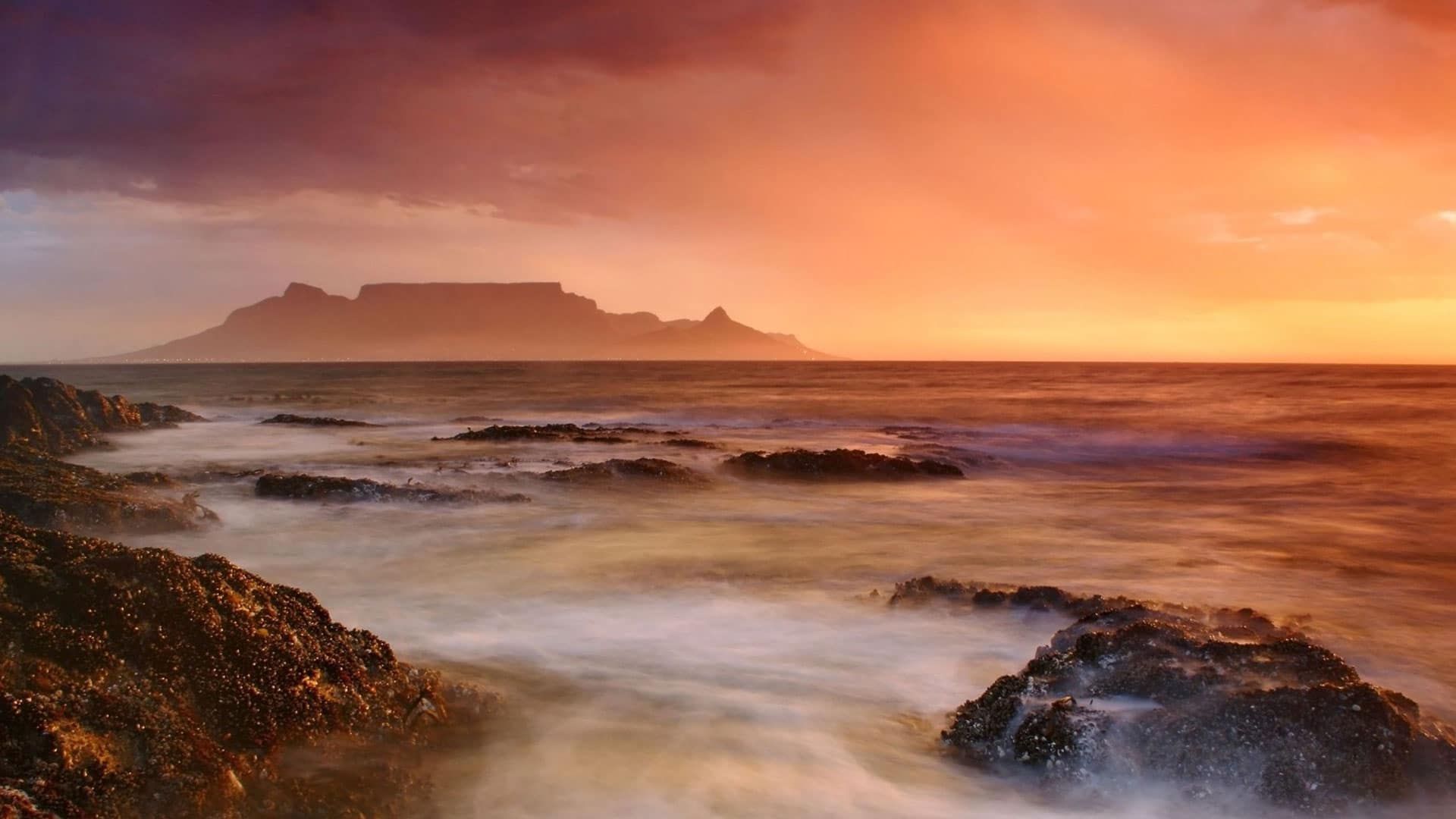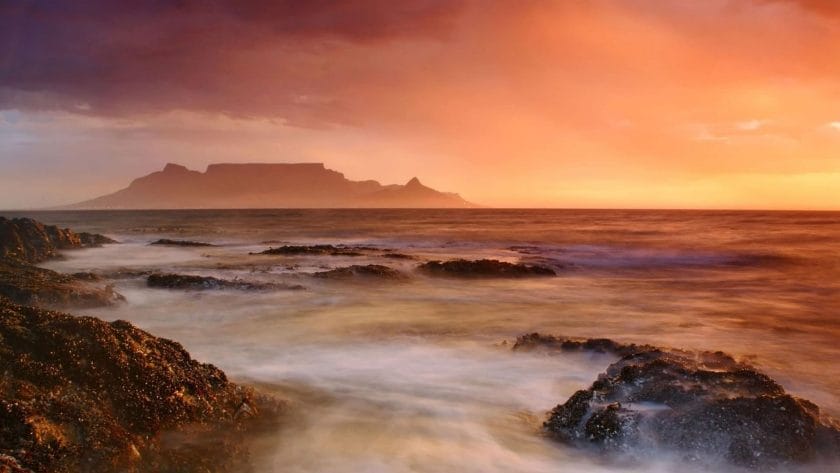 Table Mountain from Melkbos on the West Coast
Routinely lauded as to one of the world's most beautiful cities, Cape Town offers visitors a breathtaking portfolio of natural and cultural attractions. The City Bowl is enclosed by the lofty heights of Table Mountain to the south, the dramatic outcrops known as Lion's Head and Signal Hill to the west, and the choppy waters of the Atlantic to the north. It is endowed with some fine colonial architecture, more than a dozen worthwhile museums reflecting every facet of its complex multicultural history, and the culinary and retail delights of the Victoria & Alfred Waterfront. Cape Town also provides an excellent base for day trips to sites as diverse as Table Mountain, the Alcatraz-like confines of Robben Island (where Nelson Mandela was incarcerated for 18 years), the peaceful Kirstenbosch Botanical Gardens, the historic wine estates of the Constantia Valley, and the wave-battered cliffs of Cape Point.
Highlights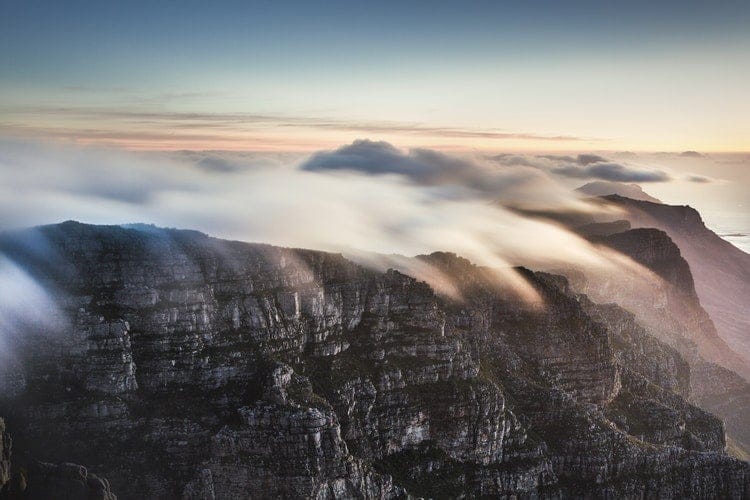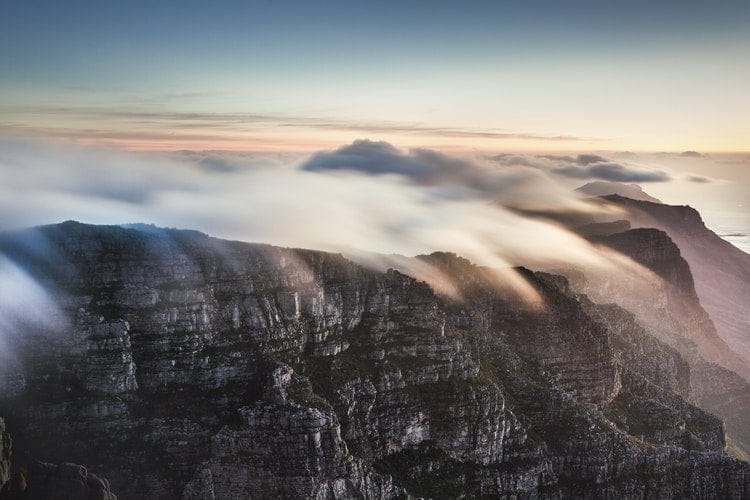 Table Mountain as the 'tablecloth' descends
Rising to an altitude of 1,086 m, iconic Table Mountain sometimes basked in golden sunlight, other times swathed in a misty shroud known as the tablecloth, dominates the city's southern skyline. The 'table top', most easily reached by cable car, offers stunning views to reveal the geological drama of the Cape Peninsula.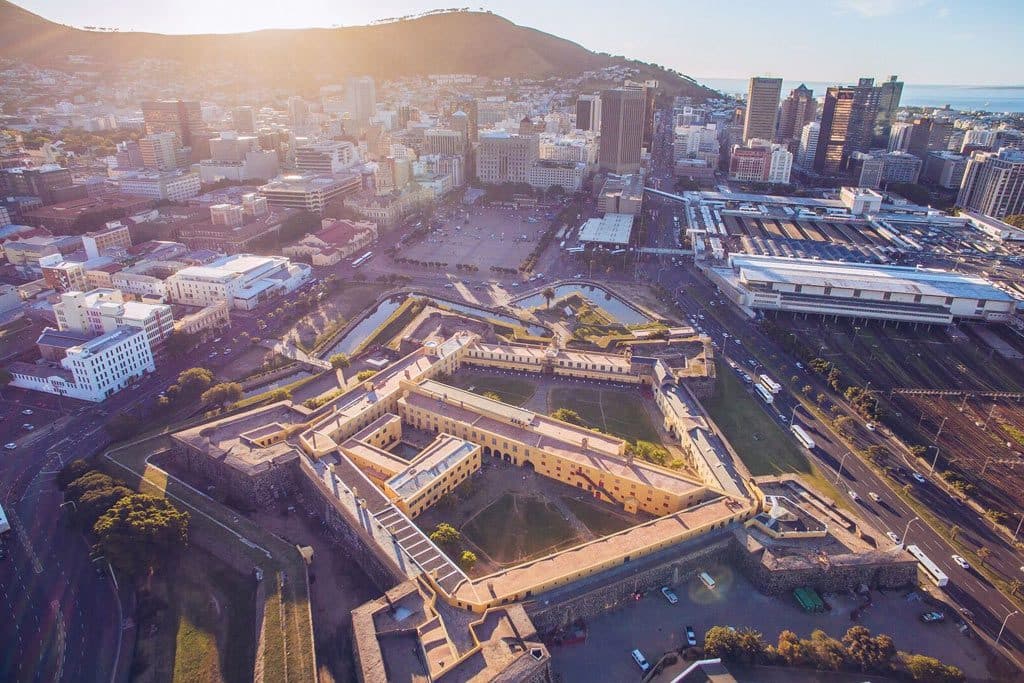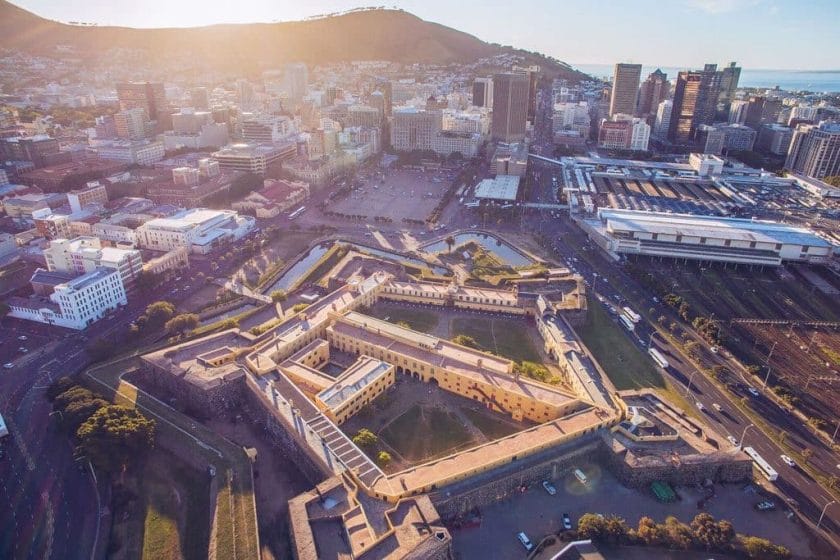 Castle of Good Hope | Credit: Craig Howes
South Africa's oldest working building, the pentagonal Castle of Good Hope was constructed over 1666-79 and served as the seat of the Dutch colonial government for more than a century. It now houses a military museum and art gallery.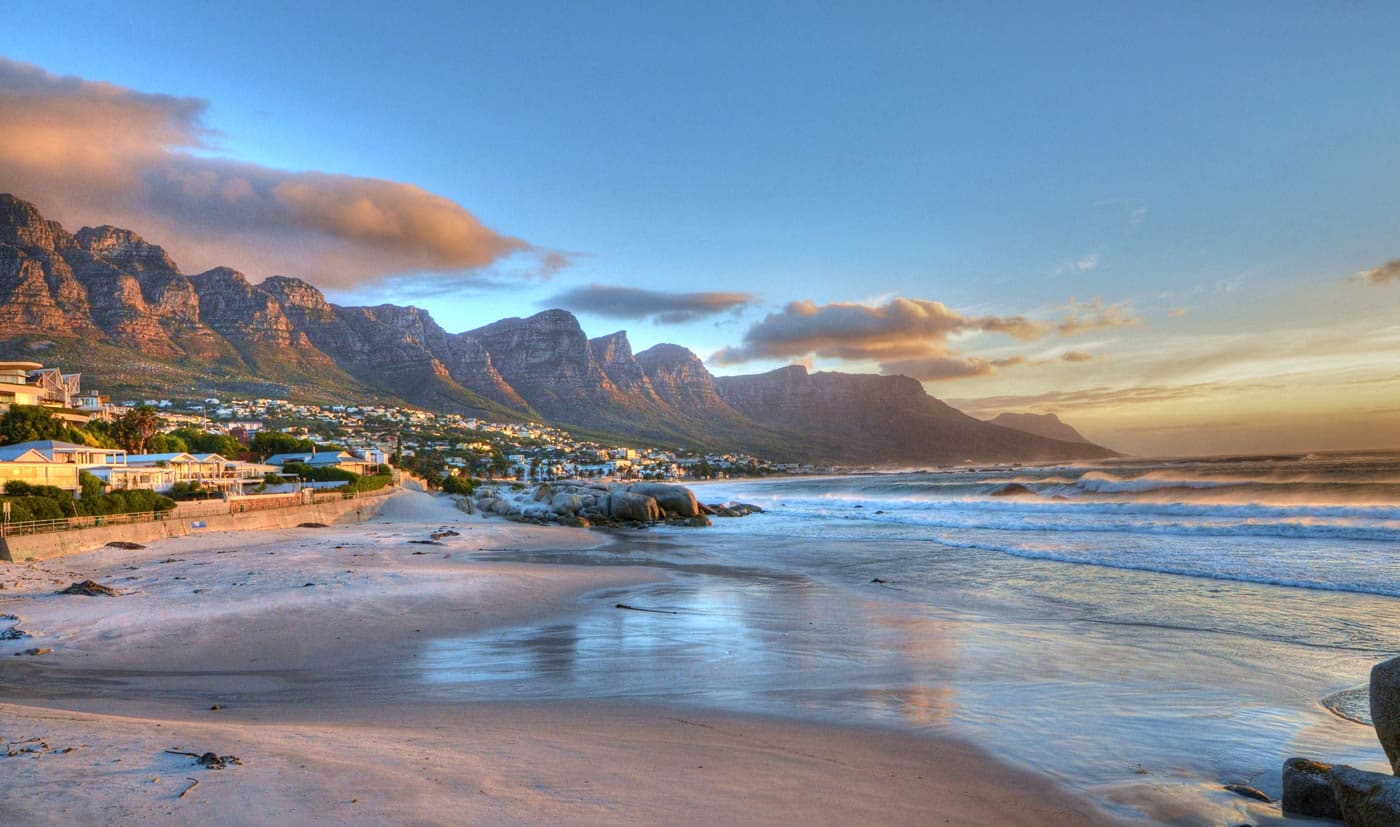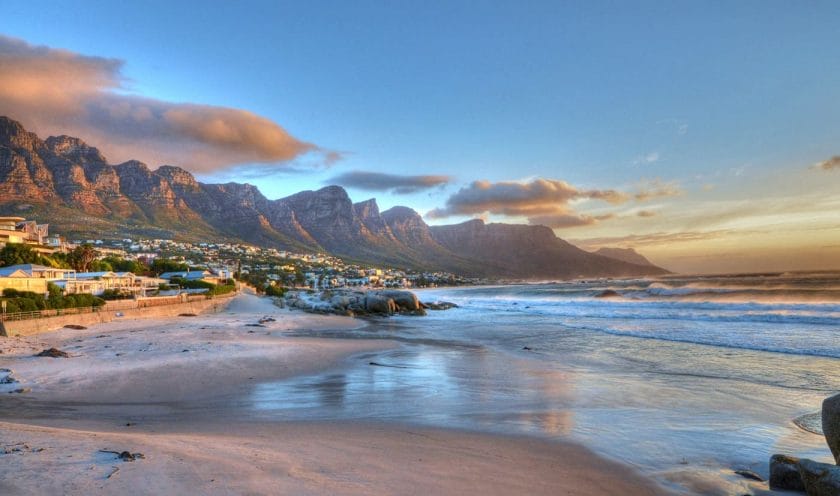 Camps Bay Beach
Of the countless beaches in and around Cape Town, first choice among fashionistas is Camps Bay, set below the spectacular Twelve Apostles formation, while families tend to head to suburban Muizenberg. For a scenic beach walk, nowhere is Table Mountain seen to better advantage than from the aptly-named Bloubergstrand (Blue Mountain Beach) north of the city centre.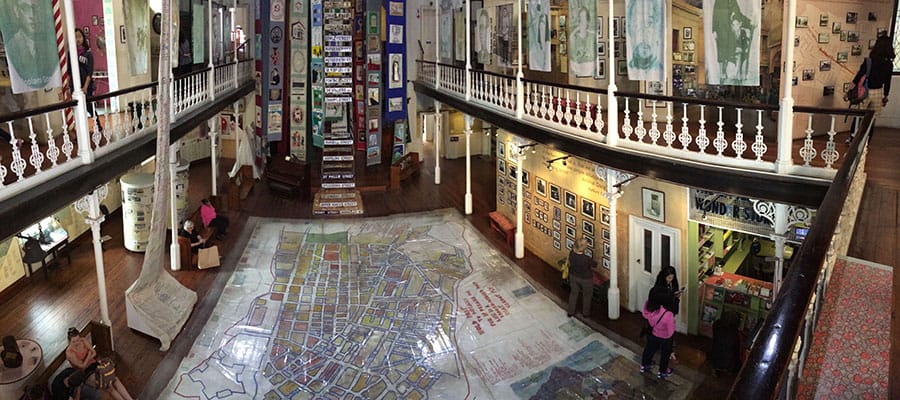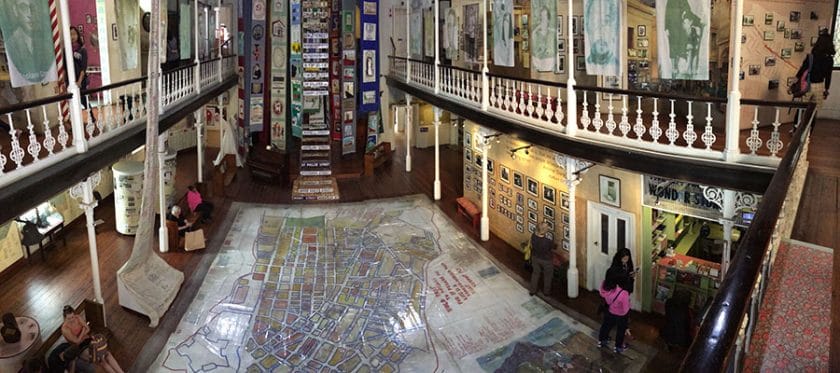 District Six Museum in Cape Town
The award-winning District Six Museum is arguably the city's most engaging and poignant installation. Taped recollections, possessions and photographs donated by former residents evoke everyday life as it was in the cosmopolitan multiracial suburb of District Six prior to it being bulldozed by the apartheid government in 1966 and rezoned as a whites-only area.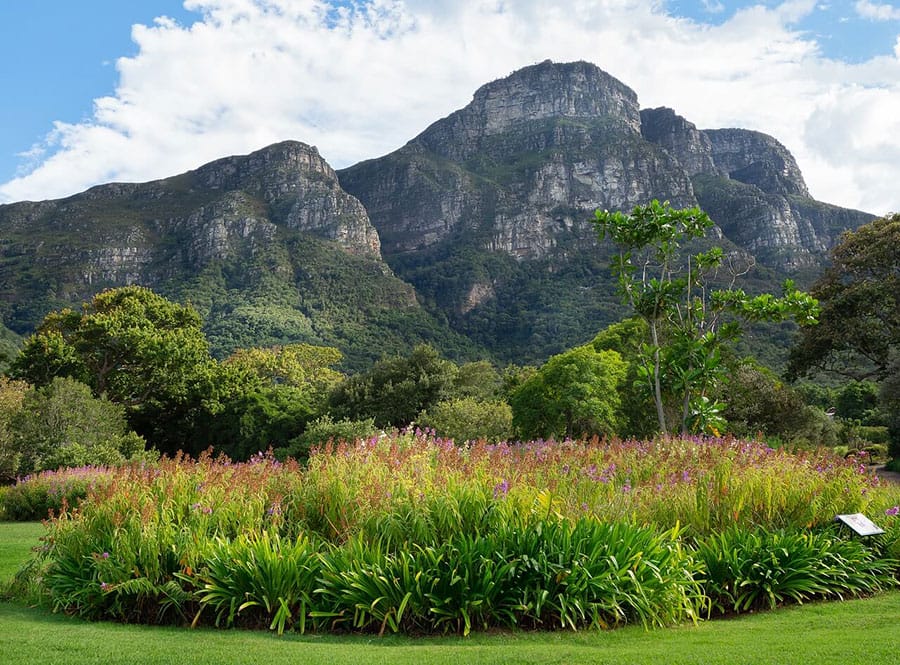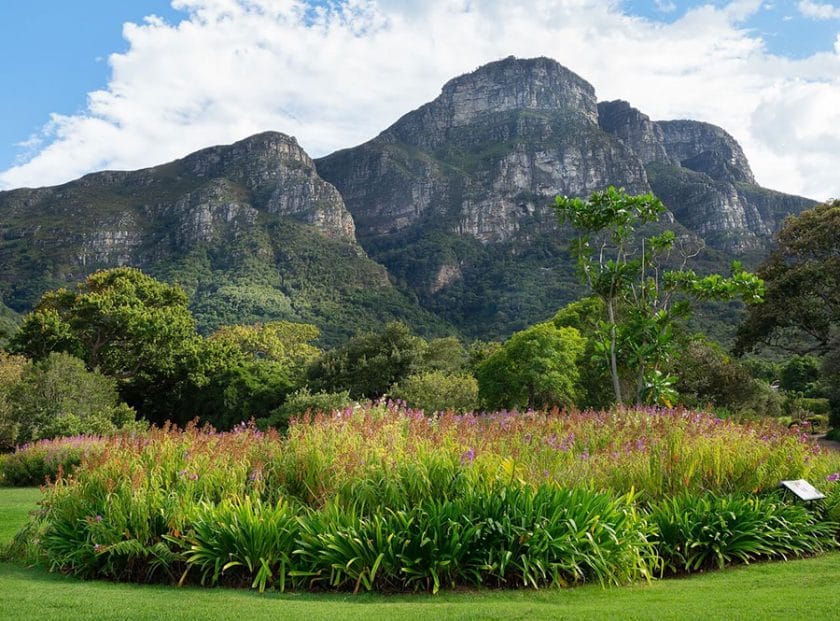 Kirstenbosch Botanical Gardens
Set on the eastern slopes of Table Mountain, the 528-hectare Kirstenbosch National Botanical Garden is serviced by a network of well-marked trails passing through thematic beds of indigenous flora – most notably a lush cycad garden, but also a fascinating collection of 'useful plants', and a conservatory containing succulent species typical of the arid Kalahari and Namaqualand.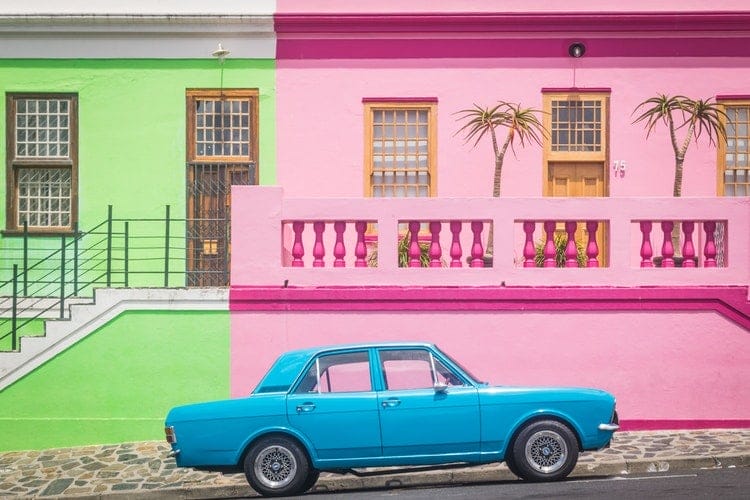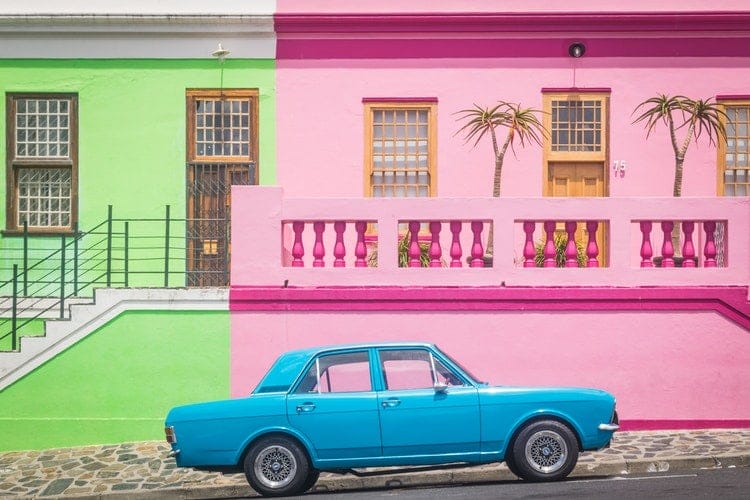 The colourful neighbourhood of the Bo-Kaap
The Bo-Kaap (Upper Cape) is the spiritual home of the Cape Malay community, whose colourfully painted houses include the Bo-Kaap Museum, a beautifully restored 1760s homestead that explores the history of this fascinating suburb.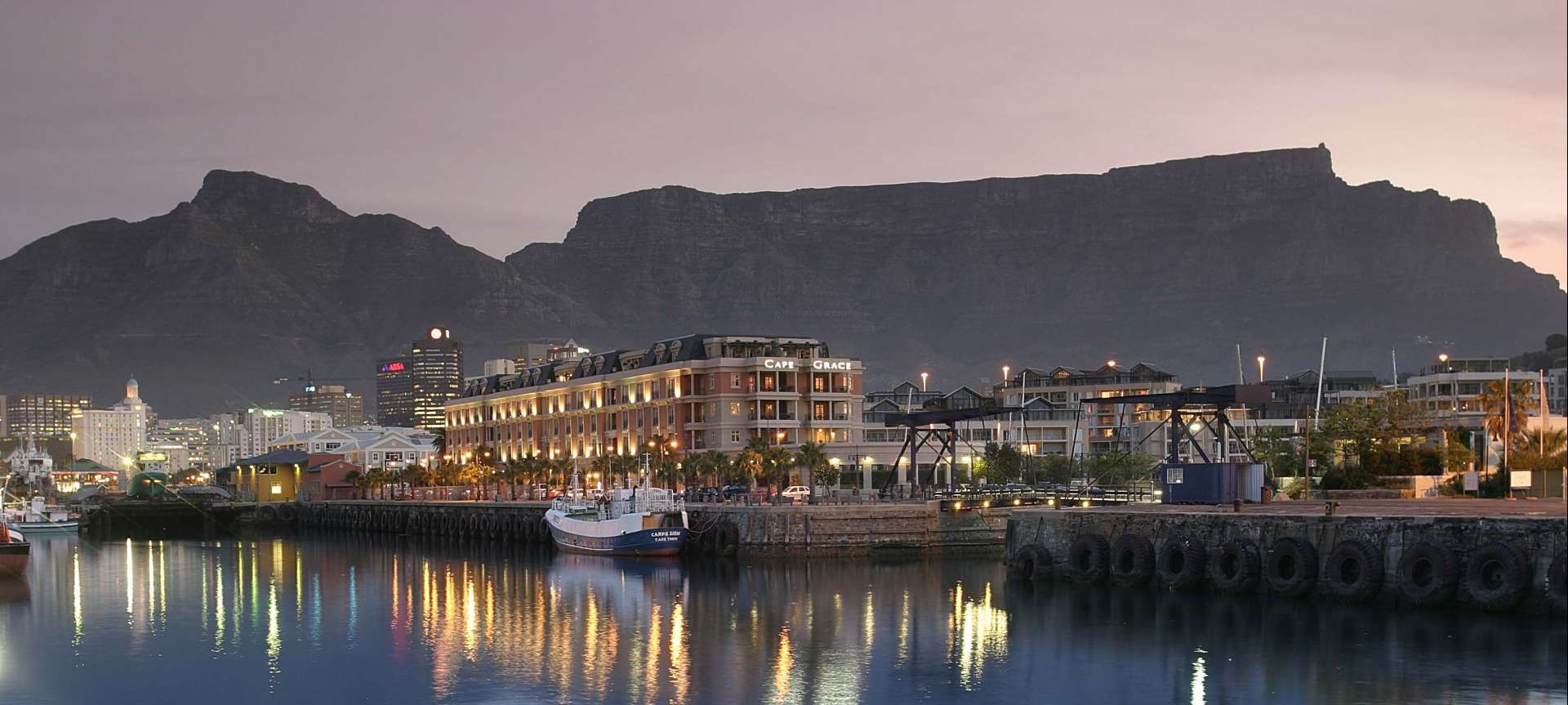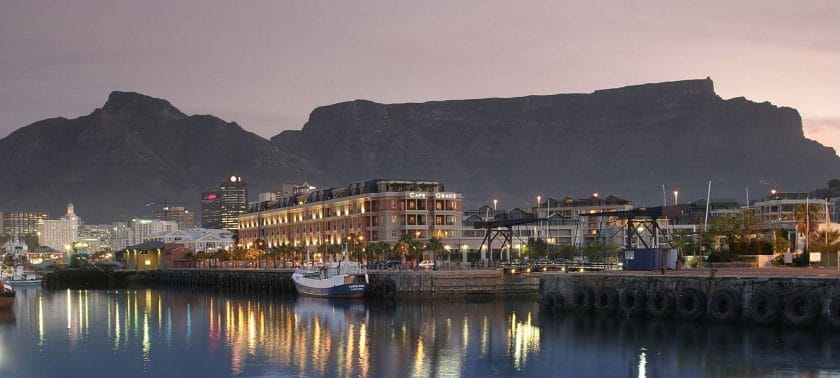 The Victoria and Alfred Waterfront
Reputedly the most-visited tourist attraction in South Africa, Victoria & Alfred Waterfront is a vast harbour-front development comprising 50-plus restaurants, hundreds of shops, and boats offering sunset cruises around Table Bay, where dolphins and seals frolic below the outline of Table Mountain.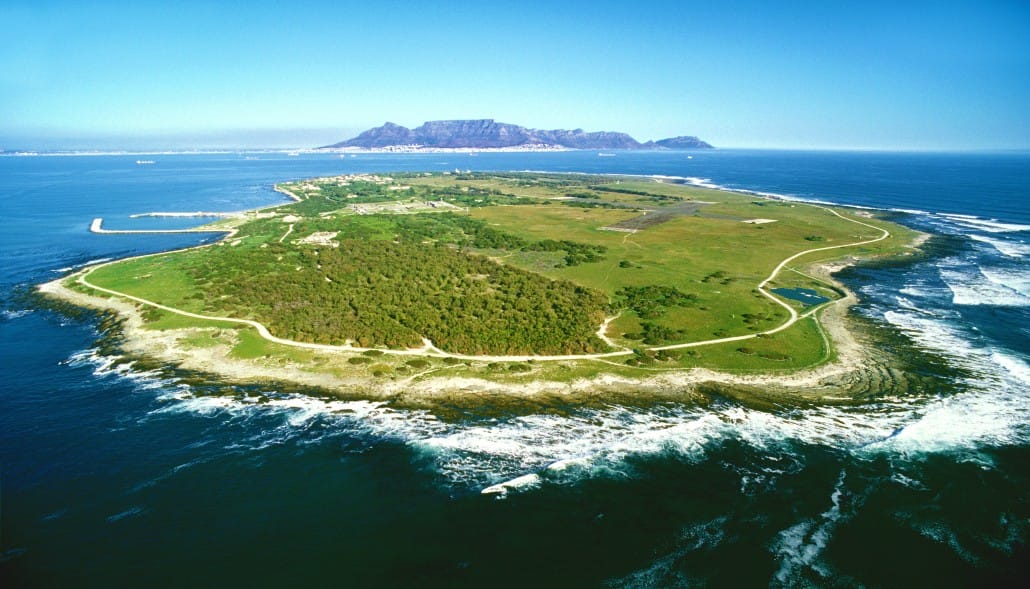 Robben Island | Credit: South African History
Now a UNESCO World Heritage Site, Robben Island gained infamy as a site of the maximum-security block where Nelson Mandela and other prominent anti-apartheid leaders were detained in the height of the struggle. It can be visited on a boat-and-bus excursion that leaves from Victoria & Alfred Waterfront several times daily and includes a visit to the tiny cell Mandela was required to call home for 18 years.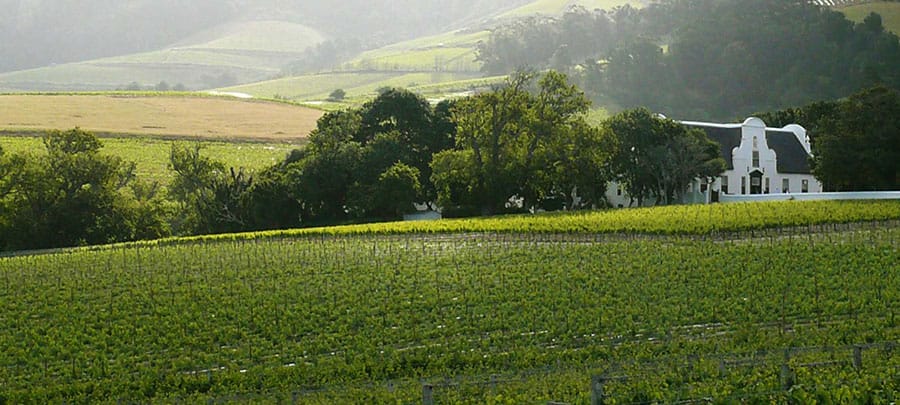 Groot Constantia lies on the slopes of Table Mountain
The birthplace of Cape wine, the Constantia Valley houses some of the country's most historic and beautiful estates, among them Groot Constantia, centred on an original 1680s homestead now preserved as a museum.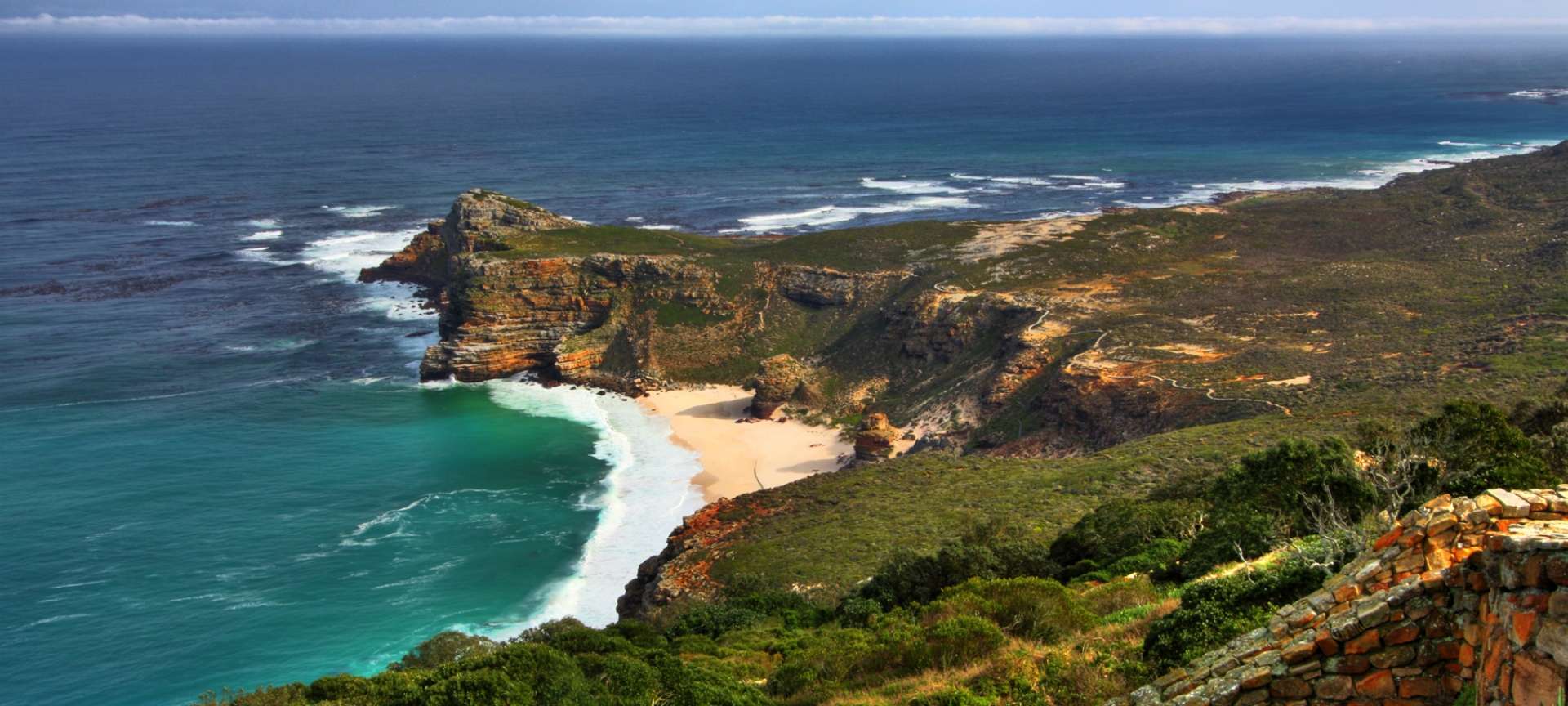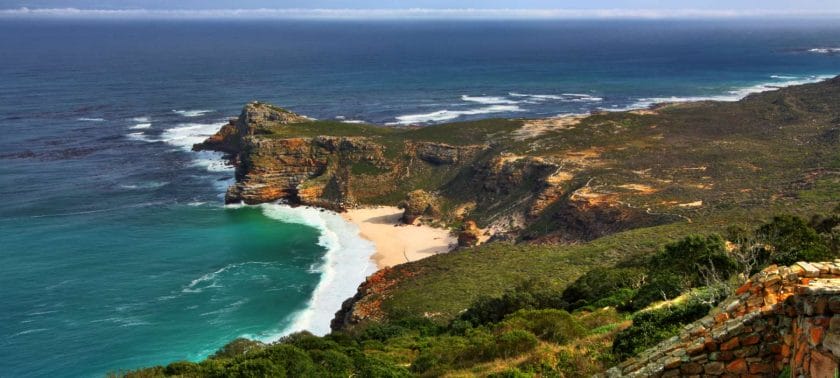 Cape Point is a great day-trip excursion
Now part of Table Mountain National Park, the 77 km2 Cape of Good Hope protects the most southerly section of the Cape Peninsula. The main focus is Cape Point Lighthouse, which stands atop a precipitous windswept cliff that rises 250 m from the rocky beach below. It's also good for fynbos endemics such as the Cape sugarbird and Orange-bellied sunbird, while mammals include Cape fur seals and half-a-dozen antelope species, notably eland and bontebok.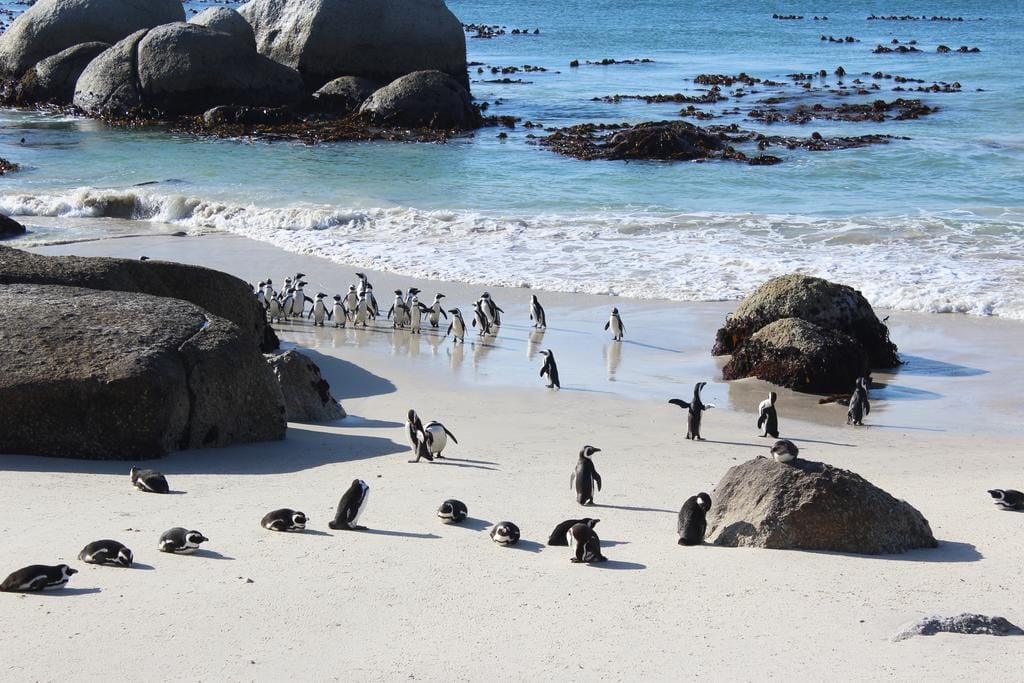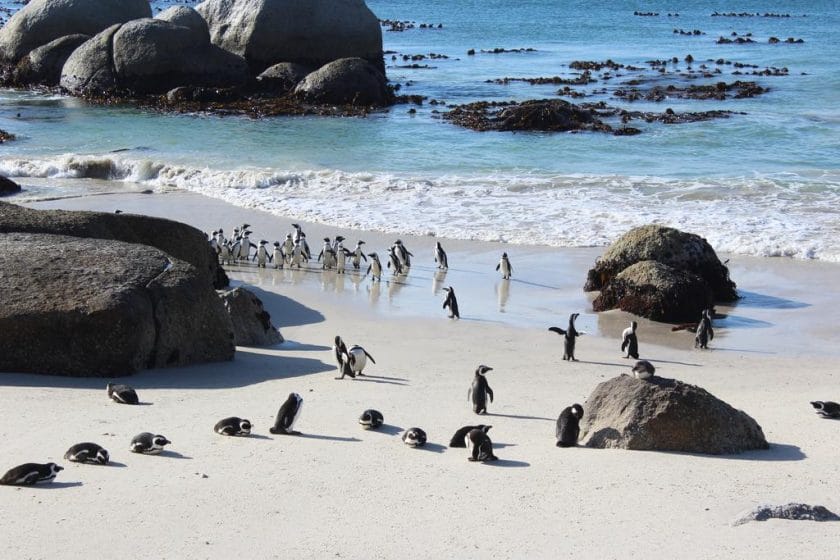 Jackass penguins at Boulders Beach
Just five minutes drive south of Simon's Town, Boulders Beach supports a permanent breeding colony of several thousand penguins, which can be observed strutting, surfing, squabbling and sunbathing from a network of boardwalks and viewing platforms.
Travel Tips
Cape Town has all the amenities you'd expect of the country's leading urban tourist destination. A world class dining scene and selection of cosmopolitan shops is complemented by a array of overnight options, ranging from five-start city and boutique hotels to backpacker hostels and B&Bs.
Cape Town is served by an ever increasing number of international flights, as well as by several dozen daily flights from Johannesburg, and domestic flights to all other major centres in South Africa. All flights land at Cape Town International Airport, which lies 20km east of the city centre, and is connected to it by the N2 highway.
The city lends itself to casual exploration using public transport such as the MyCiti bus service. The popular Cape Town Explorer is also an option as a hop-on-hop-off bus service that connects the Victoria & Alfred Waterfront to all the major museums as well as the Table Mountain Cableway, Camps Bay, Sea Point and Kirstenbosch Botanical Garden. Also worth considering is the Metrorail train service, which connects the central railway station on Adderley Street to Simon's Town via the Southern Suburbs and Muizenberg. Self-drive, picking up a rental car at the airport, is also a viable option.