Stellenbosch and the Winelands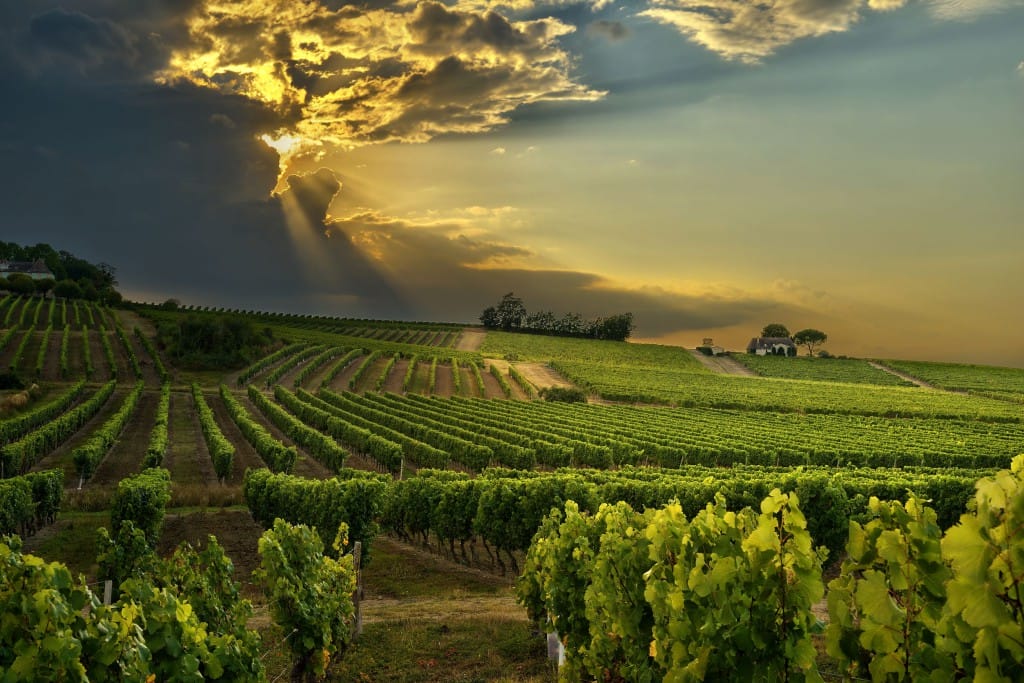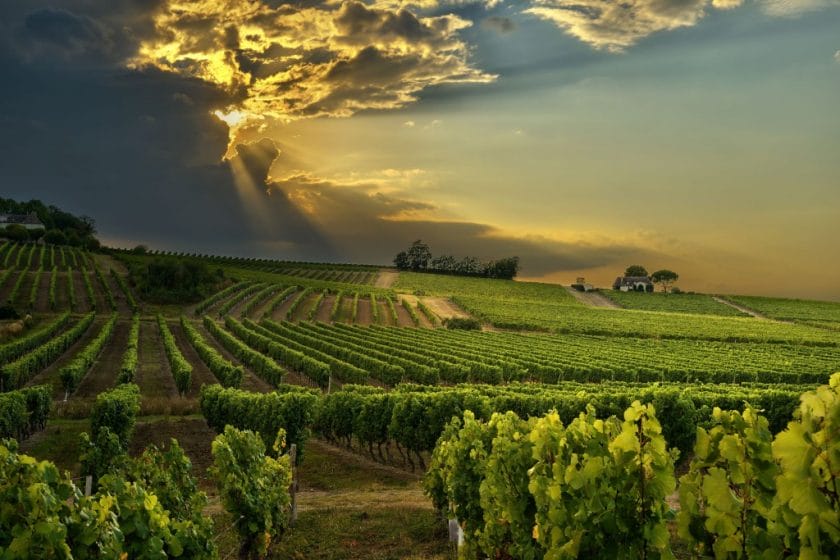 The beautiful landscape of the Stellenbosch wine valley
The scenic Boland (literally 'Upland') immediately inland of Cape Town enjoys twin claims to fame. Not only is it home to some of South Africa's oldest and most vivid towns (most notably Stellenbosch and Franschhoek), but it also forms the hub of the Cape's burgeoning wine industry. Characterized by lush vine-planted valleys set below spectacular mountain ranges such as the Simonsberg, Groot Drakenstein and Helderberg, these beautiful areas are collectively referred to as the Cape Winelands, and few visitors pass up the opportunity to enjoy a 'wine tour' through some of its more famous estates, most of which offer free or inexpensive tasting facilities. Stellenbosch and some of the older wine estates also house some handsome examples of Cape Dutch architecture, a uniquely South African style typified by whitewashed thatched buildings with a rounded and ornately bordered gable set above the main door, and two flanking perpendicular wings.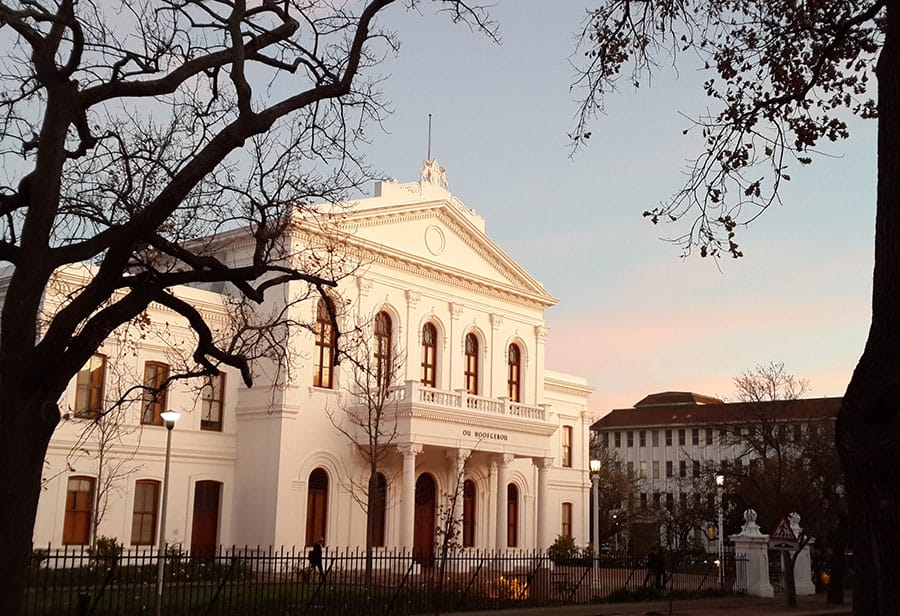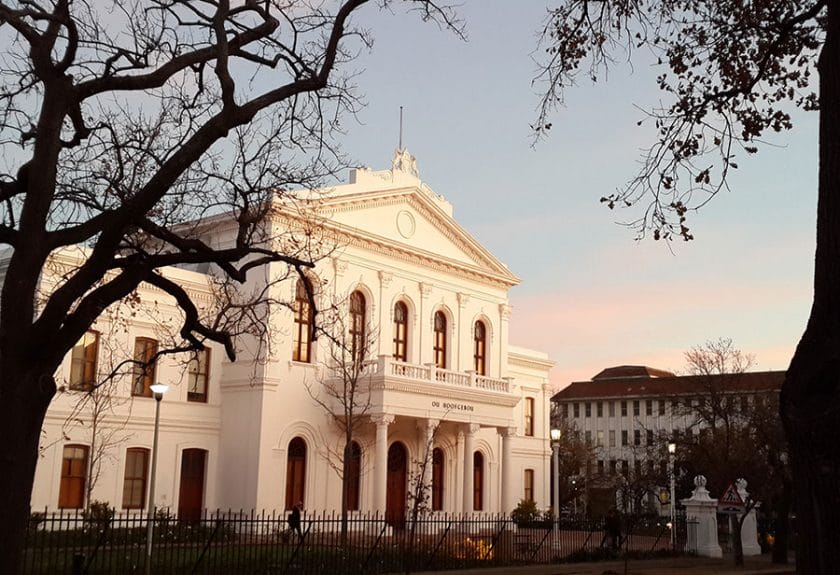 Impressive Cape Dutch buildings can be found all over Stellenbosch |Credit: Johan Fourie
Established in 1679, South Africa's second-oldest town Stellenbosch is named after its founder Simon van der Stel. Nicknamed Eikestad (Town of Oaks), it retains a pleasingly time-warped Cape Dutch character whilst also hosting a lively selection of contemporary restaurants, cafés and shops. The Stellenbosch Village Museum comprises four restored houses – the oldest being the Schreuderhuis, one of the few buildings to survive the great fire of 1710 – representing different phases in the town's development.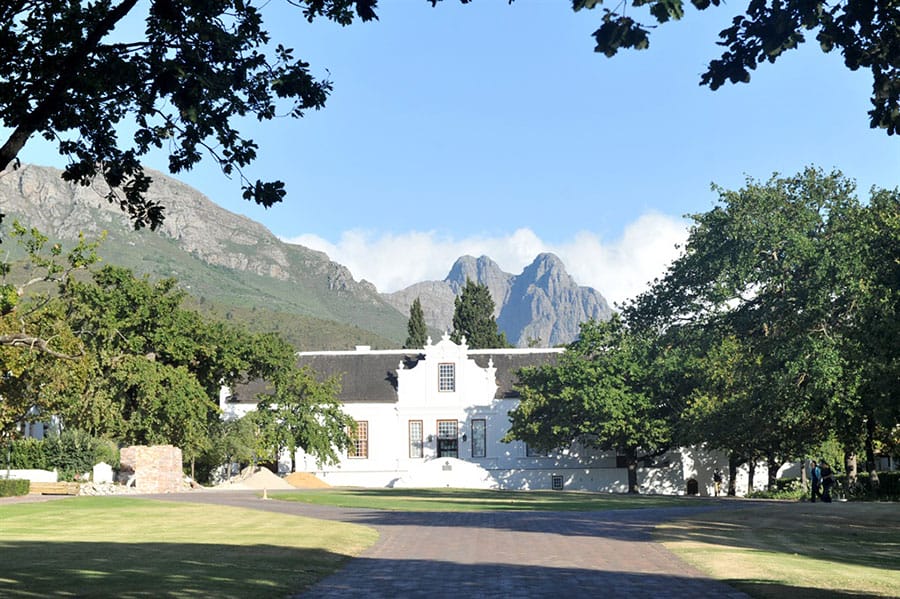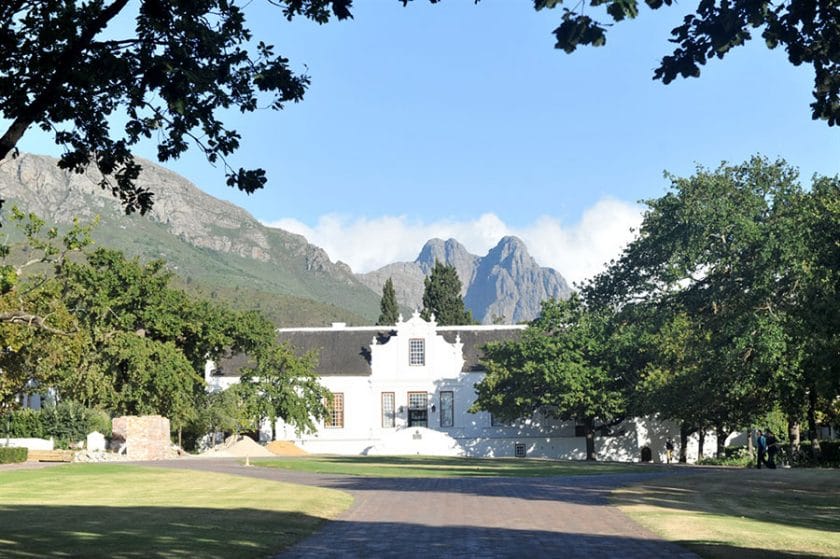 Lanzerac wine estate
Founded on the outskirts of Stellenbosch in 1692, the scenic Lanzerac Estate is known for its stately Cape Dutch architecture and for producing the world's first commercial Pinotage (a red cultivar unique to South Africa) in 1959, and it includes a five-star restaurant and hotel.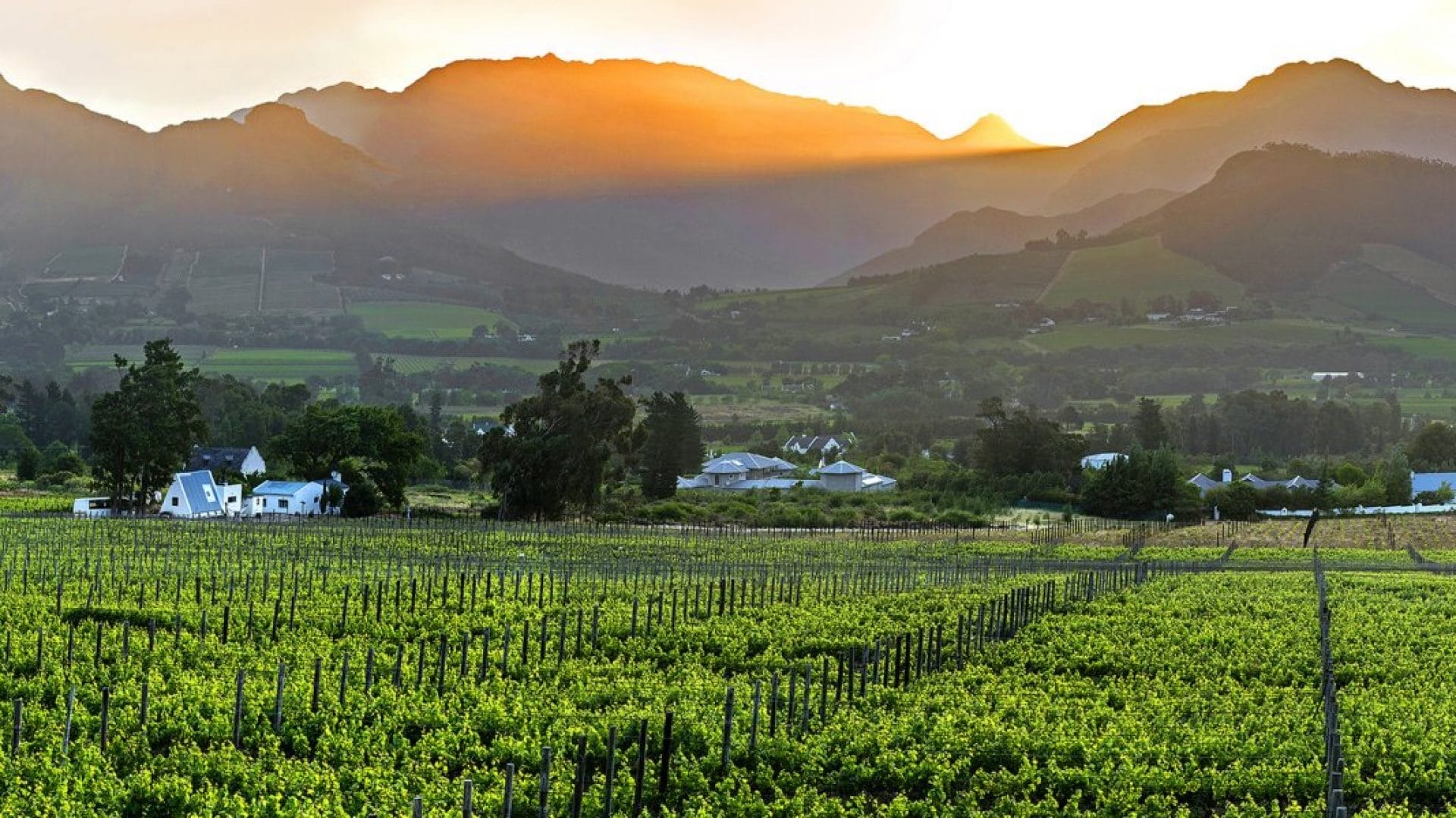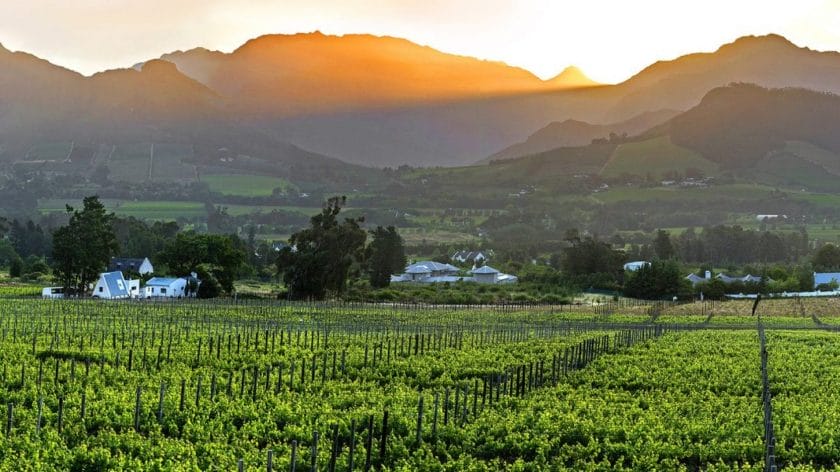 The best way to enjoy Franschhoek is a delicious meal at one of the many award-winning eateries | Credit: Petit Plaisir
Named for the many Huguenot refugees who settled there in the late 1680s, pretty little Franschhoek ('French Corner') hosts a few historic buildings, notably a pastoral Cape Dutch church built in in 1848. Its French roots are reflected in the handsome arched Huguenot Monument built on its outskirts in the 1840s, and the adjacent Huguenot Memorial Museum. The village is a culinary Mecca, hosting several of the country's finest restaurants.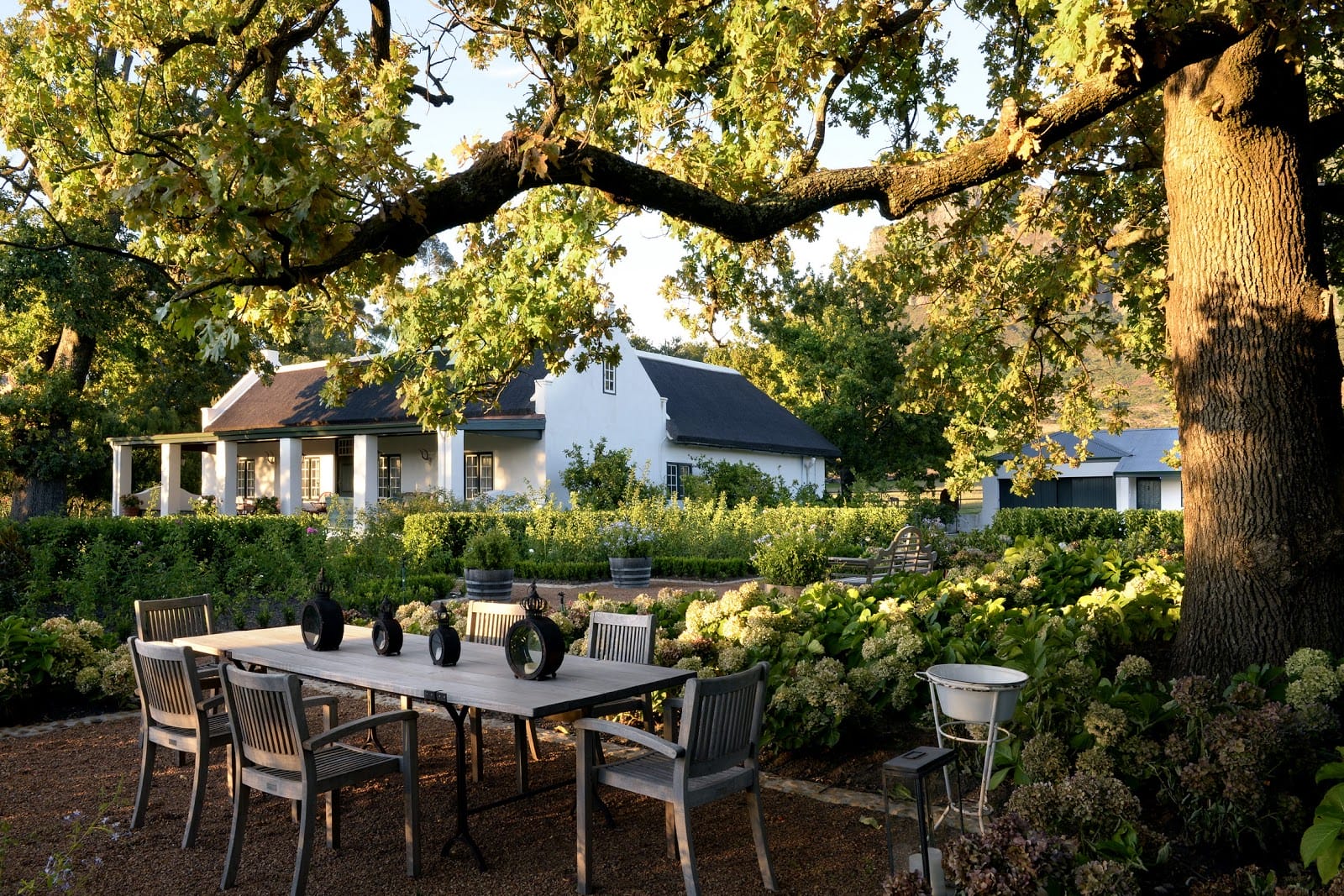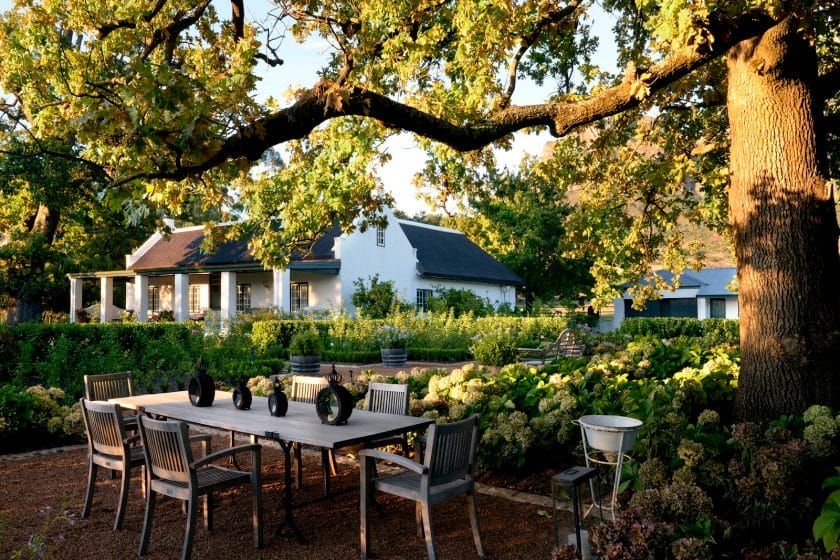 Nestled among ancient oak trees, Boschendal has a unique history
Set in a verdant valley flanked by the Groot Drakenstein and Simonsberg Mountains midway between Stellenbosch and Franschhoek, the perennially popular Boschendal Estate was first planted with vines in 1685, and is notable both for its superb Cape Dutch architecture and Mediterranean-style picnics served on the oak-shaded lawn.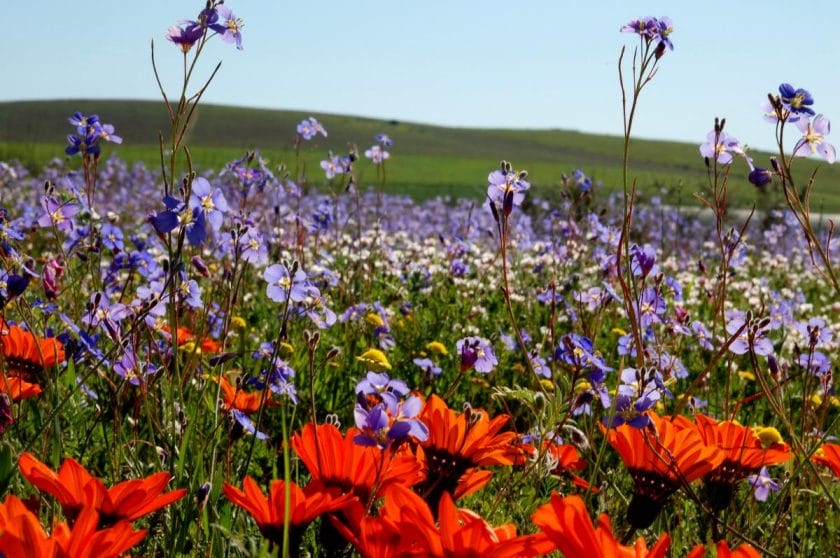 Spring blooms of vibrant colours in the quaint West Coast town of Darling | Credit: Darling Tourism
Regularly known for its spring wildflowers and sleepy museum, the quaint town of Darling not only has its own wine route but is home to the cabaret venue and supper club Evita se Perron (named after Evita Bezuidenhout, a politicized South African equivalent to Dame Edna Everage created by the cross-dressing satirist Pieter-Dirk Uys).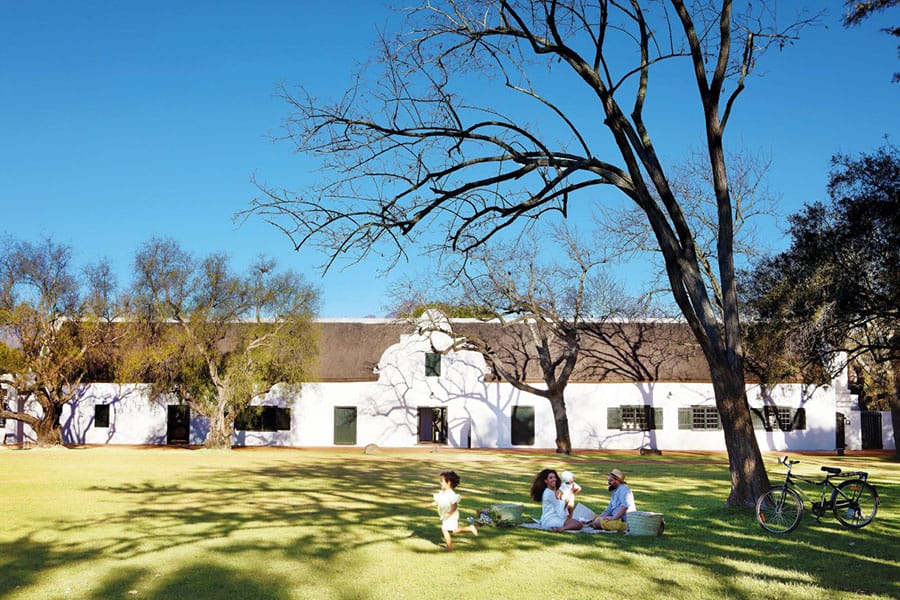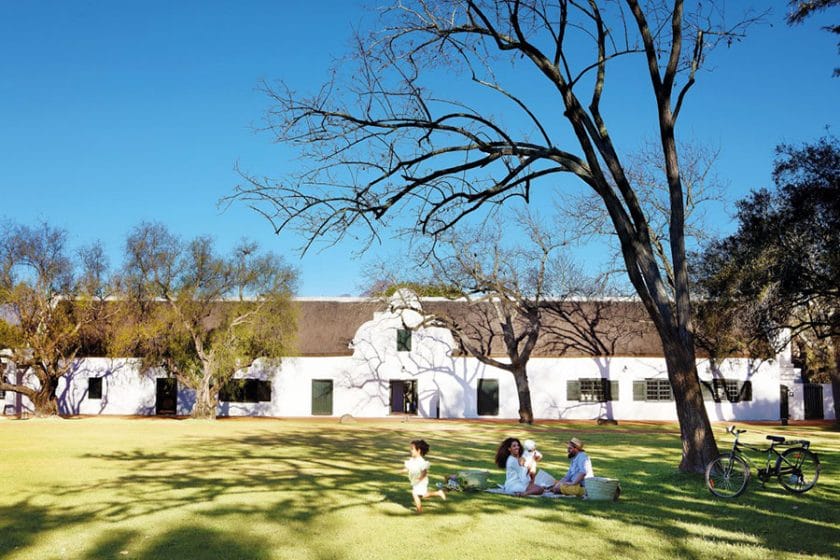 Picnicking on the lawns of Spier Wine Estate is a popular weekend activity
The family-friendly Spier Estate might lack the ambience of its older counterparts, but an excellent range of activities and amenities include a swimming pool, spa, playground, cheetah outreach programme, raptor centre, horseback excursions and two onsite restaurants. Thus making it an excellent family-friendly venue.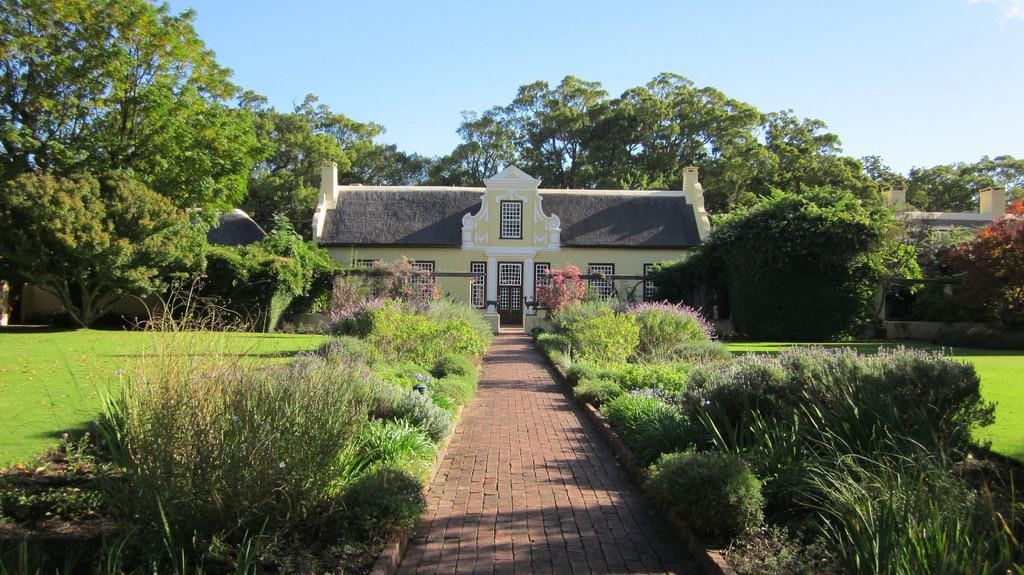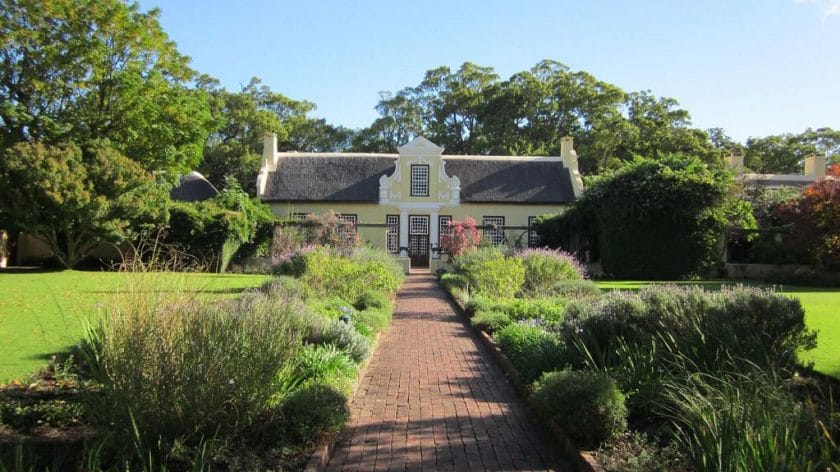 Vergelegen offers a wonderful wine tasting experience | Credit: Cape town Travel
Founded in 1685 on the slopes of the Helderberg, Vergelegen (roughly translated as 'far away') is arguably the loveliest estate anywhere in the Winelands thanks to its gracious manor house, octagonal garden and row of gnarled camphor trees planted circa 1700. The restaurant and award-winning wines are also exceptional.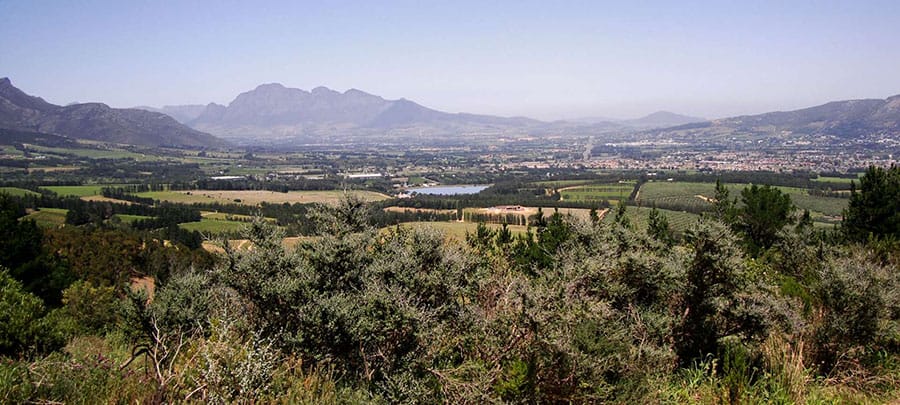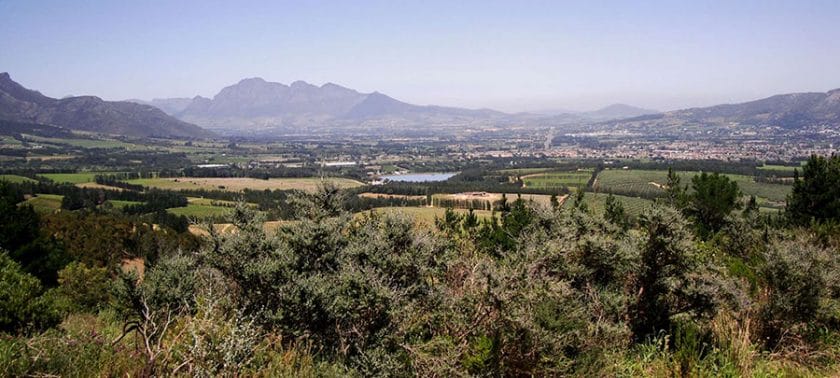 As the third-oldest town in South Africa, Paarl and its famous wine valley brim with ancient folklore and terrific wines
The Winelands' largest town, Paarl is redeemed from mundanity by the pearl-smooth granite dome of the adjacent Paarl ('Pearl') Mountain, reached on a footpath through the protea-rich slopes of the nature reserve bordering the town centre. The Taal Monument, built in 1975 to commemorate the centenary of Afrikaans' recognition as an official language, lies on its lower slopes.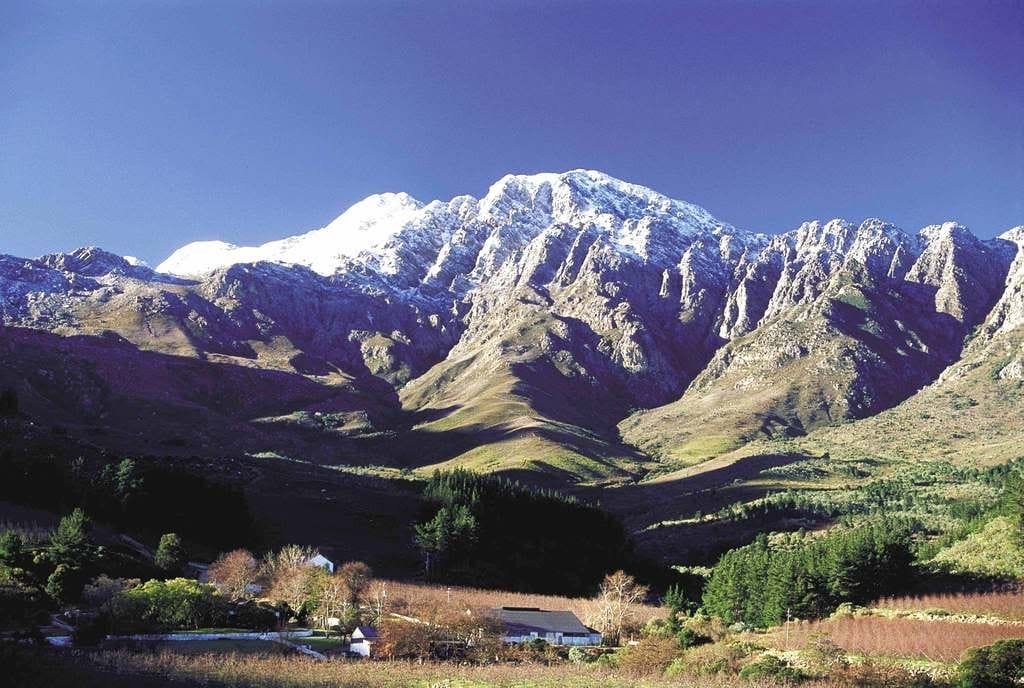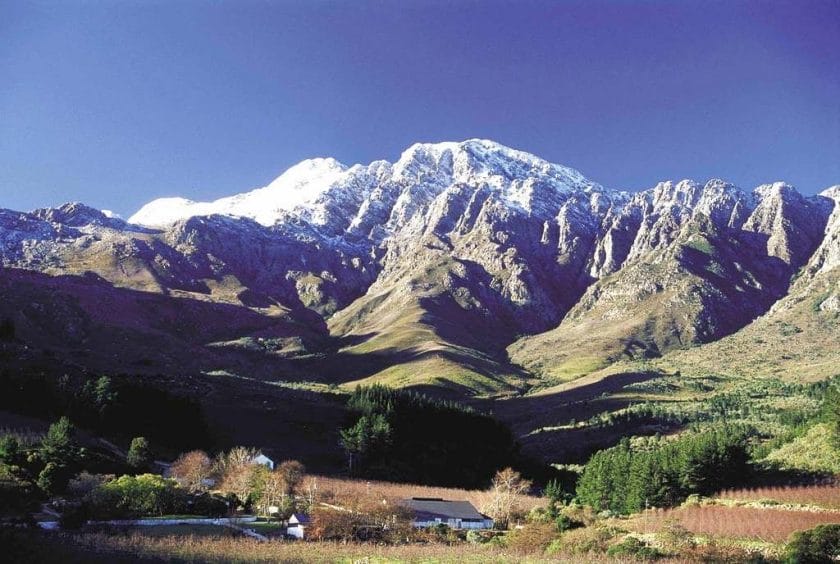 Tulbagh experiences snow on the surrounding mountains in winter
A recommended diversion for devotees of Cape Dutch architecture is modest Tulbagh, whose Church Street has been restored in traditional style following a devastating earthquake in 1970.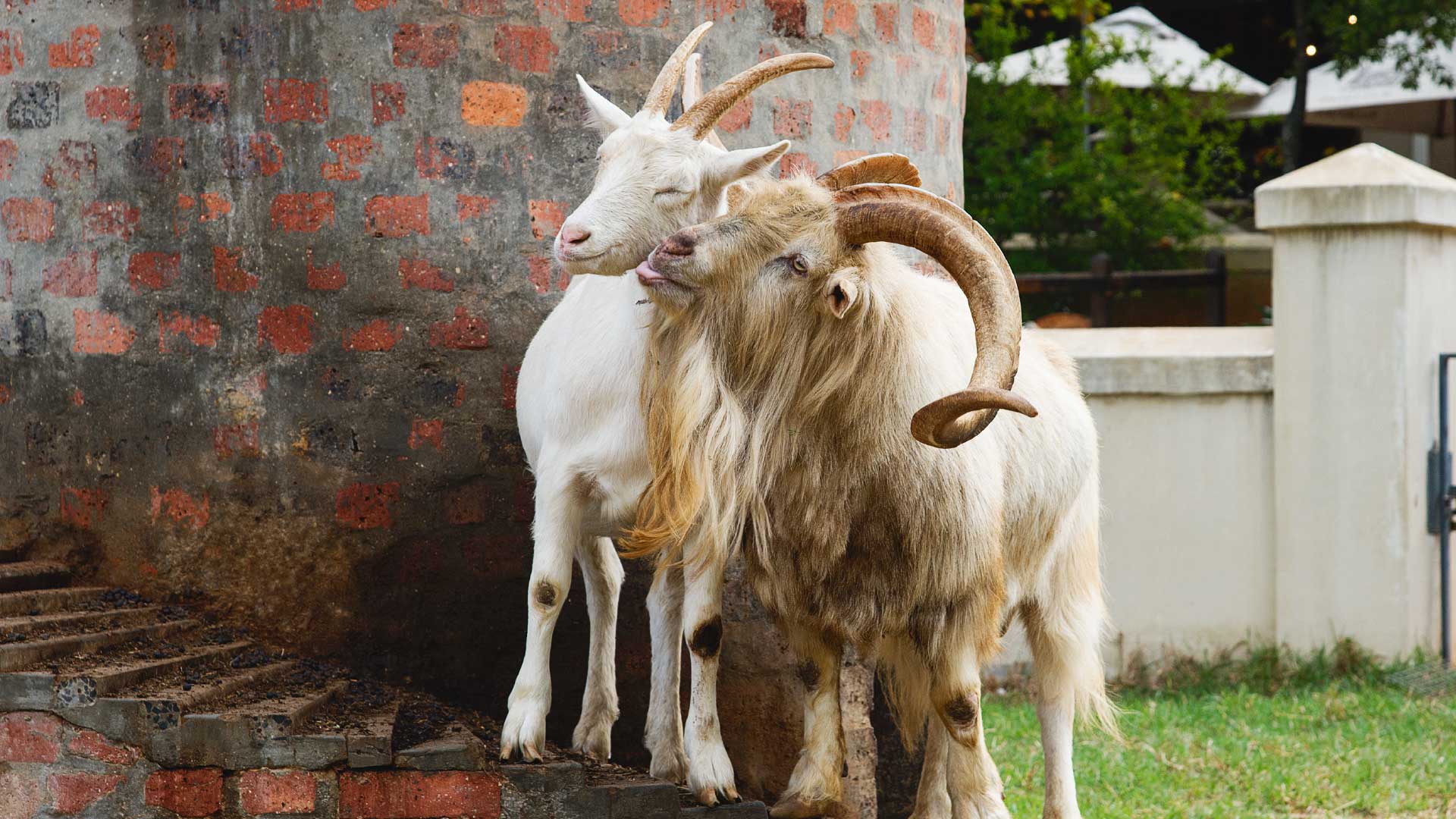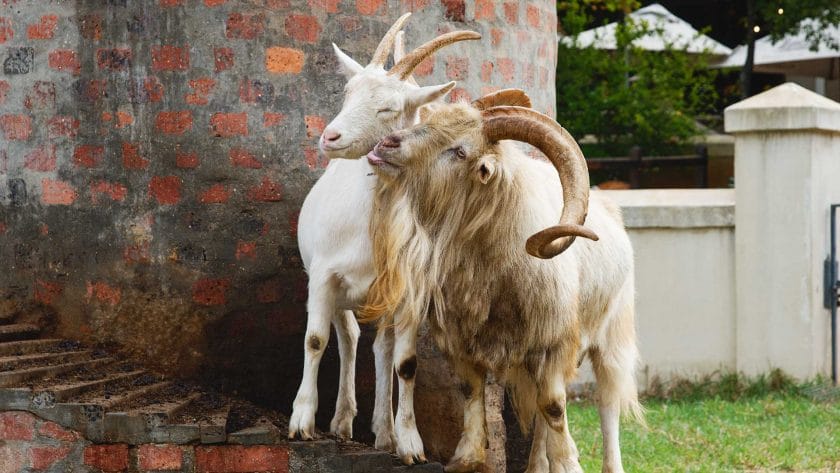 Fairview's goat tower is a huge hit with the kids
Ideal for those travelling with children, unpretentious Fairview Estate combines a laidback farmyard atmosphere with a superb deli serving a fabulous range of handcrafted cheeses and homegrown wines.
Travel Tips
Stellenbosch lies a mere 50 km inland of Cape Town and 35 km from Cape Town International Airport, which is served by a number of international flights, as well as by several dozen daily flights from Johannesburg, and domestic flights to all other major centres in South Africa.

The winelands can easily be visited as a day trip out of Cape Town. For those who prefer an overnight stay, the region is also well-endowed with hotels, B&Bs and backpacker hostels, most of which offer a more countrified feel than their coastal and city counterparts around Cape Town.

Although self-drive is a straightforward option, the best way to sample a few of the region's wine estate is on an organized day excursion out of Cape Town, Stellenbosch or Franschhoek. These usually take in around five different estates and is recommended because the self-drive wine-tasting option is in contravention of both commonsense and the law.

Opening hours vary, but you can safely assume that any name estate will be open for tasting over 09.00-16.00 Mon-Fri, and most also open on Saturdays and even Sundays.