Botswana is a birdwatcher's dream destination, and its astounding array of bird life inhabits varied ecosystems, from savannas and wetlands to woodlands and deserts. From raptors and waterbirds to colorful songbirds, this beautiful country has them all.
Whether you're on a safari, river cruise, or bush walk, you're bound to be rewarded with ample sightings of diverse avian species, so keep your camera handy. In this article, we'll take a closer look at 10 birds you're likely to spot on a safari in Botswana.
1. African Fish Eagle
Known as a symbol of the wild, this iconic eagle can be found near large bodies of water, including rivers, lakes, and coastal estuaries, where it hunts for fish. With its striking white head and tail, it cuts a majestic figure, and its distinctive and melodious call has earned it the moniker of the "Voice of Africa".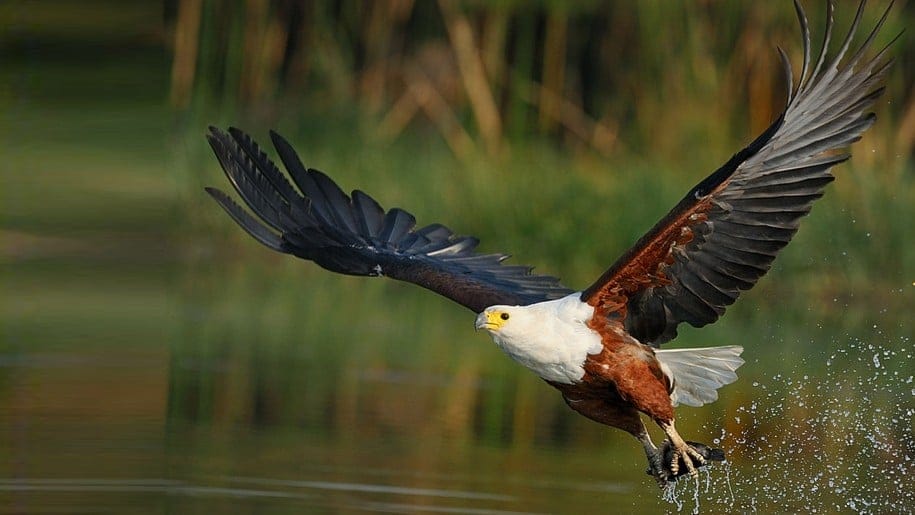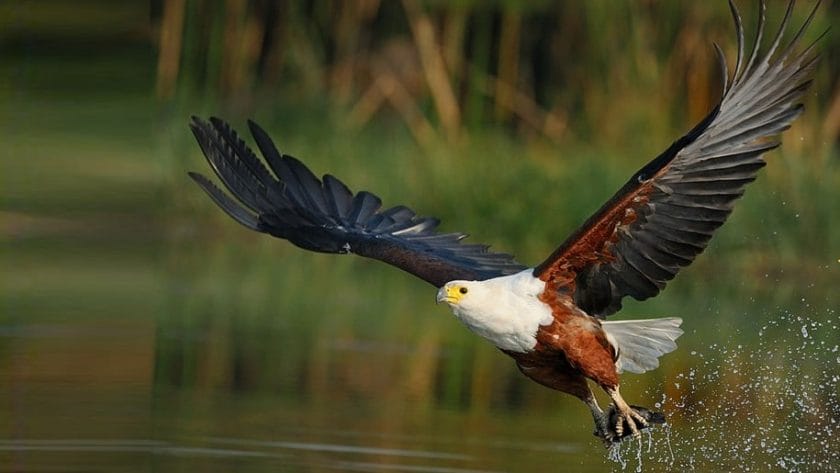 Known for their remarkable fishing skills, these raptors are large birds, with a length of about 25-29 inches and a wingspan of around 6,6 feet. Apart from fish, they're known to hunt other birds and small mammals.
2. Lilac-Breasted Roller
This small, brightly colored bird features spectacular lilac, blue, and green plumage. Known for its acrobatic flight, it can often be spotted perching atop branches while it scans for insects. Aerial displays in pursuit of prey include eye-catching twists and turns.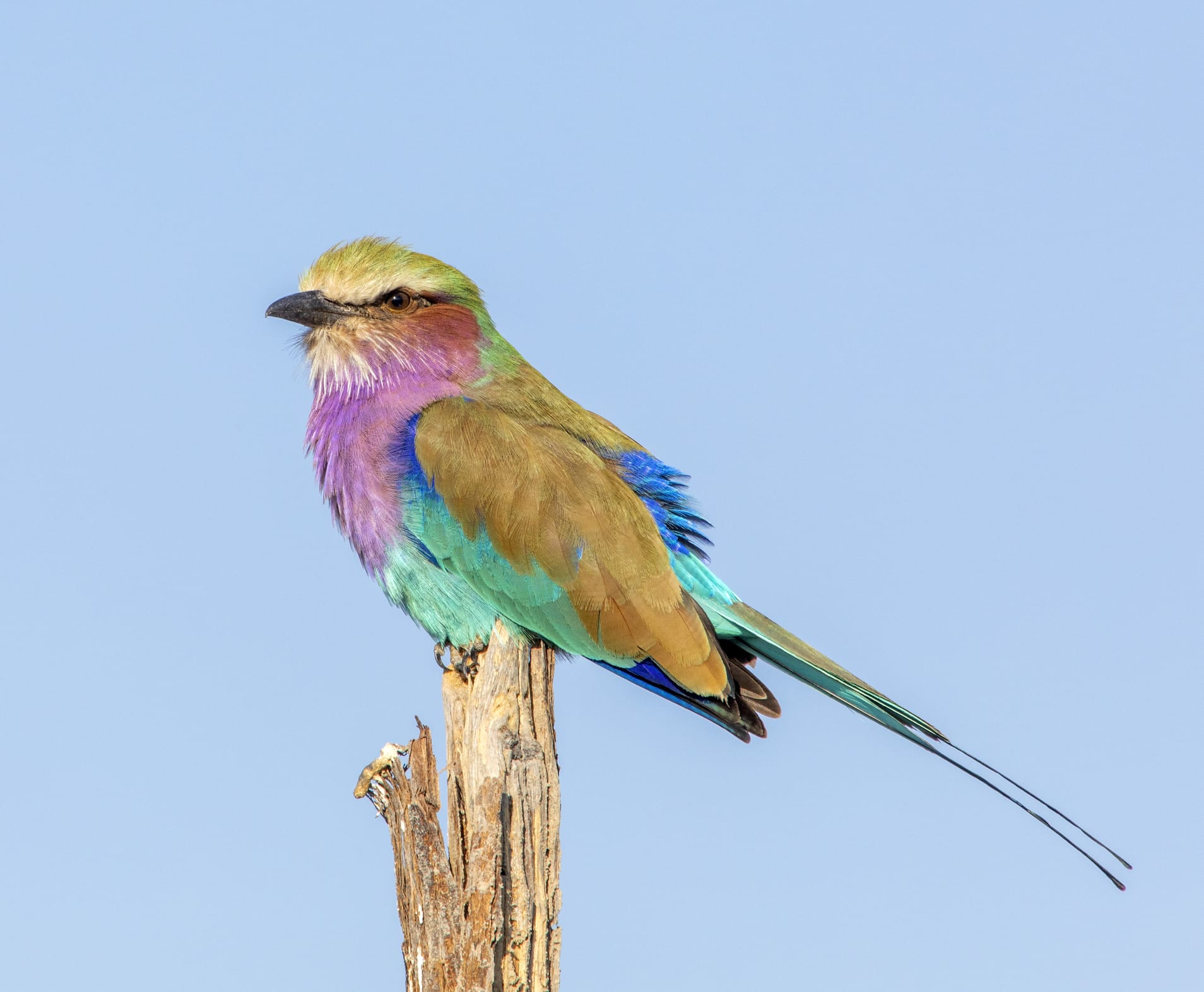 Commonly found in open woodlands, savannas, and grasslands, these birds favor habitats with scattered trees and shrubs. Typically nesting in natural tree cavities or old woodpecker holes, they lay clutches of 2-4 eggs and both parents take turns incubating and caring for the chicks.
3. Kori Bustard
Instantly recognizable by its large size, lanky appearance, and distinctive black and white markings, the Kori Bustard is one of the heaviest flying birds on the planet. It can reach lengths of up to 59 inches and have a wingspan of over 8 feet.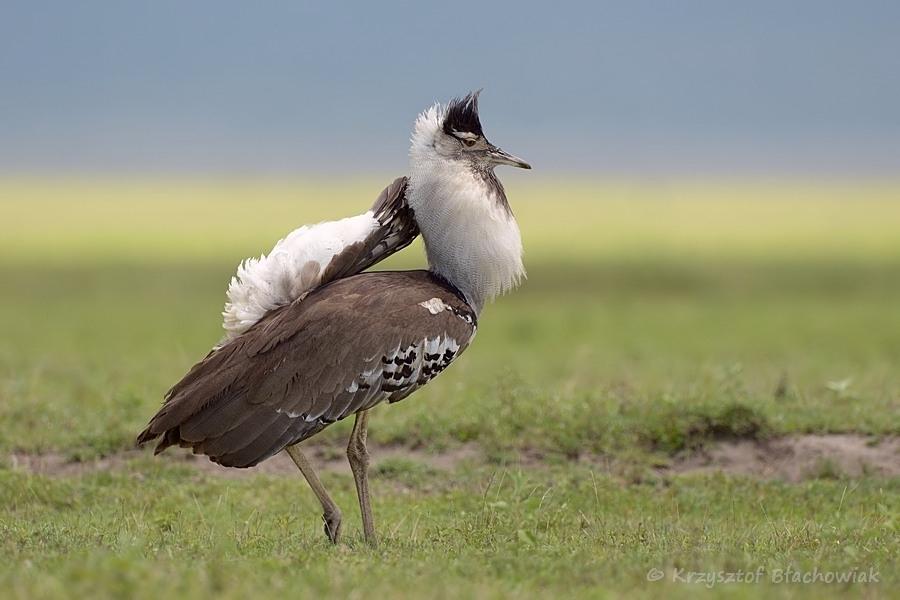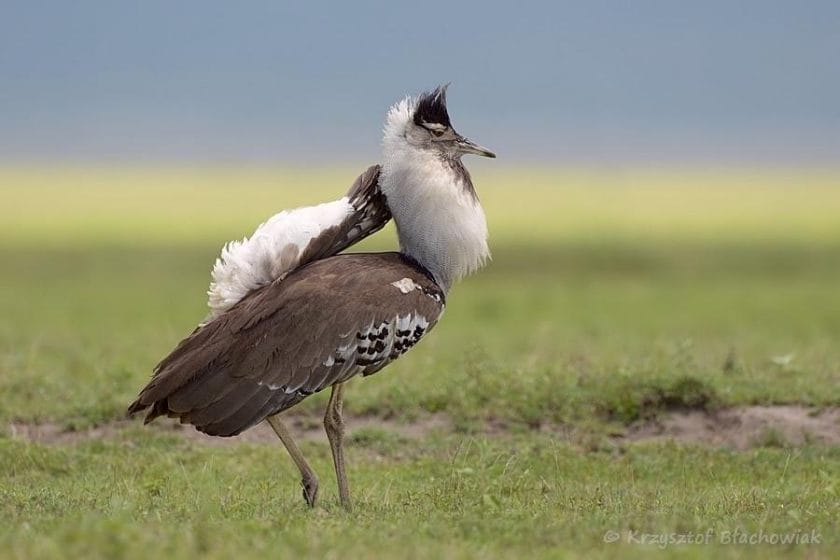 This bird is also known for its elaborate courtship displays, which involve puffing up its throat sack while performing a high-stepping strut with its wings extended. Its mottled brown and gray plumage helps it blend in with grassy and arid habitats, where it hunts insects, small mammals, reptiles, and seeds.
4. Secretary Bird
The Secretary Bird is characterized by its long legs, prominent eyelashes, distinctive crest, and striking eagle-like appearance. It's known for its exceptional hunting skill, which involves stamping its feet on the ground to flush out insects, snakes, and small mammals.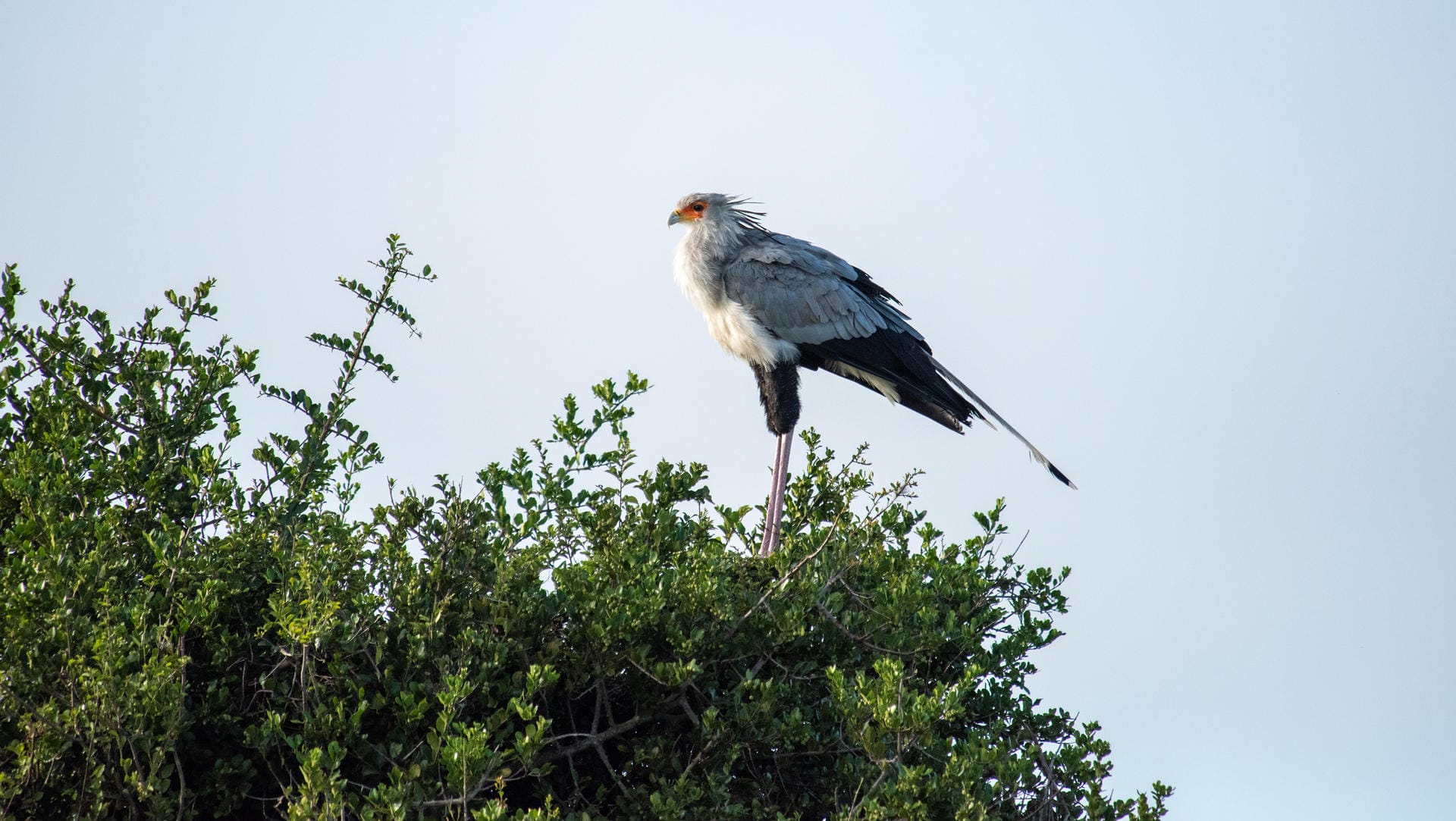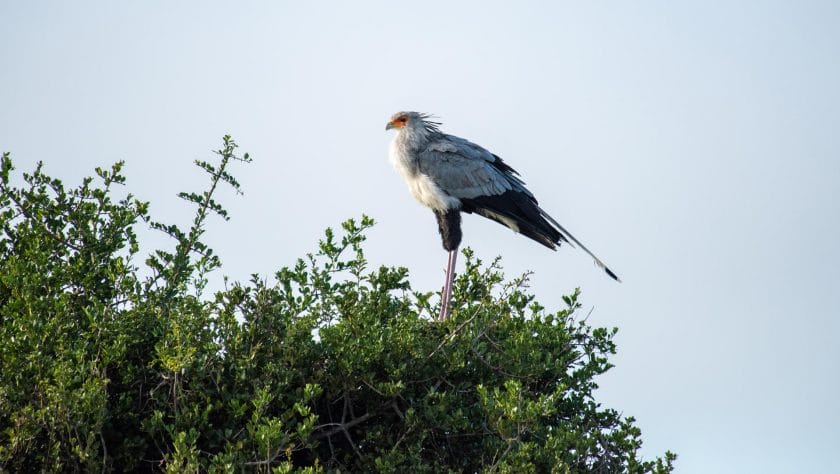 Commonly found in savannas, grasslands, and arid regions, this bird often makes its home in areas with sparse tree cover. Secretary birds typically build large stick nests in tall trees, where males and females share egg incubation and chick-rearing responsibilities.
5. Saddle-Billed Stork
This bird gets its name from its striking and colorful bill, which features an instantly recognizable saddle shape on the upper side. Often spotted wading in wetlands where it hunts for fish and other aquatic prey, it's one of the tallest storks on the African continent, with a height of about 5,2 feet and a wingspan of nearly 8 feet.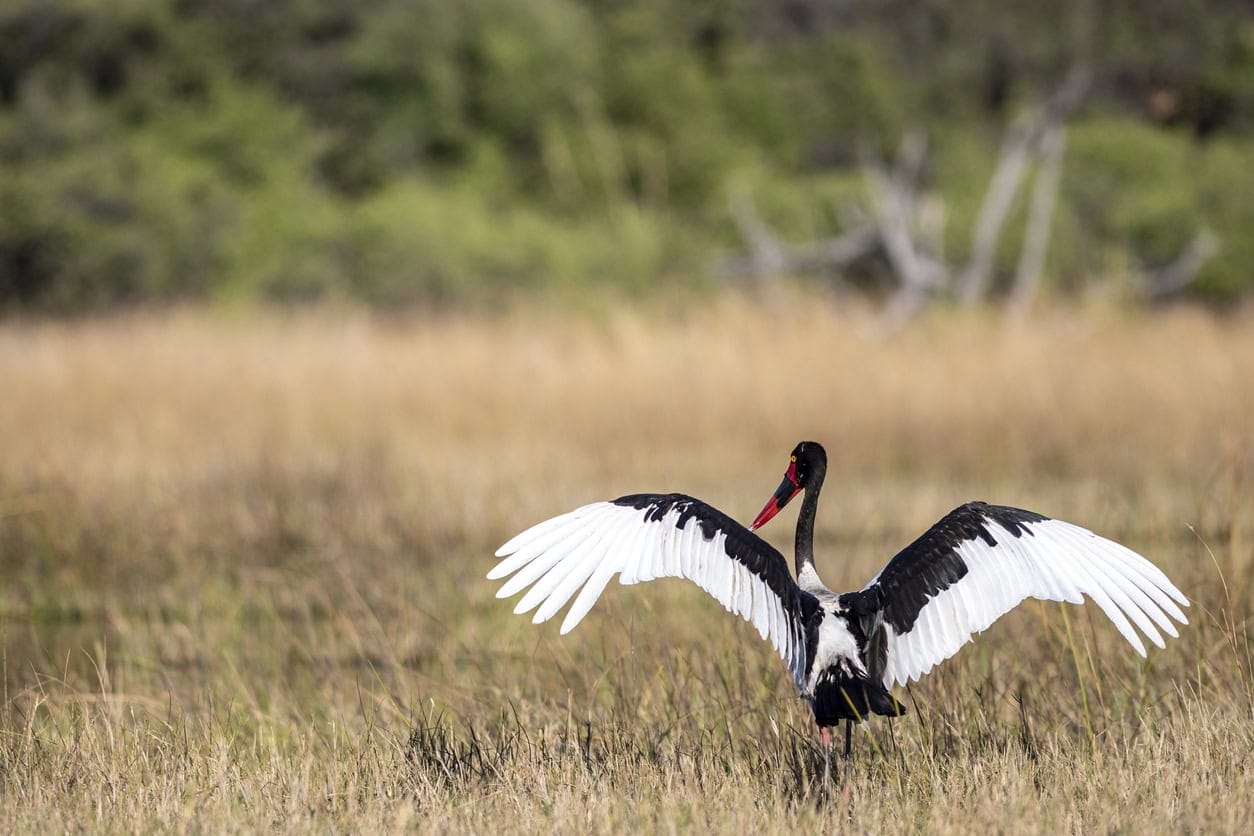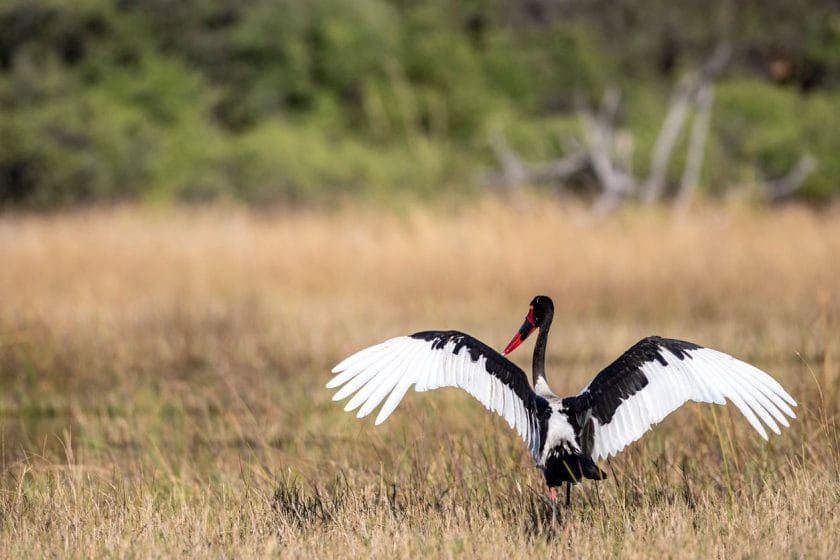 Usually found in tropical and subtropical regions, this bird inhabits freshwater marshes, lakeshores, riversides, and swamps, its preferred prey consisting of fish, frogs, and crustaceans. In some African cultures, these birds are regarded as symbols of beauty.
6. African Jacana
The African Jacana's exceptionally long toes help it walk on floating vegetation in wetland areas, earning it its other name of "lily-trotter". African jacanas are polyandrous, meaning the female mates with multiple males who then take turns incubating the eggs and rearing the chicks.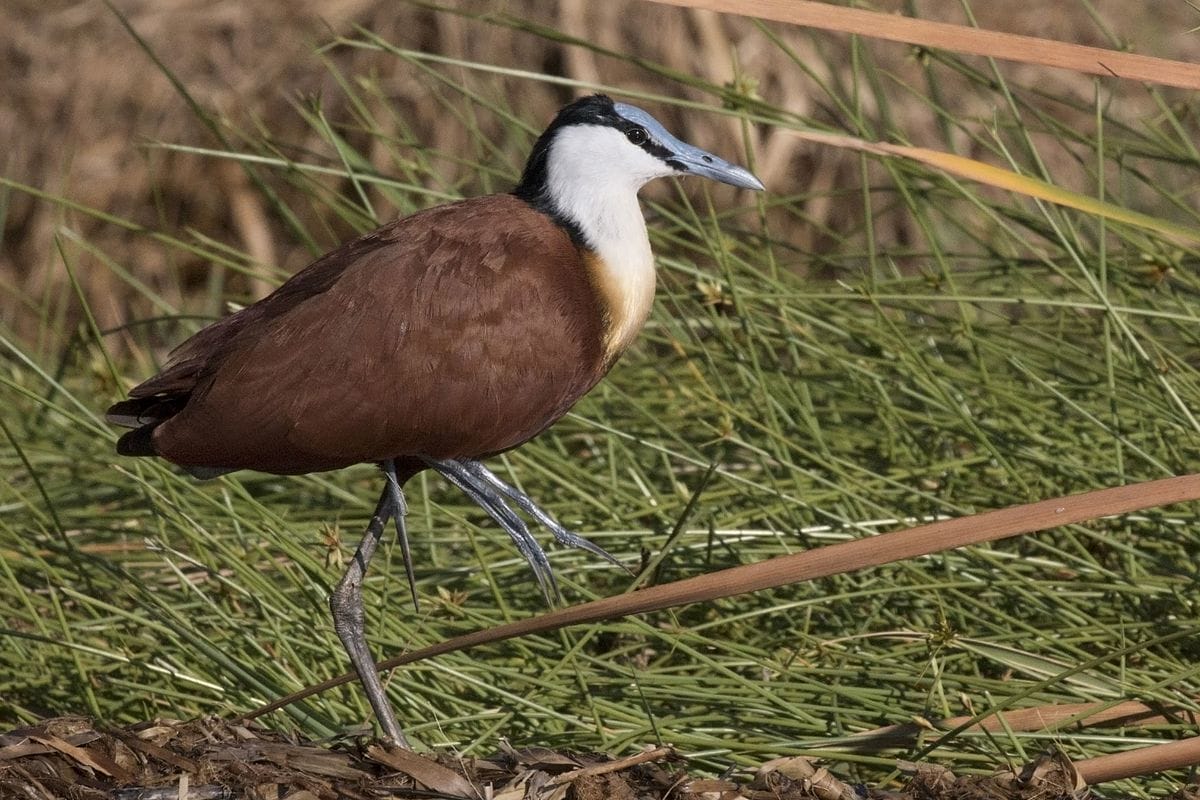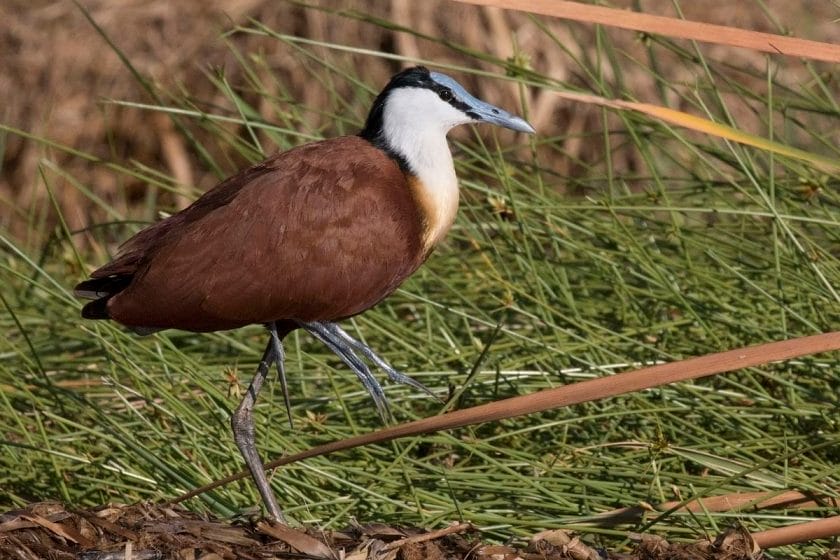 Small to medium-sized birds, they typically measure 12 inches in length and have a mainly brown body with striking white underparts. African jacanas tend to prefer areas with abundant aquatic vegetation, which provides a platform for foraging for insects, small invertebrates, and aquatic plants.
7. Pel's Fishing Owl
This large, nocturnal owl is famous for its strong talons and tendency to hunt near water. Elusive by nature, the Pel's fishing owl is a favorite sighting among birdwatchers. Easily recognizable by its large size, distinctive deep hoot and dark facial discs, it can typically be found near riverbanks and lakeshores, where it hunts at night.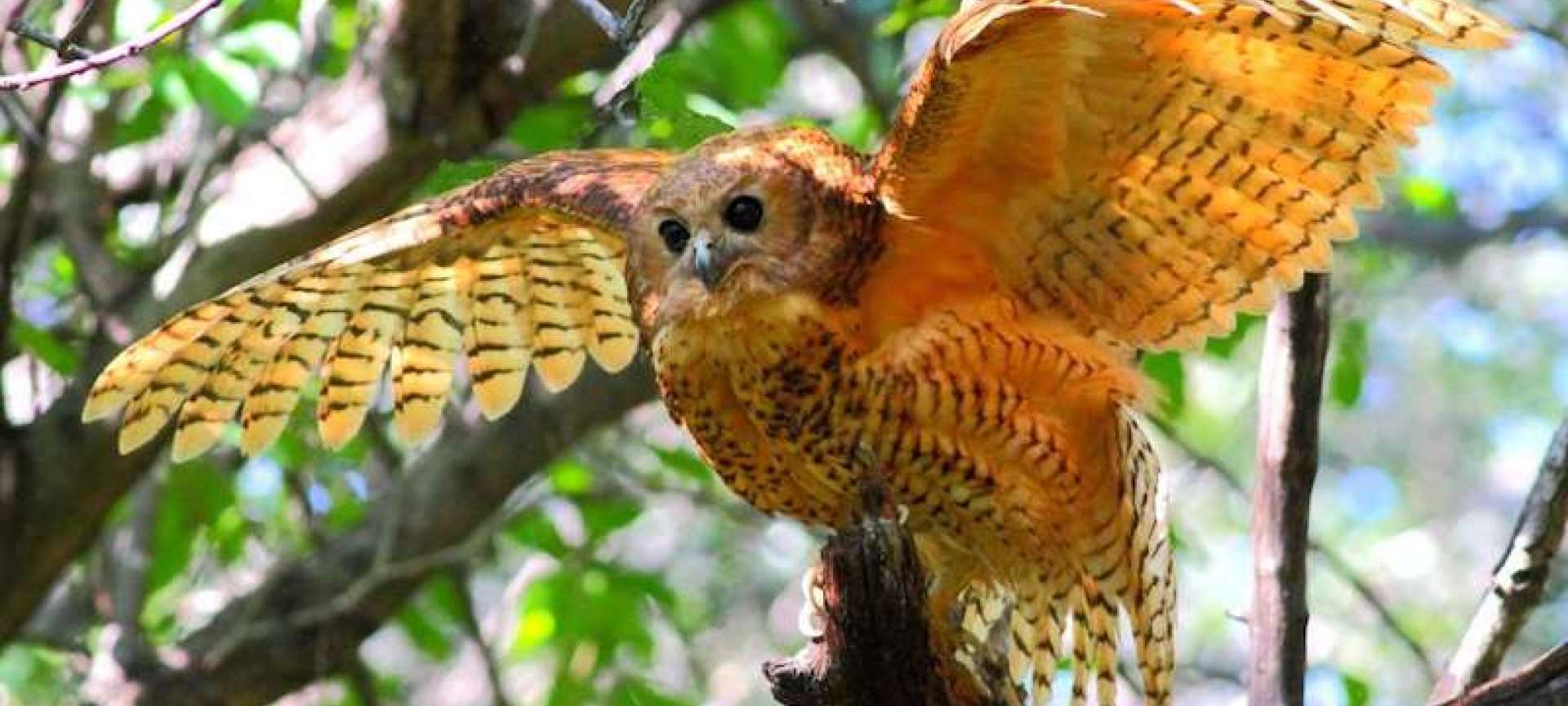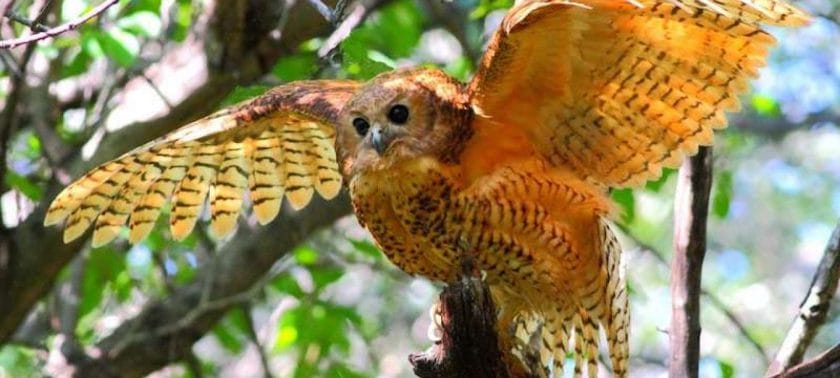 Known to return to the same nesting locations season after season, Pel's fishing owls usually lay a clutch of 1-2 eggs, with both parents sharing incubation and chick-rearing duties. In some African cultures, these birds are considered symbols of mystery and power.
8. African Skimmer
This bird has a unique bill, with a longer lower mandible which it uses to skim for food on the surfaces of water bodies. Famous for its distinctive, low-level, and synchronized group flights, watching this bird hunt fish is mesmerizing.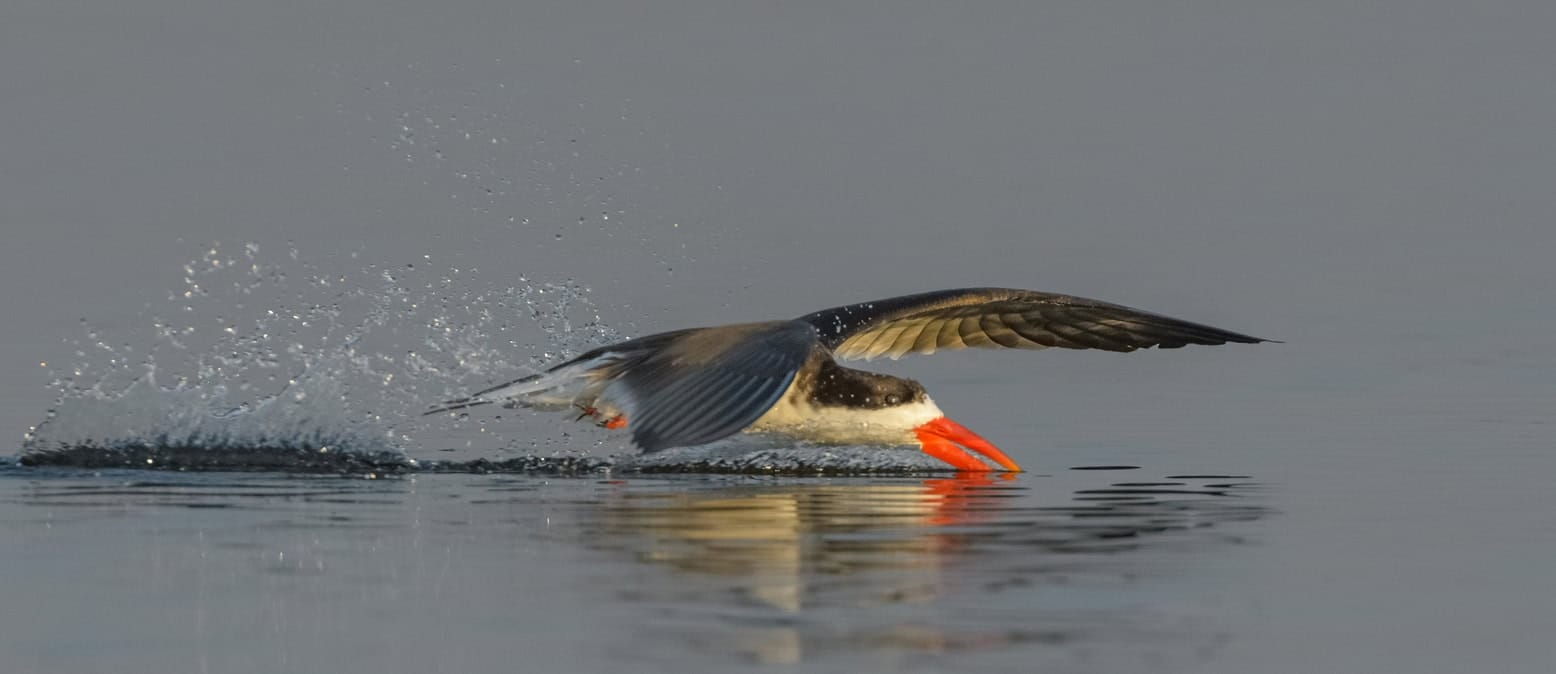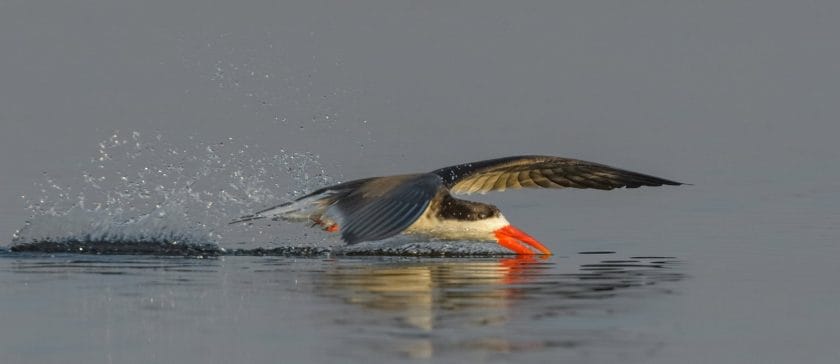 The African skimmer is a relatively small bird, with a length of around 18 inches and a wingspan measuring just 41 inches. Typically found in freshwater habitats such as rivers, lakes, and reservoirs, it prefers areas with sandy shorelines where it can nest and forage. While its diet consists mainly of small fish, it's also known to feed on crustaceans and aquatic insects.
9. Carmine Bee-Eater
Known for their spectacular carmine plumage and long, pointed tail feathers, Carmine bee-eaters are colonial breeders often found nesting in tunnels on the banks of rivers. These colonies can be quite substantial, housing hundreds of birds. The carmine bee-eater's backs and wings are olive green, and it has a striking black mask through its eyes.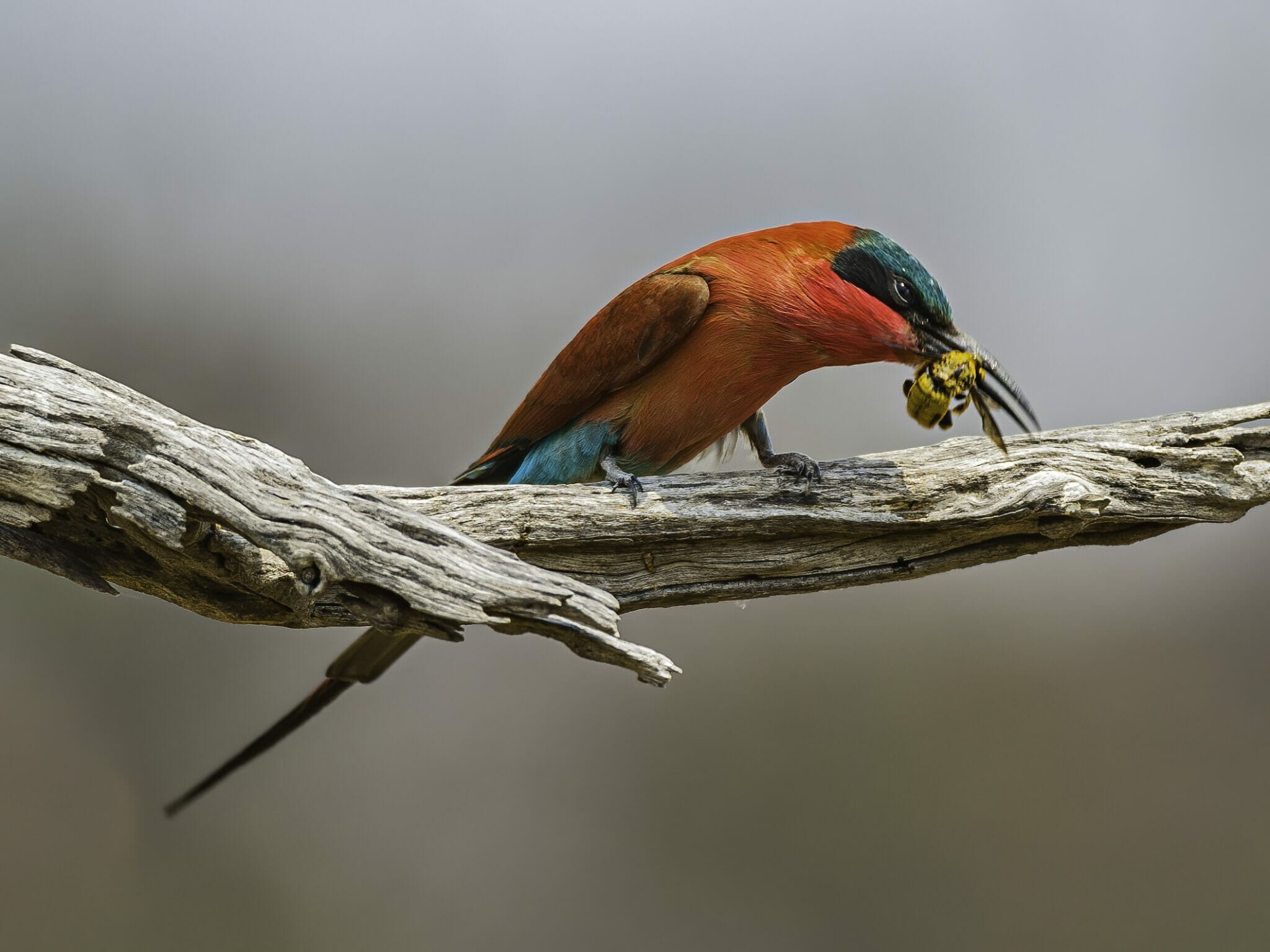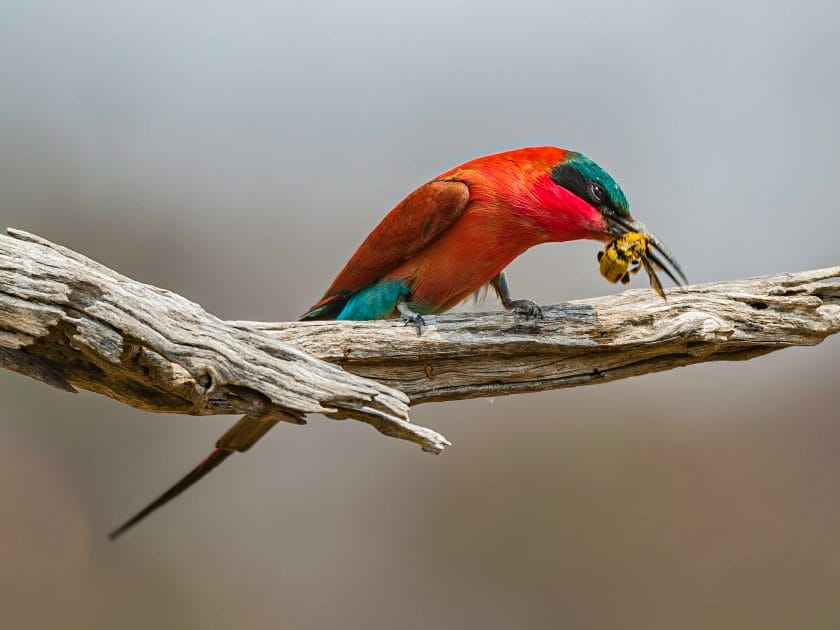 This unique bird prefers habitats with access to water and abundant insect populations, which it hunts using agile flight patterns. It typically feeds on flying insects, such as bees, wasps, and flying ants.
10. Greater Painted-Snipe
These birds have cryptic plumage which makes them difficult to spot in the regions they prefer to inhabit. This species exhibits sexual role reversal, with females being more brightly colored and aggressive than males, who usually take on the duties of incubating eggs and chick-rearing.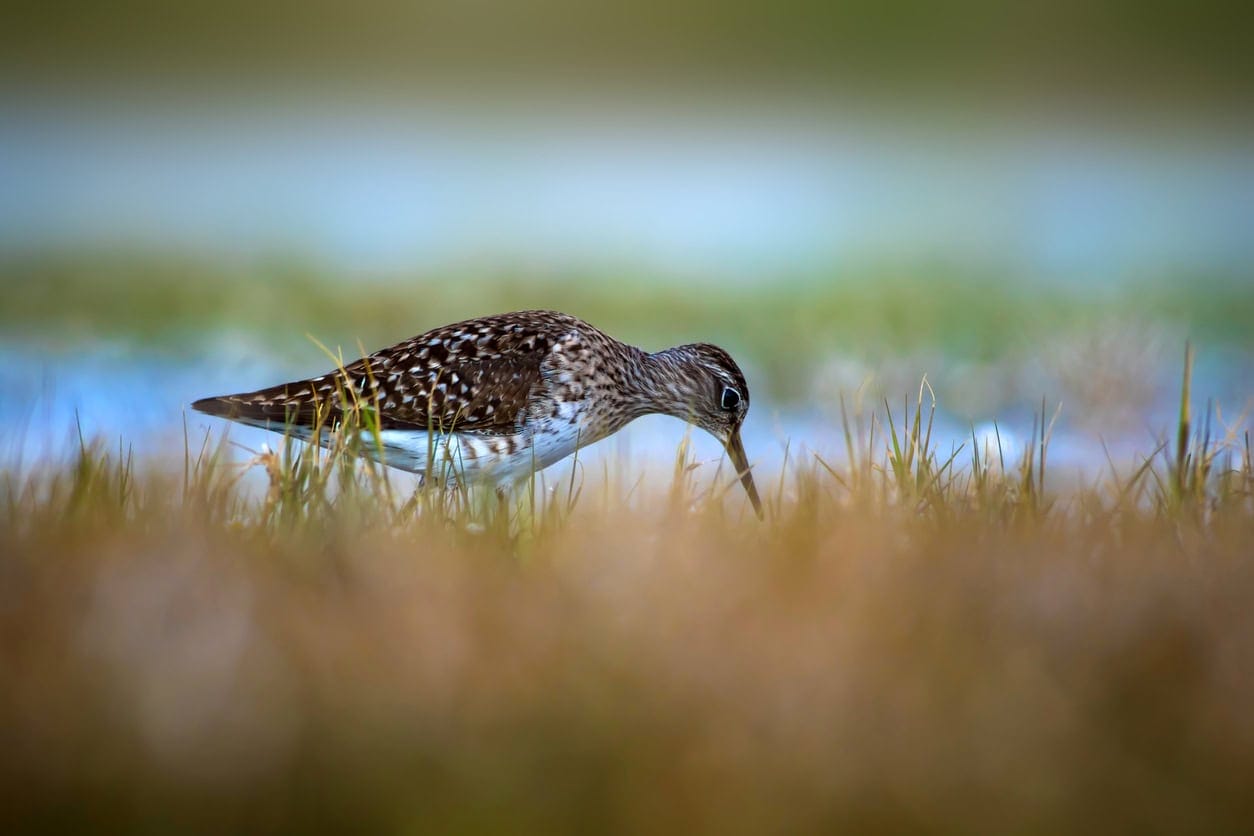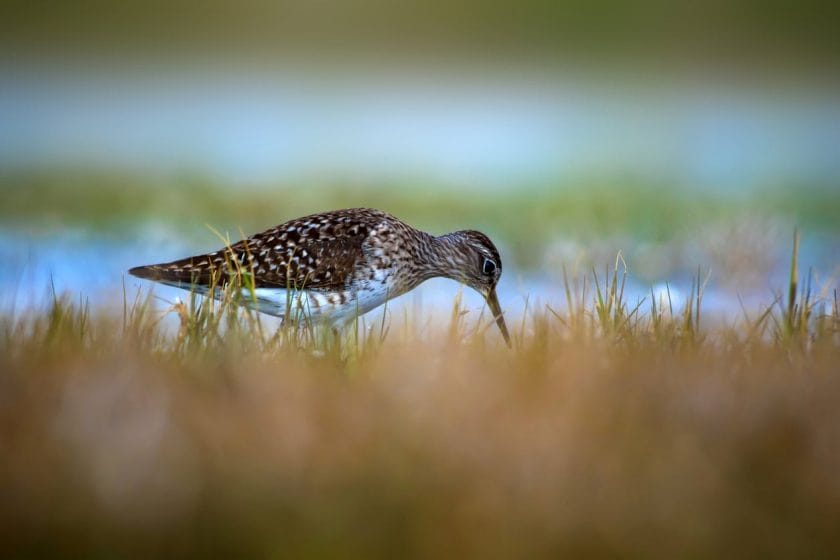 Greater painted-snipes are small to medium-sized waders measuring about 10 inches in length. They're commonly found in wetlands and shallow bodies of water such as swamps and marshes, and prefer areas with dense vegetation for nesting and concealment.
The birds listed above represent only a small portion of the wonderfully diverse birdlife in this stunning country. Admired as much for their beauty as their interesting behavior, they all contribute to maintaining biodiversity and healthy ecosystems. Keen to get out there and spot them? Speak to a safari expert at Discover Africa today about a fascinating, tailor-made, luxury safari to Botswana.