Samburu Springs and Mount Meru National Park
The cluster of national parks and reserves set in the semi-arid lowlands running broadly northeast from Mount Kenya includes some of the country's most rewarding safari destinations.
In part, this is because they protect a very different fauna from their more southerly counterparts: not only an intriguing selection of localised dry-country large mammals, including reticulated giraffe, Grevy's zebra, and gerenuk but also a long list of birds whose range is more-or-less confined to the north of Kenya and far south of Ethiopia.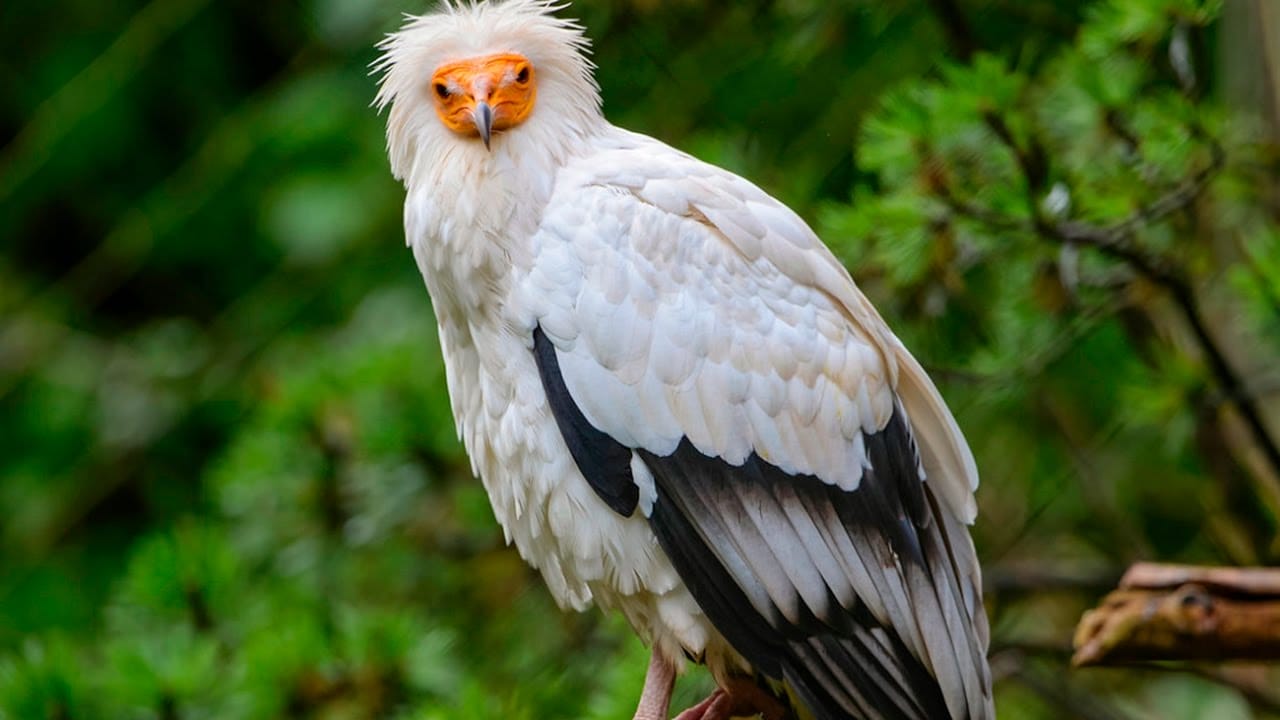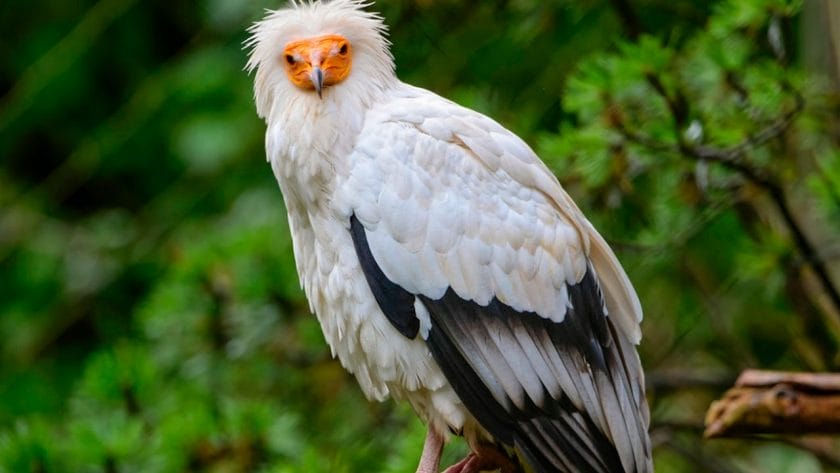 The region's best-known attraction is the near-contiguous trio of Samburu, Buffalo Springs, and Shaba National Reserves, which protect a combined area of 440km2 (170 square miles) flanking the perennial Ewaso Nyiro River as it flows through an otherwise austere landscape of scrubby rocky plains and bare termite mounds.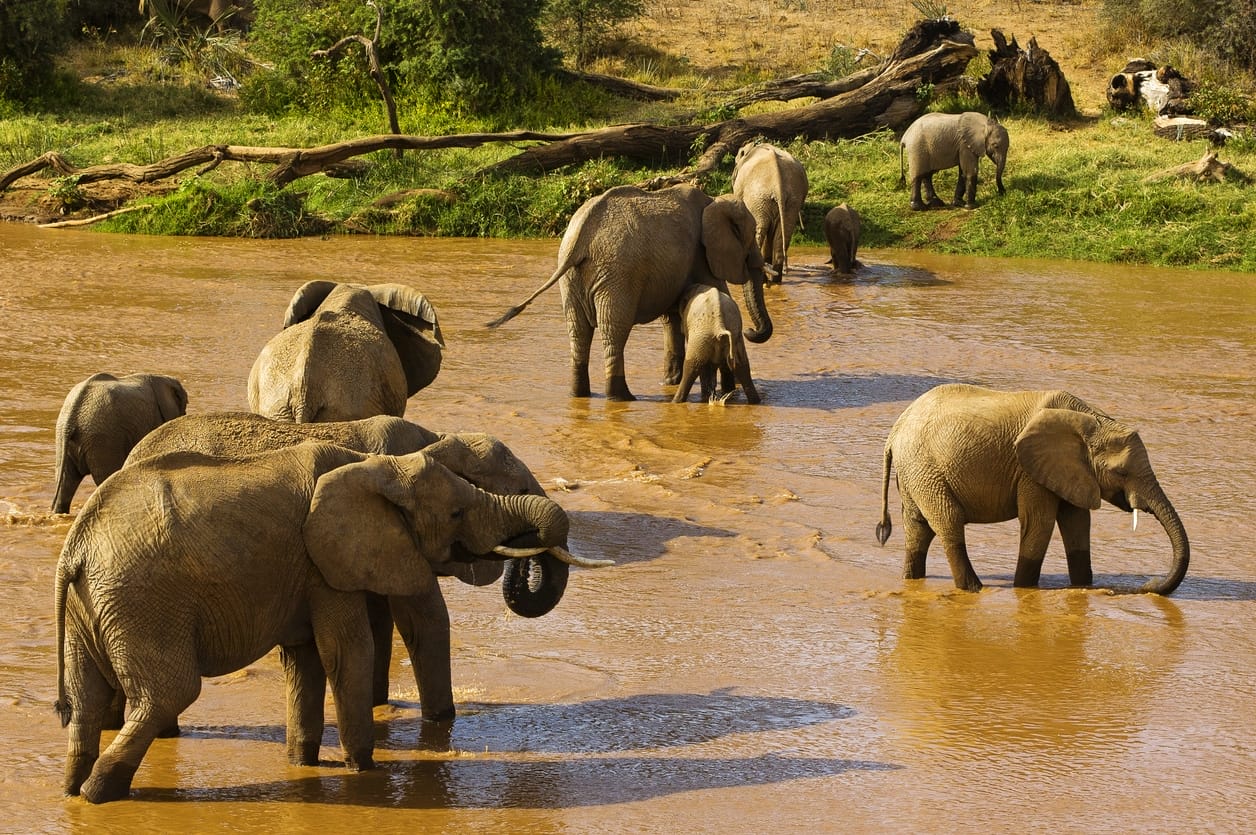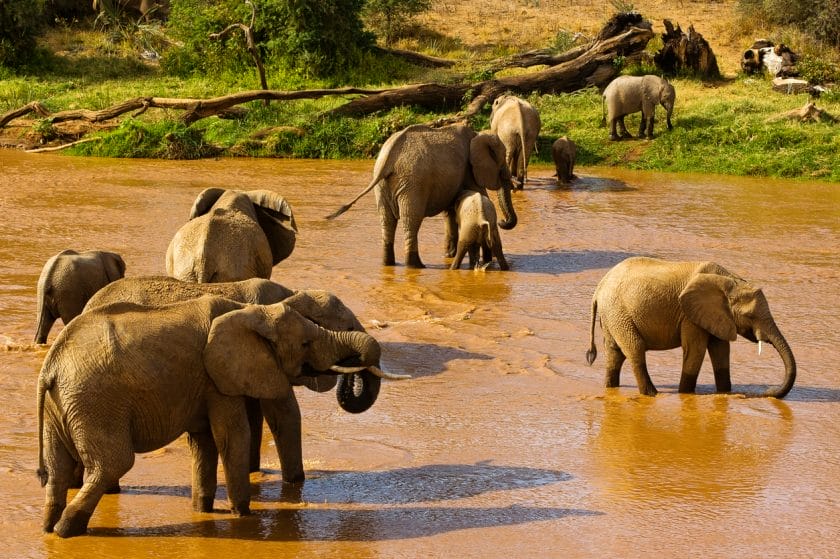 Less famous is the 870km2 (336 square mile) Meru National Park, whose cover of tropical grassland and savanna is bisected by a series of narrow perennial streams that rise in the central highlands and empty into the Tana River – Kenya's longest waterway – as it runs along the park's southern boundary.
Highlights of Samburu Springs and Mount Meru National Park
Named after the red-robed pastoralist people who inhabit the surrounding plains, Samburu National Reserve, set on the north bank of the Ewaso Nyiro, protects a relatively hilly tract of dry thornbush that rises to 1,250m (4,100ft) at Ol Doinyo Koitogorr.
Characteristic wildlife of the open plains includes the endangered Grevy's zebra, which is far bulkier and more narrowly striped than the familiar common zebra, and the handsome reticulated giraffe, distinguished by its geometrically-marked coat.


Dry-country antelope include Beisa oryx, Lesser kudu, Guenther's dik-dik, and the bizarre stretch-necked gerenuk, which habitually stands erect on its hind legs to reach the leaves that most other antelope can't.
Buffalo Springs National Reserve, set on the south bank of the Ewaso Nyiro, supports a similar range of wildlife to facing Samburu.  It's one of the more reliable places on a Kenya safari for leopard sightings, and the springs for which it's named – a perennial marsh fed by underground water – attract plenty of wildlife in the dry season.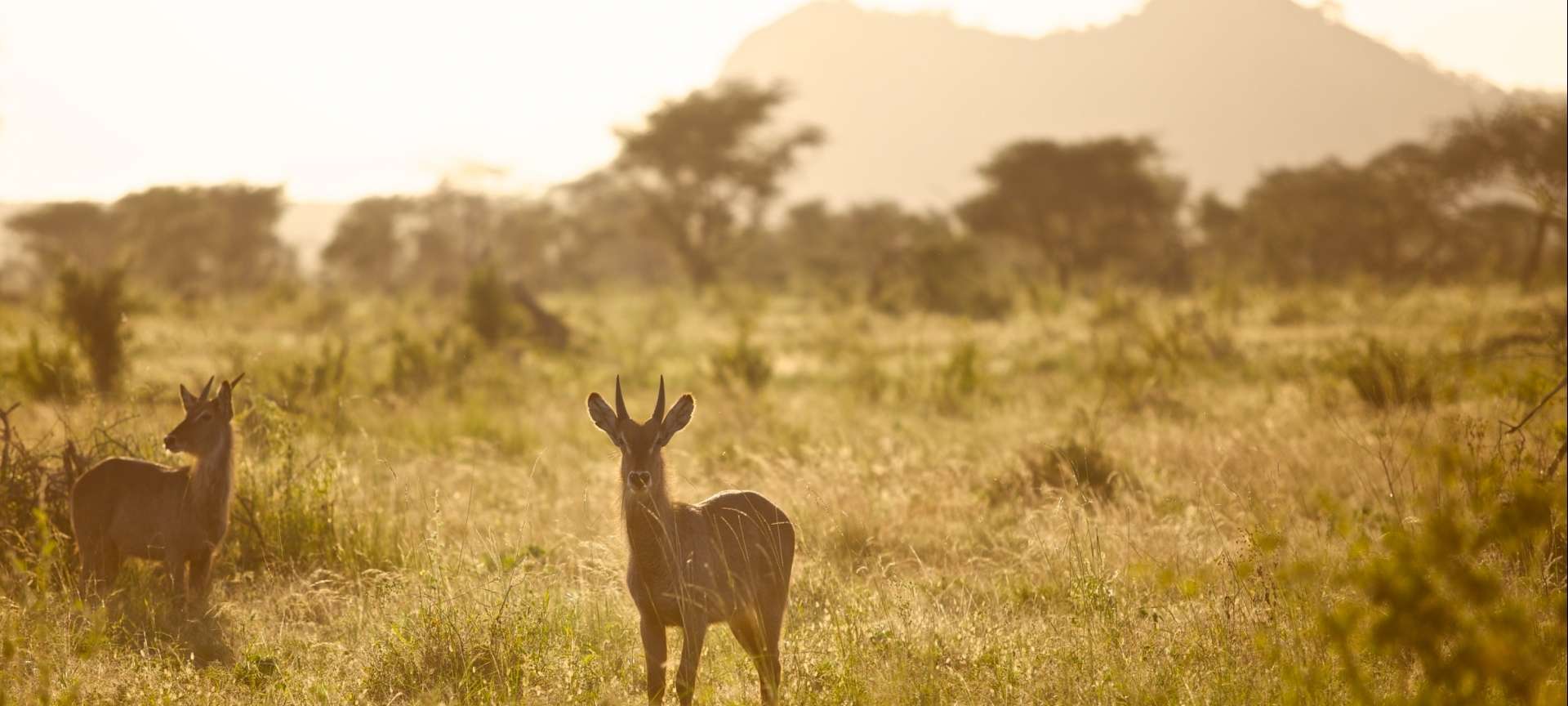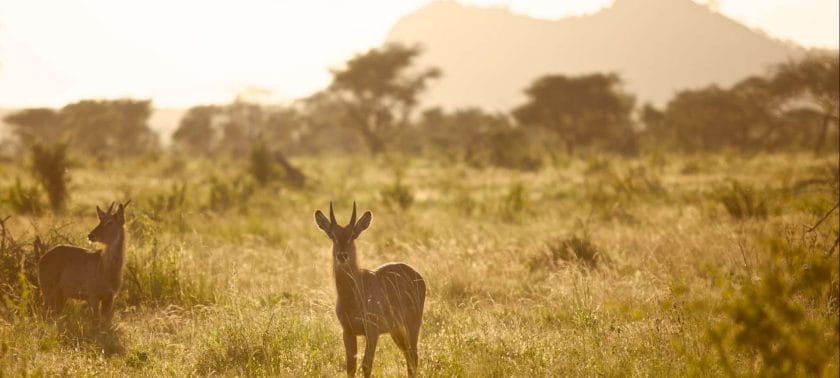 Situated on the south bank of the Ewaso Nyiro, only 5km (3,1mi) east of Buffalo Springs, the little-visited Shaba National Reserve is, if anything, even drier and more sparsely vegetated than its neighbors, but the range of wildlife is similar.
The main game-viewing loop runs through a mosaic of lava-strewn plains, parched grassland, and acacia woodland, offering glimpses of the river and passing by several hot springs.
In the far east, a spring-fed waterhole once used as a campsite by Joy Adamson now attracts a steady trickle of elephants, buffalo, lions, reticulated giraffes, Grevy's zebra, and antelope.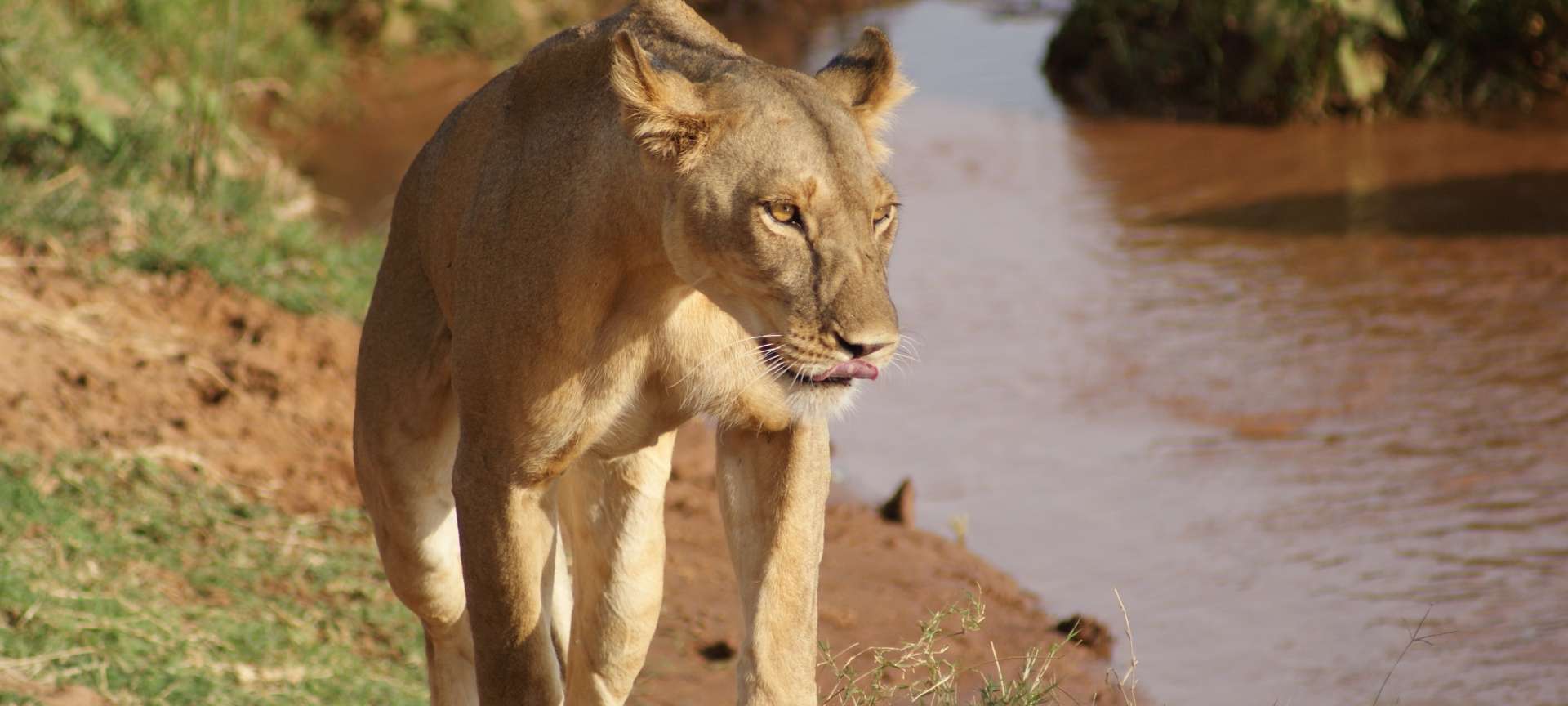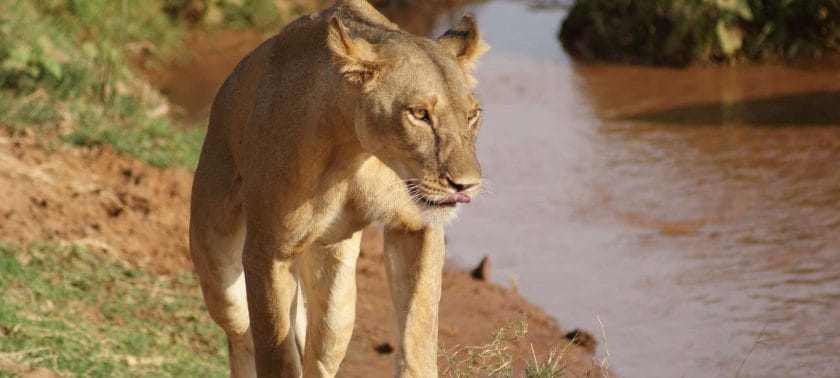 A long list of avian specials whose range is largely restricted to northern Kenya and bordering parts of Somalia and/or Ethiopia makes Samburu-Buffalo Springs-Shaba a key site for bird-watching safaris in Kenya.
Literal heavyweights on this list include the Somali ostrich, Abyssinian ground hornbill, and the spectacular vulturine guinea fowl, and it's the most reliable site in East Africa for Egyptian vultures.
Other specials include white-headed mousebird, Somali bee-eater, Golden pipit, Rufous chatterer, Bare-eyed thrush, Bristle-crowned starling, and Black-capped social weavers.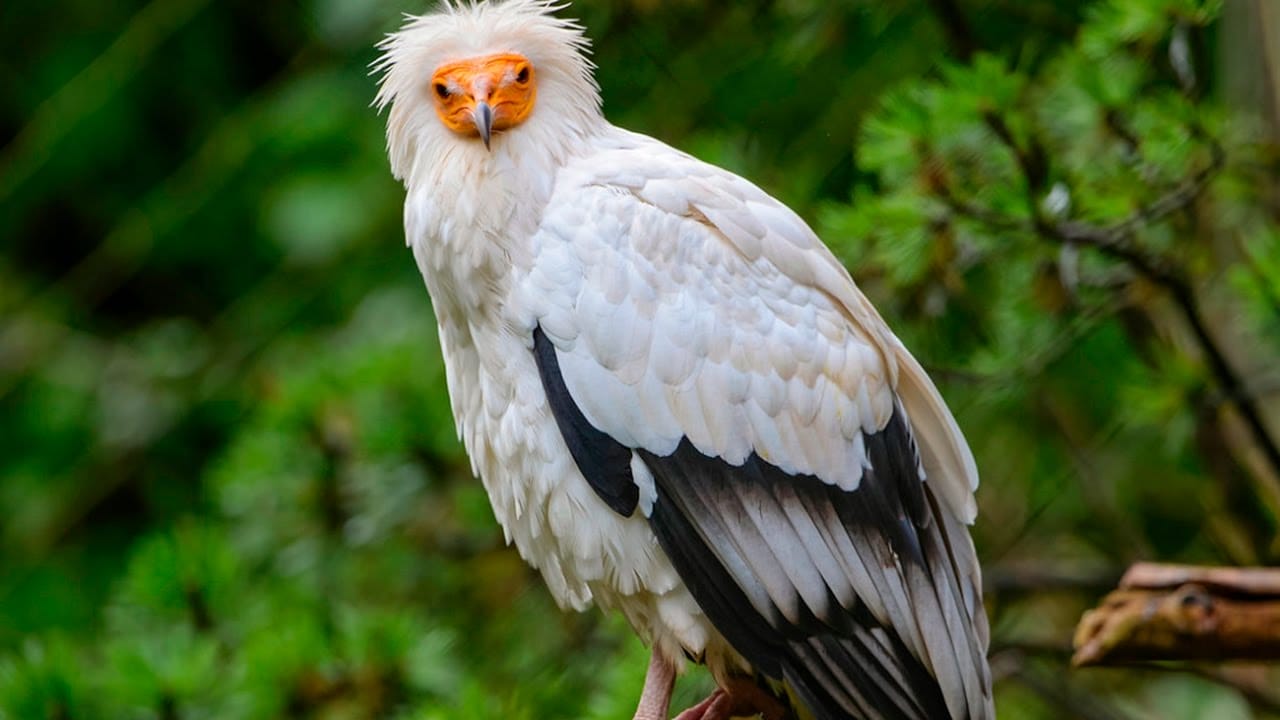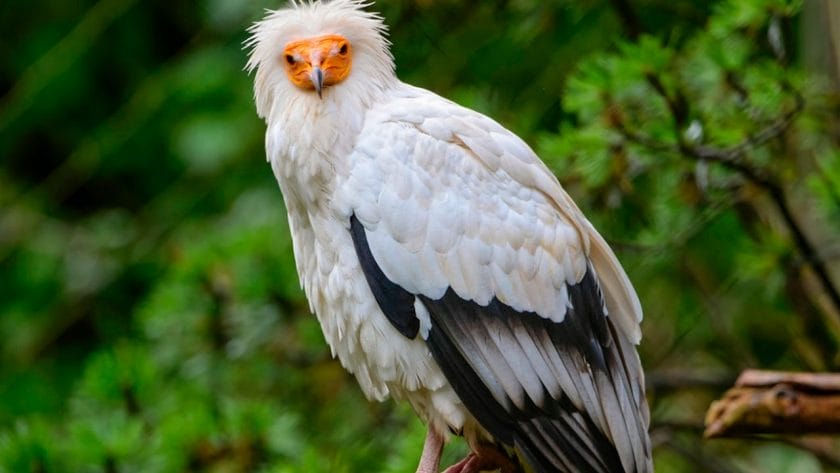 Running north from Samburu-Buffalo Springs, the 3,940km2 (1,521 square mile) Namunyak Wildlife Conservancy protects an area of arid northern plains surrounding the Mathews Range, whose forested slopes host plenty of wildlife and several rare plant species. The main attractions here are multi-day camelback and walking safaris.
More lush and moist in feel than Samburu-Buffalo Springs-Shaba, Meru National Park possesses a genuine wilderness atmosphere that makes it a favorite with repeat Kenya safari-goers.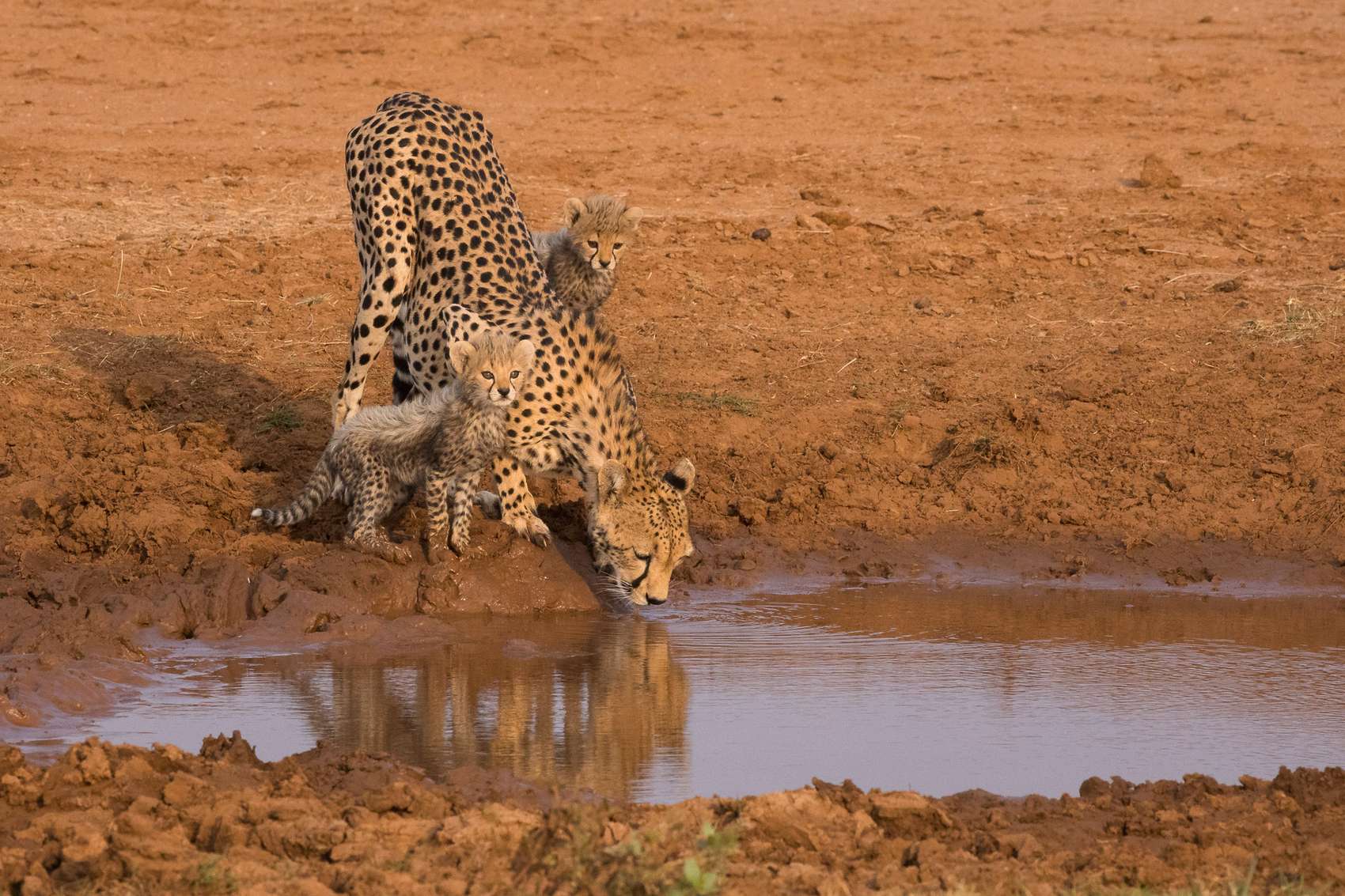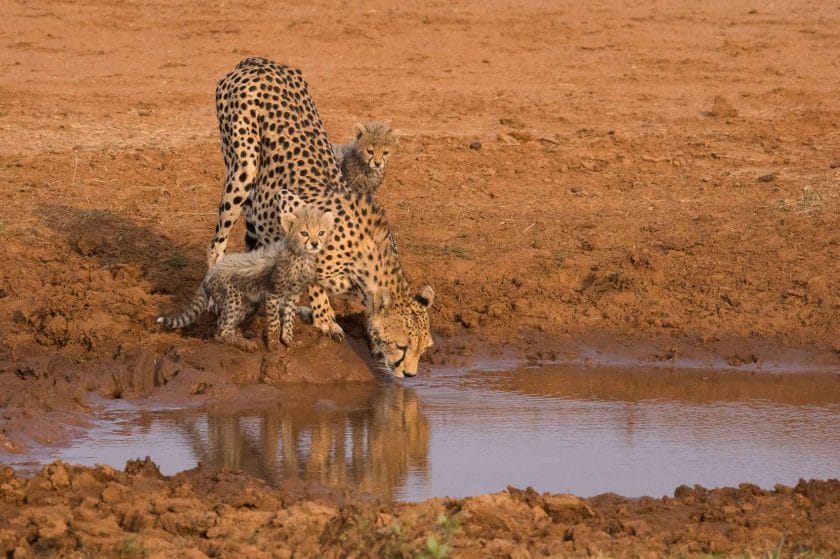 All the Big Five are here. You can be pretty confident of seeing elephants, buffalo, and rhinos, but big cats are generally quite challenging to spot on the tall grassland.
The reticulated giraffe is very common, but other dry-country ungulates, such as Lesser kudu, Grevy's zebra, Beisa oryx, and Gerenuk are relatively scarce.
The largest of 13 waterways running through Meru National Park, the palm-lined Rojewero River flows through an excellent hippo pool. It is also a good place to look for African finfoot, Pel's fishing owl, Giant kingfisher, and the endemic Golden palm weaver.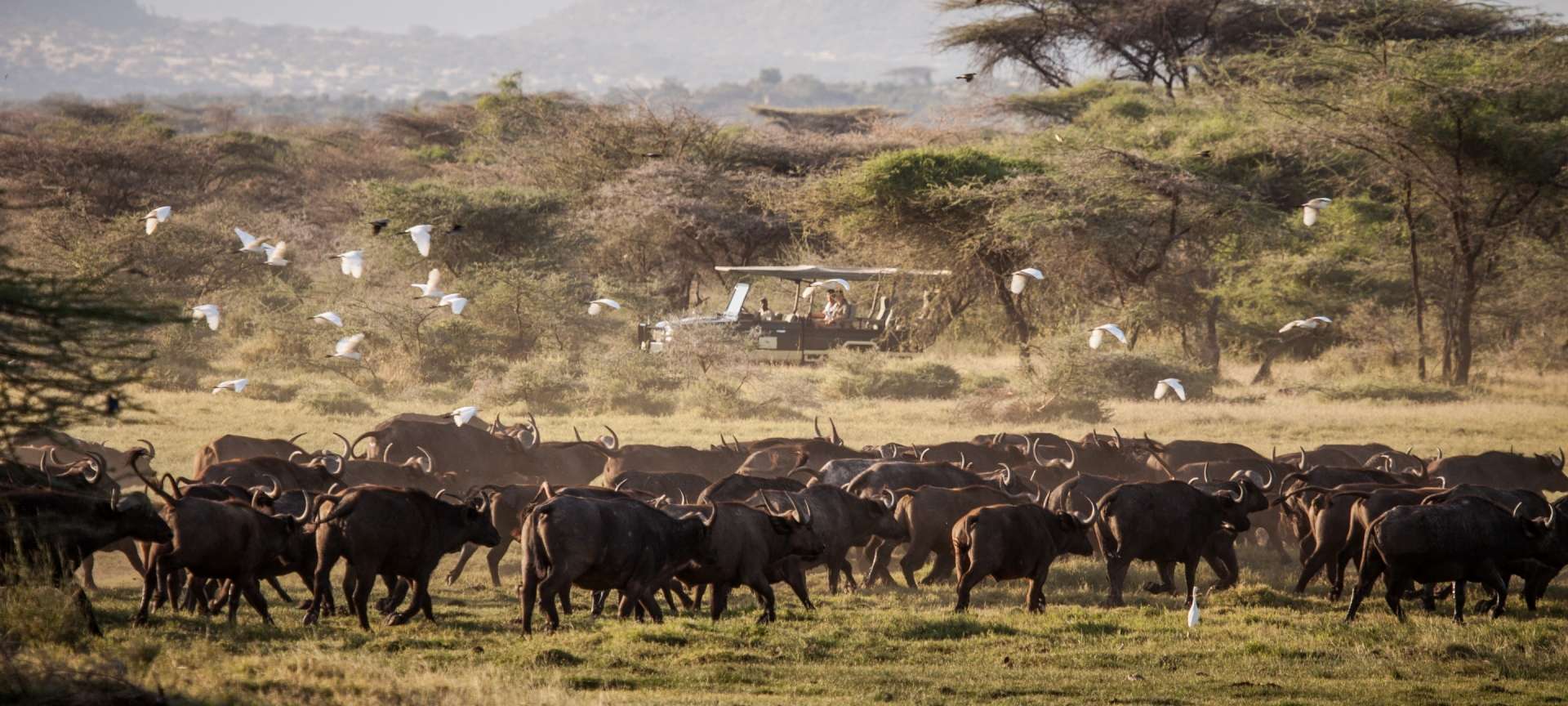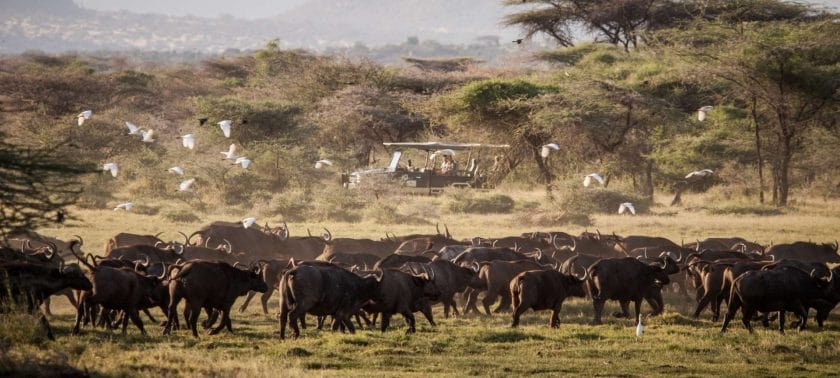 The boundary between Meru National Park and the remote Mwingi National Reserve is a lushly-forested stretch of the Tana River. Here, the rapids known as Adamson's Falls (after George Adamson) are the most accessible point anywhere along the course of what is Kenya's largest waterway.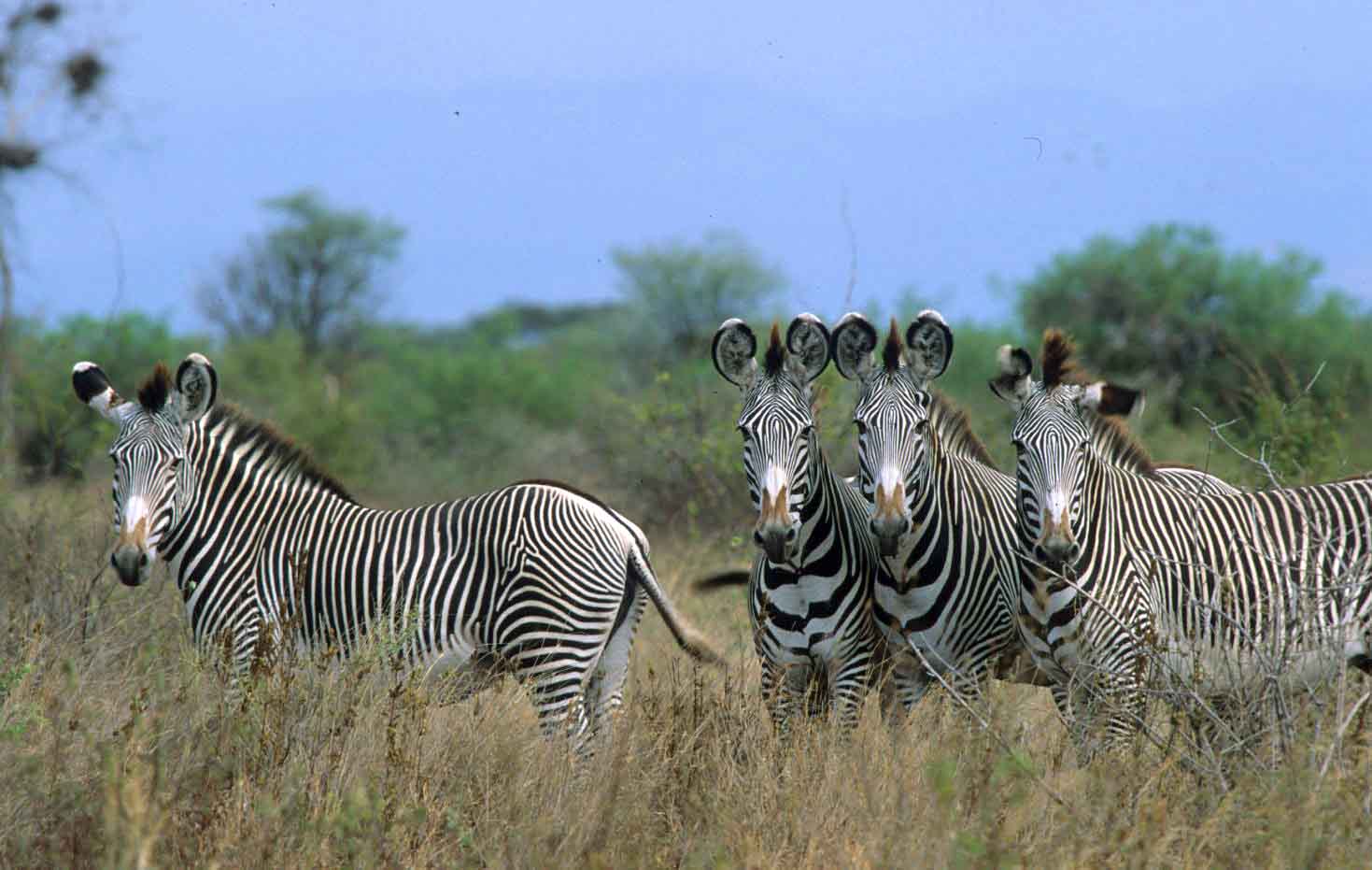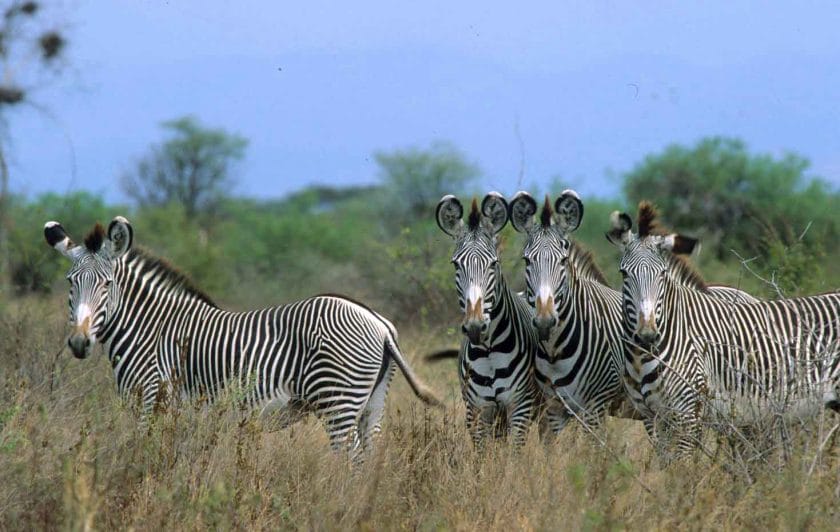 Meru National Park's Ura River is the site of Elsa's Grave, the burial place of the lioness subject of the film Born Free. Hand-reared as a pet by Joy and George Adamson, Elsa was released into Meru National Park in 1958 and successfully reared three cubs there before dying of a tick-borne fever at age five.
Practical Advice for Samburu Springs and Mount Meru National Park
All the reserves and parks described above are best visited on an organised safari in Kenya, though self-drive is also a possibility. They can be reached in a long half-day drive from Nairobi via the frontier town of Isiolo or appended onto a safari, also taking in the likes of Masai Mara, Lake Nakuru, and the tree hotels of Aberdares and Mount Kenya.
The closest airport for scheduled flights is Nanyuki, but charter flights directly to the reserves are available.
Samburu-Buffalo Springs is serviced by a good range of lodges, tented camps, and campsites. There are also lodges and camps in Shaba and Meru, but fewer, which only adds to these reserves' aura of exclusivity.