Trying to figure out which African safari destination is the ideal one for you can feel impossible, right? With so many different amazing places to see, how can you possibly choose just one?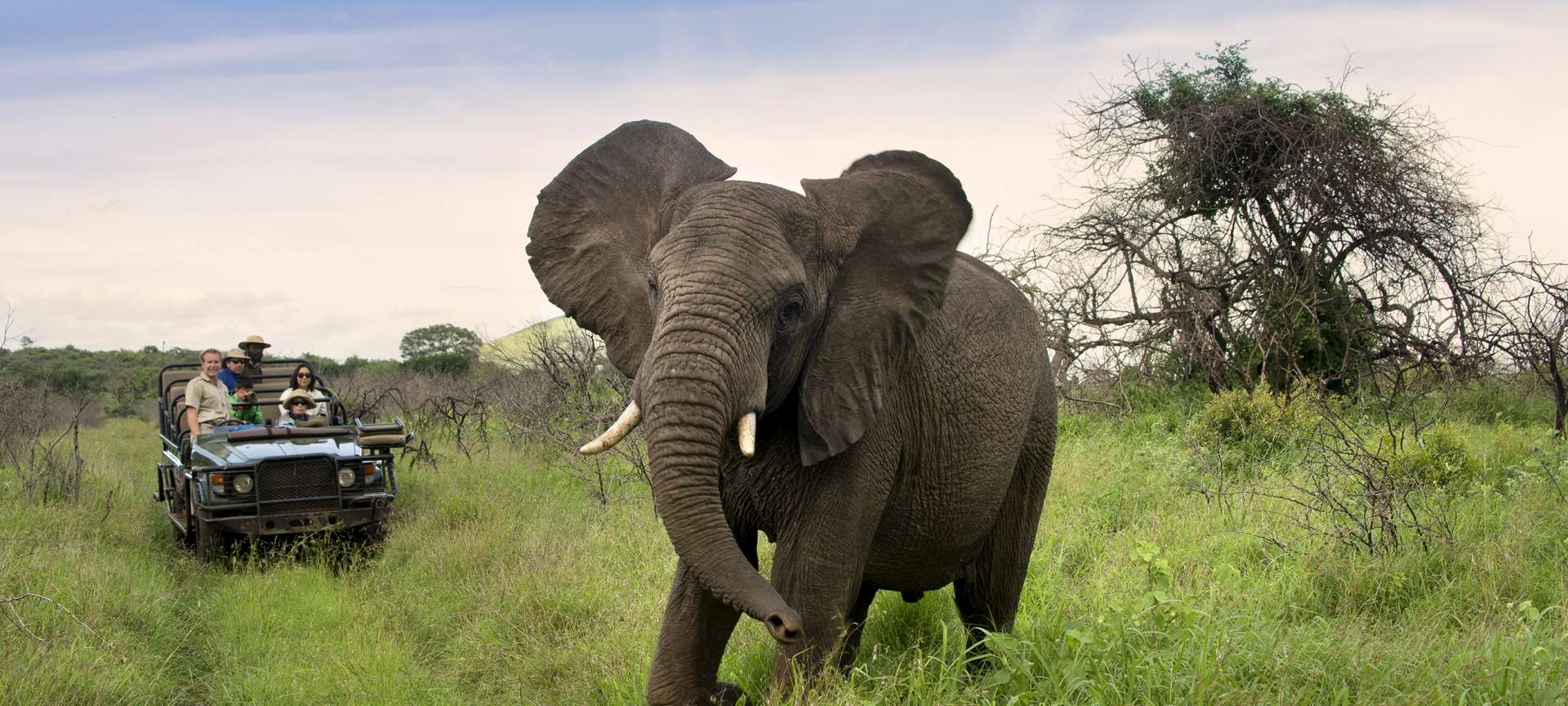 At Discover Africa, we believe that the more people who get to experience the magic and beauty of Africa, the better. That's why we offer several different safari tours that allow you to enjoy a number of wildlife experiences all wrapped up in one trip! We have everything from budget-friendly options to luxury tours, so there's something for everyone. 
Migration Safari in Kenya and Tanzania
This eventful 8-day Migration Safari in Kenya and Tanzania covers some of Africa's most iconic wildlife destinations – Kenya's Masai Mara National Reserve, Tanzania's Serengeti National Park and the magical Ngorongoro crater. The safari focuses on the Great Wildebeest Migration. More than 1.5 million wildebeest (gnu), zebras and antelopes follow the rains in a giant loop across the vast savannahs of Tanzania's Serengeti and Kenya's Masai Mara. 
In turn, they are followed by numerous predators like lions, hyenas, leopards, and cheetahs. This makes for spectacular game viewing! No wonder this great migration is recognised as one of the 'Seven Wonders of the Natural World'. It crosses many rivers teeming with huge and hungry Nile crocodiles! Your accommodation will include stays in the renowned Governors' Camp in the Mara and the superbly situated Serengeti Sopa and Ngorongoro Sopa Lodges. 
Migration River Crossings Safari with Governors' Camps
This 4-day Migration River Crossings Safari with Governors' Camps takes you to Kenya's world-famous Masai Mara to experience the mind-blowing Wildebeest Migration and see the dramatic river crossings.
You will stay in one of the renowned Governors' Camps, each snuggled into the beautiful indigenous bush of its exclusive bit of the banks of the Mara River.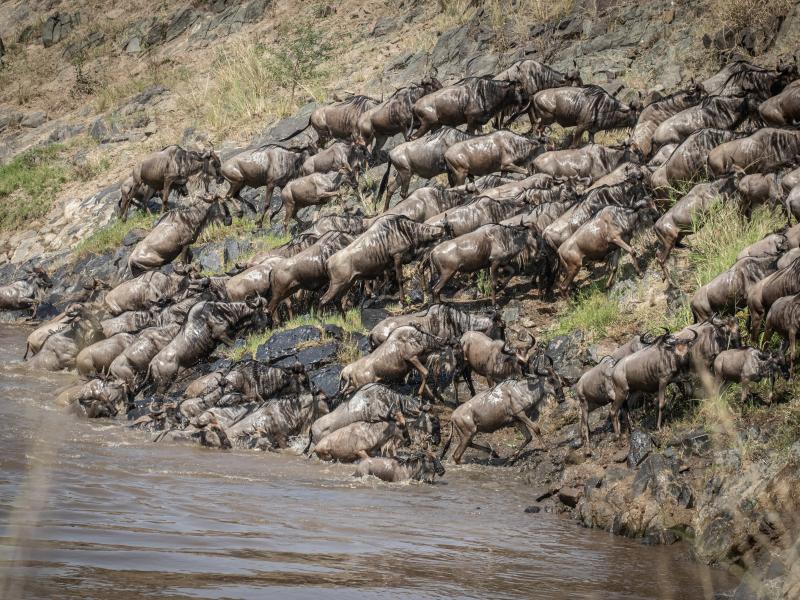 The environment abounds with wild- and birdlife, including the more than 1.5 million wildebeest, along with zebras and antelopes that are migrating.
Predictably they are tracked by large numbers of lions, leopards, hyenas, cheetahs, and other predators, which makes for dramatic interactions! The Mara River itself teems with hippos and Nile crocodiles. The cost of this safari will be influenced by which of the three Governors' camps you opt for.  
The Complete East Africa Experience
This 13-day east Africa experience expedition brings you simply the best East Africa has to offer! The safari starts in Amboseli National Park in southern Kenya. Justly famous for its remarkable herds of elephants, it offers glorious views of Tanzania's iconic Mount Kilimanjaro. Amboseli's varied wildlife includes buffalo, zebra, wildebeest, giraffe, kudu, hartebeest, gerenuk and eland, as well as predators, like lions, leopards, cheetahs and hyena.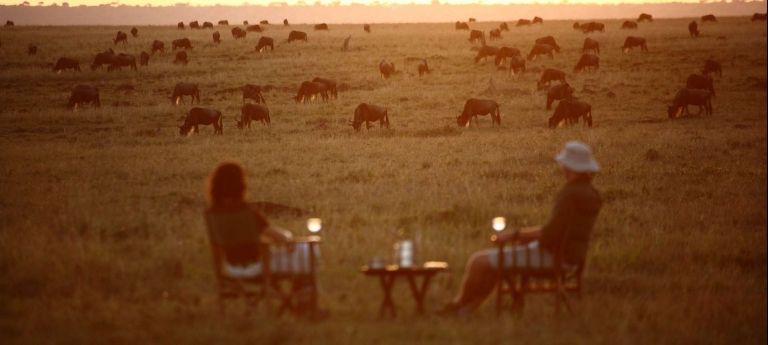 Then you'll move to the Masai Mara with its high density of magnificent big cats, after which you'll be taken to the Serengeti to marvel at the great annual Wildebeest Migration. We promise that seeing the Serengeti from a hot-air balloon, followed by a delicious champagne breakfast, will be a magical part of your trip.
Your safari will conclude with one of the most meaningful and profound wildlife experiences in the world – a visit to the endangered mountain gorillas in Rwanda's unrivalled Volcanoes National Park. 
Masai Mara Safari Adventure
This 6-day Maasai Mara safari starts in bustling Nairobi, Kenya's capital. You'll spend one night in the luxury Ole-Sereni Hotel, the only international city hotel with wildlife right outside its windows! 
Check out Narobi's café culture, vibrant nightlife, and cultural attractions like the National Museum and the Karen Blixen Museum. The latter was formerly the home of Danish author, Baroness Karen Blixen, of Out of Africa (1937) fame. Nairobi National Park, the world's only 'urban' game reserve, brings the Big Five to the city's doorstep, as it were.   
The next morning you'll be flown to the Masai Mara National Reserve for the wildlife experience of a lifetime, with the Big Five and a huge variety of other wildlife to revel in. You'll stay in a luxury tented camp for the remainder of your trip.  
Tanzania and Kenya Highlights Safari
This exciting 10-day Tanzania and Kenya highlights safari brings you the most notable highlights of Tanzania and Kenya's wildlife experiences.
You'll start in Tanzania's Tarangire National Park which is home to the extraordinary tree-climbing lions. Its landscape is dominated by baobabs, and its wealth of wildlife includes the Big Five – lions, leopards, buffalo, elephants, and black rhinos. You'll be housed in the sumptuous Lake Burunge Tented Camp.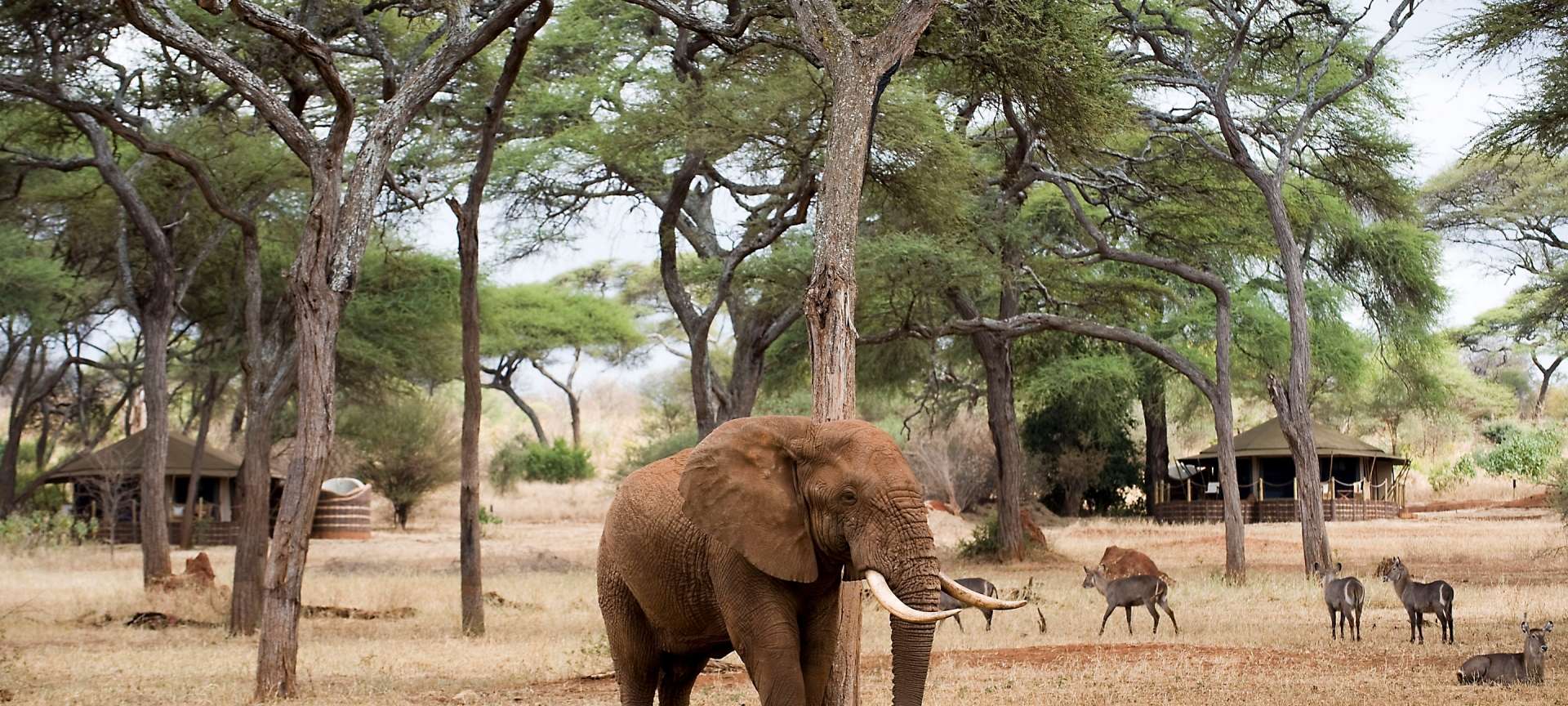 On the second day you'll travel to bird-rich Lake Manyara National Park, famous for large breeding colonies of flamingos and other waterfowl), visit the Ngorongoro highlands and stay in a Tanganyika Wilderness Adventure Lodge. After a game drive next day in the Crater and a delicious picnic lunch, you'll travel to the world-renowned Serengeti and stay in the comfortable Kati Kati Tented Camp. 
The rest of your stay includes several game drives, the option of a hot air balloon ride and a visit to stunning Lake Victoria. The rest of your safari plays out in the lion dense Masai Mara where you'll overnight in luxury safari tent camps. 
East Africa Great National Parks Migration Safari
This 10-day East Africa great national parks migration safari starts at Kenya's Solio Game Reserve which is famous for rhino conservation. You'll spend your first night on safari at the welcoming Rhino Watch Safari Lodge with stunning views of Mt Kenya. In the coming days you visit Lake Nakuru, with its huge flamingo population, and stay in the luxury Flamingo Hill Tented Camp. 
The magical Masai Mara is next on your agenda. Your 2-night stay at Julia's River Camp won't disappoint, nor will the dramatic wildebeest crossings of the Mara with its large lurking crocodiles! You explore the diverse ecosystems of the far-western part while you stay in remote Mara West Camp.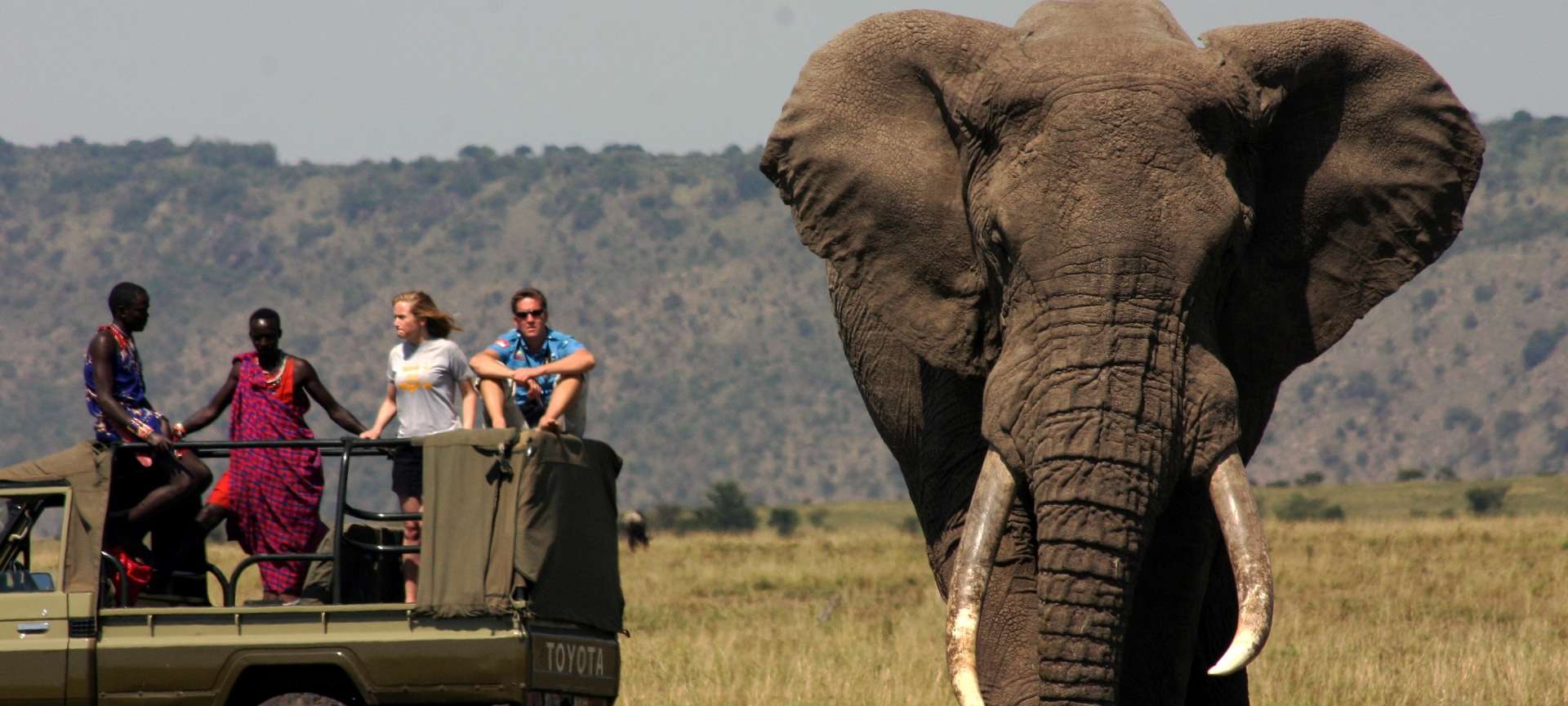 Next you visit Lake Victoria and relax at Speke Bay Lodge with its soothing views of the lake. A traditional canoe trip and fishing excursion across Lake Victoria are very interesting. Then you travel to the Serengeti to see some more of the incredible Great Migration, and the predators that track it. Luxurious Kati Kati Tented Camp ensures your comfort. 
Further game drives ensure more amazing wildlife sightings in spectacular Ngorongoro Crater. The last night of your dream safari will be spent in one of the comfortable Tanganyika Wilderness Adventure Lodges.
HerdTracker and Kicheche Camps Safari
This 7-day herdTracker and Kicheche Camps Safari is jam-packed with daily game drives and activities, starts off in the Masai Mara where you'll be staying at the classic tented Kicheche Mara Camp. Tea or coffee in bed the next morning, followed by a sunrise game drive and a delicious picnic breakfast sets the tone for the test of your safari! 
A leisurely al-fresco lunch, afternoon tea, a game drive, sundowner drinks served in a scenic spot as you watch a stunning African sunset, followed by a mouth-watering dinner – what could be better? Further activities include exploring Leopard Gorge for a sight of these most stunning cats.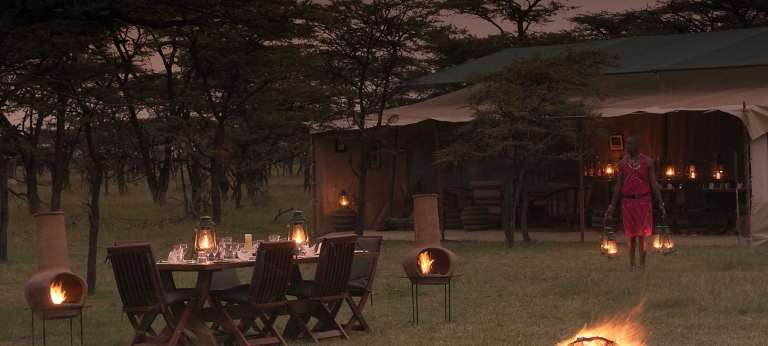 Then you move to Olare Orok Conservancy for outstanding wildlife viewing and a stay at Kicheche Bush Camp. The sweeping grassland of the Motorogi plains are superb for walking, and your last full day starts with an escorted morning game walk. 
In the afternoon, you can visit a traditional Masai manyatta (village). An early morning game drive ends this superb week-long adventure.  
HerdTracker Masai Mara Wildebeest Migration Journey
This eventful 7-day HerdTracker Masai Mara Wildebeest migration journey safari focuses on Kenya's Masai Mara's diverse wildlife and the incredible Great Wildlife Migration in full dramatic swing. Experiencing this annual wildlife wonder with HerdTracker adds another extraordinary dimension to the event. 
A safari with our specialist Masai guides is a life-enriching experience of the complex intricacies of the Masai Mara ecosystem. You'll start off by exploring the Mara North conservancy whilst staying in the comfortable Elephant Pepper Tented Camp for three nights. All meals, soft drinks, beer, and a choice selection of wine are included, as are extended game drives. 
After breakfast on the fourth day, you'll be driven to the southern part of the Masai Mara for the rest of your stay. You'll arrive at the luxurious and exclusive permanent tented Sand River Mara Camp in good time for lunch. This area is very well known for its big cats like lions, leopards, and cheetahs. The eventful annual Wildebeest Migration adds a fantastic dimension to this incredible wildlife spectacle in the Mara. 
Special Big Five Safari in Kenya's Samburu
This 8-day Special Big Five Safari in Kenya's Samburu is for somebody who wants more than just Big Cats and the Great Migration. It will show you a more remote landscape off the old well-trodden track. You'll start your safari at Giraffe Manor for some unique interactions with the beautiful Rothschild giraffe that will 'join' you for lunch!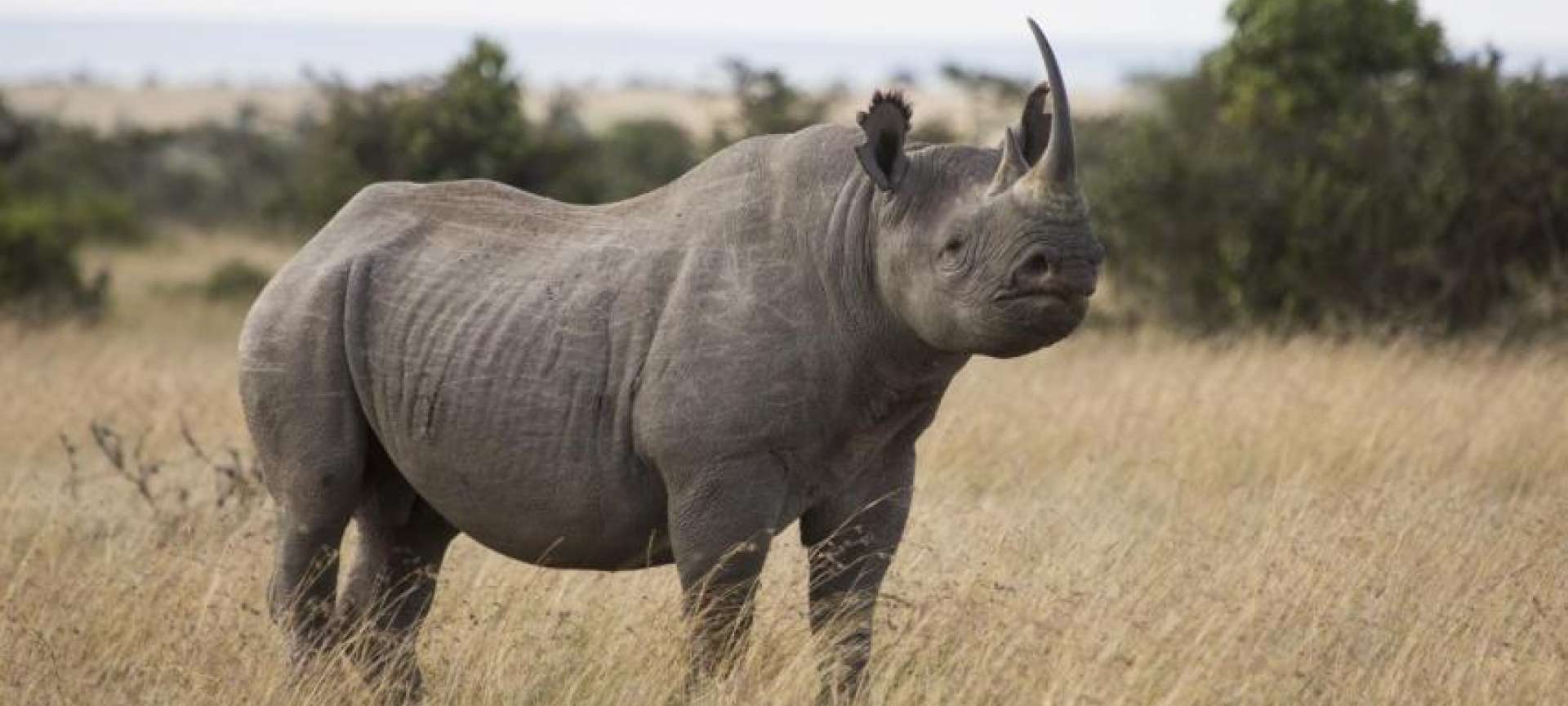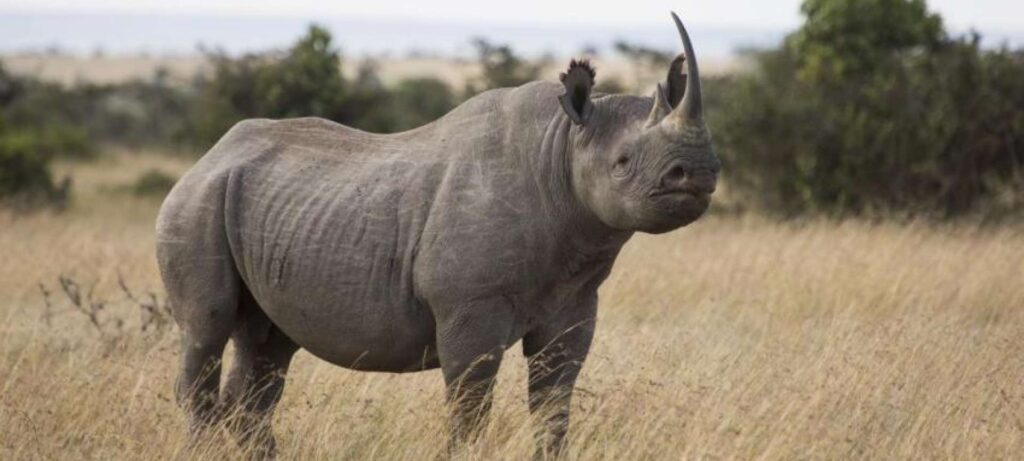 On the second day, you travel to beautiful Solio Lodge in time for lunch. You'll enjoy an afternoon game drive, sundowners in the bush and a sumptuous three-course meal. Morning walks, bike rides or horseback safari are all options open to you. A helicopter safari to see Mount Kenya and a trout fishing excursion are optional extras. 
On the fifth day, you'll transfer to the luxurious Sasaab tented camp in Samburu, which is rich with wildlife, natural beauty and culture. Try to find all of Samburu's Special Five – the gerenuk, the beisa oryx, the Somali ostrich, the reticulated giraffe, and the Grevy's zebra! 
Further activities at Sasaab include morning and afternoon game drives, camel trekking, bush walks, and a visit to a traditional Samburu village to appreciate the rich local culture. Or just have an indulgent spa treatment and soak up the peace! What about a spot of overnight fly-camping for the most memorable night under the stars?
Mara & Serengeti Combo Safari
This great 7-day Mara & Serengeti Combo Safari offers a fantastic combination of highlights! It allows you a whole week to witness 'the greatest show on earth' – the Great Wildebeest Migration.  You get to explore two amazing countries – and have a coveted front-row seat to witness this acknowledged 'wonder' of the natural world.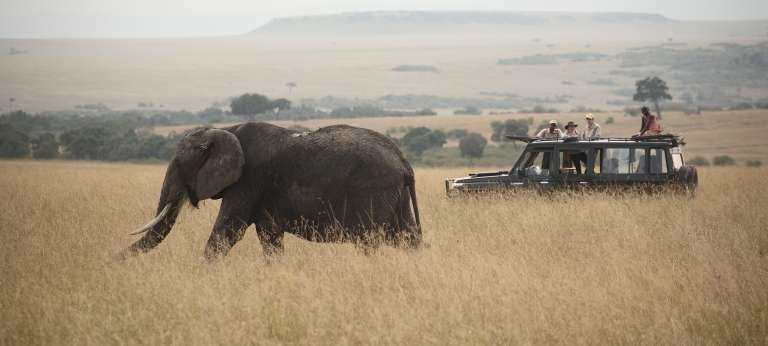 The first three days of your adventure will be spent at Elewana Collection's superb Elephant Pepper Camp adjoining the Maasai Mara National Park. It is an excellent base from which to explore the riches of the Mara North Conservancy. 
Days four, five, and six will be spent in the northern Serengeti where you'll be housed in blissful comfort at the Serengeti Migration Camp in Tanzania. It is located right next to the scenic Grumeti River rich in hippos, wildlife, and diverse birdlife. Game drives, champagne breakfasts, delicious picnics, romantic sundowners, and al-fresco dinners all contribute to an unforgettable, ultimate, dream safari! 
From luxurious and exclusive safaris to family-friendly options, we've got an African safari tour for everyone. And if you can't find what you are looking for here, don't worry – our team of experts at Discover Africa can tailor a personalised safari just for you, based on your budget and date preferences.
Get in touch with us today to start planning your dream African safari holiday!