Grand Bassin
Lying inland in the mountains of the southwest of the island, Grand Bassin, or Ganga Talao, is a crater lake sacred to Hindus, who believe that it was formed when Shiva spilt drops of water from the Ganges River in India. The largest natural lake in Mauritius, Grand Bassin is surrounded by candy-coloured statues of gods and Hindu temples. During Maha Shivaratri, which takes place at the end of February or beginning of March each year, half a million Hindus make a pilgrimage to the lake, the most holy place on the island. If you travel to Mauritius during this time, don't miss this spectacular festival, which is one of the biggest Hindu celebrations outside of India.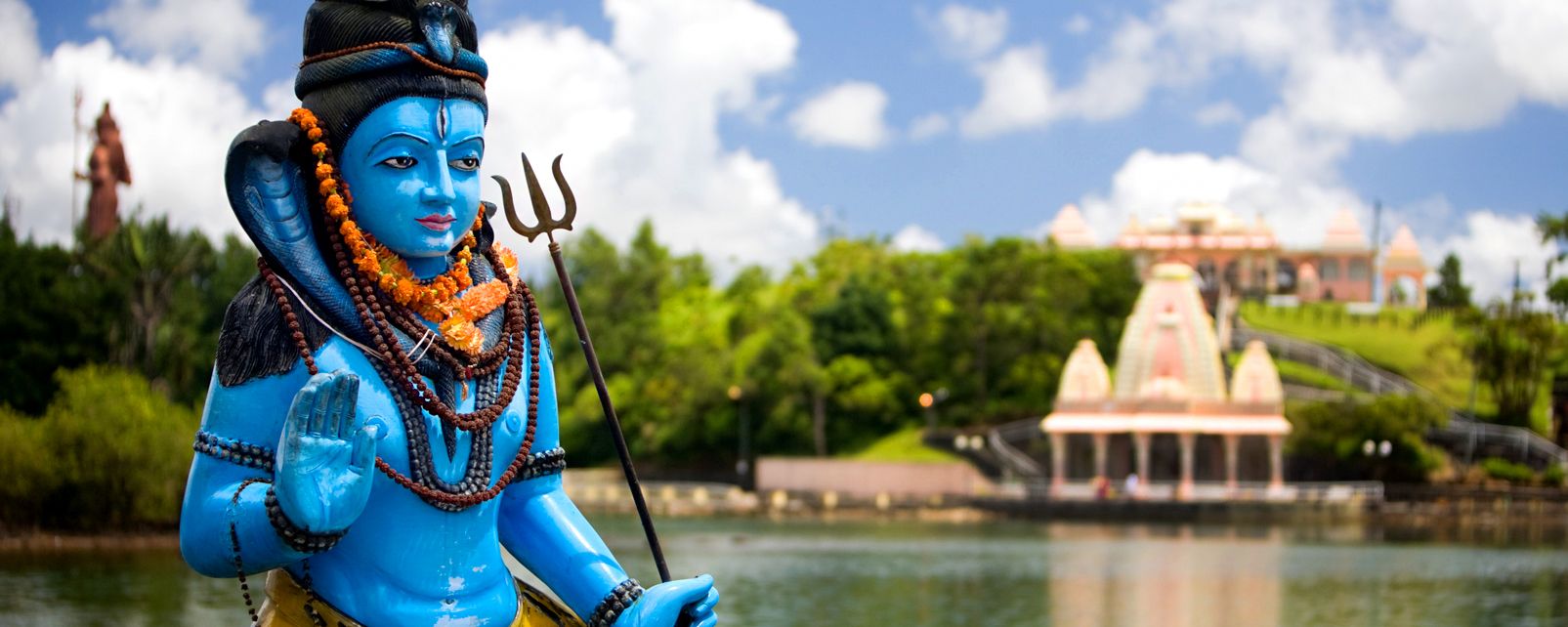 Grand Bassin is close to a lot of natural attractions and interesting places to visit, including the wildest place on the island, Black River Gorges National Park, which is a must for animal lovers, birders, hikers and adventure travellers, the lovely village of Chamarel – home to an award-winning rum distillery, excellent restaurants and the famous multi-coloured sand dunes, and the newly established Ebony Forest, a wonderful place to see indigenous trees and birds.
Highlights
Grand Bassin is definitely worth exploring for a few hours: take a stroll around the pretty lake and up to the top of the peak for spectacular views, and take time to see the statues and temple. It's a good idea to go with a guide who can give you a bit of background about all the gods depicted on the statues.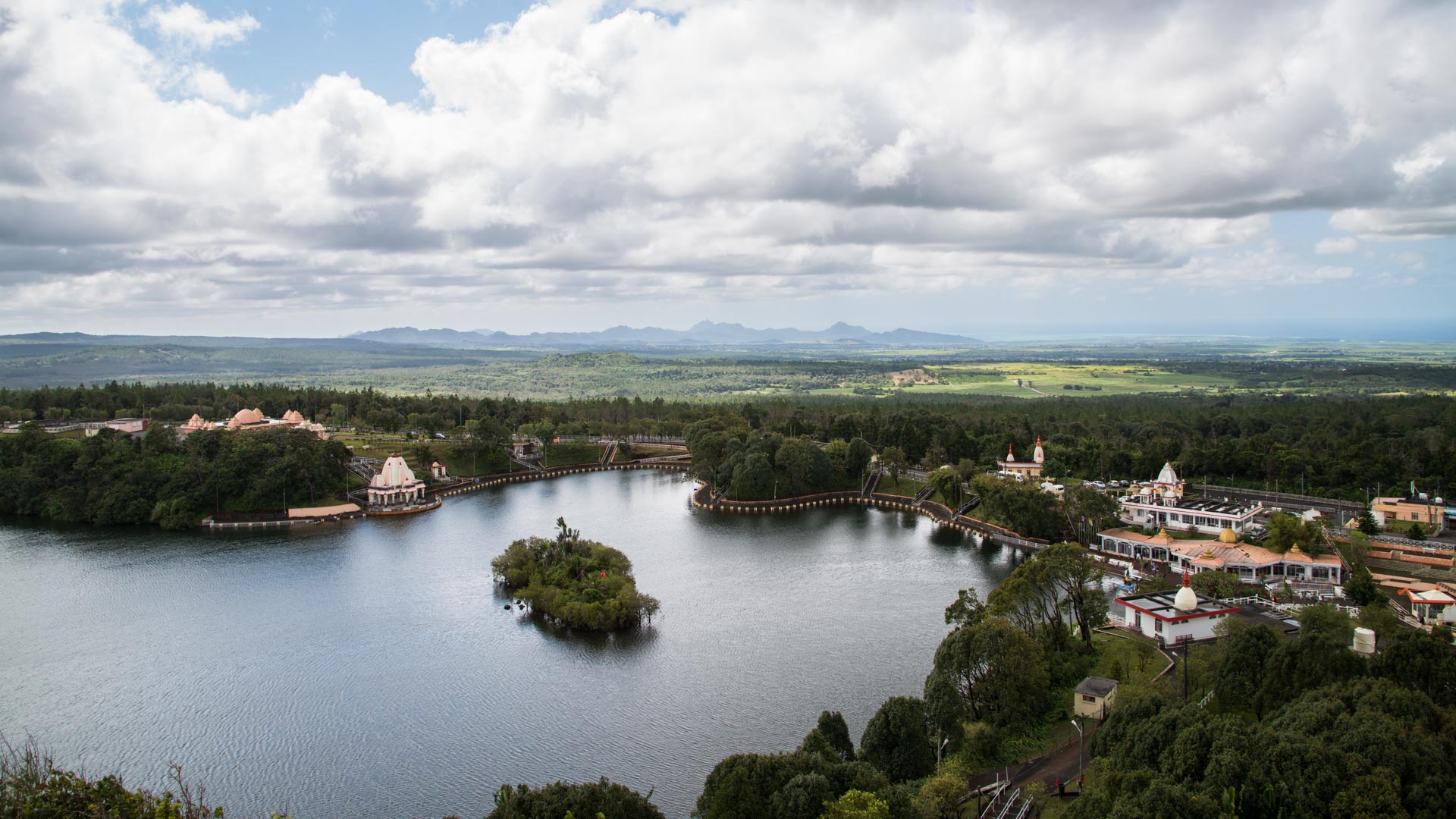 Black River Gorges National Park, the largest reserve on the island: a world of rolling hills, dense emerald-green rainforest that extends over 6000 hectares and conserves more than 300 species of native and endemic flowering plants and the bird species unique to Mauritius. Hiking is the best way of exploring this last corner of island rainforest, and there are 50 kilometres of trails which you can walk on your own or with a guide. Animals to look out for include the Mauritian flying fox and the island's endangered birds: Mauritius kestrel, pink pigeon, Mauritius parakeet, Mauritius olive white-eye, Mauritius bulbul, Mauritius cuckoo-shrike, Mauritius fody, and the Mauritius grey white-eye. Adventure seekers can also do abseiling, climbing and canyoning in the park with guides.
A short drive from Grand Bassin, the mountain village of Chamarel is a delightful place to visit and makes for a great alternative to coastal tourist towns. Surrounded by coffee, pineapple and sugar cane plantations, Chamarel has a varied range of things to do and see, from the Curious Corner of Chamarel, a mind-boggling interactive art gallery, to
the 95-metre-high Chamarel Waterfall, which you can see from a viewing platform, or for the adventurous, abseil all the way down to its base. A big highlight of Chamarel is its dining scene, and especially its tables d'hôtes – small, family-run restaurants that serve authentic Mauritian cuisine. On top of a towering hill overlooking the ocean far below, Le Chamarel Restaurant has one of the best panoramas on the whole island: a great view to go with delicious Mauritian eats such as gateau piments (the Mauritian version of falafel), fish curry and octopus vindaille (a flavourful curry).
A short distance on from the waterfall, the Chamarel Seven Coloured Earths (Terres de 7 Couleurs) is worth a stop for the famous multi-coloured sands – a natural phenomenon of sand dunes in beautiful shades of blues, purples and reds. With a playground and some giant tortoises to see, it's a great family attraction. Right next to the Seven Coloured Earths is the newly opened Ebony Forest, a fifty-hectare conservation area that protects a pocket of indigenous forest and one of the last stands of original ebony trees. Explore the beautiful forest on safari jeep tours or guided walks, or take your own walk along marked trails and on raised walkways that take you into the canopy. Look out for fruit bats and the Mauritius bulbul and the Mauritius paradise flycatcher along the way. For the best views hike up to the top of Pitot Canot.
Mauritian artisanal rum making is a recent trend, and now there are several artisanal distilleries on the island producing some excellent rums. If you only have time to visit one distillery on your trip, then it should be Rhumerie de Chamarel, which has won multiple awards for its rums. Take an interesting tour of the distillery and then do a tasting of the oak-matured and fruit-infused rums before having lunch at the excellent restaurant, L'Alchimiste, where dishes (such as indulgently rich chocolate pudding) come laced with rum.
Practical Advice
Be conscious that Grand Bassin is a holy site for Hindus: always be respectful in the temples by wearing modest clothing and removing your shoes before going inside.
There are two entrances to Black River Gorges National Park, and at each there's a visitor centre where you can ask about trails and pick up maps. If you want to head off the main hiking trails in Black River Gorges National Park, it's a good idea to hire a guide. The main trails take between three or four hours.
If you're a botany nerd, plan your trip between September and January, when it's flowering season in Black River Gorges National Park.
Because of its proximity to natural attractions such as Black River Gorges National Park, Grand Bassin is great for adventure travellers who would like to experience Mauritius' wilder side by hiking, abseiling and canyoning in the region's waterfalls, forests and rivers.
Family-friendly activities are also plentiful in the area around Grand Bassin, so if you're travelling with kids you'll find lots to do, from seeing the tortoises at the Seven Coloured Earths and the interactive displays at the Curious Corner of Chamarel to guided walks in Black River Gorges National Park and the canopy walkways in the Ebony Forest.