Custom designed Walking safaris in Tanzania
Describe your dream trip
We'll source the best value for you
Book when you're ready
Help Me Plan
Experience the awe-inspiring adventure of a walking safari.
Imagine walking on the same path as an elephant or other wildlife whilst on a safari holiday. You can hear a lion roar from afar and smell the bush all around you. Walking safaris in Tanzania will awaken your senses and are one of the purest wildlife experiences. On foot, you become a part of the wildlife, rather than a spectator.
Popular Walking safaris in Tanzania
These popular itineraries can be customised to match your budget and travel dates
More on Walking safaris in Tanzania
Introduction
Walking safaris in Tanzania differ in several ways. The best time to visit will depend on the area you will be walking through and what you want to see. Tanzania has fantastic game viewing throughout the year, but some months are better than others. From December to March migrating wildebeest herds are on display in the Serengeti, a truly magnificent sight and one of nature's greatest marvels.
Know before you go
The two official languages in Tanzania are Swahili and English making communication relatively easy. You can get a Swahili interpreter if you choose, but English is widely spoken.
Tanzania's local cuisine is varied and it's advised to sample some of the local dishes. Having said that, many hotels and restaurants provide cuisines from all over the world. Tanzanians love seafood, so freshly caught fish, shrimp or crab is bound to be on the menu.
The country is one of the safest in East Africa, but you need to be careful on the road. Even though safari areas are relatively safe, criminal activity is still reported like in any other country.
When to go
​When to go largely depends on the type of walking safari you'd like to have. If seeing the great wildebeest migration is at the top of your list, then June and July are best. However, game viewing is best in the dry season from late June to October and if the wildebeest calving season appeals to you, then January and February is good to go.
What to pack
• Light backpack
• Sunscreen and lip balm
• A warm sweater or light fleece
• Sunglasses and a hat
• Windbreaker or waterproof jacket
• Walking shoes or boots
• Insect repellant
• Camera
• Hat
• Binoculars
• Flashlight or headlamp
Weather and Climate
The weather in Tanzania doesn't vary much throughout the year, with an average daily temperature of 30 degrees Celsius, dropping to about 15 degrees in the evening. The main difference between the seasons is the humidity and annual rains. The rains normally start at the beginning of April and run to the end of June. The humidity will vary throughout the year and the driest and hottest periods are in June to the end of October.
Safari / Holiday Styles
​A safari-style holiday with added luxury in an immersive environment.
Where to stay
Ngorongoro Serena Safari Lodge
Safari Inn
andBeyond Ngorongoro Crater Lodge
Ndutu Safari Lodge
Serengeti National Park
Selous Game Reserve
Tarangire National Park
Ngorongoro Conservation Area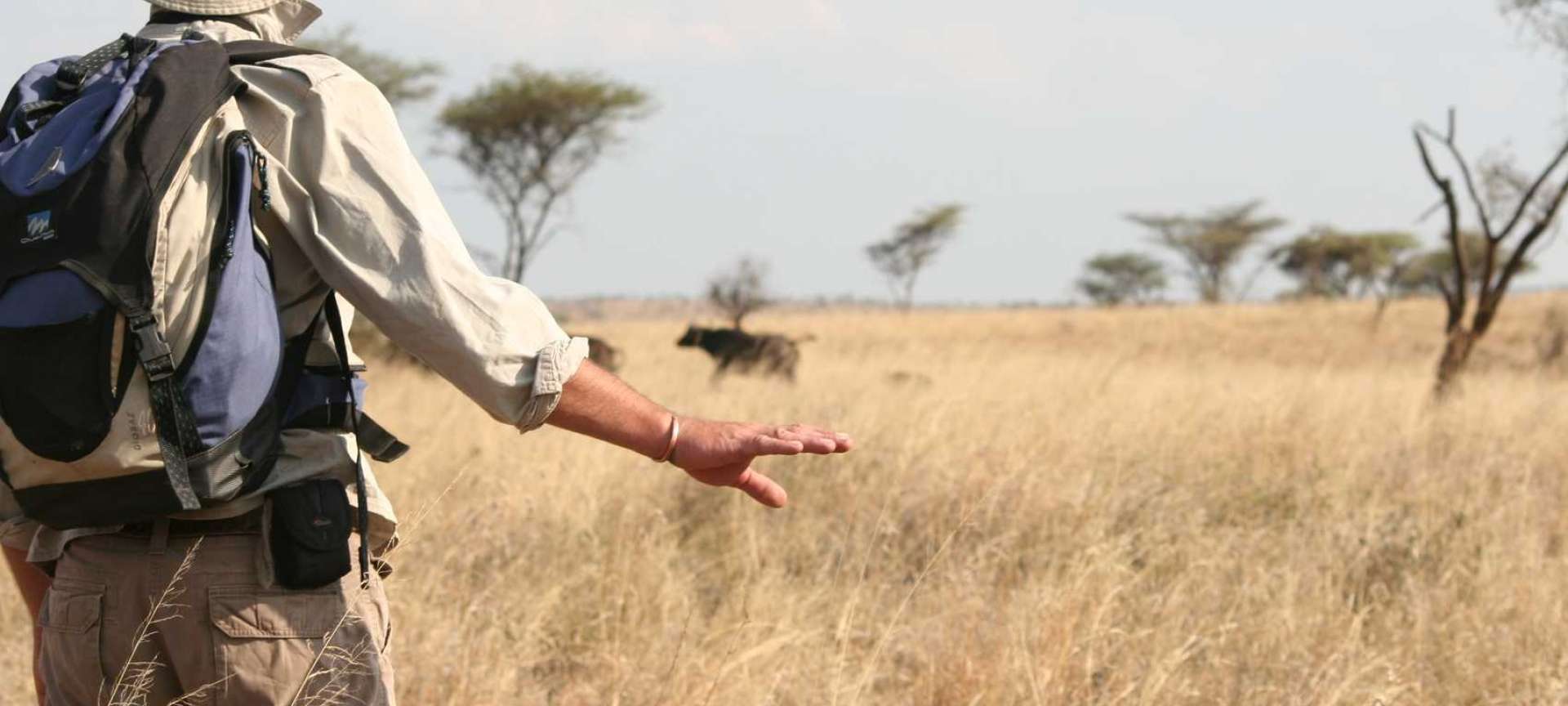 Reviews on our Walking safaris in Tanzania
This was my first safari. I didn't expect to be so pampered. Everything was first class. We had everything provided for us before even asking. We had a dedicated team at our service. Megan was on call whenever we needed something and she…
Saada
from Nigeria
Tanya was an absolute delight to deal with. From the first phone call she was extremely polite, professional and very eager to facilitate my requests regarding our safari. Our 3 nights at the V & A Hotel were fabulous and Motswari Game…
Debbie
from Australia
Perfectly tailor-made tours that take all your wishes and requests into consideration. All my expectations were beyond fulfilled.
Henrik Wetterstrand
from Sweden
Living afar and trusting in an organisation with whom you have no previous knowledge can lead to feeling of mistrust and wondering whether what we have paid for actually exists. A little more proactive communication would have eased those…
Tony Russell
I just wanted to thank Discover Africa and Karl Svendsen - the safari was great - we saw many more animals than expected including cheetah, leopard, many lions and even a three-day old elephant calf. Additionally, we had our own hippo…
Margaret Dean
Planning the trip was managed extremely well especially since travel was at a busy time of year and not much notice was given. All communication was by email, and was responded to promptly and efficiently. Different options were provided…
Suzanne McKeen