I was born on the outskirts of the Masai Mara game reserve on the game dispersal area, where I grew and developed an interest to work as a guide. This was my childhood passion. I was motivated by the many guides who were always driving guests past our village on their way into the park. I remember when I was about 5yrs old, I told my mother, when I grow up I would like to be a guide!
My experiences and encounters with wild animals when I was young provided me with an opportunity to grow up with wildlife knowledge. Elephants could always come around the village where we live at night and ate any plants including vegetables in the garden, I would encounter Zebras, Impala, Eland, Rhino, and Giraffes etc. while herding cattle in the fields far from home.
It was at this period that I learnt tracking, signs and alarm call interpretation in the bush as a necessity for survival in the bush. This skill has provided me an addition to my guiding techniques by interpreting the tracks, which really helps me find a game easily. I have been able to work with the BBC Natural History Unit as a consultant for the leopard filming crew during the Big Cat Week and Big Cat Live programs since 2006. I also took part int eh shooting of the BBC's documentary, The Truth About Lions" in 2009. I worked with Disney nature during the filming of "African Cats" in 2009/10.
I learned my birds from that age, a skill which later boosted my birding knowledge. I am currently carrying out research on the vultures in Masai Mara game reserve in conjunction with the department of the ornithology of the National Museums and the Peregrine Fund. This project was aired on BBC 1 during the Big Cat Live program in October 2008. I have been able to attend several colleges to sharpen my skills as a guide, among them Inkwazi Rangers' School in South Africa, Kenya Utalii College and the Kenya Wildlife Service Training Institute, Premise Africa Development Institute, as well as doing regular short courses in the relevant field.
I have worked as a guide for the last 25 years guiding many guests to different wilderness areas in Kenya, Northern Tanzania, Rwanda, and Uganda. Most of this time was spent near my village in the Masai Mara game reserve and I think very few others understand the Mara as I do. I did my bronze guiding level exam in 1997 and silver in 2001 and finally my gold level exam in 2009. I have been the chairman of Kenya Professional Safari Guides Association ( http://www.safariguides.org). From 2011 to 2015, I have been involved in training the guides in Rwanda and developing a grading system through examinations. I was listed by Conde Nast traveller as one of the 25 best guides in Africa http://www.cntraveler.com/daily-traveler/2013/11/best-safari-guides-in-africa and I just won the Eco-Warrior Best Safari Guide of the year (2016) award
Photography;
I developed an interest in photography when I was acting as a correspondent of a rural Kenya News Agency paper, where I received training on basic photography. I later went to learn how to develop negatives in a dark room and after that, I opened my own camera shop. I still have in my archive my very first cameras, which were the old Russian made Lubitel (Nomo), also Pearl River and Practica. I have always found photography as the best way to enjoy game viewing (not looking through the lens all the time!) it makes memories last longer even after the sighting and also gives my a better understanding of what my photographer's guests wants.
Equipment;
I use top and medium-range cannon cameras for my photography, and similarly small to medium range lenses. But i still believe strongly that no amount of equipment can substitute a first hand understanding of the animals. I attribute my photography to great opportunities in the field and my understanding of the animals, which i have been able to learn over the years i have been guiding, and this is something i always pride in sharing with my guests on safari.
HerdTracker updates from Paul Kirui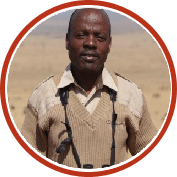 The great migration was captured heading towards the Mara River on the Masai Mara side.
The great migration was captured heading towards the Mara River on the Masai Mara side.
Daily crossings are to be expected!
Read More
Nearest lodge: Dunia