Short and Sweet Serengeti Safari (5 days)
Short and Sweet Serengeti Safari (5 days)
Spend just enough time exploring the Serengeti
Your Great Migration journey begins at the gateway to the best of what Tanzania has to offer; the bustling town of Arusha. Nestled at the foot of Mount Meru, Arusha is a popular stop over for travellers either before or after their safari. With easy access to Mount Kilimanjaro, Tarangire, Manyara and Ngorongoro National Parks, as well as the temperate Arusha National Park, this compact safari package brings you into the centre of an unforgettable African safari.
You'll enjoy two luxury accomodations on this trip. Elewana Collection's Arusha Coffee Lodge is a contemporary take on an old-world location. Situated on a coffee plantation, Arusha Coffee Lodge is all about the senses; the smell of freshly brewed coffee, the feel of crisp bedding in one of their wooden plantation rooms, and the greenery of the surrounding gardens. With curio shops selling local arts and crafts, seasonal fine dining fare available at an array of superb eateries and the option of getting a relaxing spa treatment done before your safari, there is no want of activities at this elevated establishment.
Once in the Serengeti National Park, your adventure takes a wild turn with front row seats to the Wildebeest Migration, no matter what time of year. Moving freely between the north and south Serengeti, this luxury mobile camp is designed to follow the migration herds as they cross the challenging Mara river in winter, or give birth to over half a million babies during the summer season.
JanPeak
FebPeak
MarLow
Jun
JulPeak
AugPeak
SepPeak
NovPeak
Costing tip: When comparing with other companies, remember most of them only show the low season rate. How pricing works >
What to Expect on This Safari
This popular itinerary can be customised to match your budget and travel dates by adding/removing a few days or selecting different lodges
Arusha
Welcome to Tanzania! You will be met by a representative from Discover Africa when you land at Kilimanjaro International Airport. Enjoy the sights and sounds of the bustling city of Arusha during your transfer to the uber sophisticated Arusha Coffee Lodge.
While your stay might be short at this magical place, there is time to wind down and relax at any one of the lodge's restaurants or bistros, enjoy a walk in the manicured gardens, or simply discover the ingenuity and craftmanship of local artisans.
A guided tour to Arusha, a few hours at the spa, or an enlightening guided tour to discover the secrets of coffee production on the plantation, you'll be spoilt for choice at this pristine lodge. Please note that all activities are at an additional cost.
Meals: Breakfast
Drinks: Not included
Transport: Included
Serengeti National Park
After a delicious breakfast at Arusha Coffee Lodge, you'll be whisked away to Arusha airport where a connecting flight will take you to the world famous Serengeti National Park where the next leg of your exciting adventure at Olakira Mobile Camp begins.
Olakira Camp's ability to move along with the migratory herds guarantees the best game viewing at any season. Moving twice a year between the north and the south of the park, Olakira is renowned for its ability to transport guests into another world. This tented camp is both glamourous and simple, with nine tents available and all the expected facilties at your fingertips. This is the real way to get intimate with nature.
Each day of your stay you'll be treated to two 4x4 game drives with professional guides who have unsurpassed knowledge of the wildlife and birds of the Serengeti. See the Big Five up close, as well as cheetah, hyena, black and white rhino as well as wild dogs. Guests can arrange full days in the bush with picnic lunches or shorter excursions returning to enjoy the tranquility of camp.
If you'd like to see the Serengeti from the vantage point of a hot air balloon, this thrilling activity is available at an additional cost. The option of visiting a local Tanzanian community is also available to you. Find out more about the local community and culture of Tanzania on an educational visit that will open your eyes and heart to the spirit of Africa.
Meals: Included
Drinks: Included (local brands only)
Transport: Included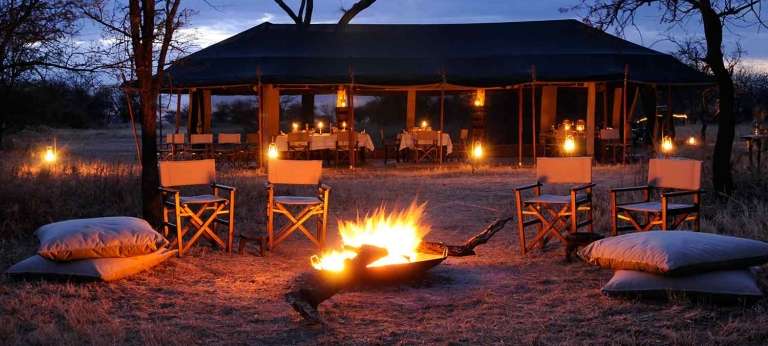 Departure
Farewell!
Depending on your flight departure time, you may have time for one last game drive before being transferred to the airstrip for your return flight to Arusha Airport. A transfer from Arusha to Kilimanjaro International Airport is also included where you can then connect to you onward destination or return home.