What makes Victoria Falls unique?
Spanning Zimbabwe and Zambia, Victoria Falls is one of Africa's most spectacular natural sights: there's not much to beat the biggest sheet of falling water on Earth cascading with an astounding roar down cliffs speckled with lush forest into the mighty Zambezi River more than 100 metres below. Known as Mosi-oa-Tunya – "the smoke that thunders" – Victoria Falls is so forceful that the spray sent up by the plunging water rises so high up that it can be seen from 50 kilometres away: an incredible spectacle of the raw power of nature.
There's more to Victoria Falls than ticking off this bucket list sight though: it's also Africa's adrenaline capital. On both the Zambian and Zimbabwean sides of the border, adventure seekers will find extreme thrills in white-water rafting, river boarding, jet boating, bungee jumping, abseiling, zip lining, microlighting above the falls and gorge swinging, while more sedate experiences such as riding an old steam train and drinking gin and tonics on sunset boat cruises are perennial crowd pleasers. That's not to mention the safari activities and animal experiences such as tracking white rhinos on foot and canoeing trips on the Upper Zambezi to spot elephants and birds. The magic of Victoria Falls is that it's a destination for just about anyone: solo travellers, families with kids, adventurers and romantic couples will all find more than enough memorable experiences in a visit of even just a few days.
One of the main questions that people ask when planning a trip to Victoria Falls is where to base themselves. The Zimbabwean and Zambian sides both have towns close to the falls that are geared up for tourism, with a huge choice of hotels, guesthouses, restaurants, bars and activity operators. Each side of the border has quite different views of the falls (with the majority of the falls on the Zimbabwean end), and while many of the same activities are on offer on both sides, some experiences, such as bungee-jumping and ziplining through a treetop canopy can only be done on one or other side of the border. It's important to know that the waterfall dries up on the Zambian side at the end of the dry season (in October or November), so if you're travelling during this time it makes sense to stay in Zimbabwe. But otherwise, our recommendation would be to choose one side to stay at and visit the other on an easy day trip.
Why is this destination unique?
It doesn't get much more unique than the biggest and most dramatic waterfall on the planet: Victoria Falls definitely deserves its mantle as one of Seven Wonders of the Natural World. The UNESCO World Heritage Site, in all its powerful glory, is enough of a bucket list sight to be a unique place to visit in itself, but the addition of the extraordinary diversity of outdoor activities on offer around Victoria Falls make this destination truly special.
The adventures are seemingly endless: go bungee jumping in one of the world's most spectacular locations, fly like a bird in a tiny microlight plane, track down endangered white rhinos on foot, swing like a human pendulum across the steep gorge, abseil down a cliff, zip line through the treetops and go cage diving with crocodiles – and that's just for starters. On the mighty Zambezi River, you can experience some of the best white-water rafting on the planet, tackle rapids face-first on a bodyboard, shoot across the water on a jet boat, swim in a natural infinity pool on the edge of Victoria Falls and under the spray at the base of the falls and go on relaxing multi-day canoeing safaris where you'll be immersed in wilderness, spotting elephants from just a few metres away and sleeping on riverside beaches under the stars. Then there are lots of ways to explore the area around the falls, from cycling tours and horseback rides to game drives in the two national parks on either side of the border.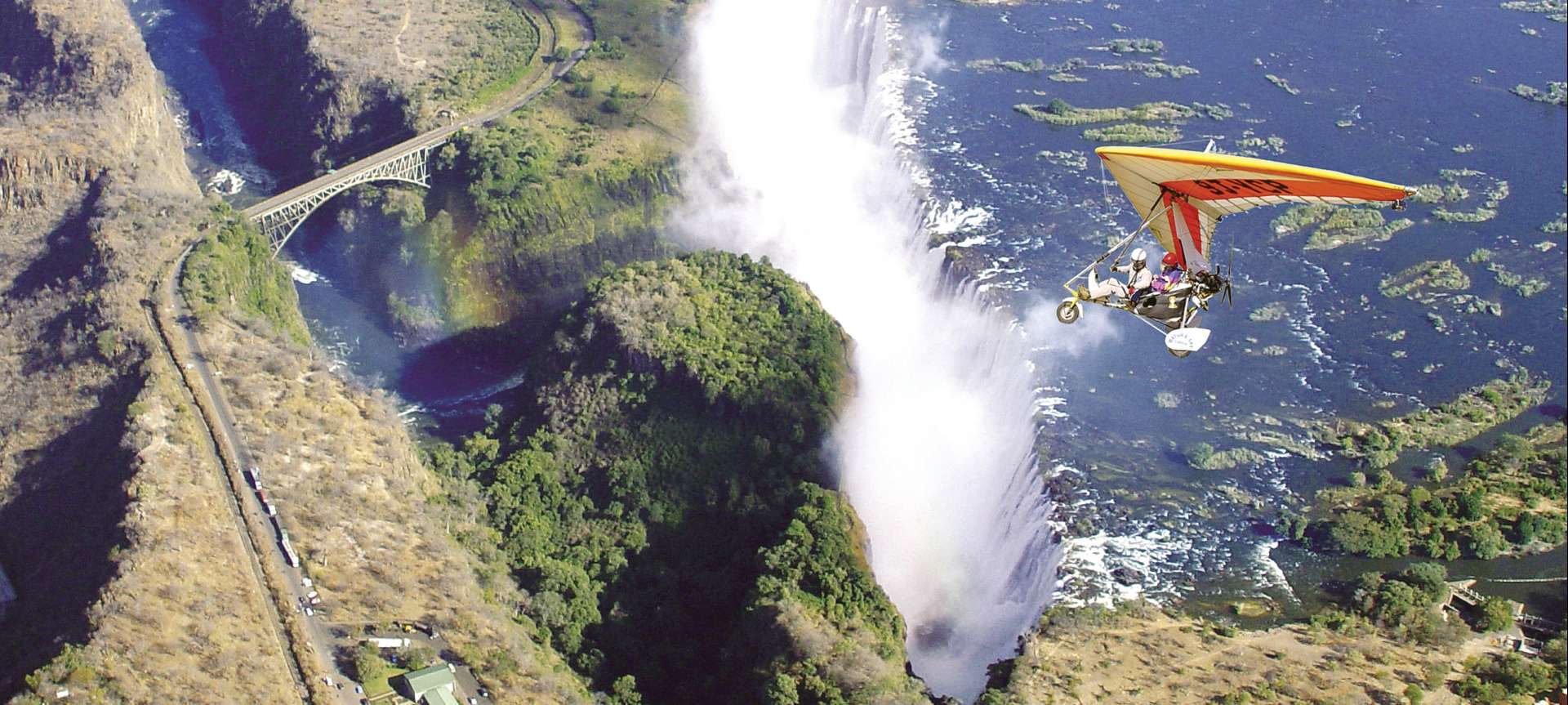 Another reason why Victoria Falls is a unique destination is that in just a small area on either side of the falls, there's really something for every kind of traveller. In terms of budgets, there's a huge range of lodging – everything from riverside campsites to high-end luxury hotels. Families are well catered for: hotels are child-friendly and there's a host of activities for all ages, while solo travellers will find it easy to meet other people and have fun on group activities. Luxury lodges offer lots of special touches for romantic couples and honeymooners, and adventure-seekers will be in their element with the amount of adrenaline-inducing fun on offer. Travellers who prefer serene activities will discover that there are plenty of quiet pleasures: high tea on manicured lawns, relaxing spa treatments, sundowner cocktails on sunset river cruises, gourmet dinner onboard an old steam train as its chugs its way through a safari park, and sipping wine while being paddled on an inflatable raft down the Zambezi.
---